How to Convert vCard to HTML Format ?
Would you like to convert vCard to HTML format? Can't find a perfect solution for VCF file to HTML conversion? No, worries! Please read this blog.
I have been trying to accomplish vCard contact migration into HTML for a long time. However, even after certain attempts, I believe that there is some contact information or the data gets lost or corrupted. So, now I would like to know how can I convert vCard to HTML format without losing the contact fields. Thanks in advance!
The most adopted file format for representing contact information is vCard- a standard format for electronic business cards. It is often linked to email messages but can be shared in other ways like on the World Wide Web.
Your vCard or VCF (Virtual Contact File) can comprise the Name, Address, Mobile Numbers, Email Address, URLs, Logos, Pictures, etc.
On the other hand, HTML (Hypertext Markup Language) which is a Web format file permits a user to format text, images, etc.
Convert vCard to HTML with Professional Solution
BitRecover vCard Converter is very easy to use and does not require you to hand in any personal information. You can use vCard to HTML converter tool for free at any time and on any Windows PC. It facilitates to batch convert VCF to HTML file.
Download the software from this link:
Follow these steps to convert vCard files to HTML:
Launch the vCard to HTML converter software.
Choose vCard files/ folders from the computer.
Select desired VCF files to convert into HTML.
Pick HTML as a saving option and destination path.
Start to convert vCard to HTML format.
How to Convert VCF to HTML Format ? – Stepwise Guide
First of all, download and start the software on your computer.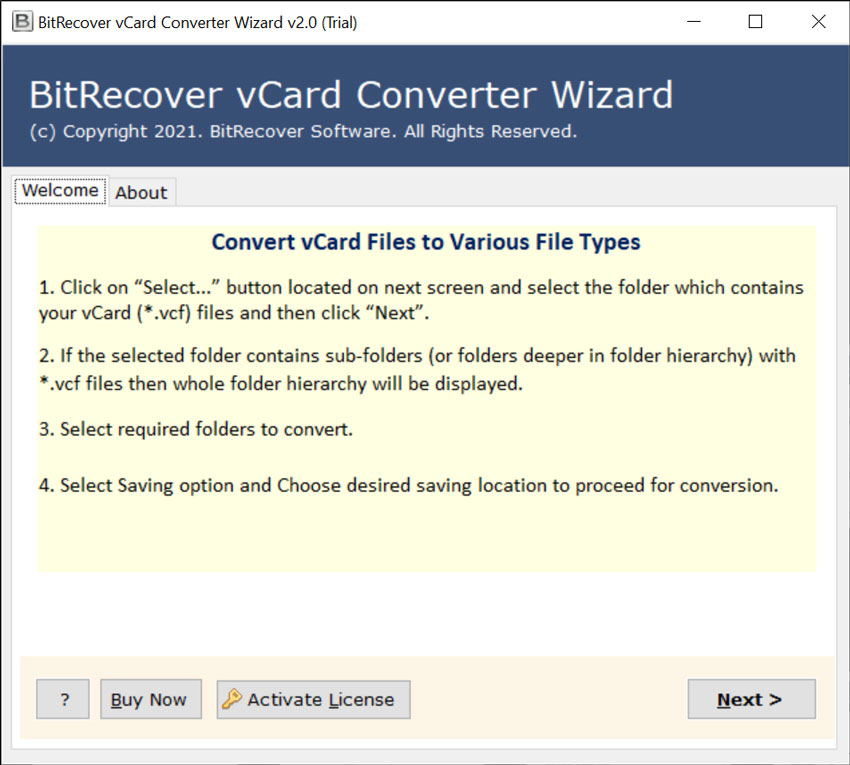 Now, select desired vCard data stored in your machine.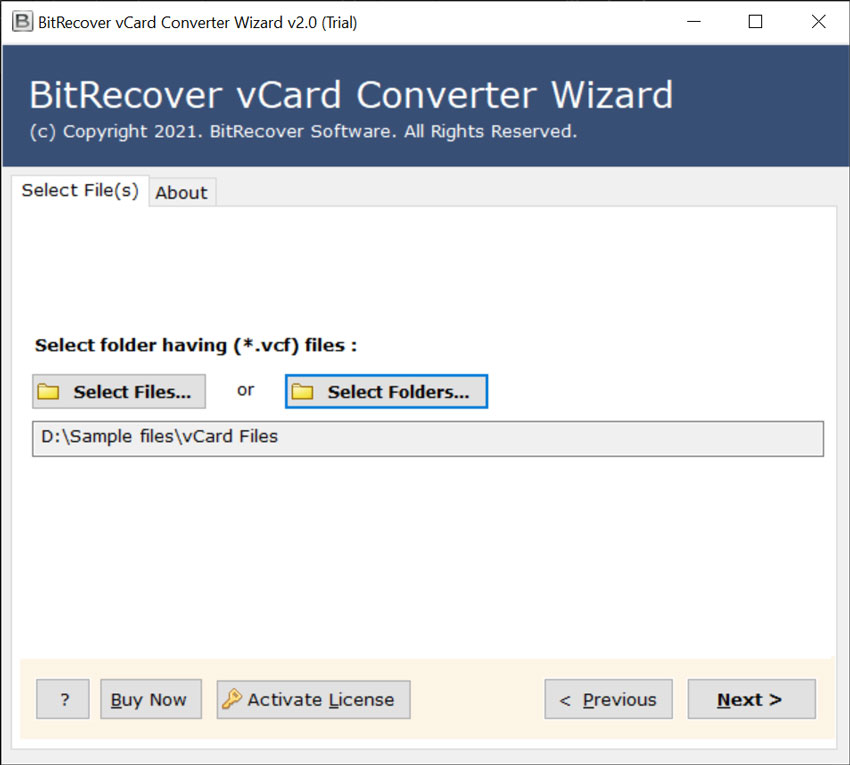 Then, enable those files which you wish to select for vCard to HTML conversion.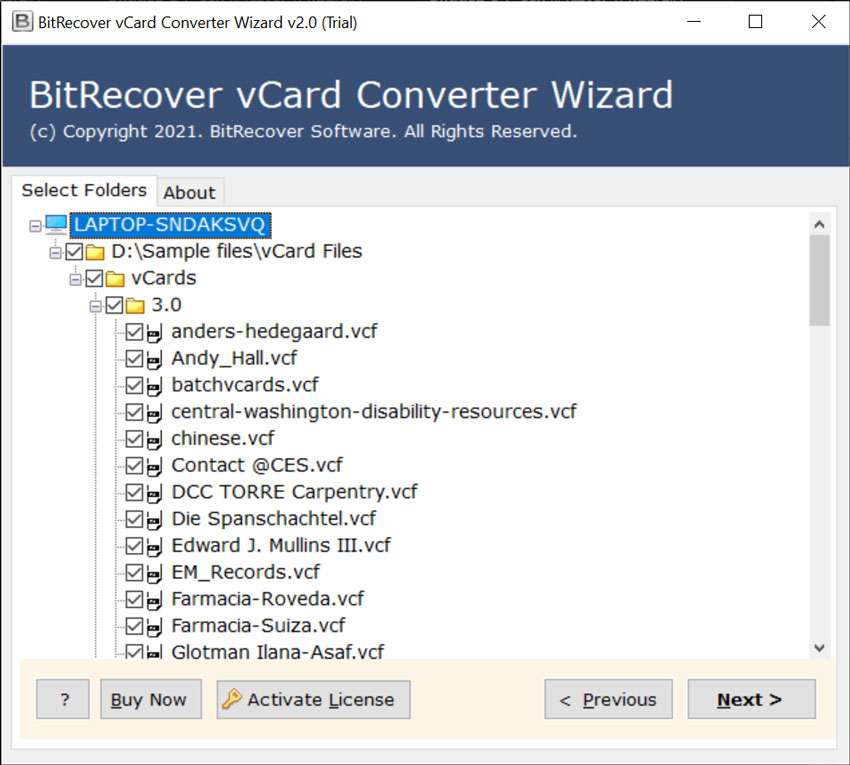 Thereafter, choose the saving option as HTML format.
Also, pick a destination path for saving the resultant information.
Finally, hit on the convert tab to begin the process. The conversion of VCF files to HTML is running successfully. Open your output folder that contains the HTML files.
vCard to HTML Converter – Best Features of Software
Data Security Protected: Your data safety means all to us. None of your files or content will be changed after converting vCard to HTML format.
Dual Modes for File Selection: The software offers a dual method to load vCard files into the UI. With it, you can load single or multiple vCard files/folders for batch conversion of vCard data to HTML.
Preserves Data Integrity: The utility assures to maintain the rich-text formatting of vCard data. Also, it preserves the hierarchy of folders during the conversion.
Any Destination Location: Users can save the VCF to HTML converted data at any location on the computer. By default, the software saves it the desktop location.
Operable on all Windows OS: It supports all versions of Windows OS like Windows 10, 8.1, 8, 7, XP, Vista, Windows Server 2019, 2016, etc.
No External App Installation: It is well built with advanced algorithms. Hence, the tool does not require any external app installation to convert vCard to HTML.
Convert vCard with All Components: With this application, the users can convert VCF to HTML format with its attributes like profile photo, full name, email, company, job title, website address, business address, business phone number, home phone number, business fax no, mobile phone no and home address.
Supports All vCard Versions: It is a perfect utility to convert any version of vCard file like 2.1, 3.0, 4.0. Also, the software supports to import VCF files from iPhone, iPod, Mac, Blackberry, Palm, Android, Google Apps/Gmail contacts, Entourage, Lotus Notes, etc.
FAQs
How many contacts can I export from vCard into HTML with your tool?
The software does not have limitations. Pro version of the tool allows to convert vCard to HTML without file restrictions.
How proficient the software is with bulk migration of vCard files to HTML?
The tool is efficiently programmed to handle a large amount of data. With it, you can bulk export vCard to HTML without any hassle.
Can I browse several vCard files for conversion at once?
Yes, why not! You can load more than one vCard file in one go.
Does your software compatible with Windows Server 2019 machine?
Yes, it runs on all Microsoft Windows OS including Windows Server 2019.
I have almost 2500+ vCard contact files which I need to export into HTML format. How to implement the conversion?
Use BitRecover vCard to HTML converter tool to perform bulk export of VCF files into HTML format.
Closing Words
In this blog, we have explained how to convert vCard to HTML format. The software keeps intact all contact fields during the entire migration task. There will no information loss with this toolkit. Also, if you are ready to utilize this application then we advise you to try the free demo version. It allows converting few VCF files to HTML. Later after getting completely satisfied with it, you can upgrade the license keys of the product. If you have any questions regarding our software, please feel free to ask queries from our support team via live chat or email.