How to Convert vCard to PDF files Easily – BitRecover Stepwise Guide
vCard file format is best known for storing contact information that includes name, email address, phone number. Work address, fax number, and any more things. It is also known as a virtual business card. The vCard files can be easily saved and send from one platform to another such as email applications, mobile devices, iPhone, Etc. Nowadays, people are curious to know how they can convert vCard to PDF format. What is the best to convert vCard contacts to PDF files easily?
Are you also looking to save VCF contacts to PDF documents for some reason? If so, help yourself with a powerful and reliable solution. It has simplified working that allows you to convert vCard files of thousands of contacts information to PDF files with total precision. So, let's get to know about the world-famous solution.
Professional Approach to Convert vCard to PDF 
BitRecover vCard converter is an expert solution to export vCard contacts to PDF files directly and easily. It is a widely used application among users. The tool also allows users to convert multiple VCF contacts into PDF files safely. The user only needs to check this option when converting. Also, it exports all the information related to contact to PDF format without any trouble. Users can launch this application on any version of Microsoft Windows OS.
Take a Free Test Drive:- 
The free demo version comes with useful benefits. You can download and use the free version before investing in the tool. With this free software, you can easily check whether the complete software is working properly and migrate 25 data items from each folder. After you are completely satisfied, please upgrade it for unlimited migration.

What are the Common Reasons to Save VCF Contacts to PDF ?
These are some of the users' queries received by our support team to convert vCard to PDF. Let's read them one by one.
Hi, I want to convert my Google contacts into PDF format. I have exported all the contacts as vCard format. Now, I want to convert vCard contacts into PDF. Gmail doesn't provide any solution to this. Guide me with the professional solution.
– William, New York
"Hey, I lost contact on the Mac Mail email client application. But all my contacts are saved in vCard format. Please help me understand the best way to convert vCard files to PDF format? Please suggest me some helpful solutions for saving the vCard file as PDF?"
– Michael, London
Know the Detailed Step-by-Step Procedure to Export vCard / VCF Contacts to PDF Files Directly
First, download the free vCard to PDF Converter on Windows.
After that, launch and use the vCard to PDF export tool and read all the basic instructions.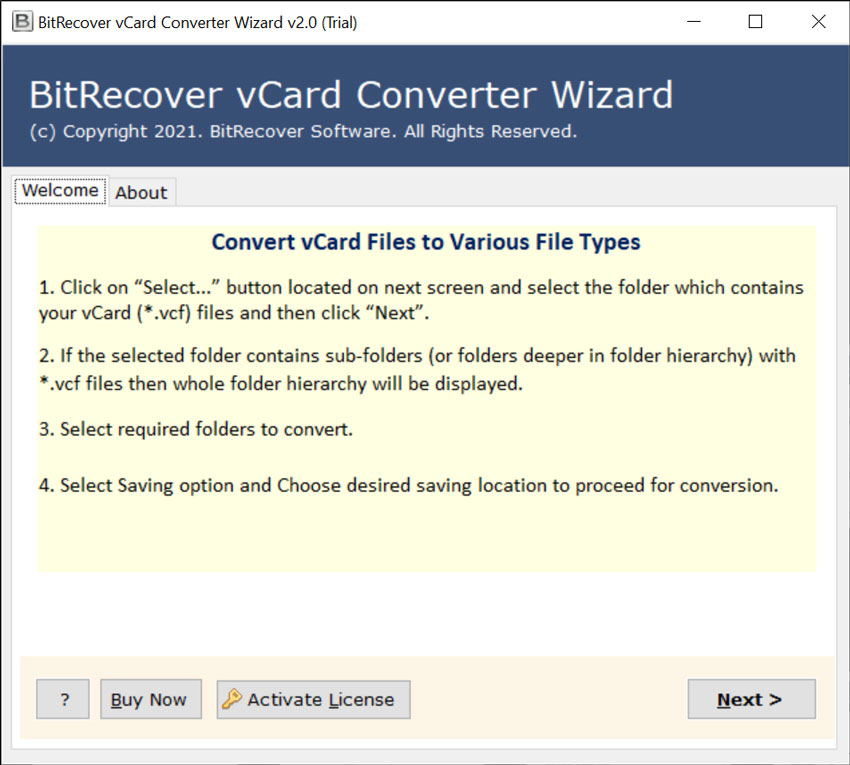 Now, select the vCard or VCF file with the double selection option. "Select Folders" and "Select Files".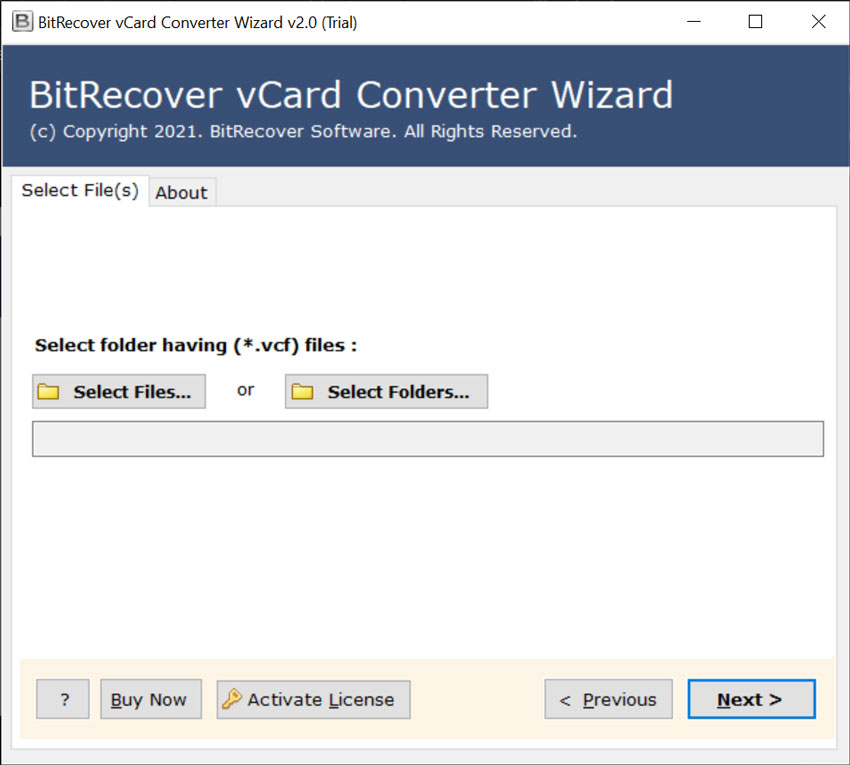 After that, select the contact folder you want to convert to PDF format from the list.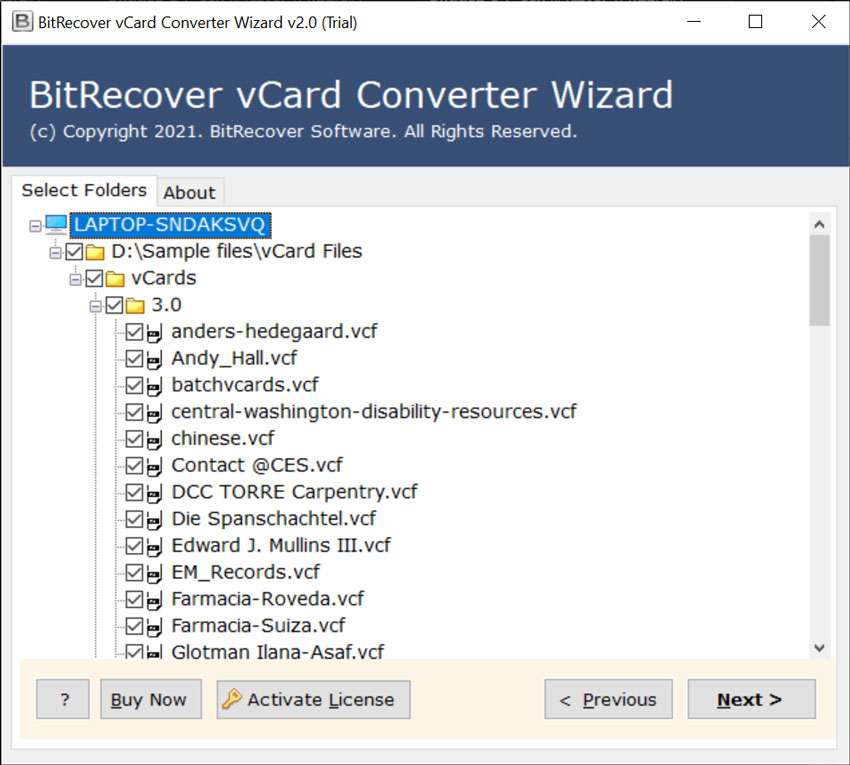 Next, select the PDF option from the list of file saving options in the user interface.
After that, set the target location path by clicking the change button. Users can choose internal and external storage according to their needs.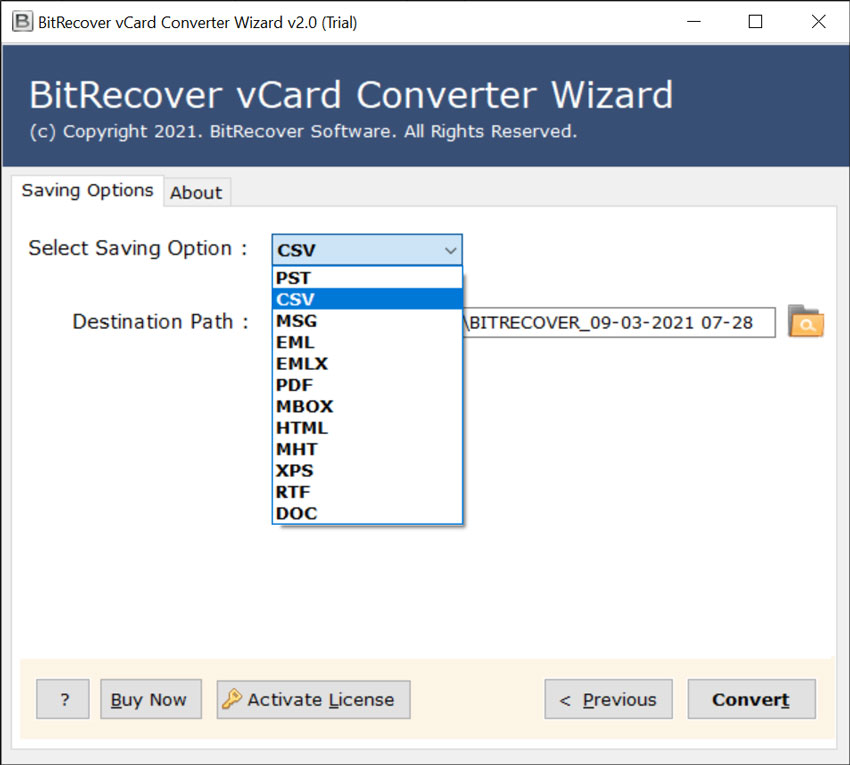 After that, click the "Convert" option to initiate the process and save various vCard contacts in PDF format.
Thereafter, the software will generate a conversion message. Click on Ok to get a log text report.
Now, when the process is completed, the software will automatically open the target location.
That's all. In this quick way, you can save all your vCard contacts in PDF files easily with complete information.
Top 8 Features of the best VCF File to PDF Converter tool
This application has many advantages and functions. The following are the main benefits:-
Dual options for batch conversion of vCard to PDF: – The software comes with dual options to load single and multiple vCard files. Using the dual option, you can print multiple vCard files to PDF format in a single process.
Specify the desired location:-The software can freely choose any location to save the converted data. This option will help you save the PDF file directly to an external storage location.
Keep contact fields and structure: – During the conversion process, the software will maintain contact fields such as name, title, address, phone number, etc. It saves all the contact information mentioned in the vCard as PDF format.
Independent Application: – The software works as a stand-alone platform without installing any external applications and plug-ins. This tool is completely independent and does not require any PDF Reader.
Support all versions of vCard or Windows OS: – This utility supports all versions of the Microsoft Windows operating system, including Windows 10 and Windows Server 2019. It also supports all vCard file versions, such as vCard 2.1, vCard 3.0, vCard 4.0, etc.
Convert multiple source vCard files to PDF: – The software provides to convert Apple vCard to PDF, iCloud Contacts vCard to PDF, Google vCard to PDF, Android vCard to PDF, Android Contacts to PDF, iPhone Contacts Convert to PDF, Mobile vCard option to PDF, etc.
Bringing it All Together
In the blog above, we explained how to save contacts on vCard files to PDF format. The professional vCard to PDF converter is the best alternative solution to easily convert vCard to PDF files. Every user knows that devices and programs do not directly support to convert vCard contacts in PDF format. Therefore, please use a useful solution to convert multiple vCard files into PDF format. It is a simple and easy approach.