How to Convert VCF to EML Format ?
Are you looking for a solution to convert VCF to EML file format? Well, if your answer is yes then you must be aware of the fact that there is no direct conversion available to convert vCard contacts to an email message (.EML). The former is a contact format whereas the latter one is an email message. As best you can import your vCard contacts to an email client and write a new message to one of the contacts from the selected list. But, a straightforward VCF file to EML conversion is not possible!
With the conversion of VCF file format to EML, you must use an efficient software program to support it. In this page, you will get information regarding how to convert VCF to EML file format.
VCF or vCard is a popular file format standard for electronic business cards. It is generally used on several Personal Information Managers or email client like Outlook. Or, otherwise, these vCard files may be exported from mobile phones for sharing the contacts from one device to another.
EML is an email message format that is used by numerous email clients like Outlook Express, lotus Notes, Windows Mail, Thunderbird, Postbox, etc.
VCF to EML File Conversion – Best Professional Toolkit
If you are wondering how to store your personal VCF contacts in EML format, then you are at the right place. BitRecover vCard Converter is a specialized software that is designed for an exact conversion of VCF files into EML format.
Please download the software from this link:
Follow these steps to convert VCF to EML:
Launch the VCF to EML Converter tool on PC.
Load VCF files from your database for conversion.
Enable specific VCF files which you want to convert.
Select EML as a saving option & a destination path.
Start to convert VCF files to EML format.
Step-by-Step Method to Convert VCF to EML Format
Step1: Launch Software
Firstly, download the setup file of the software and install it on any Windows machine. Read all instructions.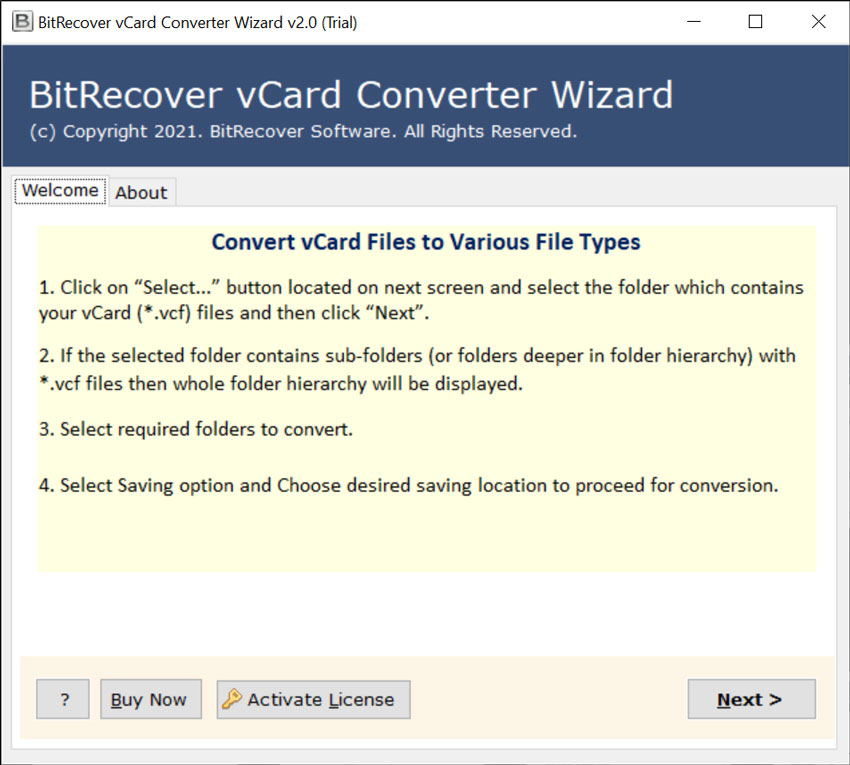 Step 2: Upload VCF Files
Choose VCF files from the computer by using the dual options- Select Files or Select Folders. With it, you can load a single or many VCF contact files into the software panel.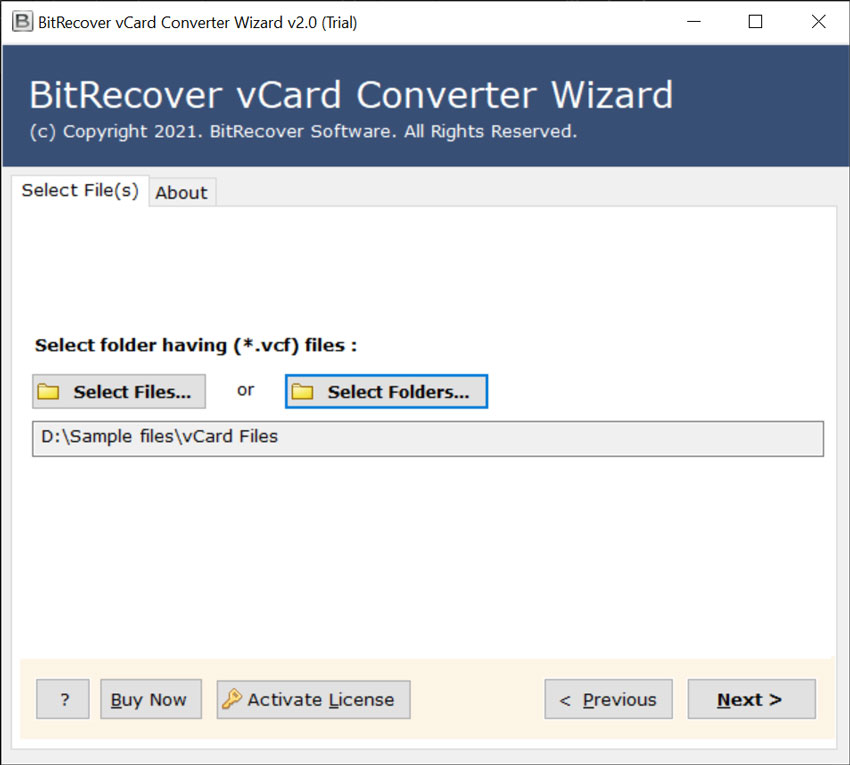 Step 3: Choose Specific VCF Files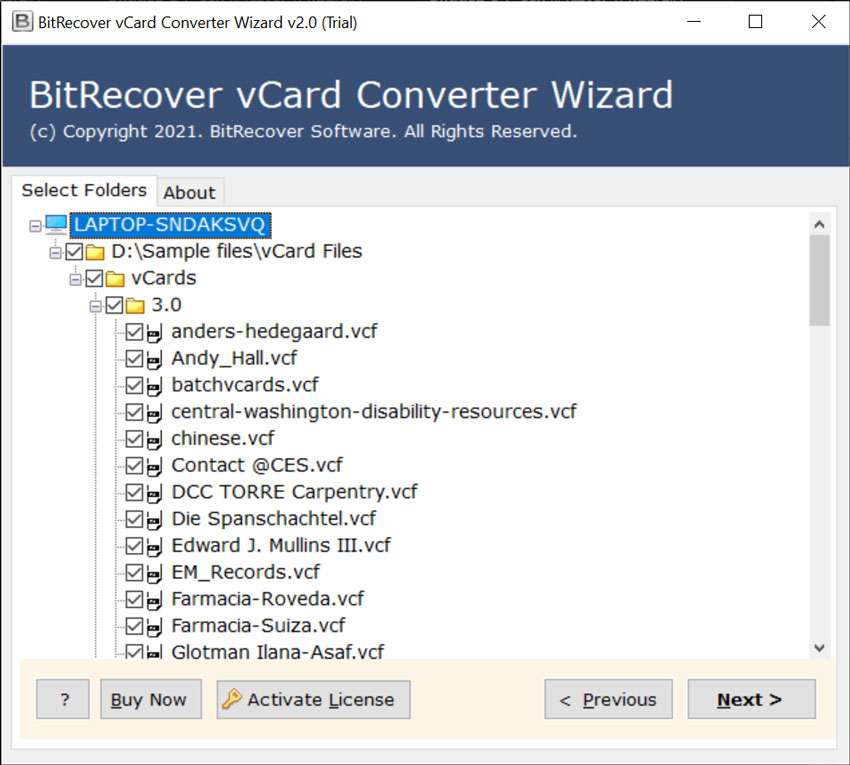 Step 4: Select File Format
Navigate to the saving options list and choose EML format.
Step 5: Save EML Files
Now, click on the destination path to browse a location of your choice for saving VCF to EML converted files.
Step 6: Convert VCF to EML 
Thereafter, click on the Convert tab. The process to convert VCF to EML starts immediately.
Now, you can open the specified location to view VCF files on your computer.
vCard to EML Tool- Prime Features of Software
Dual Modes for Choosing Files: The utility provides a dual method to upload vCard files into the interface. With it, you can add single or multiple vCard files/folders for converting vCard data to EML.
Keeps Intact Data Integrity: It assures to preserve the rich-text formatting of vCard information. Also, the software maintains the folder hierarchy during the conversion of VCF to EML.
Save Output at any Location: Users can store the VCF to EML converted data at any location on the computer. By default, the tool saves it the desktop location.
Works on all Windows OS: The software is compatible with all versions of Windows OS such as Windows 10, 8.1, 8, 7, XP, Vista, Windows Server 2019, 2016, etc.
No External App Required: The tool is well designed with powerful algorithms. Hence, it does not require any external app installation to convert VCF to EML.
Convert VCF with All Components: You can convert VCF files to EML with its attributes such as profile photo, full name, email, company, job title, website address, business address, business phone number, home phone number, business fax no, mobile phone no and home address.
Vast Compatibility with All vCard Versions: The software will convert any version of vCard file like 2.1, 3.0, 4.0. Moreover, it supports importing VCF files from iPhone, iPod, Mac, Blackberry, Palm, Android, Google Apps/Gmail contacts, Entourage, Lotus Notes, etc.
FAQs
Can I export multiple vCard contacts to EML format with this tool?
Yes, with this software you can batch convert vCard contacts into EML format.
How many files can I convert from VCF format to EML?
There is no restriction on the number of files with the pro version of software for conversion of VCF files to EML.
Do I need to install any plug-in to convert VCF to EML with your software?
No, there is no requirement to configure or install external app or plug-in to convert VCF files to EML format.
Will this vCard to EML export tool work on Windows 8?
Yes, it supports all Windows OS including Windows 8.
Conclusion
In this article, we have explained how to convert VCF to EML file format with all contact fields. If you are looking for a vCard to EML migration software then you can try our demo version. It is absolutely free of cost and permits to export few VCF files to EML. There are many other saving options in the toolkit so you can check them too. For further queries, do contact our support team.