A Five-Step Guide to Convert vCard Contacts to Excel – Export your Email Contacts to Excel Spreadsheet
Have you ever wanted to build an excel spreadsheet of all of your email contacts? An automated software enables you to do this conveniently. In this blog, you will know how to convert vCard contacts to excel sheet.
vCard represents Virtual Business Card, and like a conventional Business Card, it is utilized for exchanging personal or professional information such as typical name, telephone number, email address, faxes and websites.Most of us anyway use it to store contacts, typically a backup so as to import it in another smartphone, to a desktop email client like Outlook, or even in Google Contacts.
But, still many email programs would ask you to import or export contacts in another format. One such file format is CSV (Comma Separated Values). It's a simple database file such as an Excel spreadsheet.
So, whenever you are in a need to export vCard contacts to Outlook or any other email platform, then you will require a reliable conversion program.
We have simplified this process for you by launching a one-stop solution to convert vCard contacts to excel.
Export vCard Contacts to Excel in a Couple of Clicks with Automated Software
The BitRecover vCard Converter tool is a perfect application for those individuals who want to export contacts from VCF file to excel spreadsheet. With this tool, one can efficiently export vCard contacts to excel without losing any user information.
It is compatible with any vCard file like vCard 2.1, 3.0, 4.0 so as to import contacts from VCF file to excel. So, one can use this software to export VCF files of Google contacts, iCloud contacts, Outlook, Skype, etc, and store the converted files in an excel program.
The software runs smoothly on all versions of Microsoft Windows Operating Systems such as Windows 10, Windows 8.1, Windows 8, Windows 7, Windows XP, Windows Vista, Windows Server 2019, Windows Server 2016, Windows Server 2012, and previous editions.
How to Convert vCard Contacts to Excel ?
Download & Open vCard to Excel Converter.
Choose single or multiple vCard files.
Select desired VCF files for conversion.
Pick CSV as saving option & a destination path.
Begin to convert vCard contacts to excel.
Key Note- The tool will preserve all information while you import contacts from vCard file to excel. Such as Title, First Name, Middle Name, Last Name, Suffix, Company, Department, Job Title, Business Street, Business Street 2, Business Street 3, Business City, Business State, Business Postal Code, Business Country/Region, Home Street, Home Street 2, Home Street 3, Home City, Home State, Home Postal Code, Home Country/Region, Other Street, Other Street 2, Other Street 3, Other City, Other State, Other Postal Code, Other Country/Region, Assistant's Phone, Business Fax, Business Phone, Business Phone 2, Callback, Car Phone, Company Main Phone, Home Fax, Home Phone, Home Phone 2, ISDN, Mobile Phone, Other Fax, Other Phone, Pager, Primary Phone, Radio Phone, TTY/TDD Phone, Telex, Account, Anniversary, Assistant's Name, Billing Information, Birthday, Business Address PO Box, Categories, Children, Directory Server, E-mail Address, E-mail Type, E-mail Display Name, E-mail 2 Address, E-mail 2 Type, E-mail 2 Display Name, E-mail 3 Address, E-mail 3 Type, E-mail 3 Display Name, Gender, Government ID Number, Hobby, Home Address PO Box, Initials, Internet Free Busy, Keywords, Language, Location, Manager's Name, Mileage, Notes, Office Location, Organizational ID Number, Other Address PO Box, Priority, Private, Profession, Referred By, Sensitivity, Spouse, User 1, User 2, User 3, User 4, Web Page, etc.
Know-How to Export Contacts from VCF File to Excel Spreadsheet Program ?
First of all, download and install the vCard to excel conversion tool on your machine.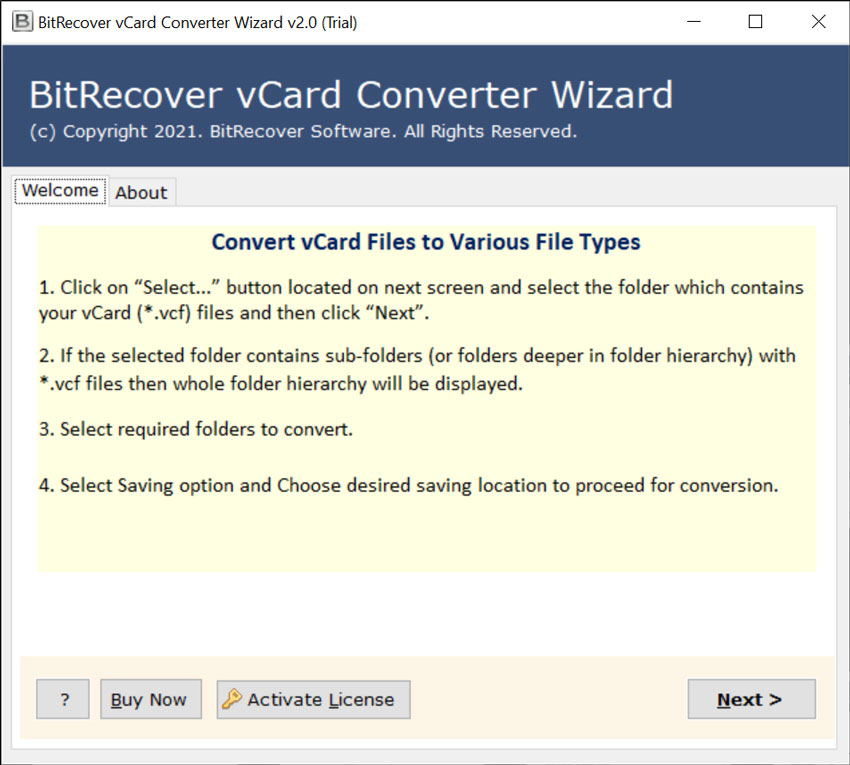 Now, choose the required vCard contacts for the export process. This can be done in dual ways: Select files and Select Folder option.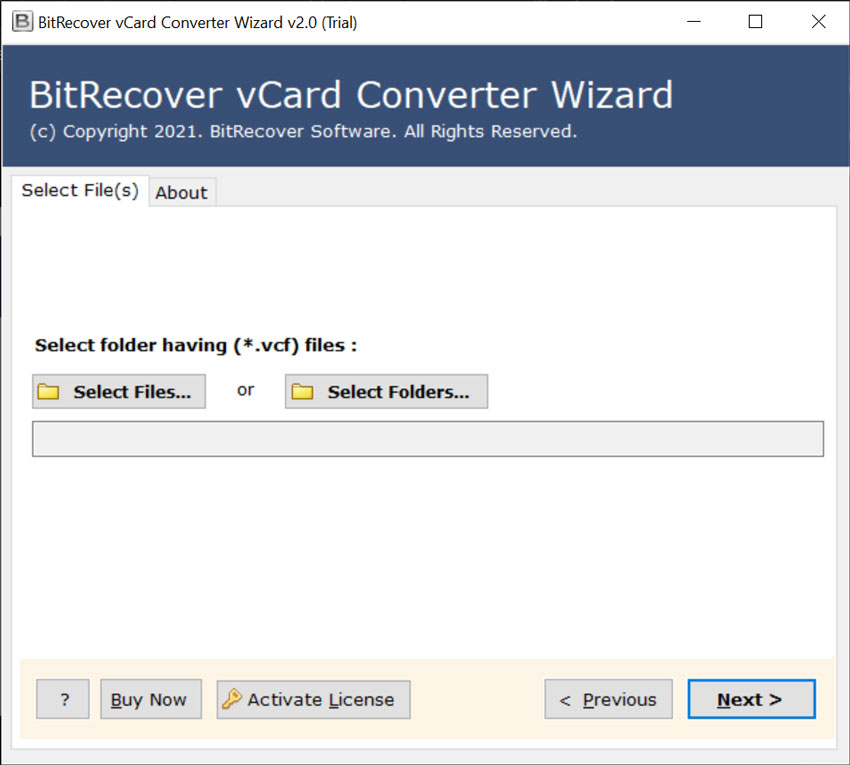 Then, check the preview of all contacts and enable the necessary ones.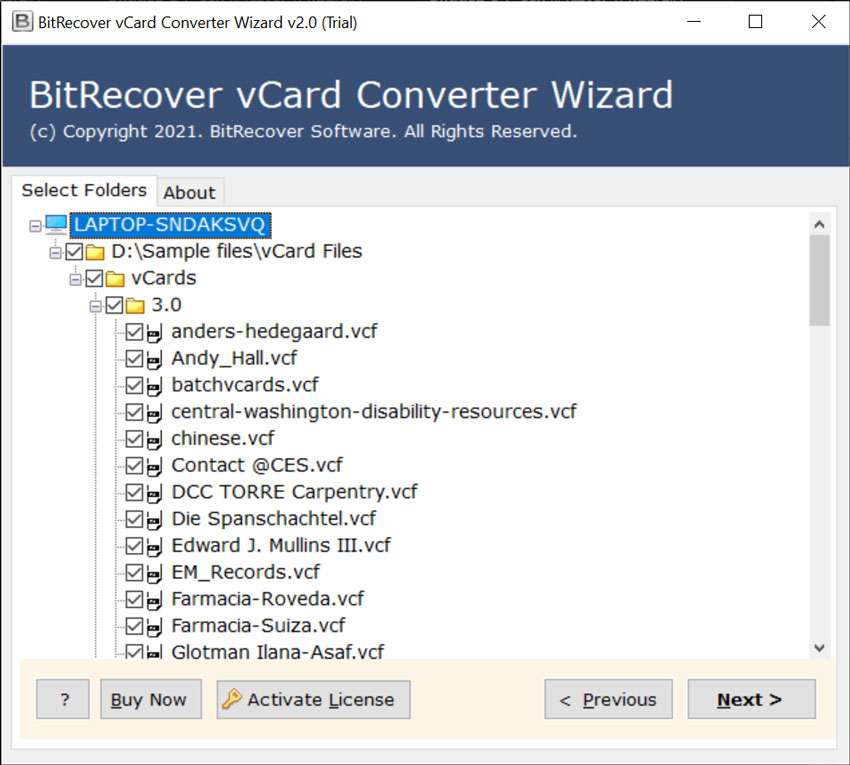 Next, navigate to the list of saving options and choose CSV from it. After this, enter a destination location to save the VCF contacts to excel converted data.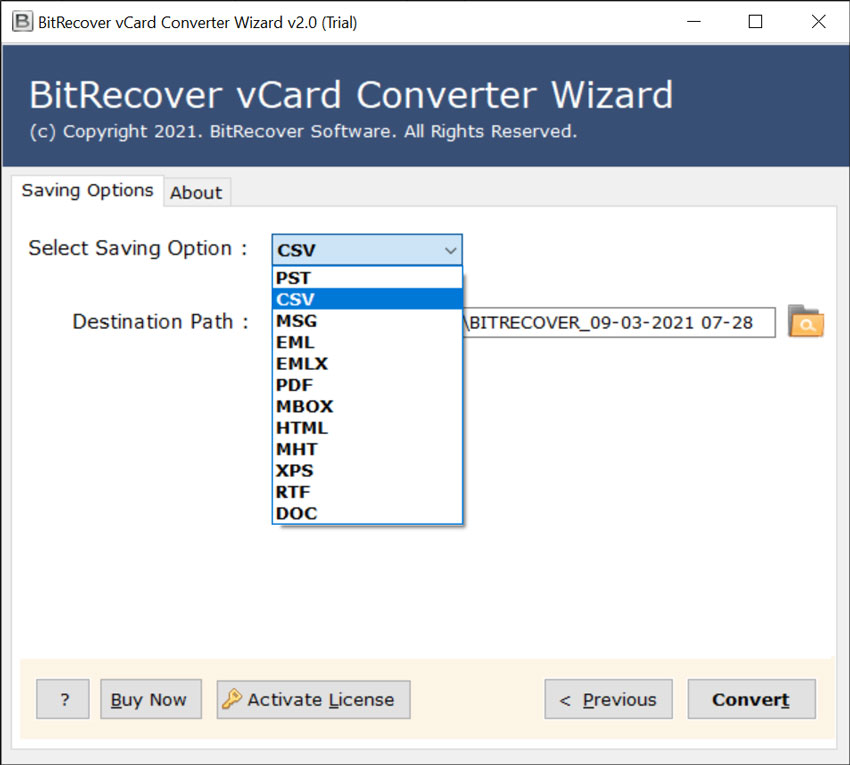 Lastly, click on the convert button to begin the conversion. The process to import VCF contacts to excel is running on your screen. After the processing ends, you will get a conversion completed report. Tap on OK to exit.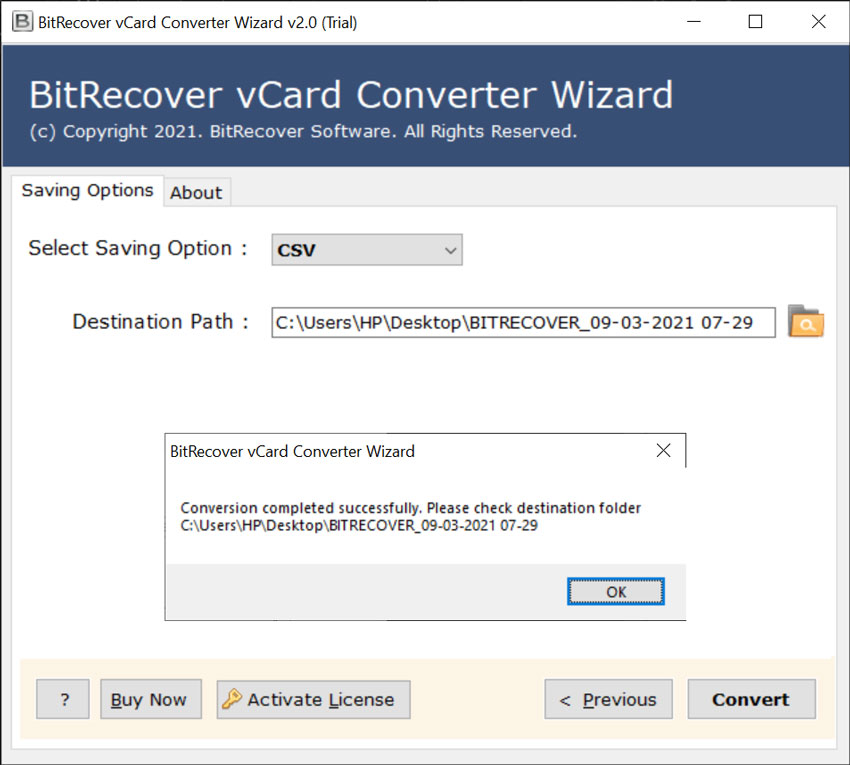 Now, you can open the .csv file which comprises all of your vCard email contacts.
Export Contacts from vCard File to Excel – Top Benefits of Tool
Bulk convert vCard contacts to excel:
With this application, you can bulk export contacts from VCF file to excel. It does not put any sort of limitation on contacts conversion. You can convert as many vCard contacts as you want to do.
Dual ways to load VCF data:
The users have two options to import vCard files into the toolkit for conversion. The 'Select files' option enables to load of single or multiple vCard files whereas the 'Select folder' enables to load of a complete folder of vCard contacts. So, in one go, you can import a bunch of your email contacts for the process.
Ensures data integrity:
The product keeps intact the trustworthiness of information all through you export vCard contacts to excel.
No necessity for external application:
Using this tool, you don't have to launch an external application for converting vCard contacts to excel.
Keeps intact contact details:
While you import contacts from vCard file to excel, the utility will hold all the contact information such as the attachments, profile photo, full name, email, company, job title, website address, business address, business phone number, home phone number, business fax no, mobile phone no and home address.
Supports all versions of vCard files:
This application is compatible with all vCard versions, for example, vCard 2.1, vCard 3.0, vCard 4.0, and so forth
Easily preview all data:
The utility provides the facility to preview all information before you start to convert vCard contacts to excel. In this way, one can maintain the efficiency of conversion and can exclude or include data very easily.
Frequently Asked User Queries – How to Import VCF Contacts to Excel ?
Q1: My colleague has emailed me some client contacts as vCard files. Now, I want to view vCard files in my new mail app Outlook 2019 program. So, looking for a solution to convert vCard contacts to excel (.csv) files. How to export contacts from VCF file to excel spreadsheet?
Q2: I have 1500 documents of contact in vCard format. Presently, I am quitting my Outlook app and moving to some other email service. So, I want to export vCard contacts to excel file format which is CSV. How can I export contacts from VCF file to excel? I don't want to perform the repetitive conversion, so I need a fast tool which can bulk convert vCard contacts to excel. Thanks in advance!
Closure
So, the process to convert vCard contacts to excel can easily be done with the above method. Try the free trial version of this software to evaluate its proficiency. After getting satisfied, you can buy the license keys of the product.