TIFF to BMP Converter to Save TIFF files to BMP Images
If the TIFF (Tagged Image File Format ) is not so easy for you then you can convert TIFF files to BMP format. Most image converters available on the web convert the graphics or files one by one. This leads to a huge interval of time for converting hundreds of TIFF images into BMP. It is far more suitable to batch convert TIFF to BMP with the help of BitRecover TIFF Converter.
How to Convert TIFF to BMP ?
Launch TIFF to BMP converter
Upload desired TIFF files for conversion
Enable required data to convert into BMP
Choose BMP saving format and a destination path
Start to convert TIFF files to BMP format
TIFF to BMP Converter Utility to Save Multiple TIFF Files to BMP
This flexible utility is intended to transfer multiple TIFF files to BMP format. It is Windows compatible plus has a user-friendly GUI. Read the steps given below to execute the conversion.
Firstly, download and launch the TIFF to BMP conversion utility on your Windows machine.
Then, choose .tiff files from your database. You can import TIFF files/ folders as per requirement with these two options – select files or select folder.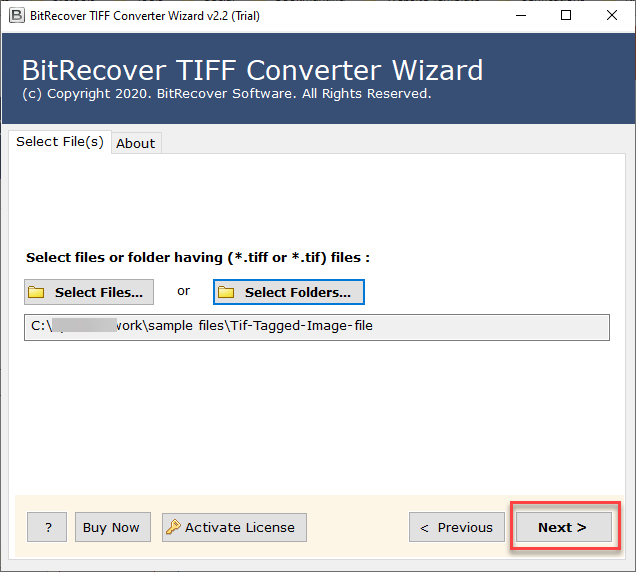 Thereafter, the tool will show a list of chosen TIFF folders into the software panel. Now, enable those TIFF data files which you want to convert from TIFF to BMP format.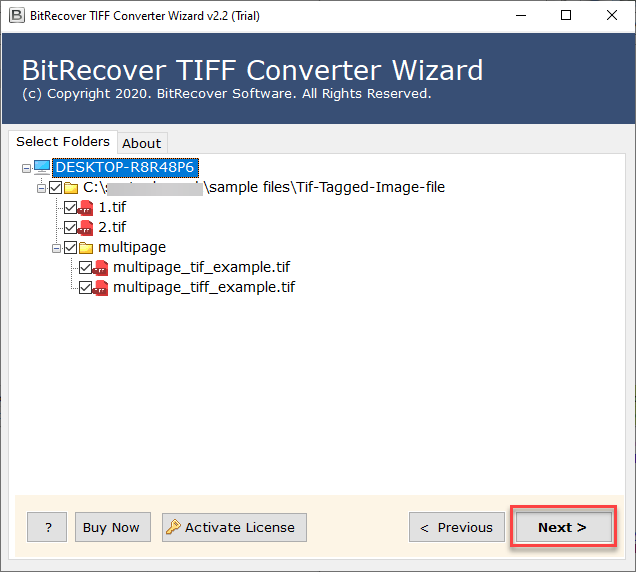 After this, go to the saving options and choose BMP as saving option.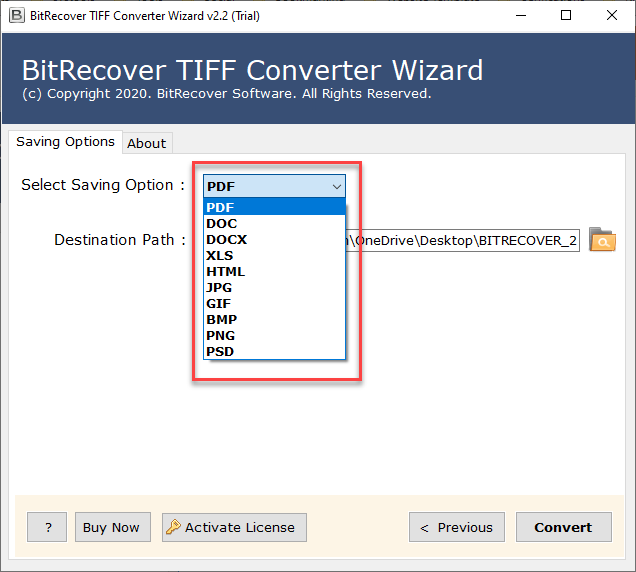 Now, enter a destination path for storing the output files. You can browse the desired location.
Along with this, hit on the convert tab to start to save images from TIFF format to BMP.
Now, open the resultant folder containing your BMP data. Hence, in this way, one can change TIFF format to BMP with the help of an automated TIFF file to BMP Converter.
Transform TIFF Data into BMP – Benefits of Software
Batch conversion – With this TIFF to BMP Converter, you can change multiple .tiff files to BMP format in a single processing. It enables users to batch convert TIFF to BMP format.
No external installation – The tool is designed in such a manner that it does not require any external installation for TIFF to BMP file conversion.
Windows compatibility – It supports all versions of the Windows Operating System. Hence, you can download it on Windows 10, Windows 8.1, Windows 8, Windows 7, Windows XP, Windows Vista, etc.
Selective data conversion – With the help of our software, the users can selectively transform TIFF files. You can choose selective files to convert TIFF file to BMP.
Easy and fast processing – It's an expert solution and 100% tested product. The tool gives precise results with no data manipulation. The users can change TIFF data to BMP in the swiftest manner using this software.
Want to Test the Software for Free ? – Download Demo Version Today!
The users, who are willing to convert TIFF to BMP format need not worry as TIFF to BMP Converter comes with a demo version too. With it, the users can convert a maximum of 5 .tiff files into BMP format. Using this, you can evaluate the tool's performance in the quickest manner. In order to convert unlimited TIFF files into BMP format, upgrade the license keys.
Let's Conclude
In the above blog, we have described how to convert TIFF files into BMP format with the help of an automated solution. The TIFF to BMP converter is an expert-recommended solution that maintains the integrity of data throughout the processing.
There are no bugs or errors associated with this application. Plus, you can try the demo version for the tool's evaluation before buying the license keys. If you need any help, please contact our support team.