TIFF to PNG Converter to Convert TIFF Images to PNG Format
If the thought of storing thousands of TIFF files in PNG file format makes you confused, perk up. You can do the TIFF to PNG conversion all at once without ay expert assistance. How? Read this blog.
Converting TIFF images (Tagged Image File Format) to PNG (Portable Network Graphics) becomes essential when you are intending to make a big file smaller. We must tell you that these two file extensions are lossless compression raster graphic files. However, once you convert TIFF to PNG, then, this will offer you a manageable file size that will ultimately be compatible with all web browsers.
But, then, the next question is, how one can save TIFF images to PNG? Well, BitRecover TIFF Converter is a recommended offline tool that will give you the capability to convert TIFF to PNG on Windows 10, 8.1, 8, 7, XP, Vista – almost all Windows platforms. With this automated solution, you can bulk change TIFF to PNG format in a single go.
So, there is no harm in using this TIFF to PNG converter.
But, for those who are interested in saving the highest quality images, as TIFF and PNG provide, you might be in a dilemma about which one is best for you.
Why Should We Convert TIFF to PNG Images ?
This decision-making process about which image format is best suited for users keeps on going if one is not aware of the significance of both images. Read why users are compelled to convert TIFF images to PNG.
#1 If someone is looking for a smaller file and a web-friendly format, then TIFF format is generally not recommended. But, if you are planning to have a small file with the same quality then PNGs are your go-to.
#2 PNG files support a large number of colors, plus you can vary the degree of transparency.
#3 Best known for graphic image documents such as logos, charts, infographics.
How to Convert TIFF Images to PNG Format ? – Read the Detailed Instructions
Step-1: Download, install and run the TIFF to PNG converter software on any Windows machine. Read the instructions carefully and press on the Next tab.
Step-2: Thereafter, choose and import the .tiff files from your computer database into the software panel. This can be done in two ways: Select files or Select Folder.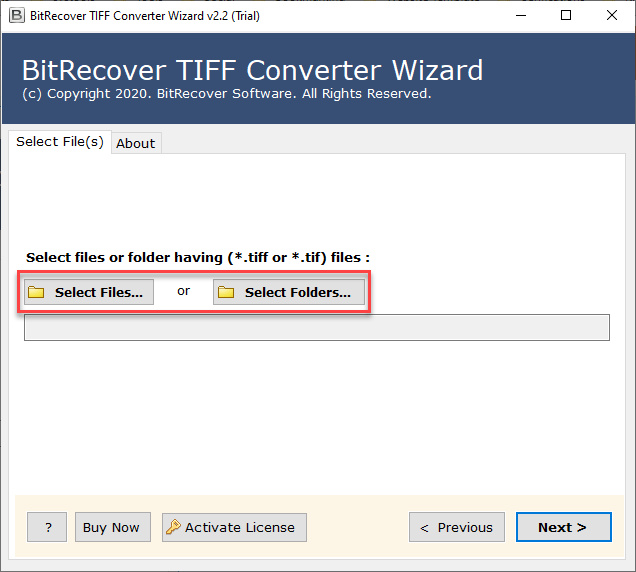 Step-3: Now, choose the folder containing the *.tiff or *.tif files and hit on the Select folder option.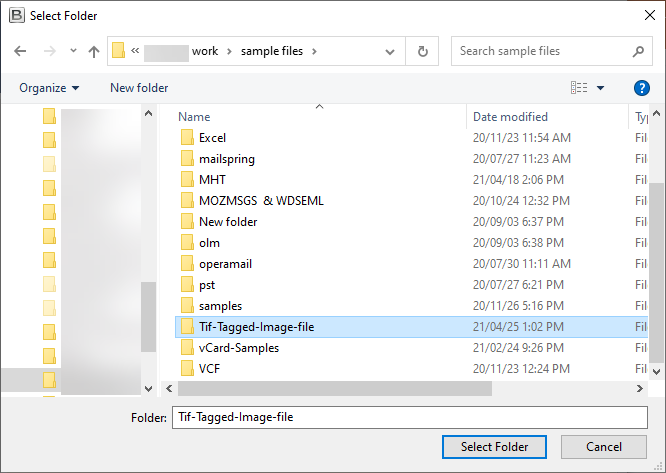 Step-4: Here, the tool will show the path of the chosen TIFF folder. Tap on the Next button.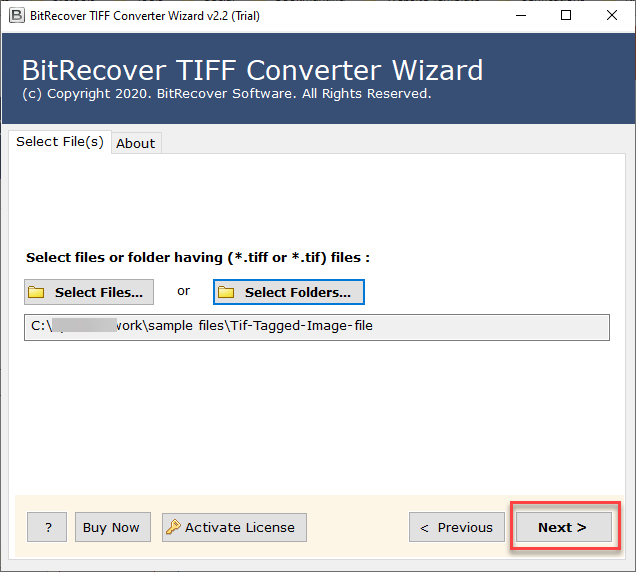 Step-5: After this, the software shows all the selected TIFF files or folders in the software GUI. Now, enable only those selective folders whose data you want to convert TIFF into PNG.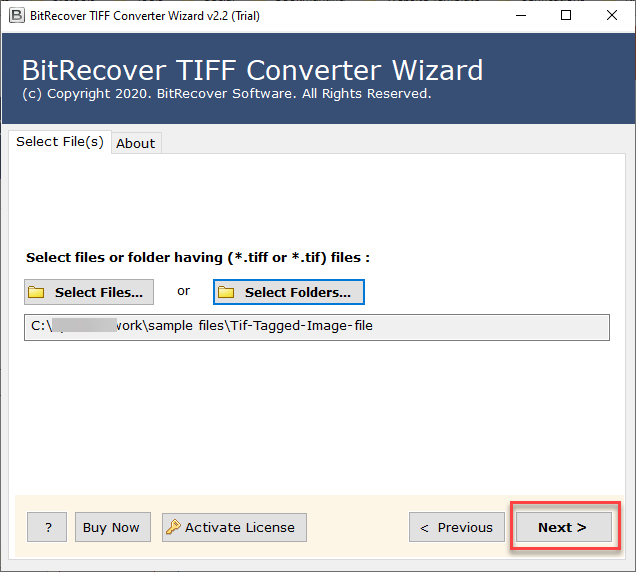 Step-6: Afterward, move to the saving options list. The tool gives multiple saving options, from these – choose PNG format.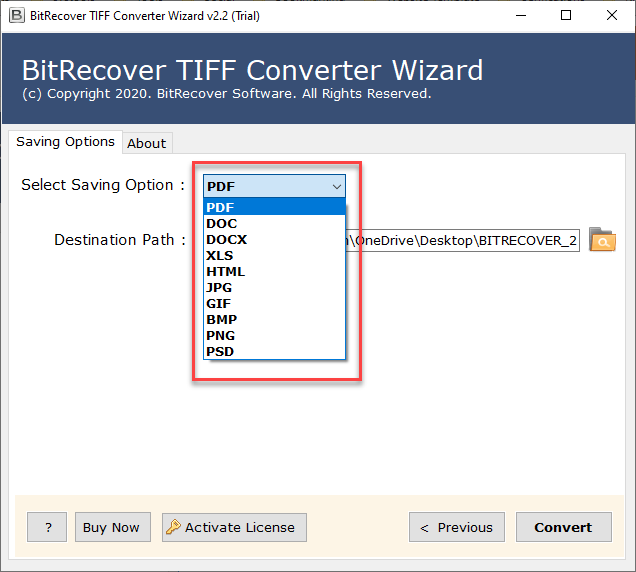 Step-7: Thereafter, go to the destination path option and specify a location for saving the output PNG file. Though the tool saves it at the desktop location. However, you can change it as per your requirement. Along with this, click on the Convert button to start to save TIFF file to PNG format.
Step-8: The TIFF to PNG conversion is running successfully. Once it finishes, the tool will give a completion message.
Step-9: After this entire TIFF file to PNG image conversion finishes, open the folder containing your PNG images.
Change TIFF to PNG Images – The Unbeatable Benefits of Software
This TIFF to PNG batch converter is a reliable, effective, and speedy conversion tool. This application facilitates to convert TIFF to PNG in three simple steps:
Upload TIFF file(s) –> Choose "PNG" Saving option –> Convert TIFF Files to PNG
As discussed in the above section, in not more than three basic steps, one can easily change TIFF images to PNG files. Out TIFF to PNG file converter tool is an easy-to-use application for both individual and batch conversions. You can even do selective conversion of TIFF files to PNG format without any difficulty.
Please Note:- (i) We completely respect a total privacy while processing your data.

(ii) We don't publish or copy your data / file anywhere.

(iii) There are no limitations of the pro version of the software.
What Other Advantages Does the Application Holds ?
The tool offers multiple useful features to its users. You can read them one by one.
The users can batch convert TIFF to PNG format in single processing.
In a single attempt, you can import a single as well as multiple TIFF files into the tool's panel for conversion.
You can selectively save TIFF as PNG images if required.
No more external installation of any utility is required to convert TIFF files to PNG images.
The users can save the output data at the desired location.
You can download the tool on all Windows Operating systems.
It has a simple and user-friendly GUI thus any technical or novice user can access the tool.
You can convert from TIFF to PNG and can analyze the entire conversion process with the live conversion progressive report.
Want to Test the Software for Free ? Download DEMO Version Today!
If you are among those group of people, who intends to evaluate the tool's features before investing in it. Then, we understand your needs. Rejoice now, you can effectively try how the software works, and that too for FREE!
To avail of the free demo version of TIFF to PNG converter software hit on this green button provided below. It allows any user to convert a maximum of 5 TIFF files to PNG format. For unlimited conversion of TIFF files to PNG format, update the license keys.
Common User FAQs
Q1: How to Convert TIFF to PNG images?
Launch TIFF to PNG converter software.
Upload TIFF files into GUI for conversion.
Enable specific TIFF folders to convert into PNG.
Choose PNG saving format and start to convert TIFF to PNG.
Q2: What is the difference between TIFF and PNG file format?
TIFF (Tag Image File Format) – The file format with .tiff extension is used for storing raster graphics and images as well as vector images. It is used in desktop publishing, 3-D applications, faxing, medical imaging applications.
PNG (Portable Network Graphics) – The PNG format comprises of bitmapped or raster images. It is commonly used in web design to offer a transparent background. PNG pictures are used as an image logo over a background of a picture, block of colour or pattern.
Q3: What are the limitations of the trial version of TIFF to PNG converter?
The trial version permits to convert maximum of five .tiff images to PNG format. To overcome these limitations, please upgrade the license keys.
Client Testimonials
From:- Clachas, United Kingdom
I work in the field of 3-D applications from past one year. The volume of TIFF images has been growing day by day. My recent project demanded a conversion of TIFF files to PNG format. But, I wasn't aware about how to do this processing. Thankfully, I have now saved almost a folder of 100 files of TIFF images to PNG format using BitRecover TIFF to PNG Batch Converter. I really liked this product and have recommended it to my co-workers as well.
From:- Brant, Chicago
I installed the TIFF to PNG Conversion tool a few months ago. Your application is top notch in every way. The selective file conversion facility offered by this utility finally saved my time rather than grabing all TIFF files one by one. Thank you very much for all you do – you have made my job an easy one.
From:- Daelen, USA
Frustrated by inability to convert TIFF to PNG files manually, I searched online and read few reviews that recommended the TIFF to PNG image converter. NEVER before I downloaded this application on my computer and have it be the cure for what ails me with such ease. The software simply has made the TIFF file to PNG conversion efficient and enhanced my work productivity to an astounding degree!
Over To You
We understand that trusting an application for file conversion is very tough. That's why we assure you that the suggested TIFF to doc converter will fulfil all your requirements. It's an automated solution which maintains the data integrity throughout the entire processing.
We hope that with the help of this blog, you can easily convert TIFF to PNG without any hassle. Still, have any doubts? Chat with our technical support team to resolve your worries.
You might also be interested in…..
TIFF to DOC Converter
Convert Multi-page TIFF to PDF
TIFF to JPG Converter