TIFF to GIF Converter –  How to Transform TIFF Files to GIF Format Offline for Quick Use ?
Do you have some TIFF files but want to give your audience a closer look at your product using GIF files? Or, perhaps you want to create a tiny presentation with these GIF files. Well, GIFs are great! And they give great results too! But, when it comes to transform TIFF files to GIF format then, users get hassled. Read this blog to find out a reliable TIFF to GIF converter for changing your desired images.
Many professionals today prefer to maintain their files in GIF format. Reason being –
#1 Animated GIF have a relatively small size.

#2 GIF can be used online as they can easily load with high quality.

#3 With GIFs, the users can show emotions and movement in better way as compare to TIFF images.

#4 For businesses, GIF files gives a site a professional look.

#5 Can be used in animated logos, web banners, background colour of your webpage, no plug-in required to play GIF.
Having said that these animated GIF files are good for saving crisp and neat line art. The users who have TIFF files wish to convert TIFF to GIF.
Best Offline TIFF to GIF Converter
The TIFF to GIF conversion is very simple and an easy to do task with the help of a trustworthy application. BitRecover TIFF to GIF converter is an expert solution which gives a direct solution to change TIFF files to GIF format. It's a quick solution that can transform TIFF images to GIF files in seconds. There are no file limitations associated with this software. This TIFF images to GIF transformation tool takes place precisely without any loss of data.
What Users Like About TIFF Files to GIF Transformation Software ?
(i) It is exclusively designed for professionals, developers, novice users.
(ii) A 24*7 speedy response from the technical support team.
Basically, it comes in two versions:-
Trial version – It's a free demo version that allows to convert maximum of 5 .tiff files into GIF format.
Pro version – It's a lifetime license version that permits for TIFF to GIF conversion without restrictions.

How to Change TIFF Files to GIF Format With High Quality?
The manual solution that is available on the web can destroy your complete data. Hence, here we have come up with an effective solution to convert TIFF to GIF format. In order to access this software, first download and launch the TIFF Converter on your computer machine.
BONUS! Give a hit on download button to use this software on any Windows machine. It runs on Windows 10, Windows 8.1, Windows 8, Windows 7, Windows XP, Windows Vista, Windows Server versions, etc.
Once downloaded the TIFF to GIF converter software on your Windows machine, now you can upload the TIFF data. To do so, you can choose either of these two options: Select Files or Select Folder.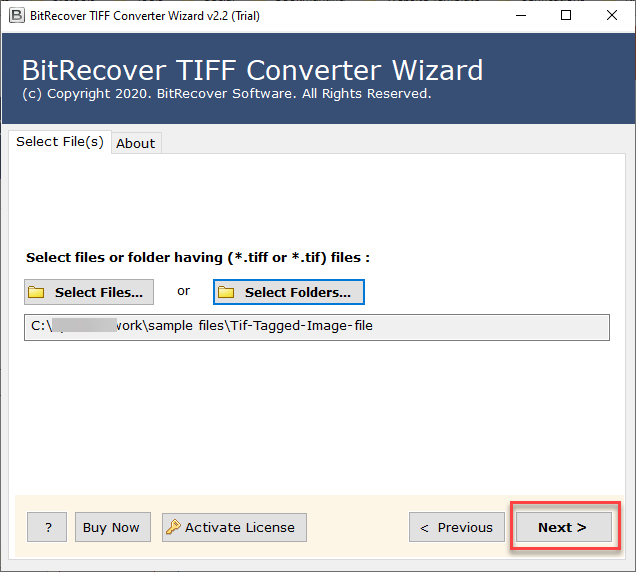 Thereafter, specify and mark those folders of TIFF data that you want to change into GIF format.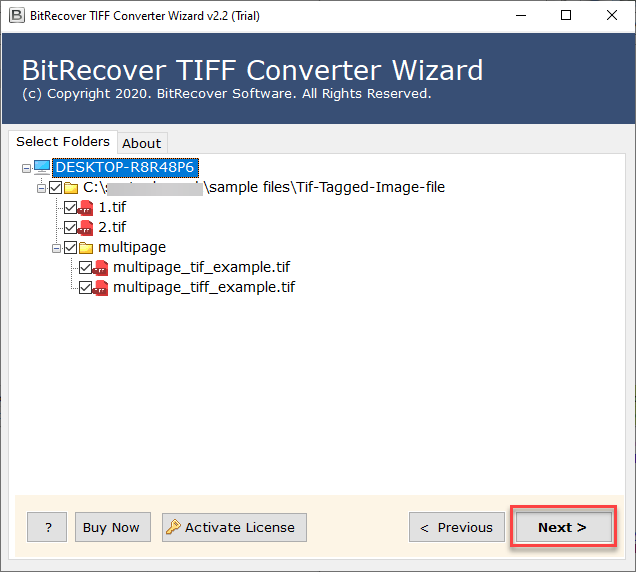 After this, navigate to the saving options list. Here you can see a lot of options, pick GIF format.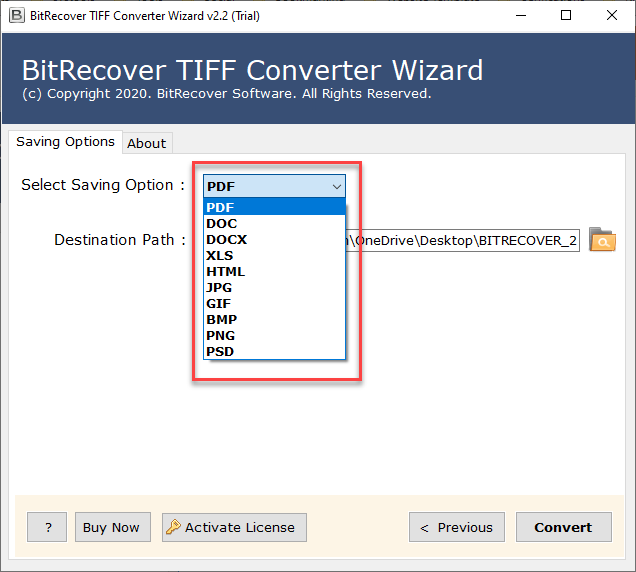 Then, enter a destination path for saving resultant GIF output data. You can either change the location or keep it as it is at the desktop location. Also, with it tap on the Convert button to start to convert TIFF files to GIF format.
Once all the steps are done, open the resultant folder containing the GIF files.
That's it! These were some very basic steps to convert TIFF files to GIF format. Now, read some useful information about the TIFF to GIF conversion tool in the upcoming section.
Benefits of TIFF to GIF Conversion Utility
Supports bulk conversion – With this TIFF to GIF converter, you can change TIFF files to GIF format in batch mode too. There are no limitations with this utility, the users can transform multiple TIFF images to GIF format in one go with complete accuracy.
Dual options to import TIFF data – For converting TIFF data to GIF, the users can take two ways. The tool gives double options to upload TIFF files into the software panel for conversion. The "Select files" option enables to import single or multiple TIFF files whereas the "Select Folder" option will let you to import a complete folder of TIFF files.
Export TIFF to many formats – Other than the GIF formats, there are many options for the users for the TIFF conversion. The tool provides multiple saving options such as PDF, DOC, DOCX, XLS, HTML, JPG, BMP, PNG, PSD.
Transform data with high resolution – This utility is designed in such a manner that during the TIFF to GIF conversion, the original quality remains intact. It preserves the integrity of data throughout the processing.
Create separate resultant files – The TIFF to GIF converter gives the output in a way that it will produce separate resultant data for each TIFF file.
Option to save output as per user's choice – Best part is that after the TIFF to GIF transformation, you can save the output at a desired location.
Feedback of Our Happy Customers
I work in a news magazine firm in New York from the past three years. A while back, our firm made a new homepage. To design an online layout of this homepage, I had many images in .tiff format. But, then I give a though to put animated GIF files over this page to string together multiple still images. From the various reviews of this product, I found this one – BitRecover TIFF to GIF Converter. Now, I can't imagine to work without this product. It has made me to convert TIFF files to GIF format without staking the resolution of the original images. Call me a very satisfied customer!
-Fanny, USA
Having my new TV add agency has put a lot of pressure on me to manage all the work chores by my self. I needed a print advertisement that can give a teaser of the innovative things that I wanted to put up on the banner. Though I had TIFF files but that won't be fulfilling the purpose. So, I decided to transform TIFF images to GIF in batch mode. In order to complete this conversion, I started my journey towards finding a useful TIFF to GIF conversion tool. Fortunately, my patience paid me and I got this product – BitRecover TIFF file to GIF converter. It is simple to use, and most importantly it's offline tool. So, there is no issues of data loss too! This tool is a life-saver for me and I am now going to buy this product for the conversion. Thank you!
-Bronson, Germany
Regularly Asked Questions

Q1: How can I transform TIFF files to GIF format?

Launch TIFF to GIF converter.
Select desired TIFF files to convert into GIF.
Specify TIFF folders for conversion.
Choose GIF format and begin to transform TIFF to GIF.

Does the tool will allow me to change TIFF to GIF format on my Windows XP?

Yes, this application runs on all Windows platform including Windows XP.
Over To You
It's high time to end this discussion about how to convert TIFF to GIF format. The TIFF to GIF converter has one of the best features in it. Hope you found this guide useful and now can effortlessly change TIFF files to GIF format. Do contact to our support team if you have any queries.
Suggested Blog Posts:
3. Convert Multi-page Tiff to PDF