How to Convert WebP to DOCX Format ?
Are you looking for a solution to convert WebP to DOCX file format? Want to know how to save WebP as DOCX DOCument? If yes, then read this blog to get precise information regarding the same.
WebP vs DOCX
WebP ('weppy') is a known file format that saves pictures with both losses as well as lossless compression. It was created by Google on the standard technology of On2.
DOCX is an XML-based word processing file created by Microsoft Company. The previous versions of Microsoft Office (prior to Office 2007) do not support the DOCX format because DOCX the previous editions store the DOC file as a single binary file.
Hello Team BitRecover! I am a designer by profession and have a large collection of image files of different formats. Among these images, some are of WebP format (nearly 3500 in numbers). I need to convert WebP to DOCX format for my work chores. Is there any professional solution that would allow me to implement such bulk conversion in a limited amount of time? If yes, please help me!!!! – Andrew, Canada
Acknowledging this query, our blog team has come up with this write-up. Here, we have explained the right approach to perform WebP to DOC conversion.
Point to Remember: You can save a WebP image to your PC in the same way as you would save any picture on the internet. A right-click and hit 'Save As' but there is no such option to save the image in a DOCument format. Hence, for such sort of WebP to DOCX conversion, you'll require a professional and expert solution which we have discussed here.
All-in-one WebP to DOCX Converter Tool
BitRecover WebP file to DOCX conversion software is a multifeatured application that gives the facility to its users to perform WebP image conversion to varied file formats. If you are searching as a destination saving option in DOCX format, then your search ends here.
With this software, you can convert WebP to DOCX in batch so as to save your time and efforts for repetitive conversions.
Please hit on this green download button to take a free trial of the software.
Go through these steps for converting WebP to DOCX files:
Download & Launch WebP Converter Tool.
Choose desired WebP files or folders.
Select required data and choose DOCX as a saving option.
Enter a destination path for saving the output.
Start to convert WebP files to DOCX format.
Stepwise Explanation of How to Convert WebP to DOCX Format
The entire processing to convert WebP images into DOCX format is a five-step process. Here is the overview of all major steps involved in WebP to DOC conversion.
First of all, download the setup of software on your computer. Make sure to follow each step carefully and then proceed further. Install it properly on your Windows machine.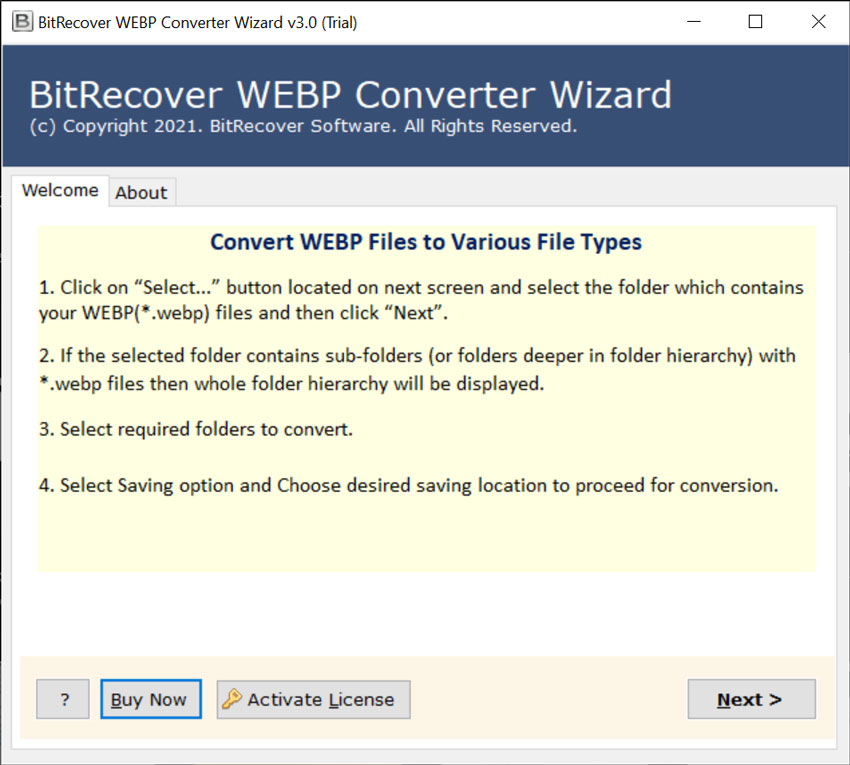 Now, you will see two options for loading WebP data into the toolkit: Select Folder or Select File. The former option permits to load of single or multiple WebP files contained in a folder. Whereas, the latter one grants users to load multiple or even a single WebP DOCument into the UI.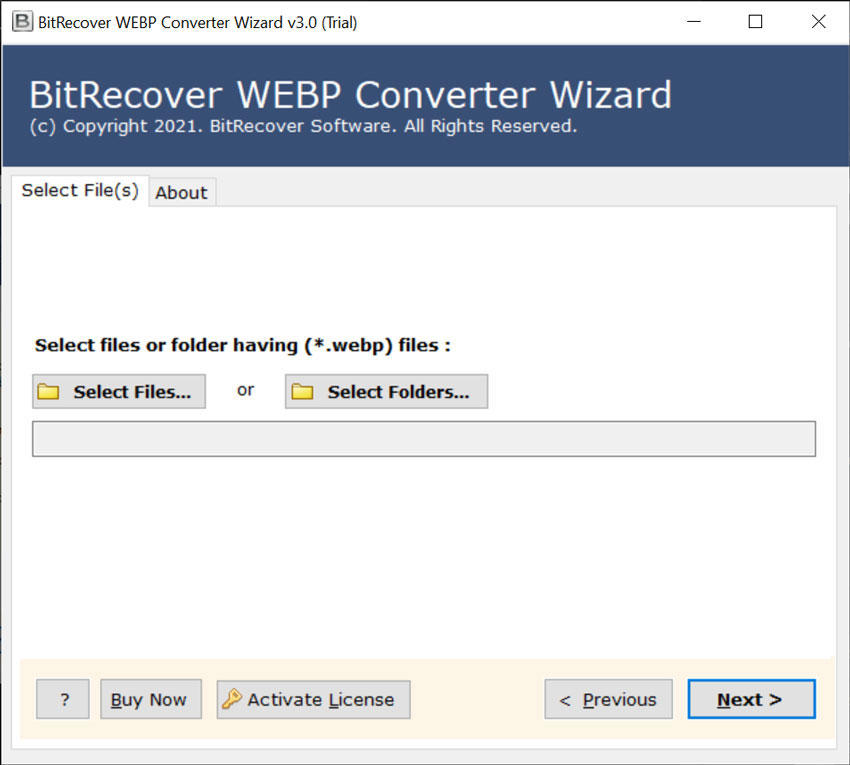 Next, there is a list of all chosen WebP files in the interface of the tool. Just, enable those images which you need to convert into DOCX format.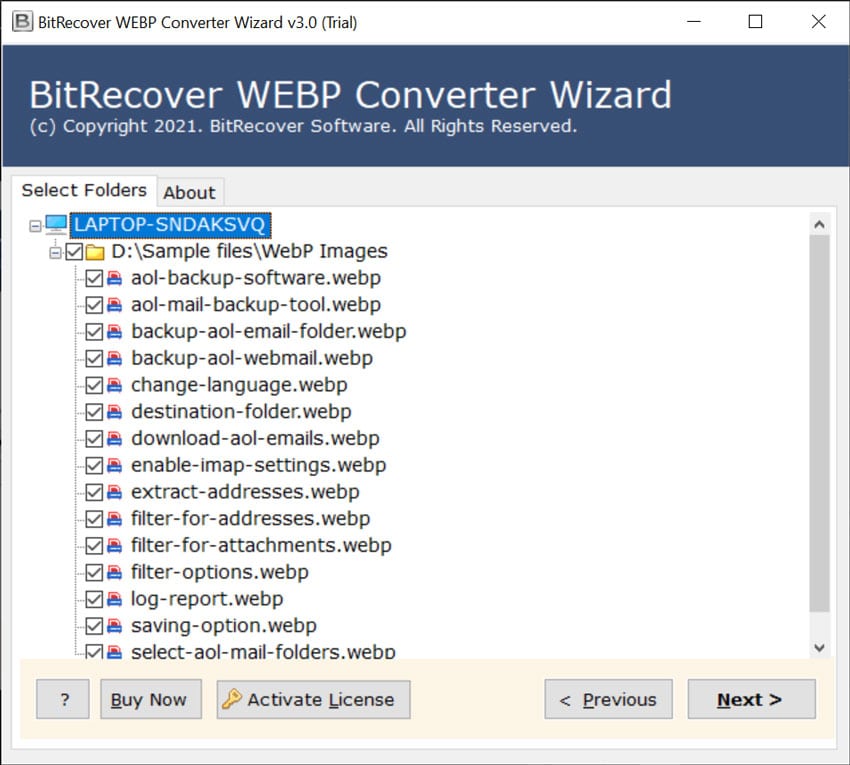 Thereafter, navigate to the available saving options. Scroll down and select 'DOCX' or 'DOC'.
Set up a destination folder location by hitting on the browse button. Click on the Convert button to begin the process.
Conversion of WebP images into DOCX format is running on your screen. Just after the conversion ends, you'll get a conversion completed message.
WebP to DOC Converter – Prime Advantages of Software
Create Separate File for Each WebP Picture: The software is designed in such a manner that it makes a specific file for each WebP image. Say, if you want to turn 1000 WebP images into DOCX format then it will produce 1000 output files accordingly.
Bulk Conversion in One Time: The tool facilitates batch convert WebP to DOCX format in single processing. This helps any user to save WebP as DOCX format without any limitations.
Dual File Selection Options: After launching the WebP to DOCX tool, there are dual options for the file loading process. With such a feature, you can upload one or multiple Google WebP files at once without any hassle.
Selectively Convert Files: You can avoid the conversion of unnecessary WebP images into DOCX with this software.
Preserves Original Image Properties: Throughout the export of WebP images to DOC format, the utility maintains the original image size, image color, text, logos, animation, effects, etc.
Any Saving Location: Users can store the resultant DOC or DOCX files at any location on a windows computers. By default, the software saves it at the desktop location.
Shows Live Conversion Progressive Report: During the WebP to DOC conversion procedure, you can see the live counting of converting files.
Compatibility with Windows: It supports all latest and earlier versions of MS Windows Operating Systems like Windows 10, 8.1, 8, 7, XP, Vista, Windows Server 2019, 2016, 2012, etc.
Frequently Asked Queries
Does the WebP to DOC saving tool keep intact pixels, inches, etc while conversion?
Yes, the software maintains all image properties during the conversion of WebP images to DOCX files.
Can I bulk convert WebP to DOCX files with this tool?
Yes, with it you can convert WebP files to DOCX format in batch.
Does this software grant to convert 200 WebP files to DOC?
Yes, with this tool, you can convert WebP files to DOC without any limitations.
Closing Comments
In this blog, we have explained how to convert WebP to DOCX format. The software is easy to use and comes with numerous beneficial features. The best thing is that users can evaluate the tool's properties with the free demo version. Later for unlimited conversion, please buy the license keys of the product. For resolving any queries regarding the software, contact our support team via live chat.