How to Convert WebP to GIF Format ?
WebP is a widely known image format that is prevalently utilized for its capacity of storing great pictures in a more modest size document. Being new, WebP is viable with a predetermined number of platforms and programs. Hence, to make your WebP files available by a wide range of programs and web browsers, changing it over to GIF is the correct solution. Moreover, saving Google WebP as GIF format encourages making an animated version of your pictures. Read how to convert WebP to GIF in this blog post.
DO YOU KNOW?
GIF or Graphic Interchange Format documents are broadly well known because of their capacity to store animations and pictures in a generally little size. Their compression calculation infers the utilization of a restricted color range (up to 256 tones), which implies GIF files are extraordinary for putting away static and animated pictures of a little size – like logos, symbols, or avatars, particularly in the event that you intend to move them or transfer them on the web.
Things You'll Need to Convert WebP to GIF
A Windows Computer
BitRecover WebP to GIF Converter
Image File (s)
Please Note:- We have suggested this WebP to GIF converter software because it is the most prominent solution for converting multiple WebP files to GIF in today's era. It comes with a fantastic and robust Graphical User Interface. Moreover, one can perform batch WebP to GIF conversion in few seconds with this tool.
How to Save Google WebP as GIF High-Resolution Images ?
Please follow these guidelines to convert WebP into GIF format:
Step1: Download WebP to GIF Batch Converter
First of all, download BitRecover WebP Converter software. Follow the installation instructions and thereafter launch/ open the software on your Windows PC after you have ended installing it.
Step2: Import WebP Files into the Toolkit
Tap on the Select Files or Select Folders button, located in the UI to open the file finder windows. Locate and choose WebP files on your PC to convert them to the GIF file format.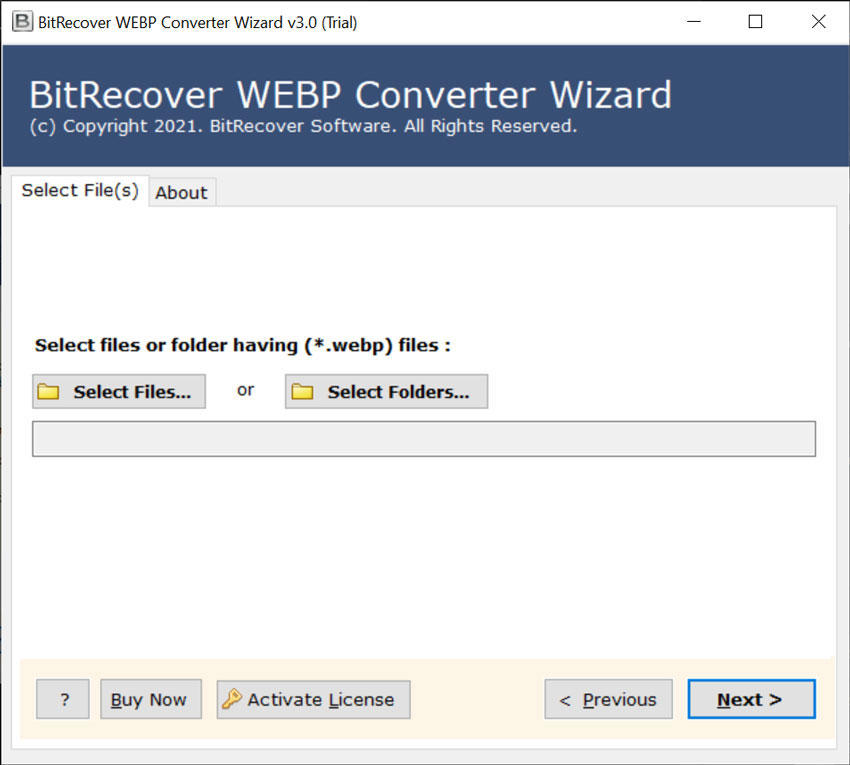 Step3: Enable Desired WebP Folders
Now, pick the required WebP files or folders which you wish to turn into GIF files.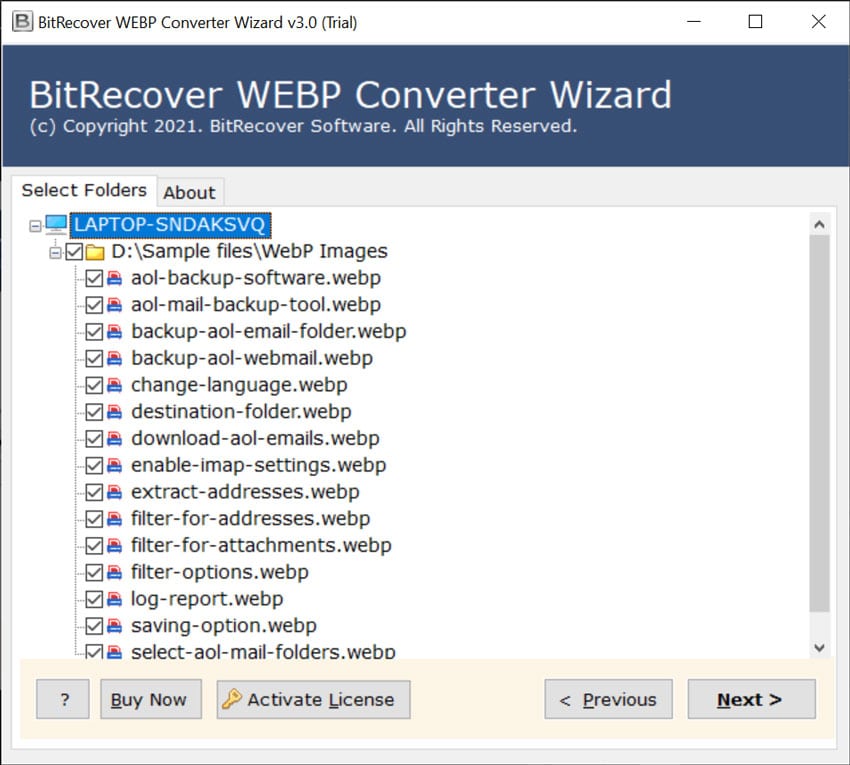 Step4: Select an Output Folder
Set the output target location where you would like your converted files to go after they have been converted from WebP into GIF file format. Hit on the Browse icon to choose a folder from your computer for saving the output. Or you can save them to your desktop location.
Step5: Set the Output Format
Click on the drop-down arrow in the software next to the words "Select Saving option" to view the list of available file formats. In order to convert WebP to GIF, simply choose the GIF as a saving option from the list. All conversions will now be performed to the GIF file format.
Step6: Convert WebP into GIF
Hit on the Convert tab located at the bottom right corner of the screen. This will start the conversion of Google WebP as GIF format. You can choose only one WebP file to convert them one at a time or you can choose multiple files to easily perform WebP to GIF batch conversion.
Amazing Benefits of WebP to GIF Batch Converter Tool
Capability to convert multiple WebP to GIF without any obstacle.
A much safer tool as compared to online WebP to GIF converter software.
It comes with two options to import WebP files into the software panel.
The software does not reduce the originality of output images after converting WebP image to GIF.
Provides facility to store the resultant files at any location on computer.
Batch WebP to GIF conversion enables to achieve larger migration tasks in few seconds.
Users Queries
Our website team switched on a plugin that created our WordPress site serving WebP pictures. The biggest hassle is that I can't access my own images. When I download them on my computer, they are useless to me locally. Earlier, I thought that certainly, Google would have simple tools to convert WebP to GIF so I can re-use my own pictures. But there appear to be no good tools on the internet as well. What I would really like is to have a solution to grab the pictures I want then use a speedy converter that will output GIF files. Please suggest me a reliable WebP to GIF converter software. Your help will be really appreciated. – Peter, Canada
I completely understand that the newest version of Firefox is compatible with WebP images which are an amazing thing. But not when I want to save those pictures for use on my computer! As an artist, I would like to be able to convert WebP to jpg or rather convert WebP to GIF format. It would be great if I would have a conversion tool that could help me to turn WebP files into GIF animated pictures. Please help ASAP!! – Stephen, USA
Conclusion
In this write-up, we have explained a complete solution to save WebP to GIF format. We have discussed the solution with the help of professional software –  WebP to GIF converter. It gives you the facility to batch convert WebP image to GIF format. Also, the picture quality also does not disturb even after conversion. So, quickly download this software today to save Google WebP as GIF format.