How to Convert WebP File to PDF Document ?
Ready to convert WebP to PDF document format, but don't know how and where to initiate from? This tutorial will guide you how to turn WebP images to PDF format.
WebP is a popular image format which was produced by Google in WebP lossy compression works by a method of prediction. On the other hand, PDF (Portable Document Format) is a file format which is utilized to show documents in a way independent of any software, hardware and Operating Systems. Every PDF file encapsulates a proper description of a fixed-layout flat document comprising the text, fonts, graphics and other information required to show it.
WebP to PDF Converter for your Favorite Photos
This WebP file to PDF converter enables users to export WebP to PDF format. It's simple, easy to utilize, and completely perfect for any home user. Additionally, you can convert numerous files as much you desire.
Download the software from this link:
Follow these steps to convert WebP file to PDF:
Download & Launch WebP to PDF Converter.
Choose WebP files/ folders to perform conversion.
Select desired WebP data to convert into PDF.
Pick PDF as a file saving option.
Start to convert WebP to PDF document.
How to Convert WebP File to PDF Document – Stepwise Explanation
First of all, download and install the WebP Converter software.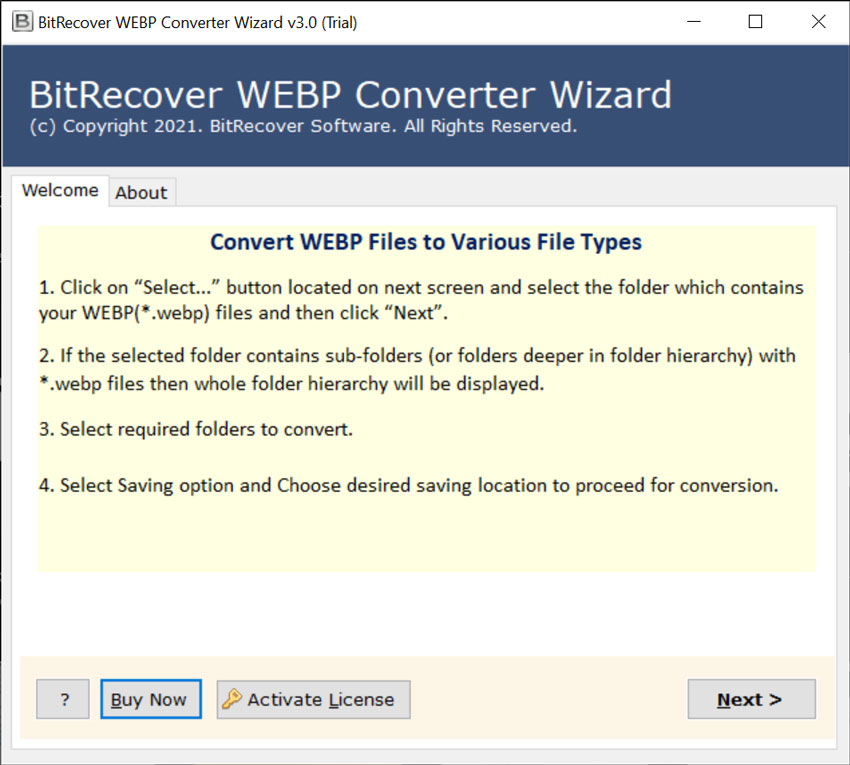 Then, select WebP files or folders from your computer. Click on Select folder to pick a whole folder comprising WebP files.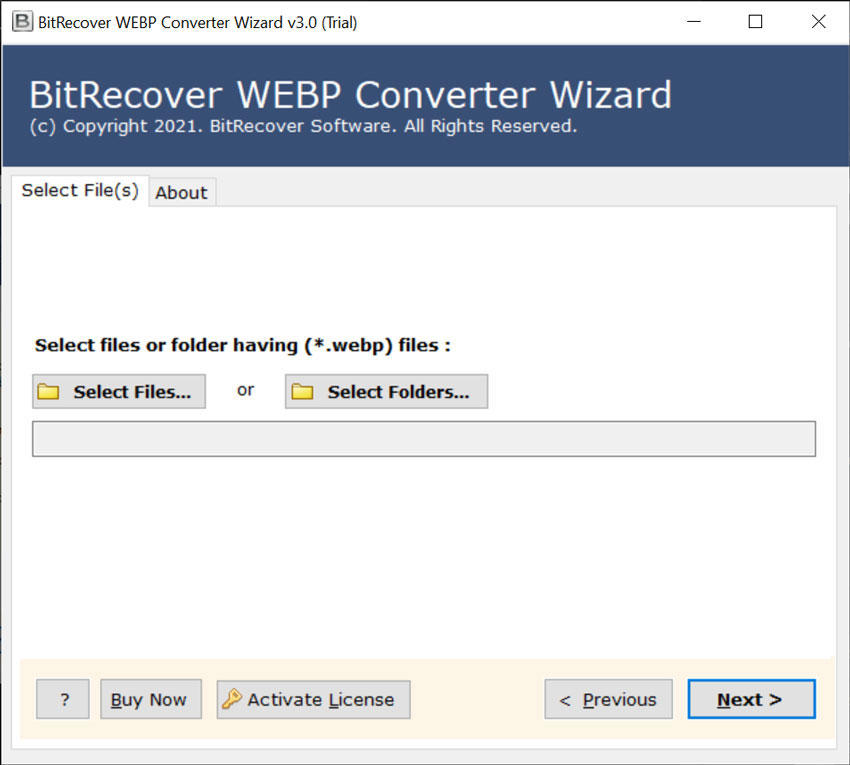 Next, pick all those files which you wish to convert from WebP to PDF.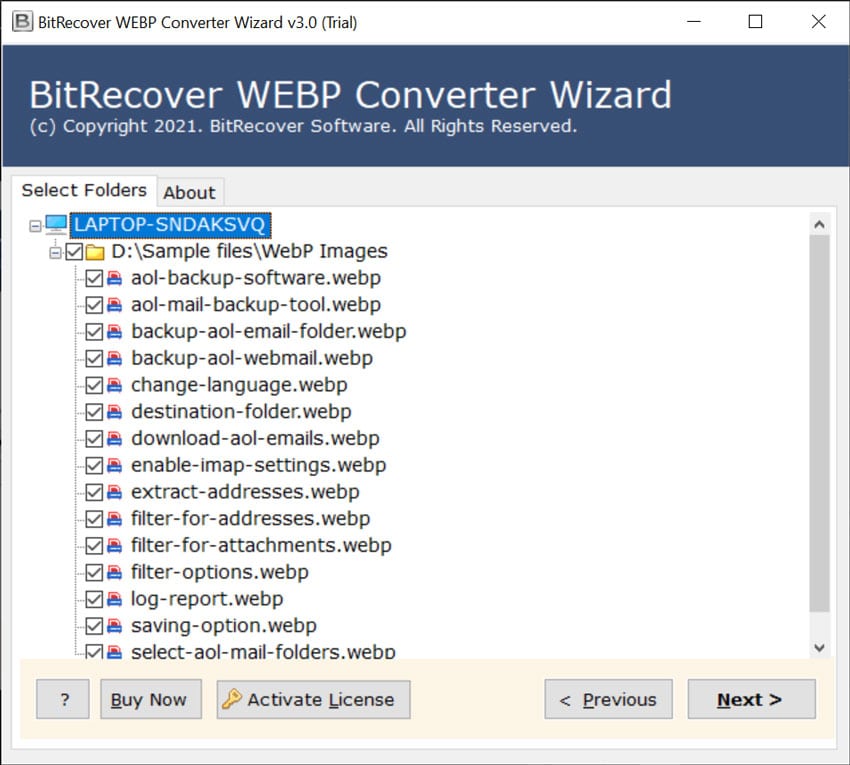 Thereafter, from the saving options choose PDF format.
Additional Features: It supports a variety of other common file formats for conversion such as JPG, GIF, BMP, PNG, TIFF, DOC, DOCX, ZLS, HTML.
Also enter a destination location for saving the resultant files at a desired location on computer.
Finally, click on the Convert tab to begin the process. The process to convert WebP file to PDF is running on your screen.
Once the conversion finishes you will get a conversion message. Click on OK to exit. Now, open your output folder that contains the PDF files.
WebP File to PDF Document Converter – Benefits of Software
The tool allows to convert multiple wep files to PDF format in one round of processing.
It permits the users to save the resultant PDF documents at any location on computer.
The WebP to PDF converter software supports Windows 10, 8.1, 8, 7, XP, Vista, etc.
It facilitates batch conversion of WebP images to PDF format.
There is no need for any external app installation in order to convert WebP to PDF.
There are dual options in the software for loading WebP files for the conversion task.
The utility is simple and comes with an intuitive Graphical User Interface.
Frequently Asked Queries
Is WebP to PDF converter safe to use?
Yes, your WebP files are only accessible for you. There are no bugs or errors associated with this tool.
Can I convert WebP to PDF file in batch?
Yes, WebP file to PDF converter tool supports batch transformation of multiple files at once.
Can I convert WebP files to Portable Document Format with a size of 500 MB?
Yes, this software accepts huge WebP files without any file size limit.
How long does it take to convert WebP to PDF file?
WebP to PDF converter tool supports larger files so one can perform the conversion in few seconds.
Do I need to install any external app for conversion?
No, WebP file to PDF converter works entirely without any supportive application.
Words of Client
I am really thankful to the development team of WebP to PDF converter software. It provides brilliant results within few seconds. I have efficiently converted 1000+ WebP images into PDF document with this tool. Best part about this toolkit is that one can initially evaluate its performance with the free demo version. Amazing product! – Peter, USA
Since I wanted to save WebP files as PDF documents so that I can all my images in a single file for printing. Thus, I used this WebP file to PDF converter software. The Interface is very strong with an interactive layout. The utility is beneficiary as one can convert WebP to PDF in batch at once. – Stephen, California
Conclusion
Converting WebP documents is something which is not available everywhere. One needs to have a perfect and direct application for implementing such image conversion. Hence, we suggest you to try the BitRecover WebP to PDF converter software. As explained in this blog, you can convert WebP files to PDF format without much efforts with this tool. There are no further application installation for the same. So, now download the software and perform the conversion without any hassle. If you have any questions relating to the software, please upgrade the license keys of the product.