How to Convert WebP to BMP Format ?
Google's new WebP image format is very cool: its amazing compression systems can show pictures at approximately two-thirds of the same picture as in JPG or PNG format. But, have you have ever come across formats like BMP which are produced by digital cameras and scanners. Well, Bitmap or BMP image format shows a picture realistically. It performs the illusion of one color blending into another one. Hence, if you want to get a more real-looking image then convert WebP to BMP file format
WebP to BMP Converter Tool
BitRecover WebP Converter is an expertise solution that is specifically designed to perform the conversion of WebP files. It provides numerous saving options among which one is BMP too. Users can pick this format and can directly convert WebP to BMP images.
Download the software from the link given below-
Follow these steps to convert WebP to bitmap image format:
Download and launch the WebP to BMP converter.
Choose WebP images from the computer.
Select desired WebP files which you wish to convert to BMP.
Pick BMP as a saving option and a destination option.
Start to convert WebP to BMP images.
Step-wise Solution to Convert WebP to BMP Format
Step1: Download WebP to Bitmap Converter Tool
First of all, download BitRecover WebP to BMP converter software. Read and follow the installation instructions and then the software on your Windows PC after you have finished installing it.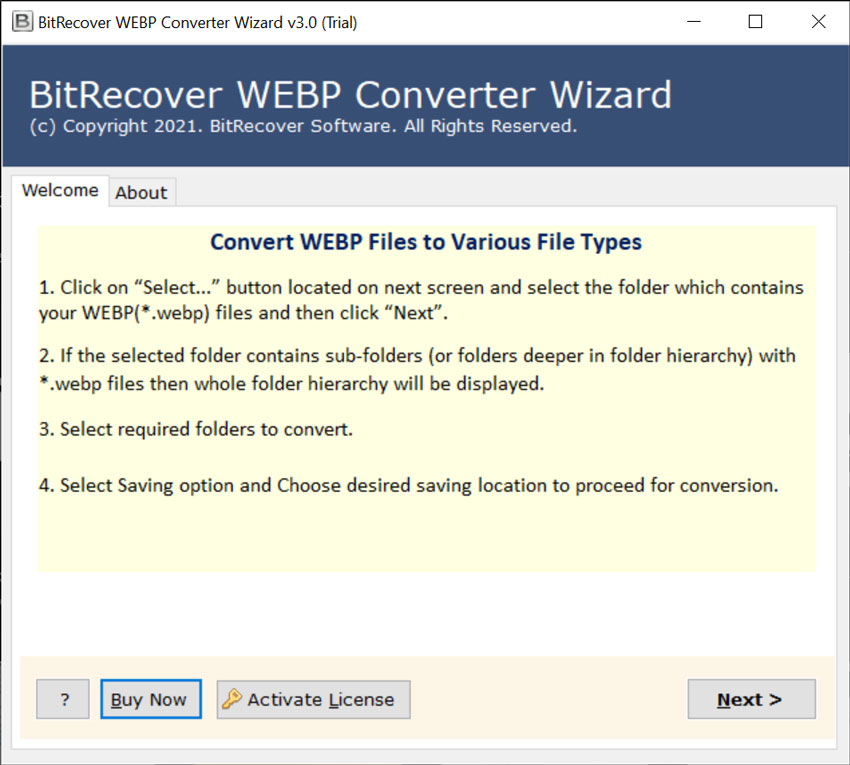 Step2: Import WebP Files into the UI
Click on the Select Files or Select Folders button, located in the tool panel to locate the file finder windows. Find and select WebP files on your computer to convert them to the BMP file format.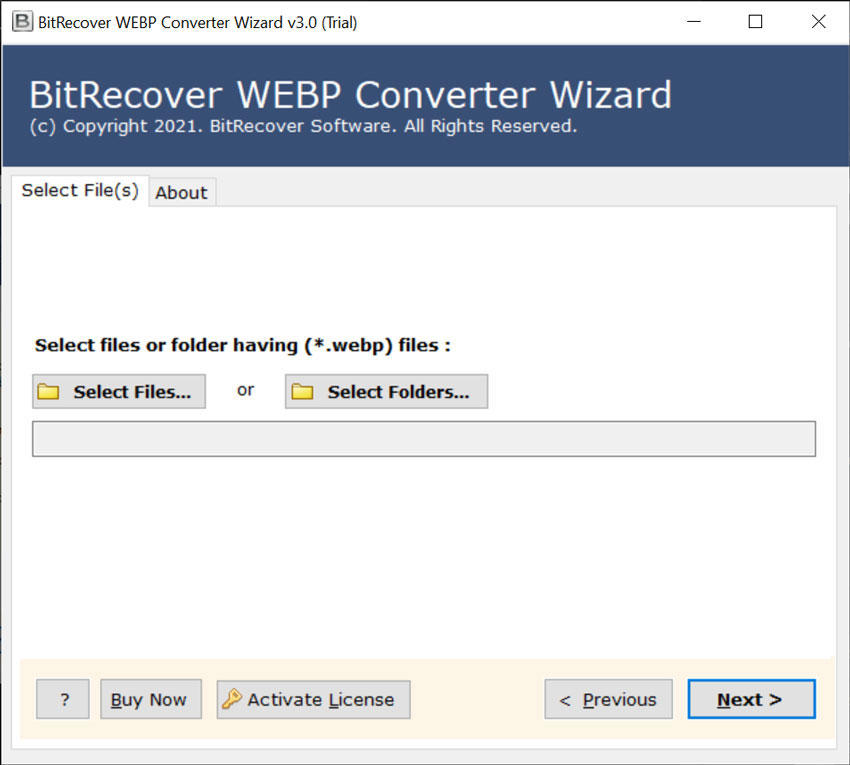 Step3: Choose Desired WebP Folders
Then, select the required WebP files or folders which you wish to convert into BMP files.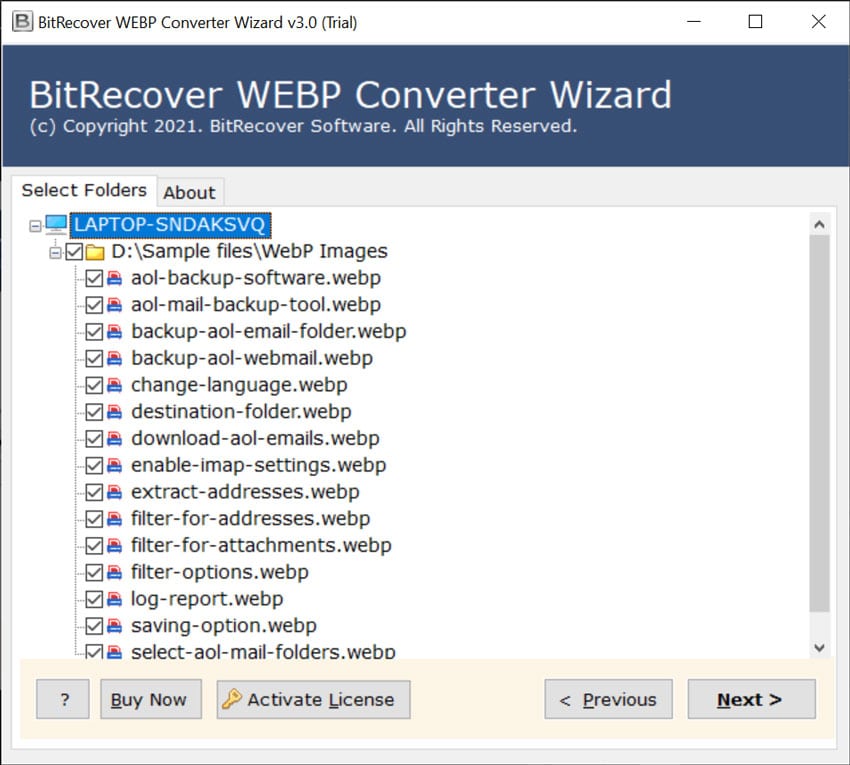 Step4: Select an Output Folder
Click on the Browse icon to select a folder from your computer for saving the output. Or, you can save the output to your desktop location.
Step5: Select the Output Format
Tap on the drop-down arrow in the software next to the words "Select Saving option" to see the list of available file formats. In order to convert WebP to bitmap, just select the BMP as a saving option from the list. All conversions will now be implemented into the BMP file format.
Step6: Convert WebP to BMP
Click on the Convert button located at the bottom right corner of the screen. This will start the conversion of Google WebP as BMP file format. You can select only one WebP file to convert them one at a time or you can select more files to batch convert WebP to BMP.
WebP to Bitmap Converter – Benefits of Software
It has the proficiency to convert multiple WebP to BMP without any hassle.
The software is very safer as compared to the online WebP to BMP converter tool.
Users can select WebP images with the dual options as provided in the software panel.
It does not reduce the originality of output images after converting WebP image to bitmap.
The tool offers the facility to save the resultant BMP files at any location on a PC.
Batch WebP to BMP file conversion enables to achieve big migration tasks in few mouse clicks.
The software supports all Windows OS like Windows 10, 8.1, 8, 7, XP, Vista, etc.
FAQs
Can I convert multiple WebP images to BMP format with this software?
Yes, with the WebP to BMP converter, you can turn multiple WebP files to bitmap format.
Does this tool runs on Windows 10 PC?
Yes, it is compatible with all latest versions of MS Windows OS including the Windows 10.
Can I save the WebP to bitmap converted images in a pendrive?
Yes, you can convert WebP to BMP images and choose any location of your choice.
Concluding Words
In this blog, you learnt how to convert WebP to BMP image format. The software mentioned in this blog is very safe and provides 100% accurate results. Also, users can bulk convert WebP to bitmap images with this tool. If you have any query regarding the product, please share your questions with our technical support team.