How to Save Email from Office 365 Webmail to Desktop?
Regardless of how little or enormous is your business, everybody requires a mail application to keep up the work process. Among all, Office 365 (also called Microsoft 365) has now been the new preference of the corporate world. And, it is essential to take care of those things first that are necessary for the business workflow. It implies that it is essential to save email from Office 365 webmail to desktop or local PC so as to protect from the outer dangers.
Microsoft doesn't give any native option that fills in as a backup solution for Outlook 365. Because of this inaccessibility, individuals usually worry that – how to save Office 365 email to desktop or local drive. Luckily! We have got the best solution for you. Keep reading!
Expert Solution to Save Email from Office 365 Webmail to Desktop
BitRecover Office 365 Backup Tool is an all-rounder solution that enables users to save Office 365 files locally. It is a versatile and effective application that facilitates to save email from Office 365 web to a local hard drive without any information leakage. Users can avail of the category-wise data filter options for an instant selective saving of Outlook 365 web. It's a fully-fledged application that can be installed on any version of Microsoft Windows OS.
From the business point of view of a general Microsoft user, the tool carries some interesting features that you will not find anywhere:
Allows saving Office 365 emails from both User account and Admin Account of Outlook 365 Primary mailbox.
I am Admin option to save the shared mailbox of shared mailboxes of Office 365.
Users can save the entire Office 365 database like emails, contacts, calendars, tasks.
For bulk Office 365 users, there is an advance mode option for saving multiple Office 365 email accounts at once.
The tool offers more than 30 file formats, email clients, and webmail saving options.
Procedure to Save Office 365 Email to Desktop
Download and start the software on your Windows machine.
Now, enter the email address and password of your Office 365 account. Click on the Login tab.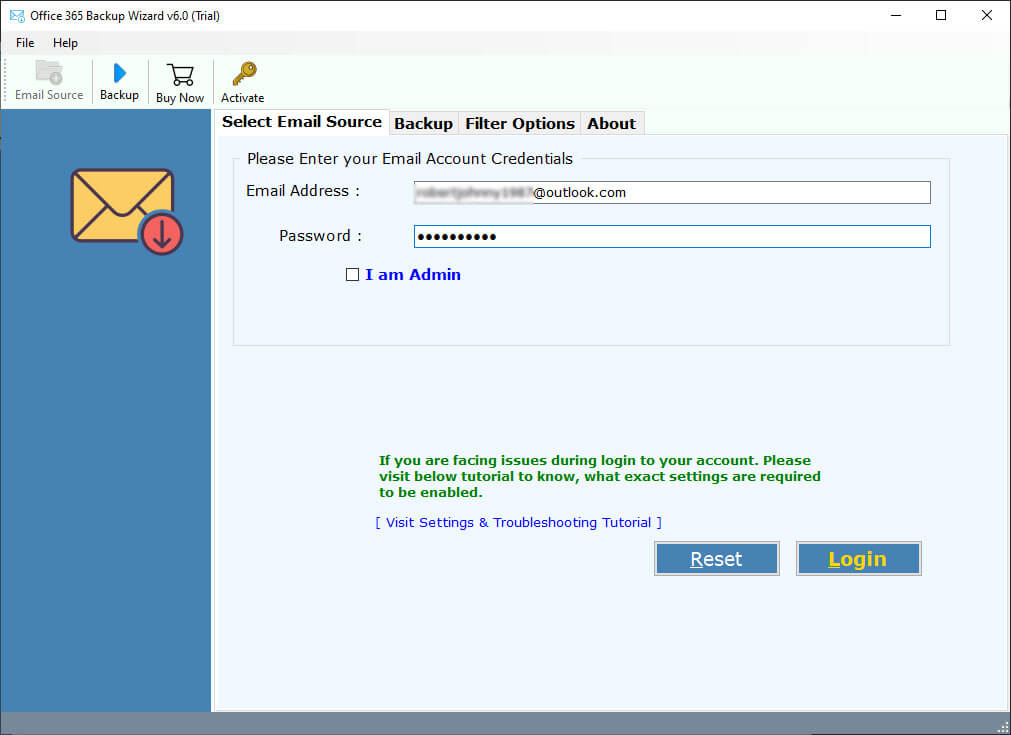 Then, enable specific Outlook 365 mailboxes that you want to save in computer.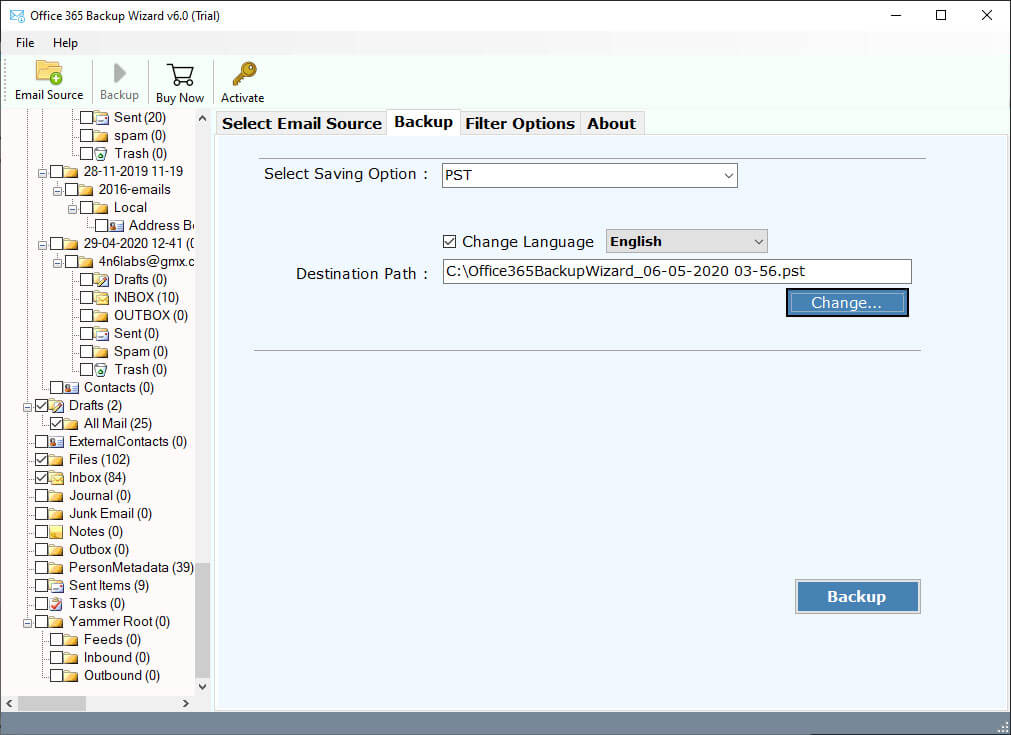 Thereafter, select any saving option that best fits your requirements.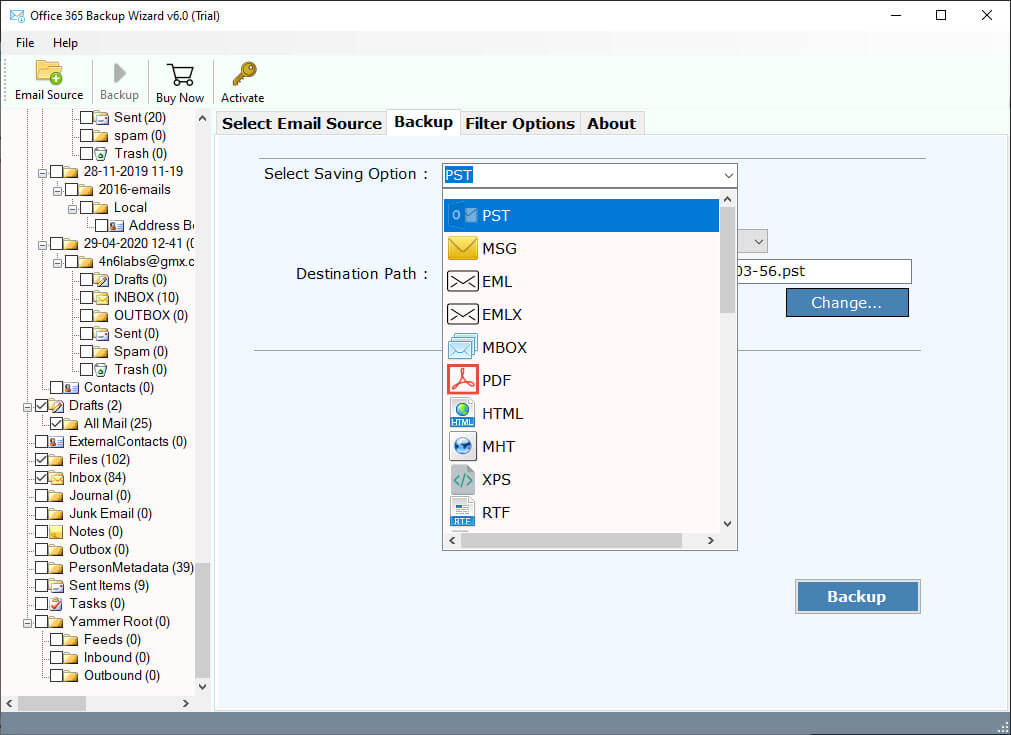 Now, choose a saving location with the Browse option provided in the tool.
Start the process to save email from Outlook 365 web to computer by hitting on the Backup button.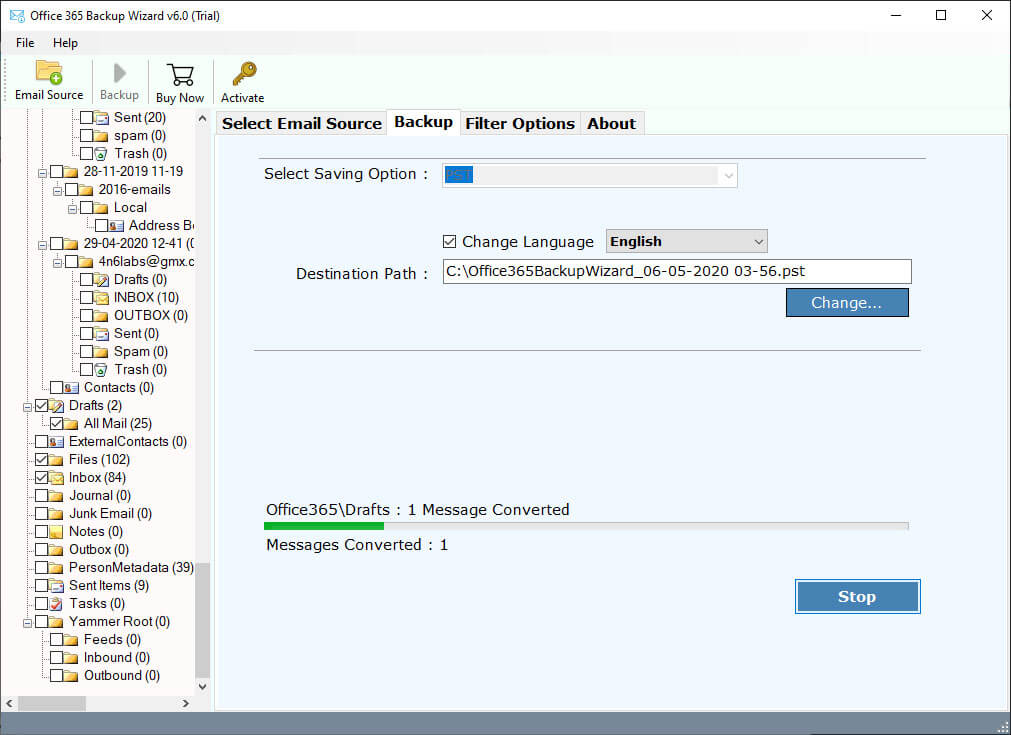 That's it! The process will finish in a few moments and will give a completion message at the end of the task. Click on the OK button.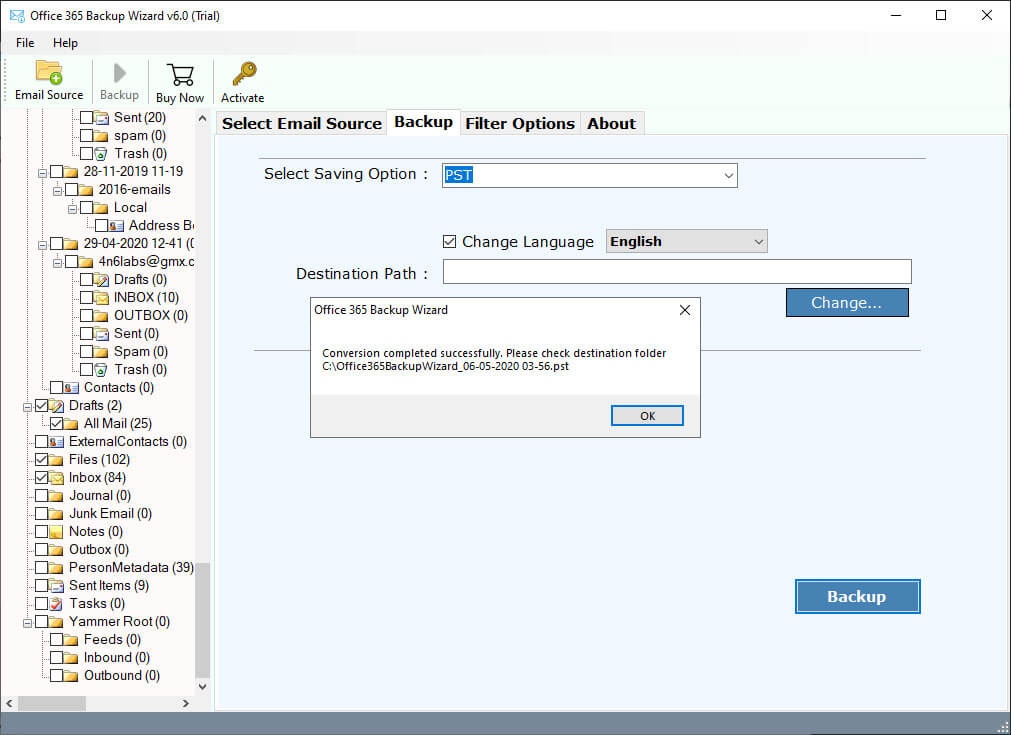 Now, go to the resultant folder to view your outlook 365 emails on PC.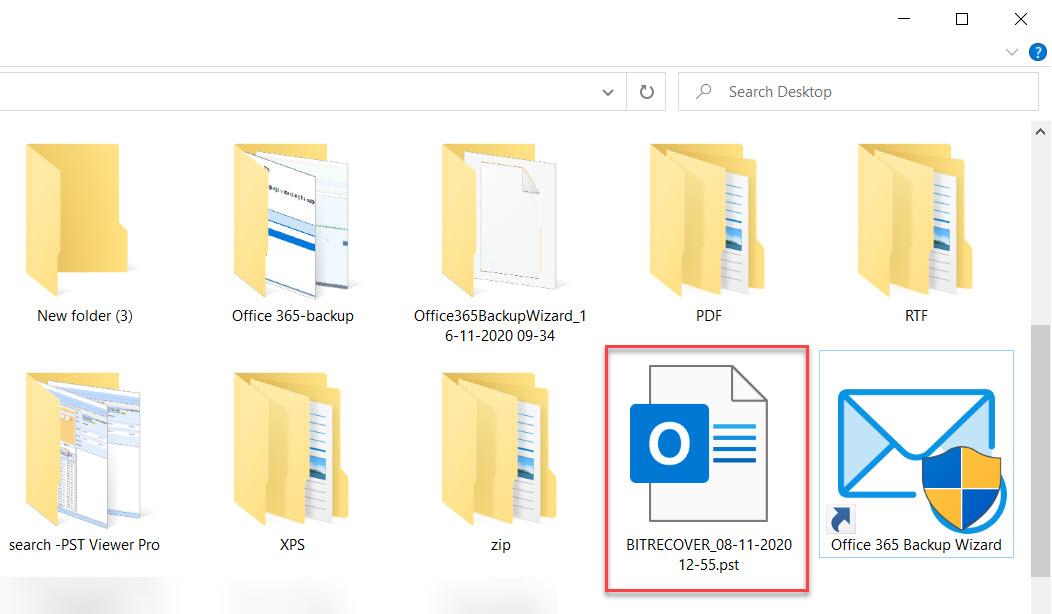 Multiple Manual Techniques to Save Email from Outlook 365 Web to Local PC
Other than the automated approach for saving Office 365 emails to computer, there are few manual tips too.
Approach 1- Save Email from Office 365 Webmail to PC in HTML 
First of all, go to Office 365 account on your machine.
Browse the emails which you want to save into HTML.
Then, right-click on the page and hit on Save As an option.
From the opened file explorer dialogue box, select the location for storing the output files.
Now, from Save As the type, choose Webpage, and snap-on Save tab.
Thus, in this way you can save Office 365 emails as HTML.
Approach 2- Save Microsoft 365 Emails to Desktop as PST Format
Start and Configure Office 365 profile on Outlook application by following these steps-
Open MS Outlook and go to File>>Add Account.
Now, for Outlook 2016 or later versions, you need to enter the email address and password of Office 365 and click on the Connect button.
Otherwise, for Outlook 2013 or below versions, enable the E-mail account option and fill in your Name, Email Address, and Password.
Once you have configured Office 365 account, now save Office 365 emails to desktop as PST file by following these guidelines:
Firstly, choose the File option and hit on Import and Export button.
Now, from the subsequent window of Import and Export, select the Export to a File option.
Then, choose the Outlook data file (.pst) option to save Office 365 files locally in PST format.
Lastly, hit on the Browse button and set up a saving location for your Office 365 emails.
Once done, click on Finish to end the task of saving Office 365 mailbox to desktop.
Approach 3: Save Outlook 365 Emails to Hard Drive as PDF File
Click File>> Open and open the HTML file in MS Word.
Now, navigate to the File menu and choose Save As option.
Then, pick the PDF file type option.
Hit on Save to start saving emails from Outlook 365 to desktop.
Why Manual Methods Does Not Give Desired Results ?
Complicated and Lengthy Process: The manual techniques to save email from Office 365 webmail to desktop requires dedicated time and effort. It involves configuring the email account and save each Office 365 email individually.
Requires User's Supervision: For saving outlook 365 web data to computer, one must be technically sound. You need to have enough knowledge of operating Outlook accounts by yourself.
General FAQs
"My Office 365 membership plan will be lapse soon. I would prefer not to proceed with Office 365 in light of some budget issue. Along these lines, I need to save email from Office 365 webmail to desktop. Kindly guide me how can I save Outlook 365 web emails to local hard drive? "
-Madeline, Los Angeles
"I am a continuous user of Office 365 webmail. Being functioning as a Sales Executive, I have to continually get to my Office 365 contacts. I have been looking for quite a while the techniques to save Office 365 messages to Desktop. Can you suggest to me some reliable answers to migrate Office 365 mailbox emails to a computer? Thanks in advance!"
-Peyton, Berlin
"I am utilizing Outlook 365 for dealing with my messages. I need to send the reporting of email information to the customer. There is an enormous number of messages in my Outlook 365 account. Is there any speedy method to save email from Office 365 webmail with the goal that I can report them rapidly."
-Everett, France
The Closure
In this blog, we have explained both the manual as well as automated methods to save email from Office 365 webmail to desktop. There is no denying the fact that the standard approaches for such problems are quite risky as well as time-consuming. Hence, we highly suggest you go with the professional solution for saving Outlook 365 web data to computer. You can try the free demo version for testing purposes. It is available free of cost and also allows to save a few Microsoft 365 email data to different file formats. Once you are completely satisfied with the tool's service, please buy the license keys of unlimited email backup of Office 365 data.