How to Backup Office 365 to Local Storage?
"Due to some professional purpose, I need to backup my Office 365 items to local storage. I tried 2-3 products for the same but, nothing worked. With lots of hope, I am posting the problem on my social media account page. I assume that one of my friends will definitely suggest the best Office 365 backup tool. Please inbox me the same ASAP. Thanks in advance!"
Enterprises consider backup of Office 365 data as a means of data security. It enables Microsoft customers to protect vital information by downloading and saving it at a secondary location. The idea to backup Office 365 to local storage comes with lots of reasons. Therefore, it is important to be known with the best approach to backup Office 365 emails locally.
This method comprises a solution named 'Email Backup Wizard'. It is a dedicated program that enables users to save Exchange online data on PC in a trouble-free manner. There is no requirement of any high technical server configurations for backing up an email from the O365 tenant. The major point to prefer this solution is that 'it is a direct solution – none of the intermediate apps are needed to save Office 365 content on PC'.
How to Backup Office 365 Emails to Local Storage ?
Follow these steps to backup O365 emails locally:
Download and start the software on Windows PC.
Choose Office 365 as an email source and fill its account details.
Enable desired Office 365 mailboxes and choose any saving option.
Enter a required destination path for storing the backup of O365 data.
Hit on the Backup tab to start taking backup of Office 365 emails to local PC.
Complete Stepwise Solution to Backup Office 365 to Local Storage
The following steps will help you in learning how easy it is to backup email mailbox from Office 365 webmail:
Firstly, Download the setup file of the Office 365 backup tool. Install it and launch the software.
Now, Click on the Office 365 option from the list of 'Email Source'. This starts the first phase of the process to backup Office 365 to local storage.
Enter the email id and password of the Exchange Online account in the respective fields. Click on the Login button to begin the process of saving Office 365 emails locally.
Please Note:- If you are the administrator of your tenant and wish to backup all users' data, use the 'I am Admin' feature.
Wait for a while and allow the software to fetch mailboxes from the source account.
You will observe that all O365 mailbox folders are loaded in the program's preview panel. Enable the checkbox of those folders whose items you want to backup.
Expand the menu of 'Select Saving Option' and select any of the file formats for backup. For the demonstration, we are selecting a PST option.
Interesting Fact – For different file format options, the software provides different customizing options. Customers can change the default settings of the backup file by using those options.
Now it's time to define the location where you want to backup Office 365 emails locally.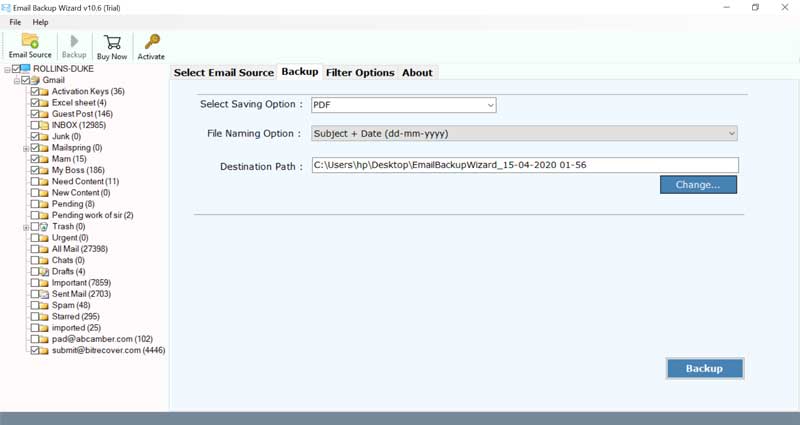 Finally, end up the process by clicking on the Backup button.
See how simple it was to backup Microsoft Office 365 to local storage! No complications will be faced by clients while using this method for backing up email from O365.
#2: Backup Office 365 to Local Storage Via eDiscovery
It is an indirect solution to backup Exchange Online data. It includes the following instructions to be carried away to archive O365 on PC :
Note – Before starting the process, you have to acquire the permissions for eDiscovery managers.
1. Firstly, log in to your O365 portal and open the Admin Center.
2. Now, Click on the Admin Centers and select 'Security and Compliance'.
3. Here, you have to go to Search and investigation >> Content search >> add (+). Mention the name of the backup file and hit on Next.
4. Click on 'Search Everywhere' and select Exchange. It is required to continue the procedure to save Office 365 emails locally.
5. Once done with Step (4), click on the 'Search' button.
6. Now, When the search wizard finishes its background search procedure, click on the Start Export button.
7. Here appears a window with multiple options. Select them and click on 'Start Export'.
8. After the data export wizard completes the function, click on 'Download exported results'.
9. At this point, you will get an auto-generated export key. Copy this key and paste it in Notepad for a while.
10. Afterwards, paste the key in the required text box and define the location where you wish to store PST files.
11. Finally, click on the Start button to initiate the backup procedure.
Why Solution Is More Suitable?
There are several aspects due to which the automated solution is more suitable than the manual one. We would explain this point by drawing a differentiation table between both the solutions to backup Office 365 to local storage.
Automated Solution
1. Office 365 backup tool provides a direct method to save Office 365 emails locally
2. It does not demand any administrator permissions to save Office 365 messages.
3. Its interface is so simple that it enables a novice user to backup Office 365 items without any hurdle.
4. There are no chances of a data breach while using this solution to save Office 365 emails locally.
5. This solution provides more than 10 file formats to archive data locally.
Manual Solution
1. This solution is an indirect method for backing up mailboxes from Office 365 tenant.
2. It demands many administrator permissions to archive O365 content on the hard drive.
3. Different technicalities need to be known while executing the manual methods for backing up Office 365 to local storage.
4. If a single thing goes wrong, an attacker will get a full chance to harm your Office 365 data.
5. You can backup Exchange Online data only in PST format via this approach.
The Verdict
If you are a little bit confused, remove your confusion by testing the trial edition of the Office 365 backup tool. It is available on the official website for those who wish to backup Office 365 to local storage via this approach. You can download its setup file for free and examine each & every feature. The only limitation with this approach is that it allows the backup of only 25 emails from each selected folder. This can simply be removed by upgrading this best Office 365 backup tool from the free version to the PRO version.