A Comprehensive Guide About How to Import Yahoo Contacts to iPhone
When was the last time you retained a telephone number? Thanks to the smartphones and the web, you can import several numbers and emails into your pocket without a second thought. When you have your contacts available over your iPhone then, it becomes simpler to make business calls and connect with co-workers and partners while you're in a hurry. But what if, all of your email addresses are in a mail account like Yahoo and you need to import Yahoo contacts to iPhone.
The CSV (comma-isolated values) format is recognized by almost all contact management programs. To import contact information from a CSV file to your iPhone, you must initially import the information from the CSV document to a contact management program that supports the iPhone.
There is no direct option available using which you can sync Yahoo contacts to iPhone.
The procedure to how to copy Yahoo contacts to iPhone comprises of three sections:
1. Export Yahoo contacts to CSV files
2. Convert CSV to vCard files with automated solution
3. Import contacts from Yahoo mail to iPhone via icloud+ ?
3.1 Get Yahoo Contacts on iPhone via iTunes
Stage 1: How to Export Yahoo Contacts to CSV Files ?
There are no other way to add Yahoo contacts to iPhone. If you have taken backup of contacts to Yahoo mail, you can also easily export to your computer from Yahoo account. Primarily you need to login into your Yahoo account and get them locally to your desktop. Here are the detailed steps shown below to offer you reference:
First of all, login to your Yahoo mail account and go to the Contacts.
Thereafter, select the Yahoo CSV format and tap Export Now.
Now, your Yahoo mail contacts are saved on your computer.
Stage 2: How to Import Yahoo Contacts to iPhone with Automated Solution ? – Complete Overview
The need to copy Yahoo contacts to iPhone is mentioned in this section. Follow these steps to add Yahoo contacts to iPhone.
Step 2: Now, click on the Select button to load the CSV file.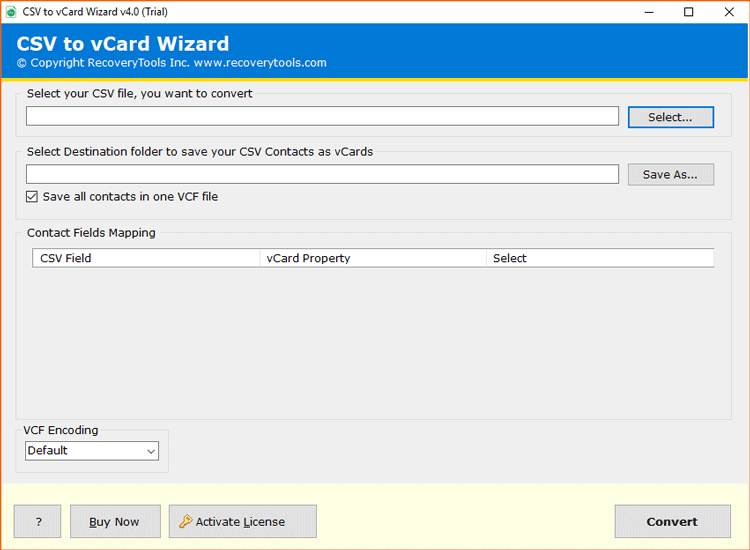 Step3: Thereafter, select the Yahoo CSV File option with the Select option.
Step 4: Set Advance Settings option according to requirement.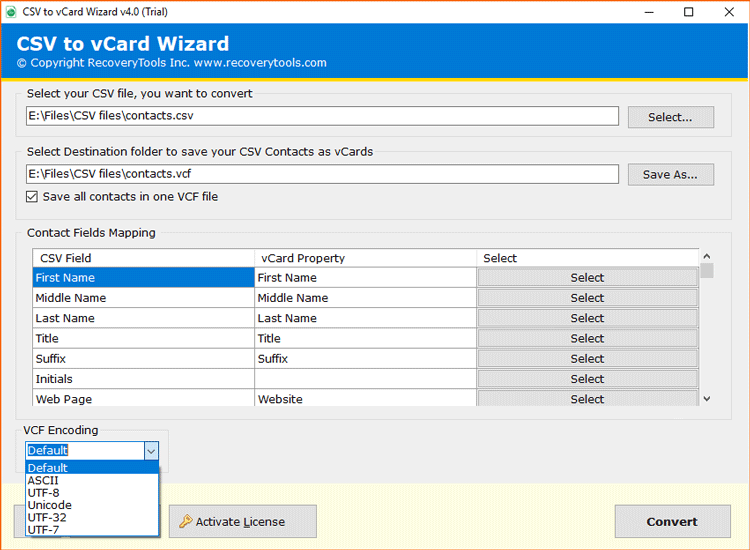 Step5: Select a Destination path for saving the resultant .vcf files.
Step 6: Click on the Convert tab to save Yahoo contacts to iCloud+ vCard format.
After conversion, you can see the resultant vCard files at the desired location.
If you need any help at all, feel free to contact to our technical support team. We will do our best to help you as soon as possible.
Suggested Reading:- Read to know how to transfer Gmail contacts to iPhone ?
How Exporting Yahoo Contacts to iPhone Makes your Job Easy ? – Get Your Needs Solved
The requirement to transfer Yahoo contacts to iPhone can be understood by considering these queries:-
User's Needs and Queries
Ruth Fletcher: "From last 5 years I have been using an Android Phone. Recently, I bought a new iPhone and used iCloud as the online storage device. Now, the complication is that I want to view vCard contacts from all the social networking in the iCloud+. Currently, all of my contact database are saved in Yahoo! Mail. Can someone please tell me how to import Yahoo contacts to iPhone?"
Brenda Potter: "I have been a Yahoo user from the last 10 years and so, there are hundreds of contacts in it. Now, I bought Apple iPhone 11 so, I thought to get Yahoo contacts on iPhone via iCloud+. However, I received an error after trying to import. I am looking for an easy, swift way to import Yahoo contacts to iCloud on iPhone. Please suggest me a reliable solution about how to transfer my Yahoo contacts to iPhone. Thank you!"
But, how can one overcome such queries and what advantages does this tool holds? You can read the proficiency of this application as mentioned below.
What Benefits Does the Yahoo Mail to iPhone Converter Tool Offers to You ?
Import vCard contacts to any iPhone: If you have CSV files from the Yahoo mail which are converted into vCard format with this software. Now, you can import these vCard contacts to iPhone 4, 4S, 5, 5C, 5S, 6, 6 Plus, 6S, 6S Plus, SE, 7, 7 Plus, 8, 8 Plus, X, XS, XS Max, XR, etc.
Set vCard Encoding as per need: The users can set multiple types of encoding in VCF files for example Default, ASCII, UTF-8, Unicode, UTF-32, and UTF-7.
Create single or multiple vCard contacts: After you have .csv contacts from your computer, this tool offers an option to save bulk Yahoo contacts to single VCF file. For creating multiple vCard files, you can disable this option so that the tool will create single VCF file for each contact.
No limitations for conversion: The users can import Yahoo contacts to iPhone without any restrictions. The tool is programmed for both business and home users so as to transfer unlimited contacts from Yahoo mail to iPhone.
Advance contact field mapping: With this option, the users can select CSV field and vCard property according to the need.
Also Read: How to export Outlook PST contacts to iPhone directly ?
What are the Conditions Required for Installing this Software ?
Free hard disk: You need to have 3.2 MB of free hard disk space for installing this application on your computer.
RAM: A minimum of 512 MB of RAM is needed.
Windows compatibility: All Windows versions – Windows 10, 8.1, 8, 7, XP, Vista, Windows Server 2019, 2016, 2012 and prior versions.
Trial version: You can evaluate the software's features and functionality with the trial version which is absolutely free of cost. With this version, you can convert few CSV files to vCard format.
Pro version: After complete satisfaction, purchase the license keys to get contacts from Yahoo mail on iPhone without any limitations.
Read Next:- How to import Excel contacts to iPhone directly ?
Stage 3 – (i) How to Import Contacts from Yahoo Mail to iPhone ?
After exporting Yahoo contacts to computer using the CSV to vCard Converter, now it's time to sync Yahoo contacts to iPhone via iCloud+.
Import Contacts from PC to iCloud.com
First, visit iCloud.com and enter iPhone account (Apple ID and password)>> sign in to your iCloud+ account.
Now, Hit the "Contacts" in the main interface.
Thereafter, Select the Settings option and choose "Import vCard".
Now, choose the location where you have the resultant vCard files on your computer. Tap on the "Open" button to export Yahoo contacts to iCloud+.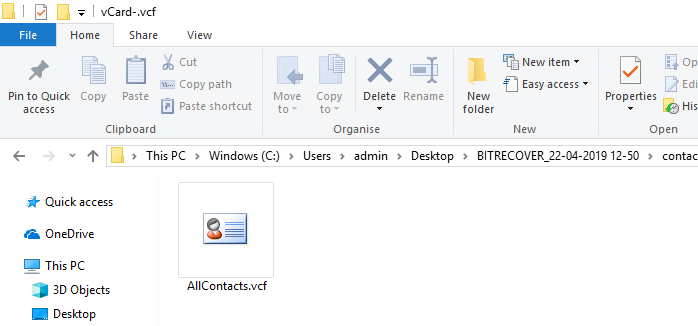 All of your Yahoo mail contacts will be listed in the address book of your iCloud+ account.
Sync iCloud Contacts to iPhone
On your iPhone, go to the Settings>> Name/ Apple ID>> iCloud.
Please enable the "Contacts" tab and all your Yahoo contacts on iCloud+ will soon be synced to your iPhone directly.
Tip! Ensure that your iPhone is well connected with good Wi-Fi connection to end the syncing process smoothly.
Similar Related articles:- How to transfer Outlook contacts to iCloud ?
(ii) Get Yahoo Contacts on iPhone via iTunes
After exporting contacts on computer as discussed in the Stage 2, now you have alternative option to restore Yahoo contacts to iPhone via iTunes.
Import Yahoo contacts from PC to Windows Computer
First of all, on your keyboard, press "Windows + R" for opening the "Run" windows and enter "wab. Tap on "Ok" tab to proceed further.
Then, under the "Import to Windows contacts" dialogue box, select the vCard (VCF File) which you have exported using the automated solution. Hit on the "Import" button to start the importing procedure.
*After sometime, the Yahoo contacts will be accessible in your windows contacts*.
Sync Windows contacts to iPhone via iTunes
Firstly, on your PC, run iTunes. Connect iPhone with your computer and go to "Preferences devices". You are required to choose "Prevent iPods, iPhones, iPads from syncing automatically" to check.
Now, click on the iPhone icon and tap on the tab of "Settings>> Summary>> Info". Then, enable this option "Sync Contacts with" option and choose "Windows Contacts" in the drop-down menu.
Lastly, hit on the "Done" button to initiate to sync Yahoo contacts to iPhone via iTunes.
Similar Reading:- Know a hassle-free solution about how to transfer Thunderbird contacts to iPhone ?
Over to You
If you are a Yahoo! Mail user and thinking about moving bulk Yahoo contacts to iPhone (or you've already made a switch from Yahoo to iPhone). Then, luckily the good news is that you can do this transfer process with the above described methods.
The automated solution to export the Yahoo .csv files into vCard format is simple and easy to understand. Hopefully, now you can do a smooth transfer of multiple Yahoo contacts to iPhone without any hassle.
Please Note! Do you know you can also transfer your yahoo contacts to your android phones too. Read this step-wise guide about how to import contacts from Yahoo Mail to Android Phone.