Import MBOX into Outlook (2019, 2016, 2013, 2010): Best Guide for Novice
MBOX is a very common mailbox storage file for email applications like Thunderbird, Mulberry, SeaMonkey, Apple Mail, Eudora, Entourage, etc. is incompatible with Outlook. So, this blog post is dedicated to some important techniques using which one can easily import MBOX into Outlook 2019, 2016, 2013, 2010, etc.
You Can't Import MBOX into Outlook! Or Can You?
The bitter truth is no you can't! There is no way to import MBOX to Outlook as the latter has its own proprietary file format is known as PST (Personal Storage Table) where all emails are stored.
Nowadays, plenty of corporate and home users need a robust and versatile email application that can handle both their personal as well as organizational chores. Hence, if you want to view MBOX content of one email client into another email client (Outlook) then the only workaround is to perform a conversion process.
Remarkable Simple Solution!
Import MBOX into Outlook 2019, 2016, 2013, 2010, 2007, and prior versions with the help of
MBOX to PST Converter
Tool. With this software, it's just a matter of a few clicks and you can easily import bulk MBOX files in Outlook. Download the trial setup of software to check it now!
Two Methods for Importing MBOX into Outlook
For most people, data conversion is a necessary thing that takes place on a regular basis. If someone is switching from an MBOX-supported email service to Microsoft Outlook then a series of steps need to be followed.
There are basically two ways for importing MBOX into Outlook:- MANUAL and AUTOMATED TOOL.
Manually Import MBOX File to MS Outlook from Thunderbird
Firstly, open Thunderbird and configure your target Gmail account via IMAP.
Then, make a new folder in Thunderbird where you can store the desired emails you want to read in Outlook.
Now, choose the messages that you wish to import in Outlook and move them to a newly created folder. Drag and Drop the chosen files into a new folder.
Thereafter, go to MS Outlook and choose the messages which you intend to add to Outlook.
Then, drag chosen emails to a new folder in Outlook (or any required location). You can access your MBOX files in this folder.
This was how you can import .mbox files in Outlook with the manual approach. But do you know that this method is valuable if you are technically adept? Also, there will be certain shortcomings associated with manual solutions.
You will need to install both thunderbird and Outlook for the conversion.
Users will have to import MBOX file to Outlook in multiple phases.
It's a lengthy, complex, and intimidating process.
Requires user's supervision (one error can ruin the whole process).
Strongly Poses data loss issues.
Now the good news is that there is a simple and effective technique to import MBOX files into Outlook. The only trick will be you will require MBOX Conversion as said above that PST is the only format that Outlook supports.
How to Import MBOX File into Outlook 2019, 2016, 2013 using Automated Software
The road to import an MBOX file in Outlook depends on a few factors – which converter you are going to use, MBOX file size, type of items present in the MBOX file, etc.
But, most importantly if you are using the suggested solution then it will keep the complex MBOX folder hierarchy intact, metadata, and all email components preserved.
Here are the steps to import MBOX into Outlook:
Step 1 : Click "Select Files" to import MBOX files.
Step 2 : Select "PST" as the export option.
Step 3 : Change "destination path" for Outlook data file.
Step 4 : Click "Convert" to import MBOX files into Outlook.
For screenshots, go for the below instructions:
1. Download and install the software on your Windows machine.
2. Pick either the "Select Folder" or "Select Files" option as per your need.
3. Choose required MBOX files/ folders for conversion.
4. Select PST as a saving option and other data filter options.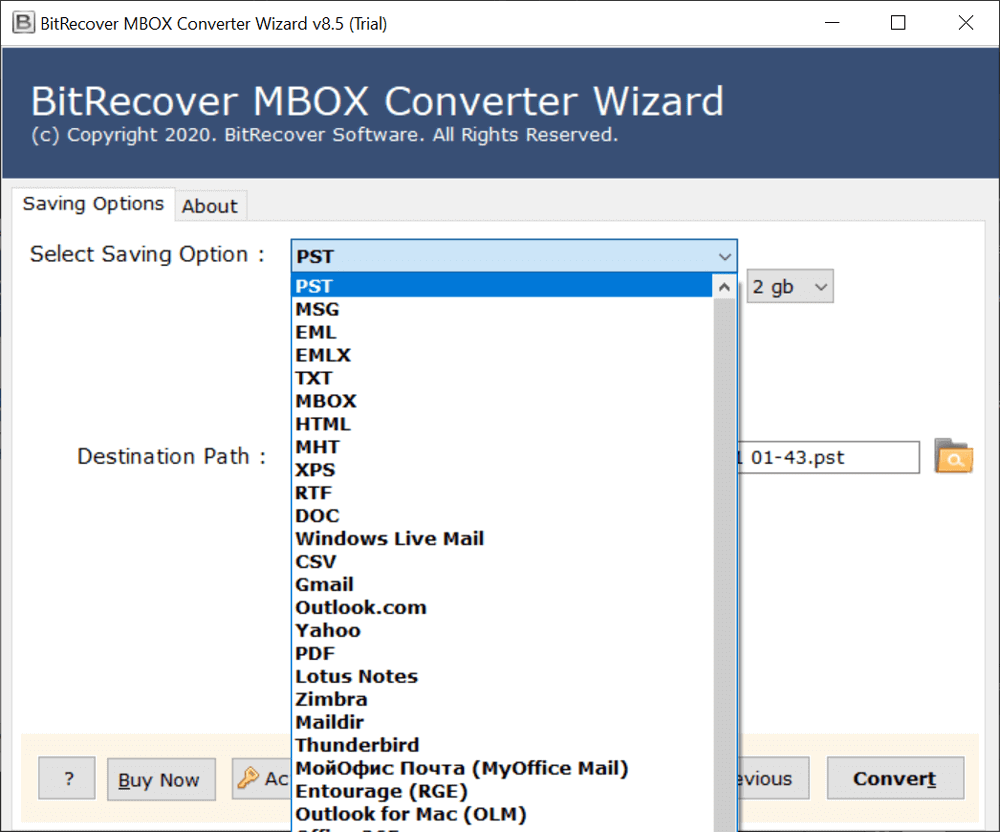 5. Enter a destination location for saving the output.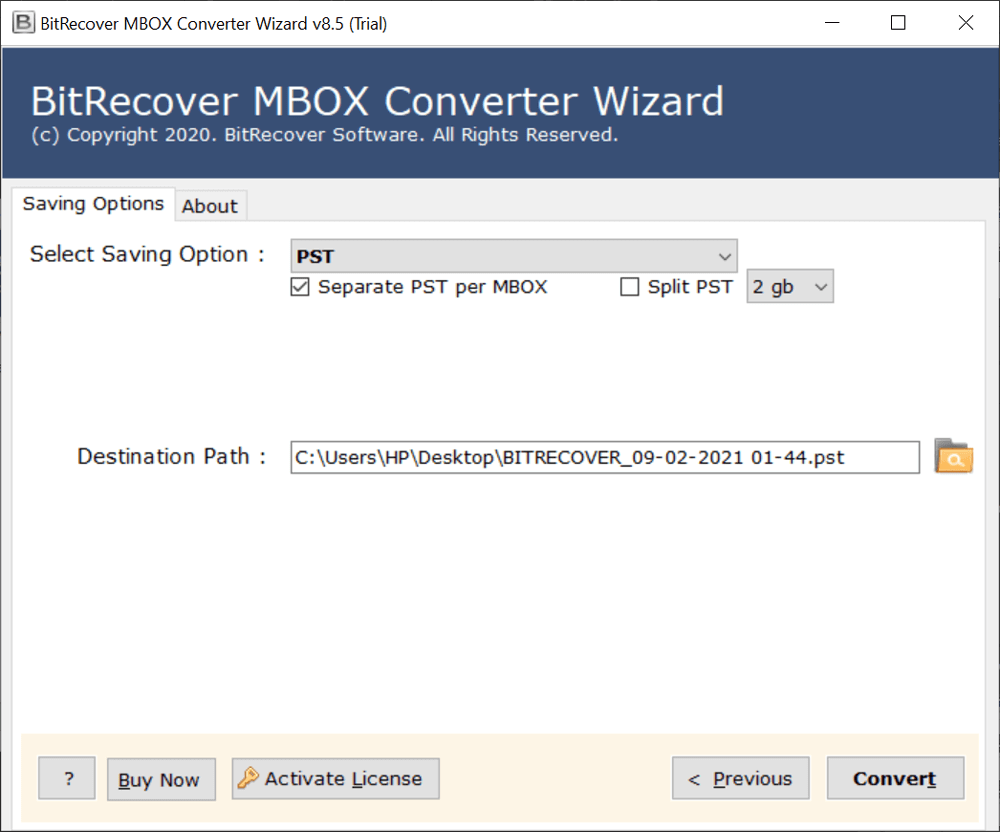 6. Start the conversion process by hitting on the Convert tab.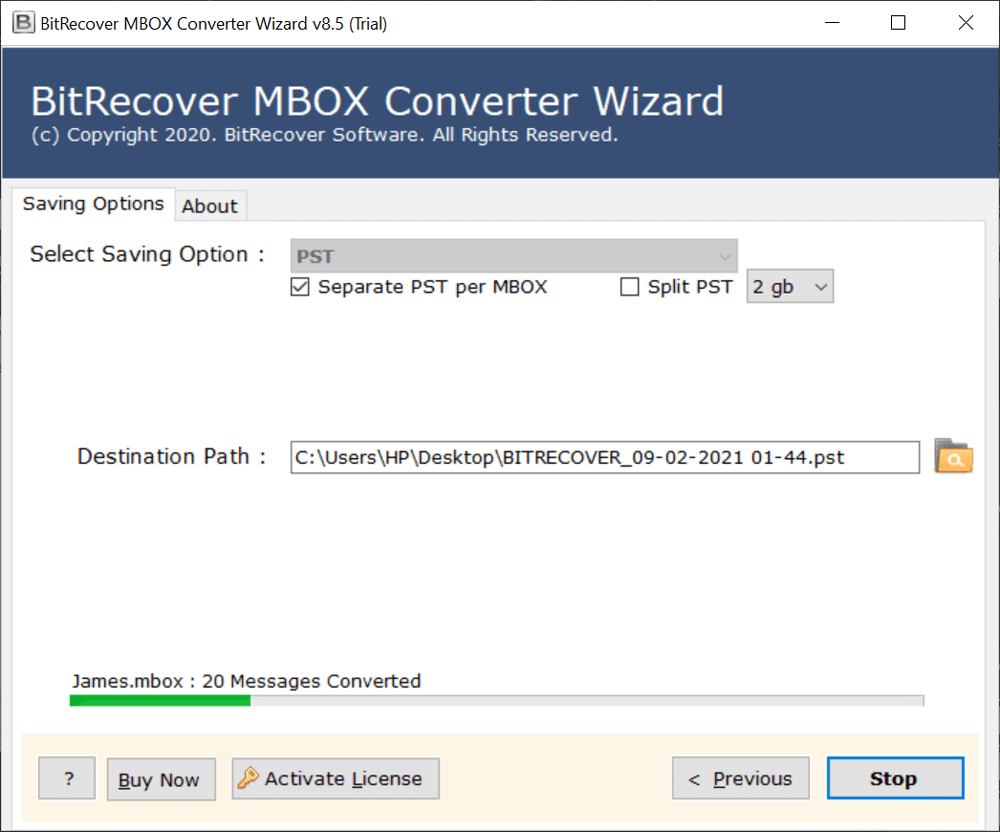 Within a few moments, you will get your MBOX files converted into PST format.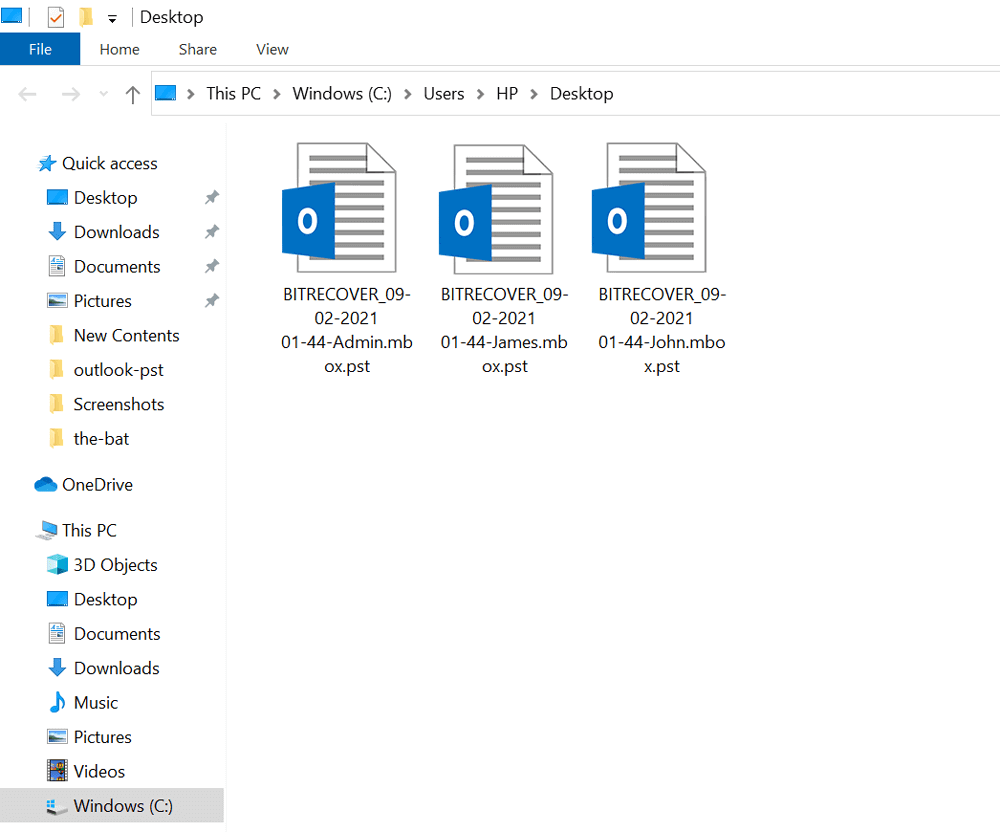 Now, you can easily import PST file in Outlook by following these steps-
Launch MS Outlook and go to File>> Open & Export>> Import/ Export option.
Then, select Import from another program file and hit on Next.
Now, choose the Outlook data file .pst and browse desired PST files.
Finding the Best of the Lot – Tool's Benefits
Since both MBOX and PST files are different in their inner framework and thus their formats vary for storing data. Thus, an application to import MBOX into Outlook should have dedicated logic and precise algorithms to convert emails cleanly.
Moreover, it will require to have essential features so as to have a successful conversion – intuitive & user-friendly interface, great usability, instant processing speed, and so on.
Users can import multiple MBOX files into PST format in one batch. So, if you have huge MBOX files, then you will find the automated software extremely useful. This is because the conventional converters do not give batch email conversion support.
It preserves the folder structure of MBOX data. Also, the tool keeps intact the email components such as Sender/ Recipient details, subject, images, attachments, hyperlinks, etc.
Using this application, it is incredibly easy to load single or multiple MBOX files for processing.
Moreover, you can get a full preview of the chosen MBOX email message with intrinsic details like Date, From, To, Subject, etc before starting the conversion.
The tool offers intelligent search options with the help of which you can "Search only displayed headers", "Search complete RAW messages", "Search between dates".
Once you have chosen PST format to import MBOX into Outlook then you can select options like "Create new PST" and "Update default PST".
There is complete freedom to save the resultant PST files at any location on your Windows machine. Users can browse the desired target file saving path for user-friendly storage.
The software is compatible with MBOX files of email applications like Mozilla Thunderbird, Entourage, Eudora, Gmail Takeout, Gyazmail, Horde, Mulberry, Postbox, SeaMonkey, Sparrow, Sylpheed, etc.
There is no need to have a default MBOX supportable email client or application on your PC to perform how to import MBOX file to Outlook process. This is because the software does not demand any external application installation for the process.
Rejoice now Outlook users because the recommended utility has vast compatibility with all MS Outlook versions. The tool supports all Outlook versions like Outlook 2019, 2016, 2013, 2010, etc.
What Could be the Reasons to Import MBOX File Messages into Outlook ?
A user might want to switch to Outlook due to the shortcomings of MBOX files. Lets' see in detail:
1. MBOX email files are available principally in open source email clients, which are not all that exceptional for proficient email correspondence.
2. People are also hassled about the file securing issues in MBOX documents, after which they have confronted a great deal of trouble in opening and getting to files.
3. MBOX files are secure, yet at the same time they effectively get degenerate, and thus it turns out to be extremely hard to track down an answer for fixing them.
4. One of the most annoying issues of MBOX files is that they make problems with the network file system. This conduct can raise a ton of trouble in the hour of critical use.
5. Last but not least, if a user does not have MBOX supporting email clients configured in their system, then in order to view them in Outlook, it becomes quite necessary for conversion.
Regularly Asked User Queries
Query1: Last night, I got an MBOX file and have been asked to go through some emails in it and reply back to my team leader. Due to some personal reasons, I need to go out of the city. There are some security restrictions so I only have to use my laptop. I have only MS Outlook 2019 on my laptop and I recognized that these MBOX files are incompatible with Outlook. So, what should I do now? How can I import MBOX files into Outlook?
Ans: Please refer to the above-recommended solution to import MBOX to MS Outlook.
Query2: I want to switch from Mac to Windows OS. I have some old archive Apple Mail .mbox files which I need to import in Outlook 2016 (Windows 10). How to import Mac MBOX file in Outlook 2016?
Ans: For the migration process, try using the BitRecover MBOX email to PST conversion tool.
Query3: How do I import Gmail MBOX to Outlook 2016?
Ans: You can follow the above-suggested software and step-by-step processing to import MBOX file to Outlook 2016.
Query4: Can I import MBOX into Outlook 2007 directly?
Ans: No, there is no direct option available because Outlook is compatible with only .pst format.
Query5: I have bought a new computer running on Windows 10 platform. Will this software work to import MBOX file to Outlook Windows 10?
Ans: Yes, why not! You can use this application on any Windows machine including the Windows 10 OS.
Query6: How can I evaluate the performance of the software before I invest my money in it?
Ans: Just take the free trial of the software to test how the utility works. It permits to the conversion of the top 25 MBOX data items into PST files. Later you can buy the license edition for a full migration.
Time to Wrap Up
If you are facing any problem to import MBOX into Outlook, you can go with the native method and open the file in multiple phases on your own. However, it's not a productive approach and the technicalities involved pose a full risk of information loss.
So, if your MBOX mailbox data is significant, you should not have any uncertainty and use the BitRecover Software for the best results. This is because it's a one-stop solution – a tool trusted by innumerable customers worldwide. Also, it is carefully programmed to implement one purpose – to import multiple MBOX files in MS Outlook in the swiftest way possible, without negotiating the data fidelity.