Free Solution to Open EML Files without Outlook

BitRecover Products persist for that second when your PC pops-up an "open with" box and the one and only alternative is to search an application on the web. Microsoft Outlook is a cumbersome email service and there are so numerous email applications that can assist us with getting sorted out our messages and day by day plan. Nonetheless, there might be archived things stowing away in your PC and it tells you should have a license for Outlook. If you are struggling to open EML files without Outlook at hand – your battle is over!
Justifiable Reasons to Open EML Files without Outlook
* Some of the time, the user needs to open EML files without Outlook to read the orphaned EML file shared by some associate or customer.
*A Forensic Analyst requires to print and save EML as PDF for introducing the proof in court.
*A Technical Expert needs to check the Email Header and Hex Code of the EML format files to play out the top to bottom exploration.
Open EML Files without Outlook with the Help of a Free Solution
Our freeware BitRecover EML Viewer offers some significant benefits to all users. Most critically it will permit to open EML files without Outlook installation.
To start with, you will ready to see messages and its attached file that would somehow or another be lost. This is genuine whether it was in Microsoft Outlook 97 or Outlook 2019. You have an important .eml message from 15 years back, possibly from a tragically missing business contact. Presently you can get to their contact data and restore the connection.
Next Step?
There are bunches of situations that include the use of EML files without Outlook, and the requirement for simple access to your messages and attachments. This is the reason we made this application and give it 100% free. We don't employ you with promotions, you can attempt it at home without cost for eternity.
One of our #1 remarks from a client was the ideal situation. He lost her mother a few months before but rather he had been routinely messaging throughout the past 8 years. A note here and a note there. Each email up till now was lost in the archives of her old Outlook account. By using our software, it was quite possible to open EML files without Outlook. All the messages could be recovered on the grounds that our client could look by Filtering Dates and Search Scope options. What was perhaps lost was recovered and the historical backdrop of their online exchanges was safeguarded.
How to Open EML Files without Outlook ?
Your first step is to download the software now. If you are working as a forensic investigator, we can assist you too! Please, check out the Pro Version of this software which permits to convert EML files into CSV, Text, HTML, and PDF formats.
Now, after installing the software, click on the Open button to load the desired EML files.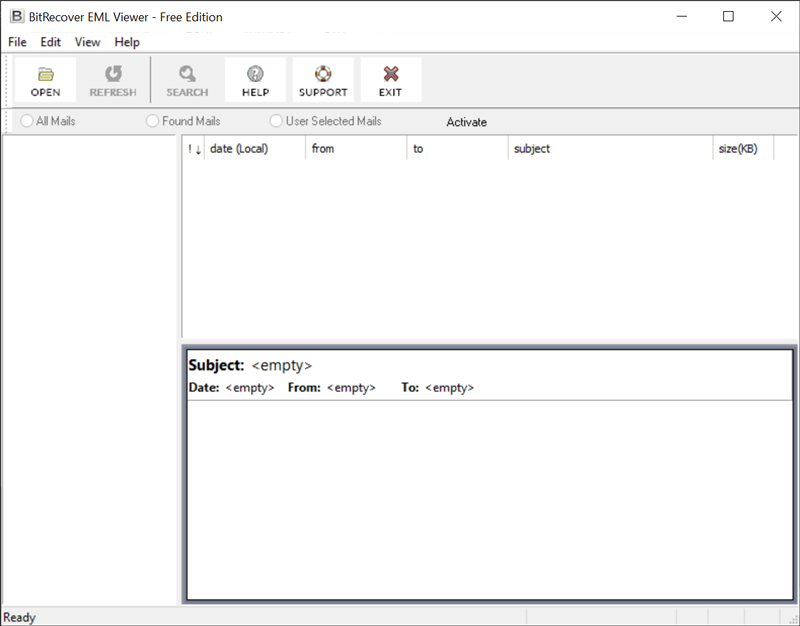 Then, choose email folders from UI and hit on a specific folder for previewing emails.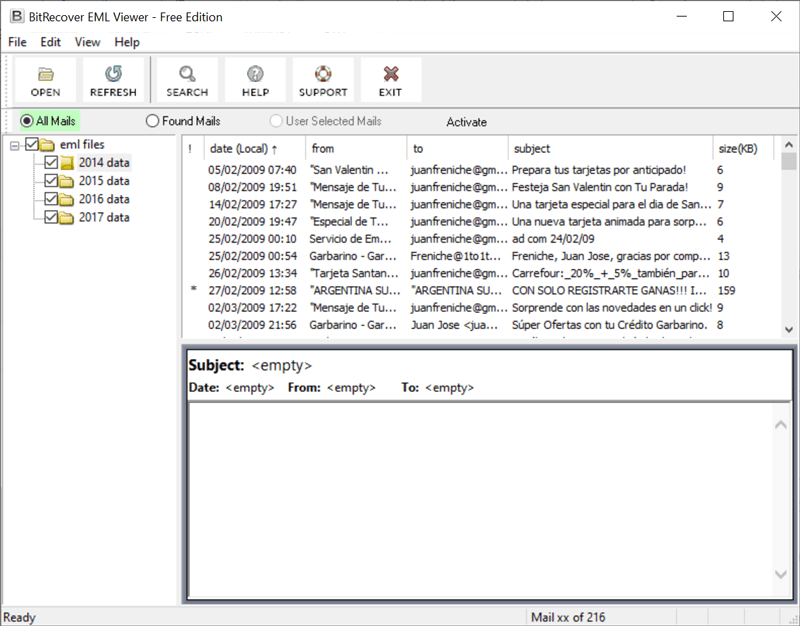 Thereafter, you'll see all email attachments. You can choose any attachment and straightforwardly open it with a right-click.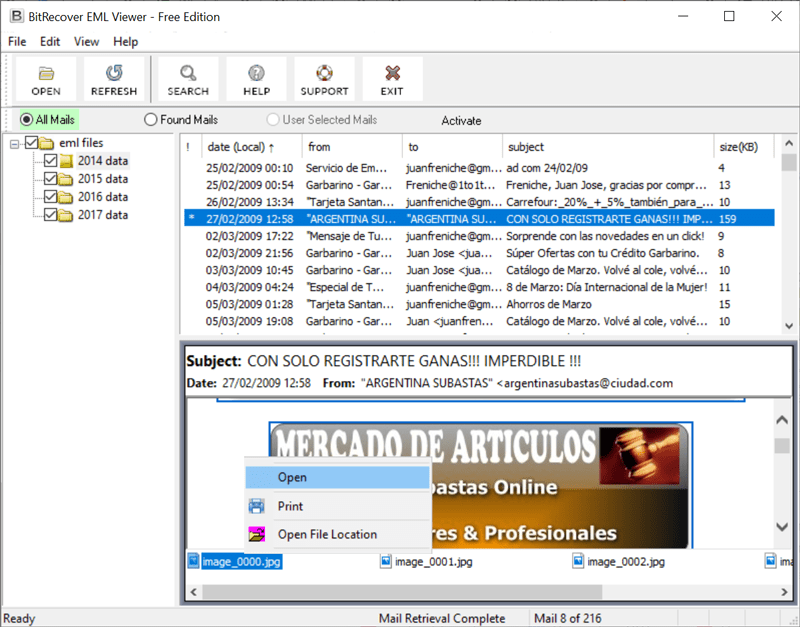 After this, hit on the email message to read the EML data. Tap on the Search button to locate a particular EML file from the entire database.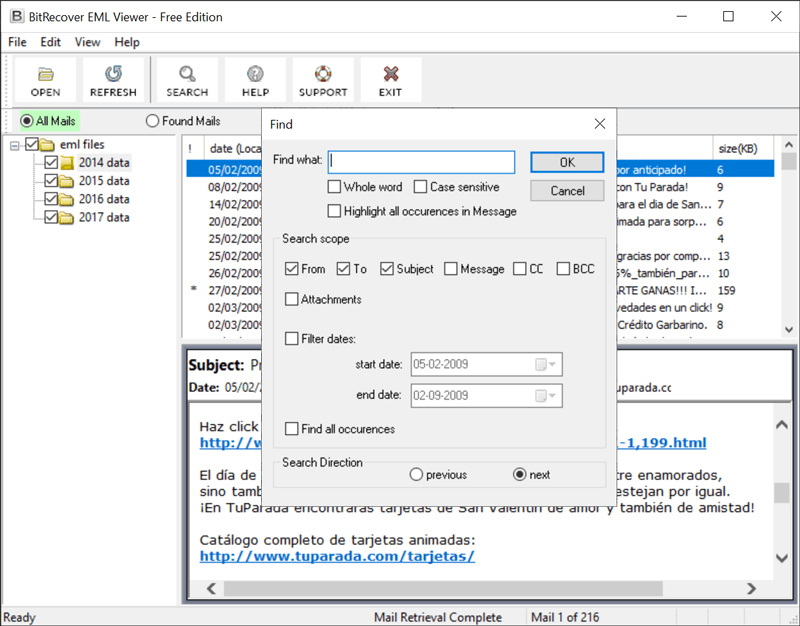 Now, you can also pick the desired date format as shown in this screenshot.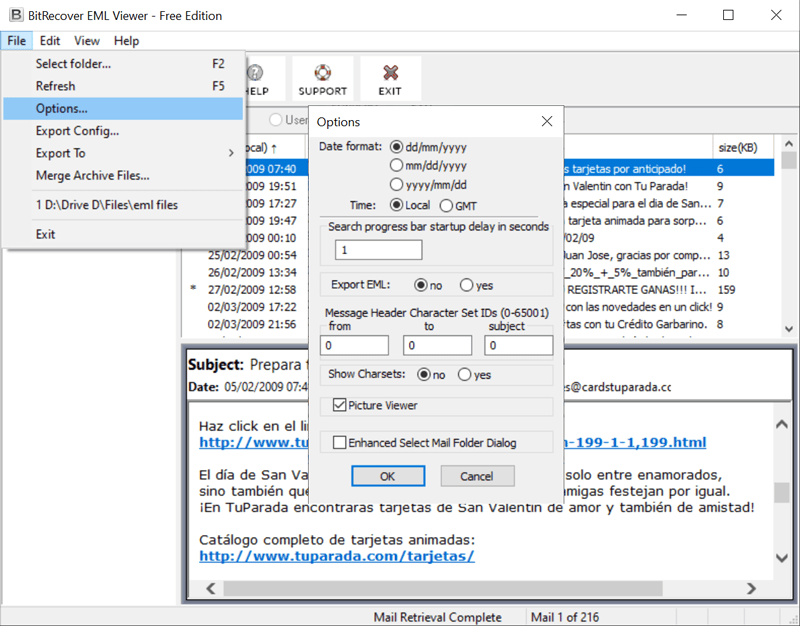 Also, this software permits to set print configuration in various professional ways.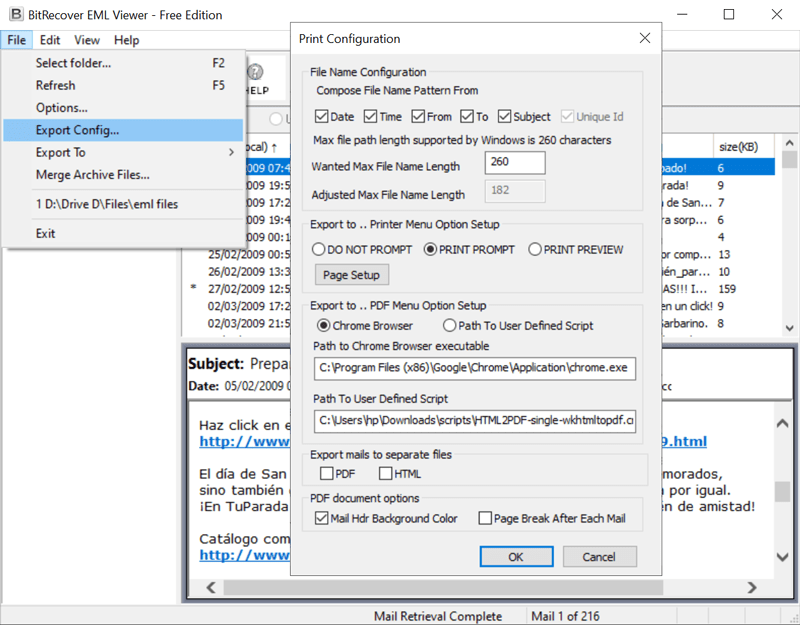 The licensed version permits to export of emails in various formats. You can pick them if required.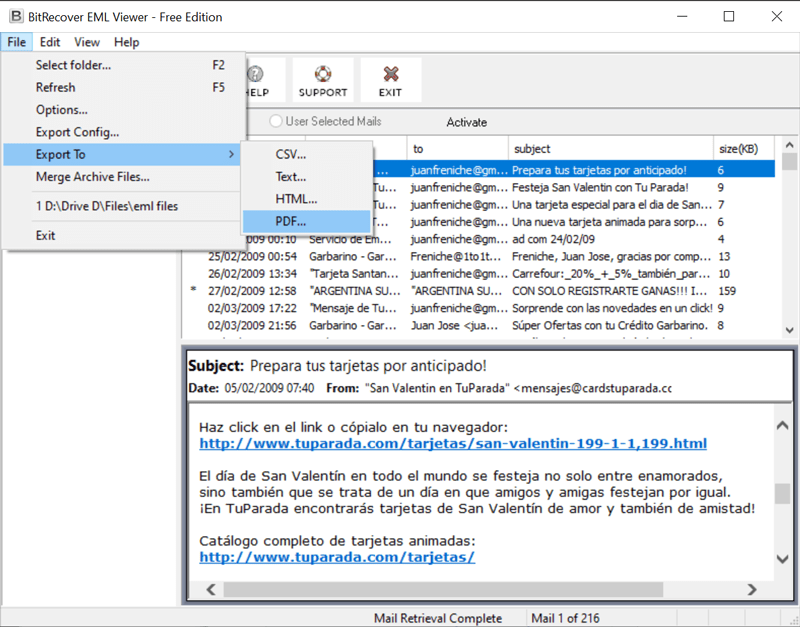 Also, the tool offers an option to merge archive EML files.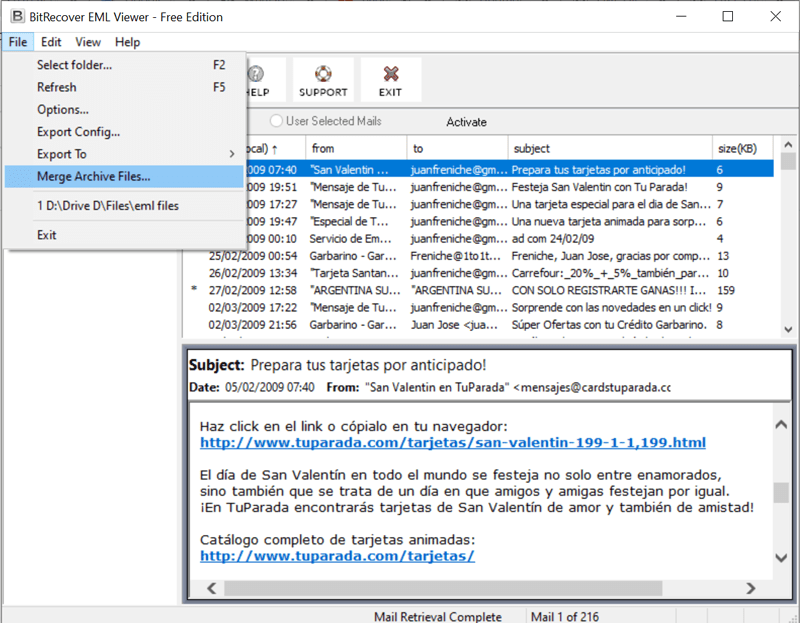 Thus, by following these steps you can efficiently open EML files without Outlook.
Amazing Benefits of Software
This application is absolutely free for personal usage, totally easy to use, and lightweight. Aside from just open EML files without Outlook, the viewer offers various other benefits.
Installation on any Windows PC: You can try this application on the majority of OS installed on modern PCs like Windows 10, 8.1, 8, 7, XP, Vista, etc.
Top-rated Forensic Software: It is best for the forensic experts as the investigators can run it directly from a USB drive because it is a portable utility.
Export Email Evidence: People who belong to job profiles like lawyers, forensic experts are really benefitted from this product. The reason being the tool not only permits to open EML files without Outlook. But also grants to export EML evidence in various file formats (pro version).
Open EML Filles of Numerous Email Clients: It is perfect for all users because it is compatible with EML files of various email clients like Windows Live Mail, Windows Mail, Thunderbird, SeaMonkey, Opera Mail, Outlook Express, Lotus Notes, etc.
Preview each Email Item Precisely: With it, you can open EML files without Outlook and also preview all email attributes like Date, Subject, From, To, Size in KB, HTML links, formatting, etc.
Advanced Search Option: The tool offers a useful search filter that grants to search .eml messages or find specific search terms in an email.
Preserves Data Integrity: The software is 100% precise and always ensures that the message formatting and email properties are maintained.
What Open Multiple EML Files without Outlook ? A Real-life Story
One of our client fro the US who used this product writes to us:
A companion of mine once had understudy practice in forensics. One day he messages me asking for advice on what application does open EML files without Outlook. Without broadly explaining the reasons to do it, he disclosed that he needs to analyze a large number of messages, including headers and attachments. Considering the reality his PC doesn't have an association with the Internet (for security reasons) and the equipment is a long way from top-notch – all famous email clients were unquestionably not an alternative. Additionally considering the huge measure of information he needed to examine from EML files, there was just a single alternative left in my mind. My recommendation was quite direct – he should utilize BitRecover Software for opening EML files without Outlook.
In up to 14 days, he calls me in fervor expressing gratitude toward me! He disclosed to me that his manager was dazzled with how productive and lightweight this product was. So efficient that he needs to make it a necessary application for the whole office!
Will you be able to try and wish better affirmation for a product that opens EML files without Outlook? We question that!
Conclusion
By concluding, we can say that undoubtedly there are no cross-questions regarding how to open EML files without Outlook on PC. The suggested software not only grants you to read the EML file message but also gets to access a single piece of information like headings, attachments, date, sender/ receiver's email address, etc. It's quick, free, and has a user-friendly interface that ideally suits best for personal as well as for professional needs.