How to Export Yahoo Emails to MBOX File Format ?
Introduction:- In the present situation, we as a whole are taking the assistance of email for informal and business communication. Worldwide, Yahoo mail is known for its compatibility with every platform. With the headway of innovation, clients are utilizing different email applications and they are searching for an alternative to get to their mail from anyplace, liberated from any sort of technical glitch. Though, Yahoo is one of the world's largest email provider, yet at the same time, there are users who are looking for other alternatives. There is nothing to stress over how to manage your significant messages, you can export Yahoo emails to MBOX without any problem. By doing this, you can get to your email from anyplace, whenever.
Today's article is all about how one can export emails from Yahoo to MBOX format locally. The Yahoo mail service gives you facility to handle all emails, contacts, calendars, etc. However, when it comes to archive Yahoo emails to hard drive in MBOX format, there is no inbuilt option to do so.
The below section describes a complete step-wise solution about how to convert Yahoo mailboxes to MBOX format so as to import MBOX files in Apple Mail, Eudora Mail, Mozilla Thunderbird with the help of Yahoo Mail Backup Tool.
The following procedure explains how to export Yahoo emails to MBOX files. So, lets dive in!
How to Export Yahoo Emails to MBOX Files ?
These step-wise guidelines will help you to export Yahoo to MBOX:
Download BitRecover Yahoo Mail to MBOX exporter on Windows.
Specify all of your Yahoo Mail login details in the GUI.
Select the required email folders & Saving option as MBOX.
Enter the target destination location & tap on the backup
The software starts the export of Yahoo emails to MBOX format.
Suggested Reading: Know how to save Yahoo emails to USB flash drive.
Why There is Need for Yahoo to MBOX Conversion ?
There are primarily two reasons to switch from Yahoo mail to MBOX file format.
1. The foremost reason to migrate Yahoo data to MBOX format is to save entire email storage of Yahoo mail locally for protection from data breach. Yahoo reported two considerable data breaches of user account data to hackers during the period of 2016. It affected an extensive amount of user's data- almost 500 million Yahoo! User accounts.
Another data breach occurred earlier around August 2013 that was addresses in December 2016. It influenced to have impacted over 1 billion user accounts, but Yahoo! Later declared in October 2017 that almost 2 billion of user accounts were affected. So, the users who have a Yahoo mail account should definitely export emails from Yahoo to MBOX format so as to access the mails offline.
2. The second necessary reason to download Yahoo emails as MBOX files is to import it in MBOX supportable email clients. The Mac users haves have MAC mail set as the default in the Mac book. The users can export Yahoo emails as MBOX format and import the same in Apple Mail.
Apple Mail is very much secured for users as it secures the database integrity. Moreover, MBOX files are compatible with a massive amount of email clients like Mozilla Thunderbird, Eudora, PowerMail, Kmail, Netscape, Evolution, Spicebird.
A 5-Step Precise Solution for You to Save Yahoo Emails as MBOX Format  
We are introducing the major steps involved in Yahoo email to MBOX migration. Check out this procedure to save Yahoo emails as MBOX format.
Download and Launch the Yahoo to MBOX Migrator
At first, download the free trial version of Yahoo to MBOX conversion tool. The software has a file size of 22.7 MB. It allows to convert first 25 items from each Yahoo folder to supported file format. Thereafter, purchase the license keys for unlimited migration of Yahoo emails in MBOX format.
After downloading the tool, first of all install and run it on your Windows-compatible machine. Read the instructions carefully to proceed towards how to export Yahoo to MBOX format.
Specify Yahoo login details
It is the first step to perform Yahoo mail to MBOX conversion.
Firstly, fill the credentials of Yahoo mail account such as the username and password. Then, tap on the login button to proceed further.
Also, Hit on the Use Advance mode option to export data of multiple Yahoo accounts in MBOX files.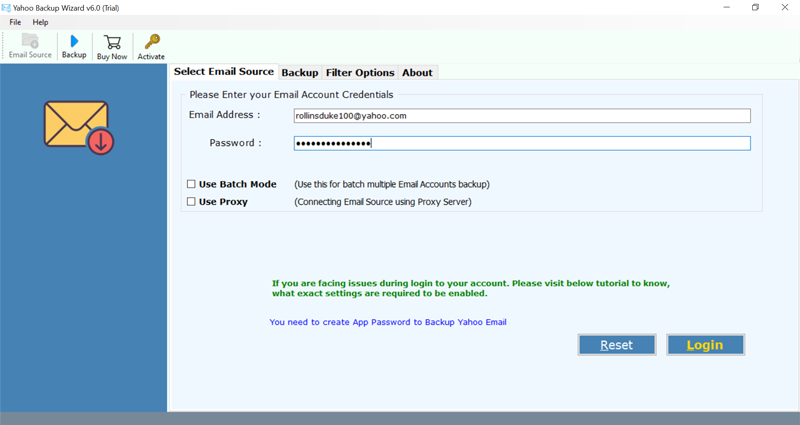 Get Preview of entire data
The Yahoo to MBOX migrator has a preview feature that shows the entire data in the "Preview Pane"  in hierarchical order. So, enable the desired email folders whose data you want to import into MBOX format.
Export as MBOX option
The software provides a list of file saving options to its users. Now, navigate towards the saving options list and select MBOX as a saving option.
Thereafter, enter the destination location for saving the resultant Yahoo to MBOX converted data. It can be a new location or an existing folder. Be default, the tool saves everything at the desktop location.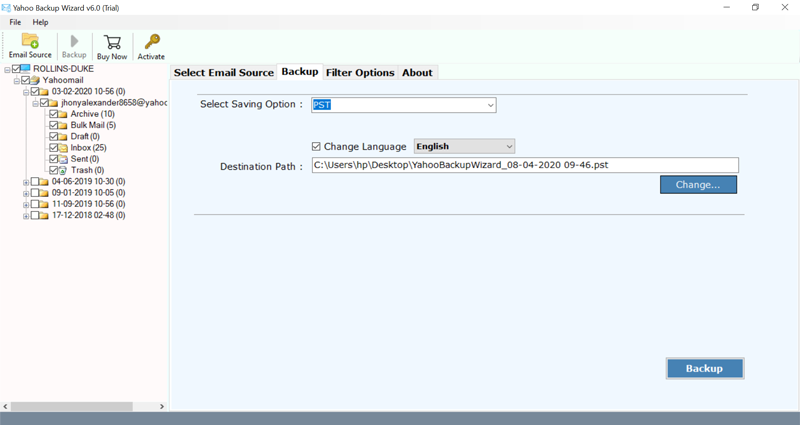 Start Yahoo to MBOX Export
Now, Hit on the backup tab to start migrating Yahoo emails to MBOX files. Once the conversion finishes, the tool will give a completion message.
Thus, you can analyse the complete conversion process with the live progressive report.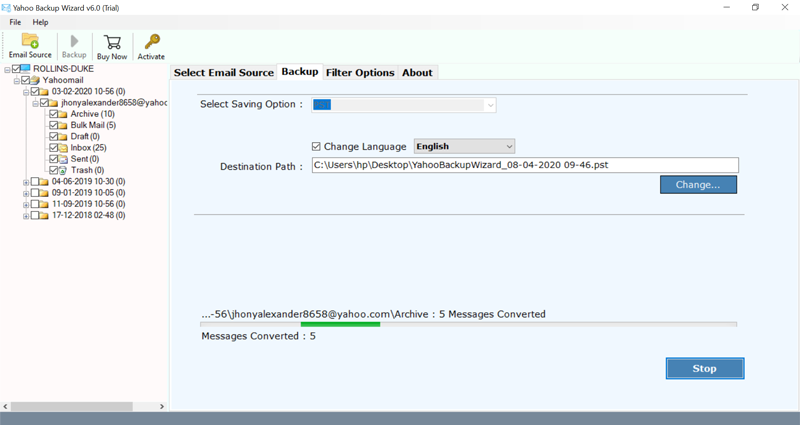 Now, open the target location where .MBOX files are saved. Now, you can import MBOX data in multiple email clients like Thunderbird, Apple Mail or keep it as a local copy on your computer.
Yahoo to MBOX Export Tool – A Safe Solution for Email Conversion
"Exporting all vital and confidential Yahoo data to a required MBOX supportable email client is very easy with the BitRecover solution".
If you are using Yahoo email account from a long time, then you may have accumulated large chunks of emails. Keeping those emails on the server is not safe. Your Yahoo mail account can suffer from data hacking or can be inaccessible at many times.

The Yahoo to MBOX conversion tool permits users to export bulk of Yahoo emails in MBOX file format. It is a comprehensive package of useful features that helps users to export Yahoo emails to MBOX format with respective attachments. The users can save Yahoo emails, contacts, calendars, user-created folders to MBOX files. It is a simple, swift and effective solution to transfer all Yahoo emails in MBOX format.
Set the output location accordingly- You can save the Yahoo to MBOX exported data to any fit location in the computer. It can be a newly created folder or an existing folder for smart data management.
Supports Windows OS- It is an advanced application which runs smoothly on all possible versions of Windows OS. You can download it on Windows 10, Windows 8.1, Windows 8, Windows 7, Windows XP, Windows Vista, Windows Server 2019, Windows Server 2016, Windows Server 2012, etc.
Free download- Feel yourself comfortable to install the demo version of Yahoo to MBOX migration utility which is available free of cost. With it you can examine the tool closely and can purchase the license keys for a full migration of Yahoo emails to MBOX format.
Essential Benefits of Yahoo to MBOX Export Tool
Compatible with single as well as multiple Yahoo accounts
The Yahoo to MBOX converter supports single as well as multiple Yahoo mail accounts. Hence, you can transfer data of one Yahoo account or more than one into MBOX files. The conversion quality is not compromised at all if you wish to export emails of more than one Yahoo email account. The software needs you to fill the Yahoo email address and password of all accounts and it will automatically connects with your Yahoo profile.
Export desired Yahoo data as MBOX
This software offers you to export data as per user's requirement. You can login of your Yahoo account with this software and it will do the processing in the swiftest manner. It can export user specified Yahoo data- choose all emails or just received, sent items, etc… It offers a hassle-free solution with the best results. You can also enable the "Use Advance Mode for selective export" option to enable the filter options for email conversion.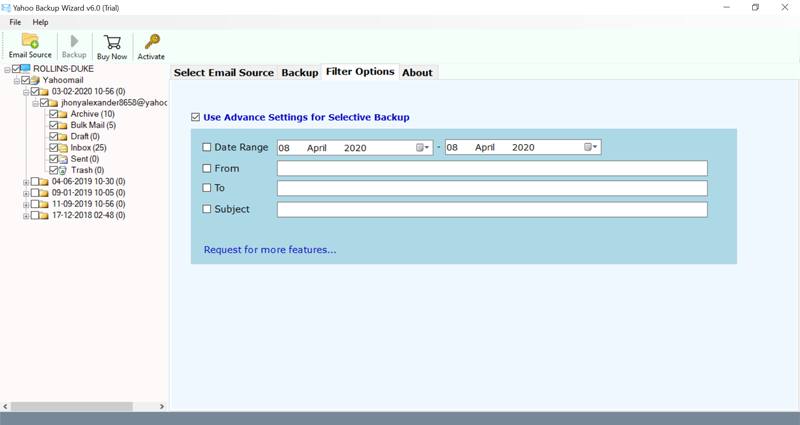 Exceptional GUI Support
With this software, you can independently manage it. It is a well-interactive program which explains the software key functions in an understandable way. Hence, you will not find any obstacle while operating this application.
Proper control on exporting data
The software gives you facility to control the entire processing during the export of Yahoo emails to MBOX format. The process can be pause anywhere between the conversion and resume once again as per choice.
Secure backup support
The security of your data is our prime importance. No single email is damaged during the entire process to export Yahoo emails as MBOX files. The utility takes care of the security of entire data during Yahoo to MBOX conversion. It maintains all email components comprising Cc, BCC, To, From, attachments, inline images, hyperlinks. It never compromises on the data integrity of data.
How Can I Download Yahoo to MBOX Format ? – User Queries
Hello, I have been using Yahoo account from more than 5 years. Due to this, a large number of emails and contacts are present in my Yahoo account till date. So, I now need to import Yahoo emails in MBOX format so that I can move all Yahoo data to my hard drive as a backup copy. And thereafter, delete the undesired emails from Yahoo mail. I want to make my account uncluttered and an organized one so there is an urgent need to export Yahoo mail account as MBOX format. Can you suggest me a third-party solution for the same.
-Delcy, Canada
Till now over 2000+ emails are present in the inbox, sent folders and personally created folders of my Yahoo mail account. Today I was searching for the solution to export inbox email folder of Yahoo mail account to MBOX format so that I can import MBOX to Thunderbird. I don't want to migrate all emails from Yahoo to MBOX files, just need to move the inbox. Also, I need to transfer Yahoo emails to MBOX format of past six months only (as they are carry some important details of my bank statements). Please guide a quick solution to fix this problem and to save Yahoo as MBOX files.
-Clara, Los Angeles
Time to Wrap Up
The above blog explains a complete step solution to export Yahoo emails to MBOX format. The suggested software is a modern-day tool which fits all your requirements by providing enough flexibility of data export of Yahoo emails.
So, for now just download it and enjoy its benefits without any hassle. It is a versatile application which any technical or novice user can access without any technical knowledge.