How to Delete Verizon Emails with Attachments?
From the last few decades, email has gone from a newness to an ease to a total nightmare for some. If you are receiving emails, then managing them can be an overwhelming thing. You can simply throw away all old messages if you are reaching to threshold limit of account storage space. In this blog post, we are going to talk about how to delete Verizon email folders in a single processing.
Yesterday I was helping my friend with his Verizon webmail. After signing into Verizon email account, we found that there were over 10,000 old messages in inbox folder, dating back to year 2010. Though I was able to delete 100 emails at a time but erasing 500-1000 at once was not practical. Also, there is no alternative to choose by date range to erase huge block of Verizon email messages. As an illustration, delete old Verizon email in 2010, then all in 2011, and so on. Can you suggest me a solution that can delete Verizon email messages in batch and in selective manner both? – Andrew, USA
Email has become the huge interrupter the world has ever recognized. We will never be able to put a stop to the amount of messages we receive daily. But, we can easily learn how to reduce the number of emails and the next amazing thing is to understand how to manage it.
You should treat your email inbox like a physical inbox. So, don't make a pile of unimportant messages in your mailbox as you have the option to throw them and make up a space in your account.
Suppose you are running an email account with address of admin@Verizon.net. If you have ever wondered to bulk delete messages from Verizon, we have a solution for you. Quickly follow this user guide to get rid of all those trivial emails in your Verizon email account. It will take few seconds, but you will end up with a clutter-free account as well as in a better shape.
Suggested Blog Post: Delete Zoho Emails
Won't Delete Verzion Emails ? – Try this Solution
Develop the process and habit of erasing insignificant emails, unread emails to the trash folder. Rather than sorting and opening up Verizon emails one-by-one and deleting them, you can mass delete all Verizon emails. This process can be achieved by an all-in-one software such as BitRecover EmailRaser Wizard. It's the best and most precise solution that gives ability to the users to delete Verizon email messages in bulk.
Avail the Free Trial Version to understand the tool's functionalities- This application also comes with a free trial version for the end users. It allows to delete few emails from Verizon email account. Later you can upgrade to the license keys for deleting unlimited Verizon emails.
How to Delete Verizon Emails and Attachments in Bulk ?
Now, that you know that it is easy to delete Verizon email folders (inbox, sent items, personal folders, tasks) with this expert application. Let's see the complete step-by-step processing for deleting emails from Verizon.
First step is to download and install the setup of software on your Windows machine.
Now, choose Verizon mail (AOL users) or Verizon mail (Yahoo users) from the email sources list.
Then, setup the account credentials of your Verizon email service – email address and password. Press on the login button to start the process.
Pro Reminder: If you want to delete multiple email accounts, please enable the 'Use Batch Mode'.
From the appeared email folders list, choose those Verizon mailbox from which you want to delete messages.
Now, you can also avail the Filter option feature with this tool. It helps to selectively delete Verizon emails by date range, subject, From, To, email attachments.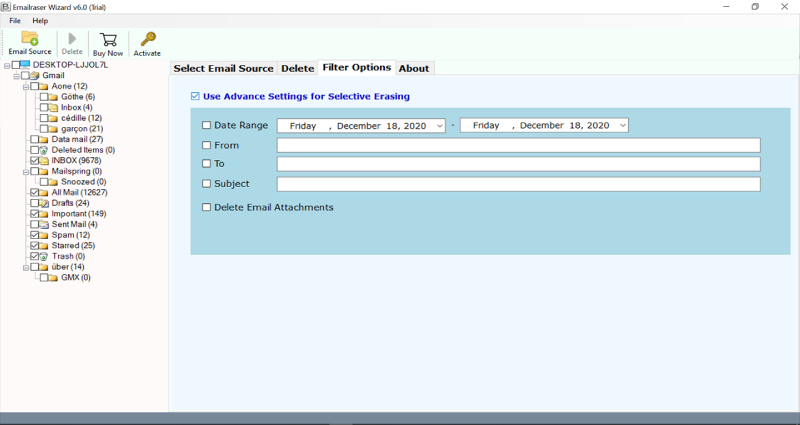 Important Note: You will receive a warning message telling that once emails or attachments are deleted, it cannot be retrieved back. So, choose folder cautiously.
Tap on the Yes button to start the Verizon email deletion process.
Now, the process to delete Verizon email messages has started. You can see the live processing.
Once the entire process ends, you will receive a confirmation message. Tap on OK to exit.
Delete Verizon Email Folders at Once – Splendid Features of Software
Use this application to delete thousands of Verizon email messages all at once. The tool is advantageous for both technical and novice users. You can have a look at some of the premium features of tool to delete Verizon emails.
Batch Delete Unlimited Emails: An email inbox folder instantly gets cluttered if you don't regularly delete email messages from account that you no longer needs. This application is beneficial for any users – one who wants to delete old Verizon email or batch delete Verizon messages which are new.
Erase Messages from Multiple Accounts: You don't need to fret if you have more than one Verizon.net email account. Because, the tool gives function to bulk delete messages from Verizon (more than one email account too). In order to enable this feature, enable the 'Use Advance Mode' option.
Supports All Windows OS: Users can run the application on any version of Windows OS. It is compatible with Windows 10, 8.1, 8, 7, XP, Vista, etc.
Delete Email Attachments: Users can also delete only email attachments with the Selective Mode option. This feature helps to selectively delete Verizon emails by categorized data filters like Date Range, Subject, From, To, etc.
Free Trial Version for All: You can also take a free trial of how the software works. The trial version allows to delete few Verizon email messages.
One tool, Various Benefits: This software is a multi-purpose application that enables all home and corporate users to delete Webmail emails in a proficient manner.
Frequently Asked Queries

Q: Can I delete Verizon email attachments too with this software?

A: Yes, you can selectively choose the desired email attachments which you wish to erase from Verizon account.

Q: Since my Verizon.net email account not receiving new email messages, so I have decided to delete few of them which are insignificant. Will the tool allow me to do this?

A: Yes, you can effectively perform this task without any hassle. Just choose the date range or the email headers details from which you want to delete Verizon emails.

Q: Does the software also gives facility to delete multiple email accounts of Verizon at once?

A: Yes, why not! You need to enter the email login credentials of all Verizon accounts and upload the same in a CSV file to the toolkit.

Q: Will I require any external plug-in to implement this Verizon email deletion process?

A: No, it's completely independent tool and does not requires external app installation for the task.

Q: Does the tool also allows to delete old Verizon emails (something five years earlier)?

A: Yes, there is no limitation on the time interval of email messages. You can delete Verizon email folders irrespective of whether they are old or new.
Conclusion
In the above blog, we have explained in very simple steps about how to delete Verizon emails swiftly. Thousands of email messages may get accumulated in your Verizon email account and you may end up getting fed up by scrolling each message and deleting them one by one. We hope that that blog was useful for you and now you can speedily delete Verizon messages without any stress.
More Suggested Blog Posts:
Permanently Delete Emails from Outlook 365
Delete Gmail Emails in Bulk
Permanently Delete Emails from Hotmail
Delete AOL Emails in Bulk