How to Delete AOL Emails in Bulk at Once?
AOL Mail is a free electronic email application, which is utilized by numerous users across the world. AOL Mail allows a user to customize and oversee information serenely. This can be in any way similar to making and utilizing the folders, overseeing AOL schedules, putting together the messages, and so on. Nonetheless, when a user needs to delete undesirable emails on AOL, at that point erasing all AOL mail messages all at once will be a bad dream. Would you like to delete AOL emails permanently? If yes, then finally your wait is over! In this blog, let us examine the methods to bulk delete email messages.
What's the Primary Cause to Delete AOL Emails ?
AOL email application offers incredible adaptability to its users for altering email information. It is accessible for free of any expenses and effectively viable with all web browsers. Also, AOL is known for its capacity to store huge information documents in its large storage space.
Not just this, AOL Mail offers incredible security against viruses, spam messages, and online assaults. Notwithstanding, even in the wake of being a solid and safe email program, there are sure issues that may prevent clients from getting to feature or performing any errand. Numerous clients save all their basic information, for example, bank explanations, any authoritative documents, payslips, and a lot more in the AOL mailbox. As we know about the different digital assaults by means of the obscure virus which may assault and abuse your esteemed information. Or on the other hand, any spam messages with the virus can hinder your information. Thus, it is imperative to delete AOL emails in bulk and don't let your vital information getting misused in any crimes.
Explore the below section to find out an easy way to delete AOL emails.
Avail the Free Trial Version of Software to Explore its Features
Try the automated software to delete AOL emails in bulk at once. It permits to erase only the first 25 email messages from the spam or trash folder. If you wish to delete all email folder data of AOL then please purchase the licensed edition.
How to Permanently Delete AOL Emails in Bulk At Once ?
For the people who are almost there to delete multiple emails on AOL to increase their extra storage space. They can do the underneath processing that will enable them to delete a lot of emails at once on AOL. Here, we have examined all potential techniques to delete AOL email messages. This is on the grounds that, a few clients need to erase a couple of messages, while others may need to erase progressive messages.
Suggested Blog Post: Erase Gmail Emails
Method #1: Delete One Email in AOL Mail
In this approach, just choose the necessary email to be erased from the AOL mailbox window and snap on the delete choice.
Method #2: Delete Multiple AOL Messages
Now and then as opposed to erasing all messages, clients may need to erase specific messages which are gigantic in number. Under such an example, essentially press the Ctrl key and select the ideal email which should be erased. When the messages are chosen, hit on the Delete button. One can follow this cycle for any email folder.
Method #3: Mass Delete Emails on AOL Mailbox
In this process, press and hold the Shift key from the beginning of the main email till the last email. This will choose all the messages in one cycle. After the messages are chosen, click on the Delete button.
User's Query
"I needed to let lose some space from my AOL account by deleting emails in bulk on AOL, as there were such countless undesirable messages, which were stacked in my mailbox. Tragically, while erasing the messages, I mistakenly erased one of the significant messages. Additionally, there is no duplicate of that email. It would be ideal if you help!!!"
Do you also feel there should be a more prominent approach to delete AOL emails? If yes, then we have the best and fastest way to delete AOL emails.
It is almost certain that after reading the above user query, you may be anxious as the email with significant information can't be gotten to anymore! Henceforth, a client should delete thousands of emails on AOL with the most extreme consideration, else you end up with a similar user situation that is talked about above. So, don't stress! We have come up with a dependable and reliable answer to delete AOL emails permanently.
How to Erase Multiple Emails on AOL in One Go ?
It is almost certain that in the wake of perusing the above question, you may be apprehensive as the email with significant information can't be gotten to anymore! Thus, a client should erase numerous messages in the AOL mailbox with the most extreme consideration, else you end up with a similar client situation that is examined previously. So Readers, don't stress! As soon we'll be presenting a solid and dependable answer for erasing all messages in AOL mailbox.
Bulk Delete AOL Mail with BitRecover AOL Email EraserTool
Try not to keep undesirable messages jumbling up your AOL mailbox. AOL Mail application allows you to erase messages possibly each in turn, or mass erase AOL email. But, there also exists an all-in-one solution that can help you to overcome to limitations of manual methods.
BitRecover EmailRaser Wizard is a one-stop solution to delete all email messages from AOL email account. If you are willing to delete a folder in AOL mail or delete large amounts of emails in AOL, use this application. It offers an easy way to delete AOL emails at once.
How to Delete All AOL Mail at Once ? – Stepwise Method
Step1: Download and install the setup of software on your Windows machine.
Step2: Now, choose AOL from the email source list.
Step 3: Thereafter, enter the email account details of the AOL account and hit on Login. If you wish to delete batch AOL email accounts then select 'Use Batch Mode'.
Step4: The tool will start fetching emails from the AOL account.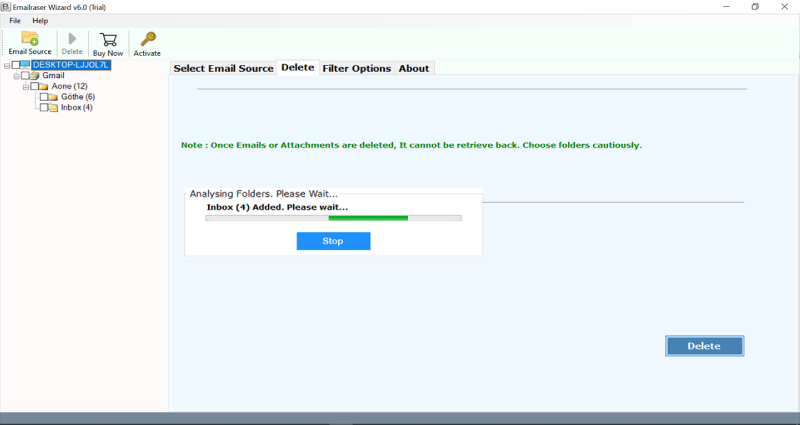 Step 5: Now, enable desired AOL emails that you wish to erase.
Step 6: You can also choose 'Use Advance Settings for Selective Erasing'.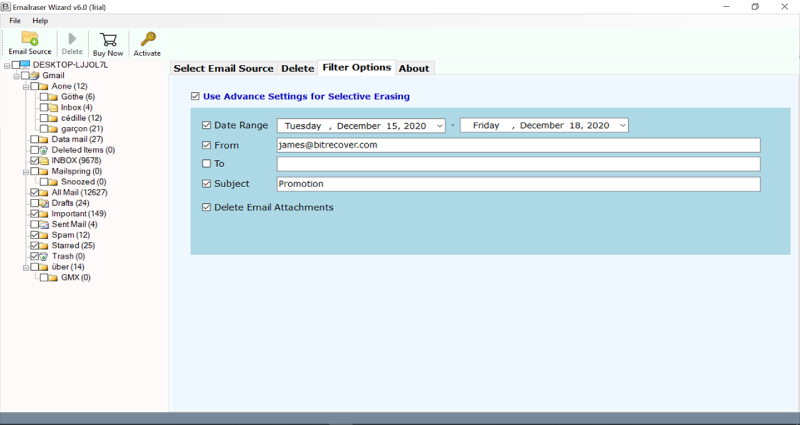 Step7: Lastly, click on the Delete tab to start the process. Tap on the Yes button to confirm the warning message saying 'email messages once deleted, can't be retrieved back'.
Step 8: The utility begins to delete AOL emails immediately.
After this process ends, click on the OK button to exit from it.
Salient Features of Software
Data Filters for Customized Mail Deletion- Putting away gigantic messages pointlessly and erasing them individually burns through valuable time that jumbles both individual and professional's lives. If you are happy to delete all emails from one AOL sender, then use this application. It permits to erase messages having attachments, erase just attachments, delete old AOL emails inside a specific date range or subject, erase messages from particular From address, and so on.
Batch Delete AOL Email Messages- It's really a painful thing to discover what to erase and what to leave if you have decided to delete groups of emails on AOL service. But, BitRecover has made it easier for you. Just try the Batch mode option to delete all emails on AOL account at once. For this, just put the email login details of each AOL account into a CSV file and upload it into the toolkit.
Supports All Windows OS- You don't need to bother about which version of the Windows version you are working on. This is because the same utility will give you the freedom to install it on any of your Windows PC. It supports Windows 10, Windows 8.1, Windows 8, Windows 7, Windows XP, Windows Vista, Windows Server 2019, Windows Server 2016, Windows Server 2012, etc.
Unbeatable Inbox-Zero Application: This tool is truly a splendid application that can delete AOL email messages all at once. It accompanies features and functionalities customized to email message clearing so the end client never invests energy in looking to look through messages, attached documents, and data. In this manner, if your AOL email account is getting piled up with messages and you plan to beat endless concerns that your errands, deadlines, subsequent meet-ups, or occasions have been missing. Then, you would be able to can make your pressure go off by deleting AOL emails in bulk from your email account.
By following the above method, you will be able to solve such queries that we got various community forums:
Can't delete AOL emails?
How to delete multiple emails on AOL?
How to delete junk mail on AOL?
Why can't I delete AOL emails?
How to I delete a lot of emails at once on AOL?
How to delete all new mail in AOL?
Does AOL delete old emails? If not, then please suggest a reliable solution.
How to delete saved folders in AOL mail?
How to you delete a folder in AOL mail?
Concluding Words
Today, it's very common to delete emails from email account due to any reason. The above-explained approaches will surely help you to delete AOL emails at once from your account. Since the manual methods are time taking, we suggest you choose the automated tool. It will help you to erase all AOL mail in batch so that your account gets empty for upcoming messages.
For further queries, do contact our technical support team.
More Related Blog Posts:
Permanently Delete Emails from Hotmail
Permanently Delete Emails from Outlook 365