How to Permanently Delete Emails from Outlook 365 Account at Once ?
Having unnecessary messages in the mailbox can create a ton of turmoil and disarray while working. In this way, having a coordinated Outlook 365 mailbox is vital. Having a great deal of messages additionally prompts the slowing down and unusual smashing of Microsoft 365 account. To have fluent working experience with Outlook 365, you need to clear all the superfluous stuff. To help you out with cleaning your Outlook 365, we will describe a decent method which will assist you to permanently delete emails from Outlook 365.
Cannot Delete Emails from Outlook 365 ? Try this Solution
Are you still wondering how can I permanently delete emails from Office 365? Well, you can't select email one by one and erase them. It's not only a boring plus a hectic task for any person. Thus, the best workaround is to use automated software for this. BitRecover EmailRaser Software is a multi-featured application that gives the ability to the users to delete all emails messages from Office 365 at once.
Also Read: Delete Gmail Emails in Bulk
How to Permanently Delete Emails from Outlook 365 ?
Before starting the working steps, take a quick trial of the free demo version. It is free of cost plus you can then evaluate the tool's functionality.
Now, follow these steps to permanently delete office 365 emails:
After downloading the tool, you will see the starting screen as shown in the screenshot.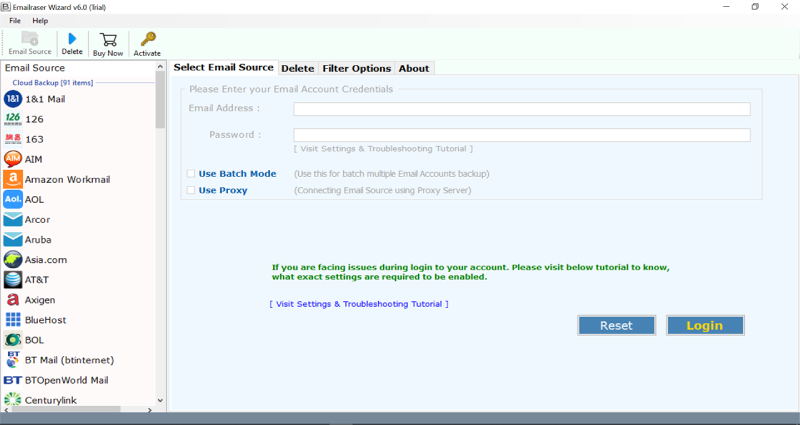 Now, choose Office 365 from the email source list given in the tool. Then, enter the email account details of your office 365 account and press on the login button. If you login using Office 365 Admin account then please enable "I am Admin" option.
Thereafter, the tool will start fetching all emails from your Office 365 account.
Enable desired mailboxes of Outlook 365 which you wish to delete.
Under the filters options section, you can also pick some specific emails which you wish to permanently delete from Outlook 365.
Lastly, click on the delete button and the tool will then give a warning message saying that 'email messages once deleted cannot be retrieved back'. To continue, please tap on Yes button.
The tool will start deleting all emails from Outlook 365 account.
You will receive a confirmation message that deleting email messages completed successfully.
Delete All Emails from Office 365 at Once – Benefits of Software
It gives various data filter options for selectively deleting emails from Outlook 365 account. Users can sort our emails as per date range, subject, email address, etc.
The tool is the finest utility for achieving a zero inbox. It can delete thousands of messages from Outlook 365 account within few moments.
Users can bulk delete emails from Outlook 365 account in single processing that saves user's time and efforts.
It also protects the account's privacy by not storing the details of the user's account in the software database.
The application is highly compatible with all versions of Windows OS like Windows 10, 8.1, 8, 7, XP, Vista, etc.
Watch Free Video Tutorial to Understand Bulk Deletion of Office 365 Emails
Frequently Asked Queries

Can I permanently delete emails from Outlook 365 account with this software?

Yes, this tool has the proficiency to erase all Outlook 365 messages at once.

Does the software support Windows 8 machine for removing emails from Outlook 365 webmail?

Yes, it is compatible with all versions of Windows OS including the Windows 8 computer.
Final Words
Erasing email messages from Outlook 365 becomes necessary when it is overflowing with unimportant messages. Users can precisely and selectively delete messages which are of no importance to them. This helps to achieve a neat and clear account for better productivity. In this blog, we have explained a simple yet effective approach to permanently delete emails from Outlook 365 account. We hope that you will like this article. If you have further any queries, please contact our technical support team.