How to Delete All Emails from Zoho Account?
Is there an approach to automatically erase messages older than a particular date? Paging through them 100 all at once isn't useful as there are around 50,000 messages to erase. Please help me to find a useful solution to delete all Zoho emails from account. – Alex, London
The Zoho email account has storage capacity limitations. For an individual client of Zoho Mail, the default extra storage space accessible is 5 GB. What will you do when your Zoho mailbox arrives at its limit? To dodge this, deleting emails from Zoho email account is the most ideal choice. In this blog, we will guide you on the most proficient method to how to erases Zoho email messages.
Delete Zoho Emails Efficiently – Productive Solution
BitRecover EmailRaser Wizard is a one-stop solution that enables users to bulk delete all emails from Zoho account. With it, users can delete emails from Zoho account as per date range, subject, sender, attachments, etc. Moreover, the tool comes with a free demo version also. So, it becomes easy to evaluate the performance of the tool before purchasing.
Since the software has a clutter-free and easy to understand Graphical User Interface. Thus, it becomes very easy for any professional or non-technical user to access it. Now, you can learn in simple steps how to erase messages from Zoho account. Let's start!
How to Delete All Emails from Zoho Account ?
First of all, download and install the software on your Windows machine.
Now, choose Zoho Mail as an email source option from the toolkit.
Then, enter the email account login details of your Zoho mail account. Also, tap on the login button.
Note- Please enable 'Use Batch Mode' to delete emails from multiple Zoho mail accounts at once.
Thereafter, the software will start fetching all email messages from Zoho account. Now, enable those mailboxes whose data you want to delete at once.
From the filter options list, you can selectively delete messages from Zoho account.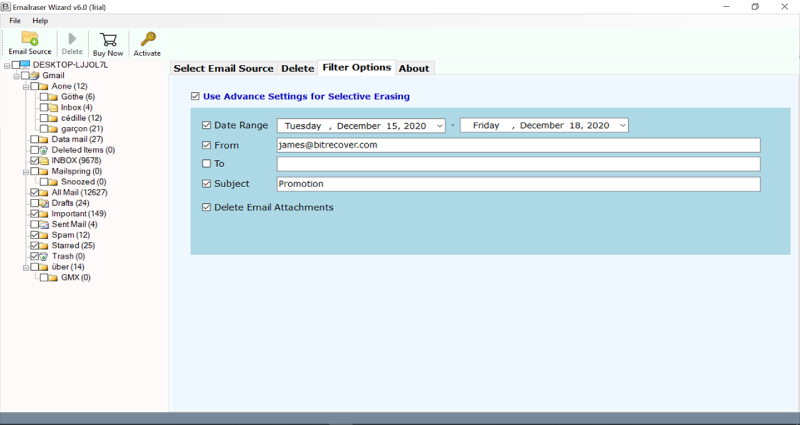 After this, click on the delete button to start the process to delete Zoho emails. A warning message will appear on the screen saying 'Once emails or attachments are deleted, it cannot be retrieved back'. Click on Yes to confirm it.
Then, the tool will start deleting all emails from Zoho mail.
After the process ends, the tool will give a completion message of 'Deleted Email Messages completed successfully'.
Erase Zoho Mailboxes Easily – Salient Features of Software
Best utility for inbox-zero- This application is best suited for users who want to delete Zoho emails all at a time. If the storage capacity of your Zoho email account has reached the threshold limit, then you can use this software to delete thousands of Zoho messages in a single shot.
Bulk Delete Zoho Emails- The recommended tool has the ability to delete bulk Zoho emails in a single round of processing. Once you enter your Zoho login details, the tool will automatically start fetching all messages and quickly clears the Zoho mailbox.
Preserves the Privacy of Account- You don't need to worry regarding the privacy of your Zoho Mail account as this utility is designed with advanced algorithms. And, it precisely protects the privacy of your email account by not storing a single bit of information in the software's database.
Compatible with Windows OS- We understand the different requirements of users that's why we programmed this application keeping in mind all those needs. Users can effectively download the software on any Windows-based machines like Windows 10, 8.1, 8, 7, XP, Vista, etc.
Concluding Words
Deleting emails from any email account is very tiring and sounds boring when there are huge amounts of mailboxes. There is no denying the fact that the professional software reduced end user's hassles as it automates the whole processing. Hence, we suggest you take the help of the automated utility of BitRecover and delete Zoho emails without any limitations. If you have any queries, please contact our technical support team.
More Suggested Blog Posts:
Permanently Delete Emails from Outlook 365
Delete Gmail Emails in Bulk
Permanently Delete Emails from Hotmail
Delete AOL Emails in Bulk