How to Delete All Virgin Media Email Folders at Once ?
Lets' envision a hypothetical scenario: You log into your Virgin Media email account and you find some 15,246 unread messages which are of no use. You tremor and break out in a cold sweat. If you find doing this often, don't panic because you're not alone.
One unfortunate practice I have is letting my Virgin Media Inbox get huge. I surmise I'm not an Inbox Zero master. At last, I arrive at that tipping point and need to mass erase them. Can you suggest to me the finest solution to delete all Virgin Media emails? Also, it would be better if the solution could also clear out selective Virgin Media messages. – Adwell, United Kingdom
Most of the users think that all emails are valuable, but sadly they are not. There are people who subscribe to newsletters, news alerts that are precious at that time but become a mess immediately after. Also, your email account may get piled up with cluttered email messages in which you are being CC'ed or you have got forwarded emails. Thus, in such conditions in which you are probably running into your storage limit, you can simply delete Virgin Media emails and make room.
We need to underline that this article isn't tied in with shutting your Virgin Media email account. This is all about email maintenance.
Figure out how to bulk delete on Virgin Media email account based on sender, date range, attachments, email address, etc.
Recent Blog Post: Delete Webmail Emails
How to Delete All Virgin Media Email Folders at Once ?
If you have been using Virgin Media as your regular email account for years, you are probably wondering: how do I delete my Virgin Media emails all at once?
So, if you are searching to declutter your Virgin Media mailboxes or make some storage space, then your search ends here. Choosing messages one by one can be a really tiring thing to do, but there are some ultimate solutions. We recommend you to try the BitRecover EmailRaser Wizard. With this software, you can easily delete Virgin Media folder (old emails or new) in batch. Also, giving up on important emails is not an option. Using the filter options of this software is an accurate way so that you can cut through the noise and pay attention to those emails which are of prime importance.
Let's start with how to delete all Virgin Media emails on a Windows computer because this application is absolutely compatible with Windows machines.
Steps to Bulk Delete Emails from Virgin Media Account
The initial step is to download and install the software on your PC.
Now, in your toolkit, you'll see a long list of email sources. Pick Virgin Media from it. It looks like this:
Thereafter, setup the account credentials of your Virgin Media email account – email address and password. Press on the login button to move further.
Note- If you are willing to delete multiple Virgin Media email accounts then, enable the 'Use Batch Mode'. Once you'll tap on it, the utility will ask you to fill in all Virgin Media email account login details. Upload these details in a CSV file and thereafter to the toolkit.
If you are want to delete emails from a single Virgin Media email account, then you can skip the above step. Just log in and the tool will start fetching all messages from the chosen account.
Now, in the complete folder list of Virgin Media emails, just enable only those specific mailboxes whose emails you wish to erase.
After this, go to the next option which is "Filter options". Users can also perform selective erasing of Virgin Media emails by date range, from, to, subject, email attachments.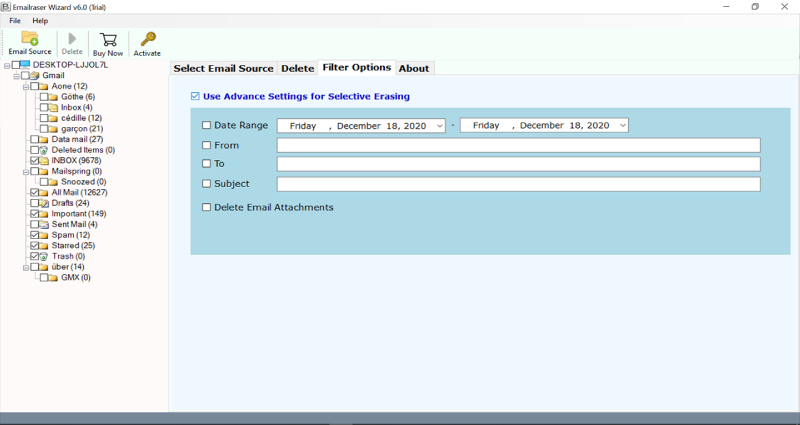 Lastly, click on the Delete button. Please note that once emails or attachments are deleted, it cannot be retrieved back, so choose folders cautiously.
The process to delete all Virgin Media emails is running and will soon end.
You will receive a confirmation message saying that – Deleted email messages completes successfully. Click on the OK tab to end it.
Amazing Advantages of Software to Delete Virgin Media Messages
With this splendid utility, you'll be able to enjoy unlimited benefits. The tool is harmless and gives 100% true results.  You can have a look at what does this wonderful software offers to you.
Batch Delete Thousand of Emails: Don't fret if you want to erase countless emails from your Virgin Media account. This single utility is powerful enough to delete all Virgin Media emails in a single round of processing.
Clear Multiple Email Accounts: Wondering what to do if you have many accounts? Then, use this software to delete multiple Virgin Media email accounts simultaneously.
Windows-Compatible: Users can install the application on any Windows computer because it supports all Windows like Windows 10, 8.1, 8, 7, XP, Vista, etc.
Selective Email Deletion: Imagine a situation where you just need to clear out some email attachments of a particular date. This particular thing becomes very easy with the recommended software. It has the proficiency to delete selective Virgin Media email messages. The tool gives options like From, To, Subject, Delete Email Attachments, etc.
Protects Data Integrity: The software is easy and secured to be work with. It never saves the user's information inside the software database.
Demo Free Trial: Evaluate the performance of the utility with the help of the free demo version. It allows deleting a few messages from the email account.
FAQs

There are around 556 emails from certain senders in my Virgin Media account. I want to free up some space so that I can focus on the conversations which really matters. Can I selectively delete all Virgin Media emails with your software?

Yes, use this application to delete selective Virgin Media mailboxes. For this, click on the 'Filter options' and put the date range or the filters which you wish to apply. You can take a look at this screenshot too.

Does the software work fine on Windows 8.1?

Yes, it is compatible with all Windows OS including the Windows 8.1 OS.
Concluding Words
Decluttering and organizing your Virgin Media email account is a superb idea. However, it still needs a considerable amount of effort as well as time. But, if you use an easy alternative and utilize the above automated software, then you can save yourself from the trouble of deleting all Virgin Media emails manually.
More Suggested Blog Posts:
Permanently Delete Emails from Outlook 365
Delete Gmail Emails in Bulk
Permanently Delete Emails from Hotmail
Delete AOL Emails in Bulk