PST to XPS Software to Convert Outlook PST Emails to XPS Documents
Due to the proprietary nature of the PST ( Personal Storage Table ) format, you can't open PST file without Outlook installation. In the long run, this creates problems whenever you want to archive, share, open or view PST files remotely. But, there is no need to hassle! Here at BitRecover, we have created an efficient solution through our PST Converter. With the help of PST to XPS Converter software, users can now effectively convert Outlook to XPS documents in a couple of seconds.
Before, landing on the solution to convert PST to XPS format, first have a look what is the real-time usage of Outlook to XPS conversion.
Why do People want to have a PST to XPS Converter ?
Once you convert PST to XPS files, then it is very easy to take a printout of the output XPS documents as it is well suited for printing purposes.
With XPS documents, you have the option to view XPS files in more than one style such as One Page, Page Width, 100%, Thumbnails, Full Screen.
You can convert Outlook to XPS and later can share these XPS files via email platforms and social sites such as Facebook, Whatsapp.
Using the Microsoft XPS Viewer, you can open an XPS file and can easily find out some particular information with the various filter options.
Understand the Steps to Convert PST to XPS Documents in Detail ( With Pictures )
Read me first:-
Please note that first use the trial version of the software to understand the software functionality. You can launch it on your computer without any pay. But, it comes with limitations and permits you to convert the first 25 PST files to XPS format with attachments. After that, you need to switch to the Pro version to convert multiple PST files to XPS documents at once.
The following instructions help you to convert PST files to XPS in one go step-by-step.
Download and install PST to XPS software on your Windows system. Then, read the instructions mentioned in the software panel to convert Outlook emails to XPS documents.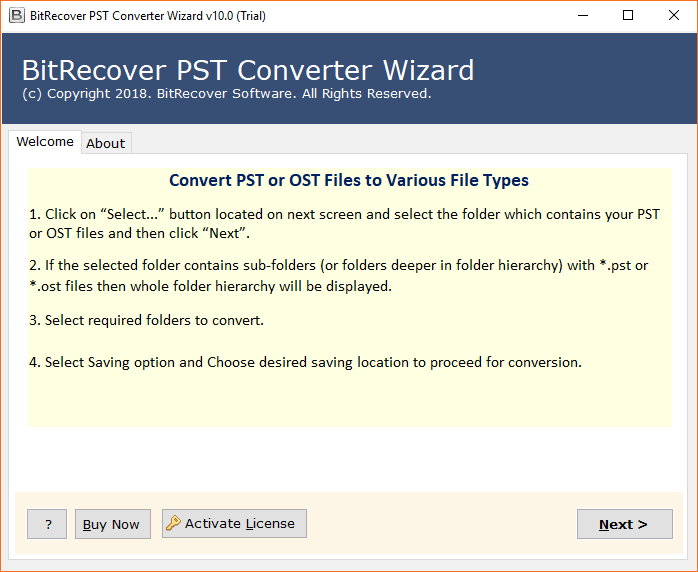 Click on the Select Folder button and open the folder containing PST files from your computer. If you are willing to convert a single PST file to XPS format, then check the Select Files and press Next tab.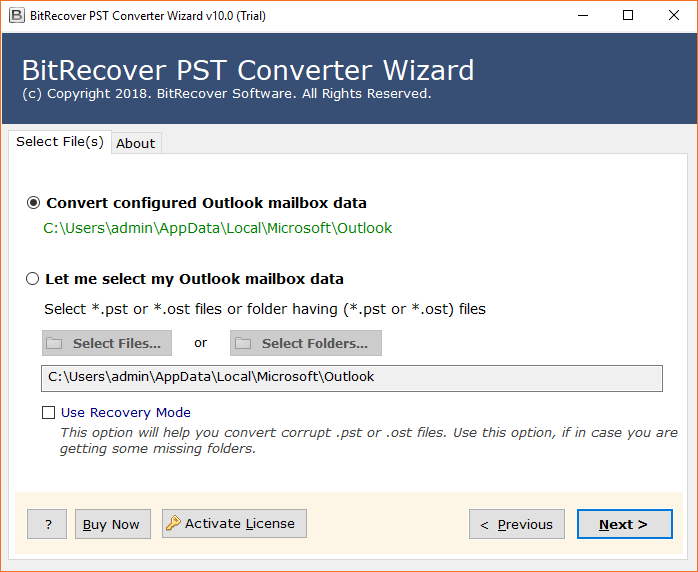 Now, the software analyses the data in the software panel and upload it. Check the required PST folder to batch convert PST files to XPS format with attachments.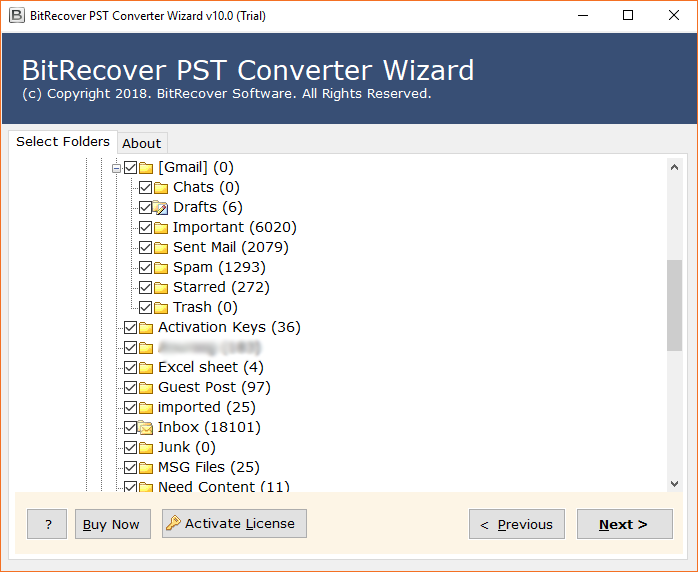 Choose XPS as the saving file type from multiple options.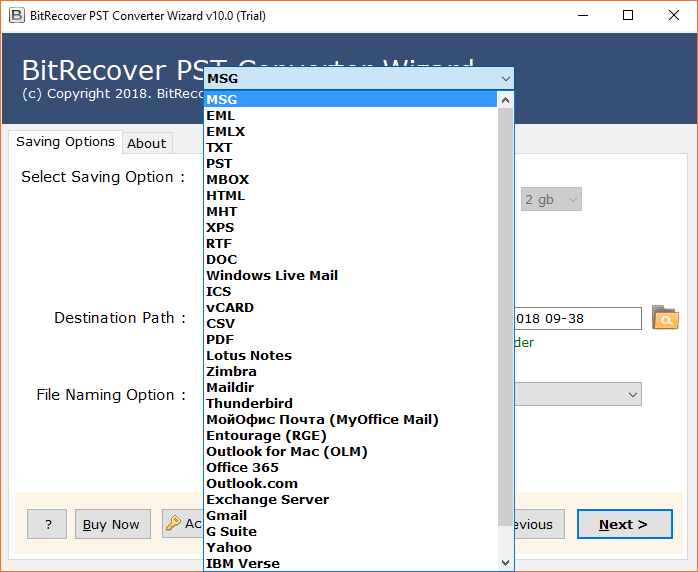 Next, fill the desired location in the destination path to get the results. The software also offers File Naming options that help you save final results in a more organized way.
In the end, tap on the Convert button and watch the live conversion from PST to XPS with attachments.
Where are the Results? – It is the only application that provides the live conversion of the data. Once it all ends, you will get a conversion completed message. Following it, a log report as the confirmation that converts PST to XPS process is done. Now, go to that specified location and get your results.
Now, it's time to explore the prominent features of the tool to convert PST to XPS format quickly.
Convert Outlook to XPS – Benefits & Features of Tool
Are you thinking that your job may be too large to convert thousands of Outlook PST emails to XPS format? Your Outlook emails may amount to hundreds of MBs in size. But, don't worry no job is too big for the PST to XPS software. With this, you will have the access to enjoy various cool features of the tool.
Convert multiple PST to XPS format – The best part of using PST to XPS software is that it converts PST file to XPS in batch mode. Hence, the user does not have to select the PST file multiple times. The entire process to save Outlook emails as XPS ends in a single operation easily.
100% accurate and fast – This is a versatile email conversion software that maintains the accuracy of all your data. Users can convert PST to XPS accurately and quickly in one try.
Standalone App:- This tool allows you to save Outlook emails as XPS without installing external applications. It is an independent tool that perfectly meets all your requirements to convert PST emails to XPS documents.
Save output to the desired location:- This is a risk-free tool that allows you to freely choose the output location after converting the PST file to XPS format.
Compatible with Windows OS:–  The best PST to XPS Converter works on all Windows OS, including Windows 10, Windows 8.1, Windows 8, Windows 7, Windows Vista, Windows XP, etc.
Frequently Asked Queries
Q: How to convert PST to XPS documents?
Launch PST to XPS converter.
Choose Outlook PST emails to convert into XPS.
Enable desired data and select XPS saving format.
Hit on convert tab to begin converting Outlook PST to XPS.
Q: Can I convert multiple PST items to XPS format at once?
A: Yes, PST to XPS conversion utility gives you this facility to batch convert PST emails to XPS documents.
Q: How should I use this software before buying the license keys?
A: The PST to XPS converter has a free trial version which you can download easily. It permits to convert with 25 data items from PST into XPS format. We hope that you will get satisfy with our product.
Our Customer Feedback
Hi, I was completely awestruck when I came across this PST to XPS conversion utility. It has such a simple and intuitive interface that I think even a novice user can easily access it. Now I can easily manage my Outlook emails in a better way by converting PST to XPS documents. The software has no bugs or errors and the best thing is that those who are interested to convert PST to XPS can first try the demo version. A huge thanks to you BitRecover team!
-James, USA
Grazie BitRecover procedura guidata PST to XPS. Il tuo prodotto è semplicemente fantastico e non presenta alcun errore. Con questo strumento, ho convertito più e-mail PST in formato file XPS in un paio di secondi.
-Enzo, Italy
Concluding Words
From the above blog, it is clear that the conversion of Outlook emails to XPS is a matter of few seconds. Any technical or non-technical user can access it and use it to convert PST to XPS documents. We hope that this software will be beneficial to you. There will be no hassle with the usage of this PST to XPS software. For any queries, please contact to our support team.