How to Export PST to Text (TXT) Format in Quick Steps ?
The most complex conversion is to convert PST to TXT file format. Many users face the innumerable situation and the problem when it comes to transferring Outlook PST file into Text. Do not worry here, in this blog we will discuss the best and possible solutions i.e., PST to TXT converter to migrate Outlook PST file to Text format quickly.
Instant Solution:
Users can use
BitRecover PST Converter
freely and upload their contacts or other data from the PST mailbox to TXT format. Simply click on the download button and perform your work in a few steps.
Trail Edition: Download the Free Demo version and explore its functional aspects. This version allows users to convert the first 25 PST items into Text mailbox. Once you are satisfied, you can buy a full version and continue bulk exporting Outlook PST file to text and other different platforms as presented by the software.
How to Convert PST to TXT Directly ?
Step 1: Install and Run PST to TXT converter software in your system to export Outlook PST file to text.
Step 2: Now, select File / Folder to browse PST and press the Next button. The user can select the Folder option to convert serval PST files into a text folder account, otherwise, go with Select files option.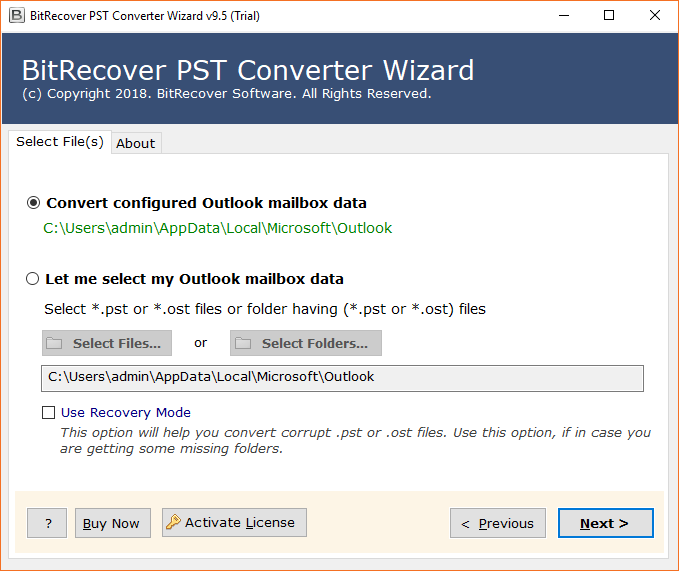 Step 3: The PST to Text converter tool shows all the PST folders in the software panel, now choose specific folders.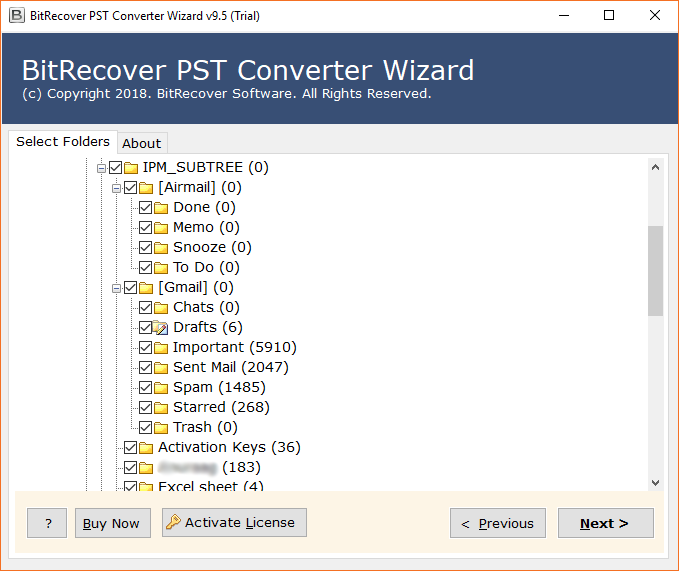 Step 4: Select TXT as saving format to convert PST to TXT messages.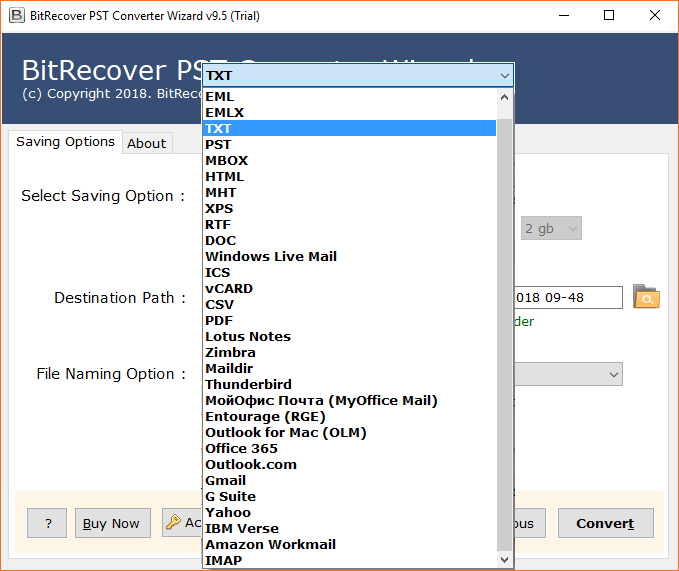 Step 5: The software to convert Outlook PST file to text offers several file naming options, user can choose any option according to their need.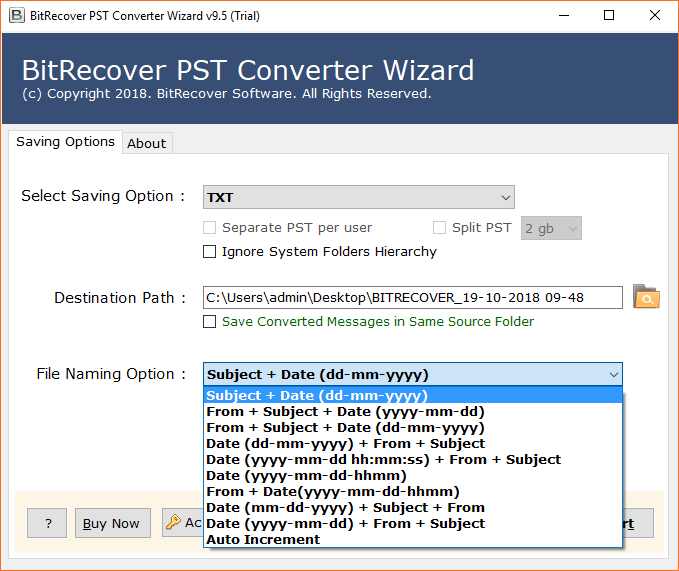 Step 6: Select the Destination Location-Path and click on the Convert button to export PST to Text.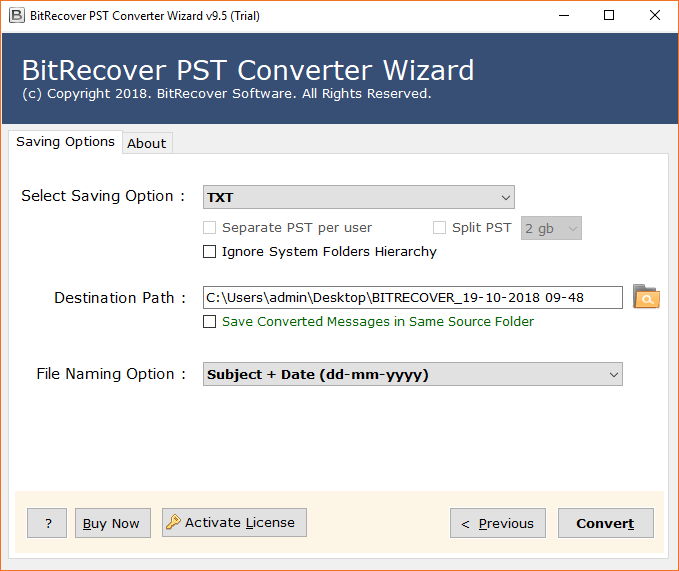 Step 7: PST to TXT Conversion process is running now, with a live progression report.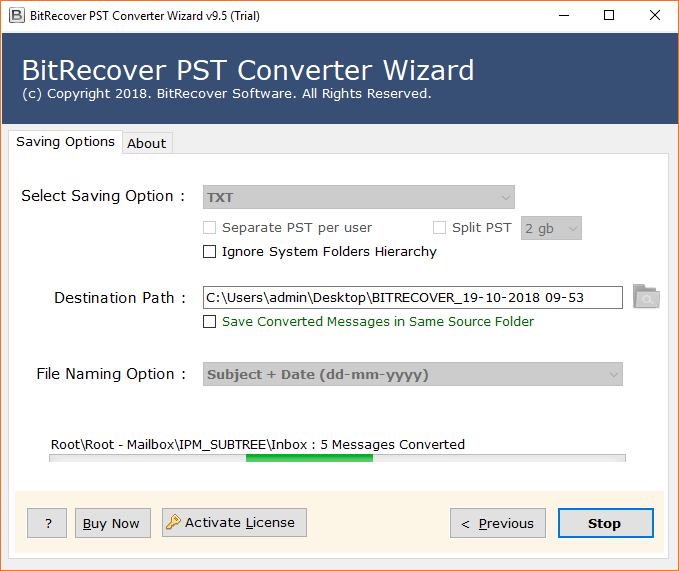 Step 8: The migration procedure from PST to text has been completed successfully.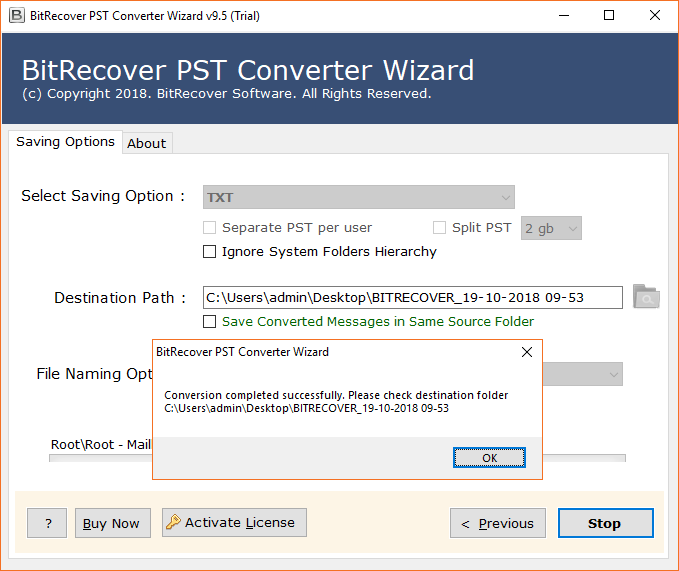 Step 9: Finally, the PST to Text converter software will automatically open the destination folder so that users can easily obtain the resulting data, including a separate attachment folder.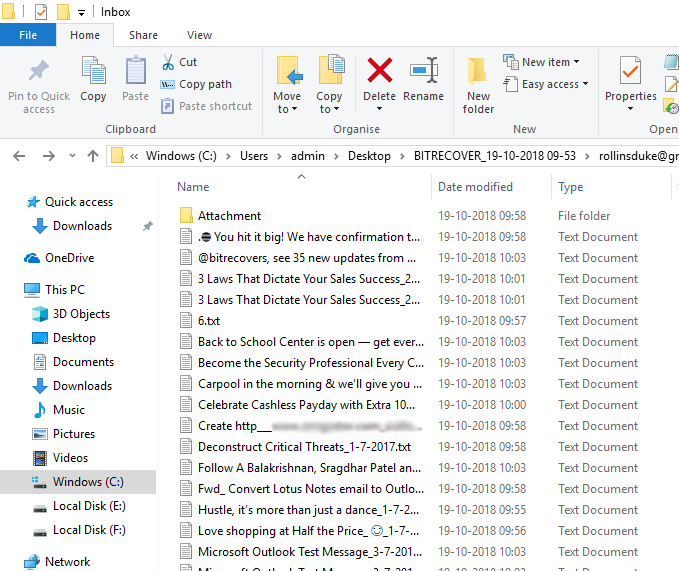 Simple & Easy Solution to Export PST to Text Format
To migrate multiple PST files into Text format, the user has to opt for a smart solution that is BitRecover PST to TXT Converter Tool. With this utility, the user can import a group of emails from Outlook PST files to TXT in a few clicks. The tool is capable of converting PST data along with attachments in a text mailbox. There are no changes in the message formatting or in the attributes associated with the PST message, even after completing the conversion process. Henceforth, read more to know some of the unique features of the Software which makes it different from others.
BitRecover PST to TXT Converter – Benefits & Features
It is able to Pick PST files automatically from the default storage location of the configured MS Outlook account.
The software has an option to convert damaged PST files items into the TXT format by selecting the "Use recovery mode" option in the product GUI.
It can be installed in several international languages and shows a progressive live conversion report during the procedure.
This utility to convert Outlook PST file to text creates a separate folder to store the mailbox attachments in the desired storage path.
This program can be easily installed on all versions of Windows operating system, including Windows Server editions.
BitRecover PST to TXT Converter gives freedom to choose the destination location to store the resulting TXT files. If you do not want to select the destination location, then, it will automatically save the resulting TXT files on the desktop.
Advantages of TXT File Format
A TXT file is a standard text document that contains plain text. It is used for storing information into a text file without a special format. The text file can be easily opened with Notepad ++, Geany, Microsoft Notepad, EditPad Lite, Atom, Visual Studio Code, DocPad and many others text editors. In addition, there are so many benefits of using the text file. Some of them are listed below:
Open and view easily by several text editing applications.
Users can effortlessly edit the information with text editors.
It helps to easily find the necessary emails.
Easy-to-read text file by double-clicking.
Text files include small size or versatility.
To send emails data as email attachments.
Frequently Asked Questions by Client's

Q: How can I convert Outlook PST to text file ?
A: Simply follow these easy steps to export from Outlook to TXT (plain text).

Run BitRecover PST to TXT Converter, it will automatically load the PST files.
Select specific PST folders and TXT as saving format for conversion.
Choose the destination path and click on the Convert button.
Convert PST to TXT migration has been completed successfully.

Q: Does the tool export Outlook PST file to Text including attachments?
A: Yes, our expert team have developed this application to convert Outlook PST file to text in such a way that it creates a separate folder to store the email attachments during the conversion process.

Q: Can I export multiple PST file messages to TEXT format at once ?
A: Yes, the PST to Text Converter program provides dual mode conversion option. By using this utility, you can add a folder for transferring numerous emails items in TXT at one time.
Summary
At the present time, most of the people looking for how to convert PST to TXT format. However, many users got stuck when uploading Outlook PST emails in text, as they cannot find a reliable way to do so. Therefore, in the above write-up, we have introduced an intelligent and quick approach, that is, PST to TXT converter tool to export Outlook PST file to text file without any error issue and data loss.
In addition, the user can also try the free DEMO version to transfer 25 PST emails to TXT format or checking the tool working.