How to Convert IMAP Server Emails to PDF Document ?
How often do you work with IMAP server? Do you just read IMAP email documents or do you need to save them into a portable format for archiving, saving, printing, or securing the emails? If you are finding a solution for any of these, then this article will be useful for you. This write-up explains a precise and direct solution to convert IMAP to PDF file format. Know the reasons, and solutions to export IMAP server to a portable document format.
Today, email communication has become a part of our routine life whether it's personal or for business purposes. So, it becomes really important to store all those significant email messages stored on servers on your local machines- computer, android device, laptops, etc.
In order to access your email messages locally, IMAP (Internet Message Access Protocol) is one of the best methods. It facilitates managing online emails locally or into a local email client. In IMAP Server, all your messages and inboxes are stored somewhere in the cloud. This permits each one of your emails to be flawlessly synchronized while viewing emails from various PCs or gadgets, or even from Webmail, as all devices will show precisely the same messages, mailboxes, etc.
But an inconvenience of the IMAP server is that it is compulsory to have an internet connection in order to read, answer or search the messages.
Moreover, as the emails are stored on the server, continue to check the accessible storage space for your emails, else if the mailbox is full, emails will begin skipping back.
You can avoid this situation by exporting emails from IMAP server to PDF which is a universal file format. PDF or Portable Documents Format is an ideal method for those situations when you need to save IMAP emails locally. In this way, you can also access all important or required IMAP account emails on the local hard drive. Even you can print them as and when needed.
All-in-one Solution: IMAP to PDF Software
For easy conversion of IMAP emails to PDF format, we recommend you to use BitRecover IMAP Mail Backup Tool. With this software, you can swiftly export IMAP server to PDF with all email attributes.
Download tool to convert IMAP to PDF on your Windows or Mac machine:
Note- This software comes with a free trial version. Try it today for evaluating its best features and working. With it, you can convert few IMAP emails. In order to migrate unlimited data, you need to buy the licensed edition.
How to Convert IMAP to PDF File ?
Follow the steps for IMAP email to PDF conversion.
Download & Open IMAP to PDF Tool.
Enter IMAP email address, password, IMAP Host and Port No.
Choose desired mailboxes from software.
Select PDF as saving option & destination path.
Start to convert IMAP to PDF file format.
Multiple Scenarios when Users Need to Export Emails from IMAP Server to PDF
Q1: Hello there! I am running an agency and want to share some important contract details with my partner These contract email items are stored on my IMAP server account. So, I want to convert IMAP to PDF so that I can lock PDF file with password and share the same with the partner. Any help or guidance regarding how to export IMAP emails to PDF? -Antonio, Mexico
Q2: Urgently need to convert IMAP server to PDF!! My client sent me some emails which I access through IMAP server. As a legal advisor, I always need something which does not leave any electronic footprint. I guess the reliable PDF format comes into this category. Is there any approach to bulk export emails from IMAP account to PDF? Eagerly waiting for your response. -Florin, Romania
Q3: My organization creates a portfolio of CVs. I simply want to merge PDF files into one document so that I can generate a portfolio out of numerous pieces of work. But, here is the problem- all my emails containing those CVs are in IMAP server inbox. I have read multiple forums regarding how to convert IMAP to PDF but none of them helped me. Can you please guide how can I save IMAP as PDF document. -Andrie, Russia
Q4: Hi, my forensic work requires software that can help me to print IMAP emails to PDF for investigation. Do you have any such solution? If yes, please suggest a reliable IMAP to PDF converter. -Robert, UK
Read Steps to Save IMAP Emails as PDF Documents (With Screenshots)
Take a note- Download the free trial edition of IMAP to PDF exporter. It is valuable for both home and enterprise-level users.
Firstly, download the setup of software and install it on your Windows or Mac machine.
Now, please fill in the IMAP account login details like email address, password, hostname, port no. Once done, click on the login button.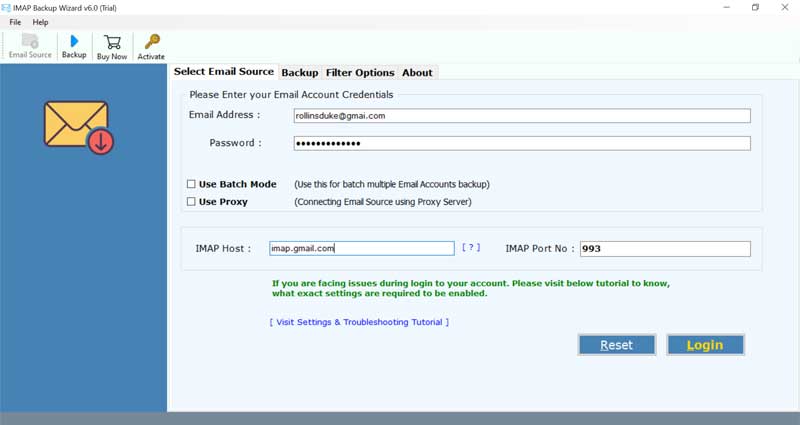 Important Tip- For batch migration of multiple IMAP accounts to PDF, please enable the 'Use Batch mode' option.
Then, select all or necessary mailboxes of the IMAP server account.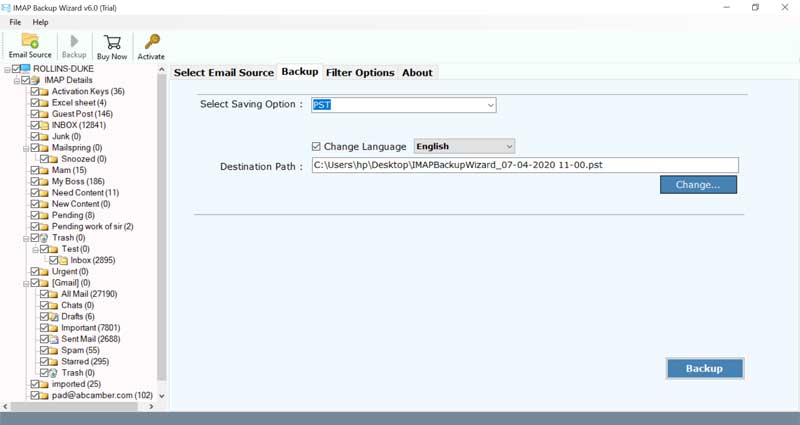 Next, select PDF as the file saving option from the toolkit.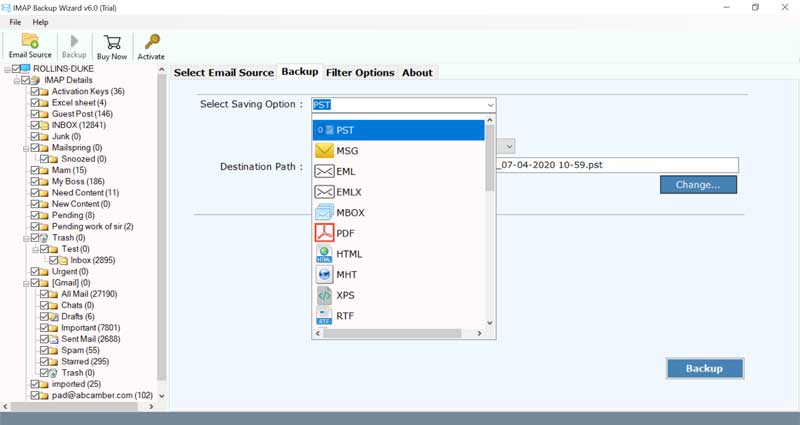 Choose or browse any destination location for output. Along with this you can also select the various filter options for converting desired IMAP emails to PDF.
Lastly, tap on the backup tab and that's it! Soon the conversion of IMAP to PDF starts. After the whole process ends, you will get a conversion completed message.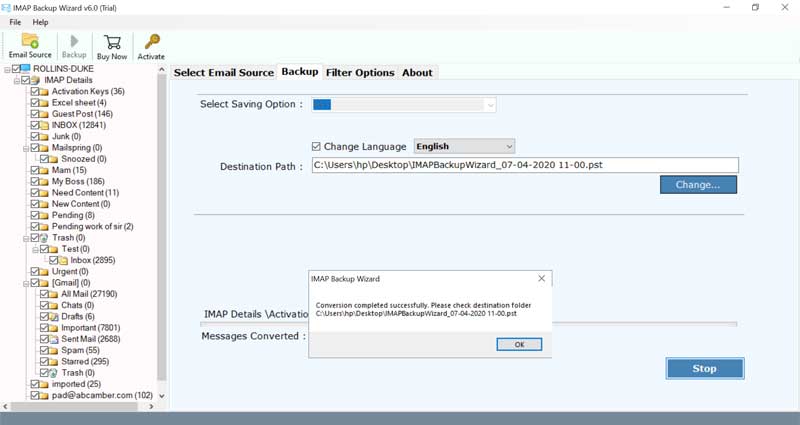 Print IMAP to PDF Easily – Premium Benefits of Tool
Bulk export IMAP to PDF: This software permits execution batch conversion of IMAP server into PDF. With it, you can bulk save IMAP as PDF with all email components. Also, the separate batch mode feature enables to migration of multiple IMAP server emails to PDF.
Maintains Email Attributes: During the process to print IMAP to PDF, the tool keeps intact all email properties such as text formatting, images, hyperlinks, attachments, email headers, etc.
Data Filter options: It also offers some data filter options which are helpful to selectively convert IMAP to PDF. These filters allow to download IMAP server emails to PDF as per date range, subject, email address, etc.
Windows and Mac Compatibility: The IMAP to PDF converter supports all versions of Windows like Windows 10, Windows 8.1, Windows 8, Windows 7, Windows XP, Windows Vista, Windows Server 2019, Windows Server 2016, Windows Server 2013, etc. Likewise, it also runs on Mac machines like macOS 10.15 (Catalina), Mojave, High Sierra, Sierra, El Capitan, etc.
Over to you
One thing is certain by saving IMAP emails as PDF, you can easily turn your digital documents stored on IMAP account into a portable format. This will also help you to print IMAP mailboxes into PDF documents. Through this blog post, we explained how to convert IMAP to PDF in the easiest manner.