How to Migrate Emails from IMAP Server to Another IMAP Server ?
When you switch from IMAP Server to new server, the existing emails are not generally migrated over into the new mailbox. Email migration basically transfers a single message (or messages) from one email client to another. Generally, email clients are not compatible with similar file formats for storing the mailbox information. Hence, you require IMAP to migrate mail from one email server to another. But, do you know how to migrate emails from IMAP Server to Another IMAP Server ? Are you aware about a direct process of IMAP to IMAP migration? If you want to know the answer for these questions, please read this blog.
Efficiently Migrate Emails from IMAP to IMAP Server!
Do you have chunks of emails saved in your email account and wish to transfer all of them to another one? Don't fret! We have got you covered. Whether you are having 10, 100, 1000 or 10000 mails, as long as your email server is compatible with IMAP. Then, you can migrate IMAP email to new server without having to save anything locally to your computer. BitRecover IMAP Mail Backup Tool provides a direct option to move mailboxes from IMAP enabled mail servers such as Yahoo, Hotmail, Gmail, Outlook.com, Zimbra Mail Server, Zoho Mail Server to another server. It is an expert solution for transferring IMAP email to new server.
Queries: How to Move IMAP Mailbox to New Server ?
I need to migrate over a thousand of emails from an old IMAP Server to a new IMAP Server. I know, I can easily organize an old and new account and drag and drop all email messages. But, it will be a really tiring process. I want to know is there a better or expert solution to copy IMAP to IMAP for Windows & Mac OS ?

-Adken, USA

Hallo, ich möchte IMAP von einem Host auf einen anderen Host migrieren, ohne dass Datenverluste auftreten. Daher suchte ich nach Lösungen zum Kopieren von IMAP auf den IMAP-Server. Ich habe keine zuverlässige Lösung gefunden. Bitte teilen Sie mir mit, wie ich IMAP-E-Mails auf einen neuen Server migrieren kann.

-Adalina, Germany
Transferring IMAP Email to New Server is Easy Now! – Read These Guidelines
Download and launch IMAP to IMAP migration tool on any Windows-compatible machine.
After installation, enter the credentials of your IMAP Server, fill IMAP Host, IMAP Port No. Also, press on the login tab to start to transfer IMAP server to another IMAP server.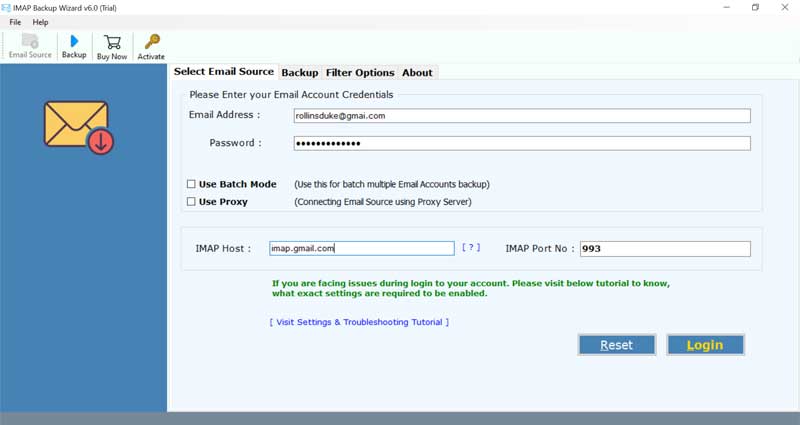 Thereafter, choose the required email folders which you wish to move from IMAP server to new server.
Go to the saving options list and pick IMAP option as a saving format.
Now, enter the credentials of destination IMAP server and also enable Use Advance Settings for selective backup if required. Lastly, click on the backup option to begin to migrate IMAP email to new server.
IMAP to IMAP Migration Tool  for Mac & Win OS – Enjoy Tool's Amazing Benefits
Advance filter options: The users can filter and migrate required IMAP server data to new server based on their requirements. You can filter out the migration data by Subject, Sent dates, From, To address of email and can request for more features too.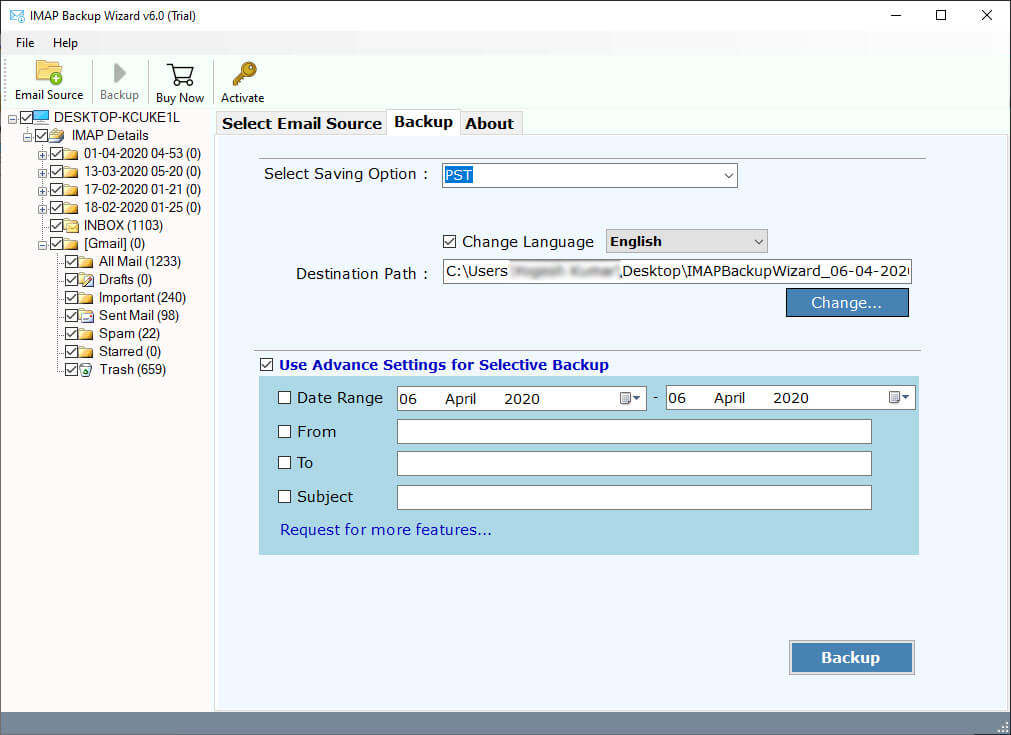 Maintains the Original message/ metadata: The unique metadata for each message is preserved throughout the IMAP to IMAP migration process. You will get the message headers, email components for each emails as it was in the original message.
Migrate to the same destination folder: The tool maintains the internal folder hierarchy while you move IMAP mailbox to new server. It migrates the email data to the destination server as that of original one.
Machine compatibility: You can download this IMAP to IMAP transfer tool on all versions of Windows OS. It is easy to install this software on Windows 10, 8.1, 8, 7, XP, Vista, etc.
You can also go through this YouTube video tutorial to transfer emails between IMAP servers.
Get Started Today! – Try the IMAP to IMAP Transfer Tool for Windows & Mac OS  for Free
Download the free demo version of IMAP to IMAP copy tool for Windows & Mac OS. You can download it on any Windows OS. After installation, you can check the software's features and functionality. Once you are completely satisfied with this utility, upgrade the license keys.
Download for Windows OS


Download for Mac OS

Frequently Asked Questions
Ques 1: How to Migrate emails from IMAP Server to another server ?

Launch IMAP to IMAP migration tool.
Enter credentials of IMAP Server account.
Enable required IMAP Server mailboxes .
Select IMAP saving option and specify destination IMAP Server details.
Start to migrate IMAP email to new server.

Ques 2: How can I Use CSV file for migrating multiple IMAP Server mailboxes to another server ?

Enable the "Use Batch Mode" option in the software and specify the email account details of all IMAP server mailboxes which you wish to move into another server in a CSV file. Now, upload this CSV file and the rest process is same as explained for IMAP to IMAP migration.

Ques 3: Can I do IMAP to IMAP migration on Windows 10?

Yes, you can use this software on any version of Windows OS as well as macOS.
Concluding Words
In the above blog post, we have explained how to migrate emails from IMAP server to another server. IMAP to IMAP migration tool is an effective solution that provides 100% accurate results. Now, transfer IMAP email to new server directly without losing single bit of information.
Lets us help you! – Are you hassling with any query regarding IMAP server migration to another server? Please contact to our technical support team. We are available for 24*7 to give you assistance.