How to Save IMAP Emails Locally in Outlook 2019, 2016, 2013, 2010 ?
Is your IMAP mailbox is flooded with messages or is moving toward the disk quota limit of your email account? If it is so, then you can just save IMAP emails locally in Outlook on your computer. Although, it sounds somewhat difficult, however, its very simple and just requires a couple of moments to set it up. This will let loose bulk of storage space inside your IMAP mailbox without permanently deleting emails messages. Also, by saving IMAP messages locally, you can even accelerate your email system synchronization with the mail server.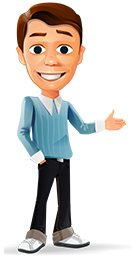 What Prompt Users to Save IMAP Emails Locally ?
George, Manchester says: I handle my email messages from my android phone and my PC through IMAP. I need to set something up so that if I erase a message through my phone, my PC will in any case keep the message locally.
I have Microsoft Outlook 2019 and Mozilla Thunderbird right now. However, I would like to save IMAP emails locally in Outlook 2019. How may I achieve this IMAP email archiving process? Is this conceivable with any available email clients out there?
In response to George's comment:
Your goal is to keep an offline copy of all IMAP emails to offline storage. So, you can keep IMAP emails locally by using our software BitRecover IMAP Backup Tool. It's an automated software that facilitates saving IMAP emails locally in Outlook 2019, 2016, 2013, 2010, and prior versions. Even, you can save a copy of IMAP emails to multiple email clients like Windows Live Mail, Mozilla Thunderbird.
The following guide will explain how to save IMAP emails locally on Mac or Windows PC.
Steps to Save IMAP Emails Locally in Outlook 2019
Download & Open IMAP Email Downloader Tool.
Enter IMAP mail Address, Password, Host & Port No.
Select PST as saving option and destination path.
Click on Backup tab to start to save IMAP emails locally.
How Saving IMAP Messages Locally will help you ?
There are around 3.9 billion active email users who send messages each day. Whether you are a working professional or self-employed, saving IMAP emails locally will be a clever decision. Such a vast amount of emails gets stored in server mailboxes and occupies large storage space.
So, one can save IMAP messages locally to get rid of this problem.
Lessens the mail server space of each old email message.
You can still access your emails on your PC.
Turning down the loading time of the email application you are utilizing.
It will help you to take backup of all email messages in a safe manner.
Secure the information contained in your messages, which can presently no longer victims of hacking.
Detailed Methodology to Save IMAP Emails Locally on Mac and Windows Machine [With Pictures]
If you want to make a separate copy of all IMAP messages which will be stored only on your computer. Then, you can follow this process to save IMAP emails locally in Outlook and other email platforms.
First of all, download, install and launch the tool to save IMAP emails locally in Outlook 2019, 2016, 2013, etc.
Now, fill in the email address and password of your IMAP email account. Also, set up the IMAP host and IMAP port number in the respective fields. Click on the Login tab to continue.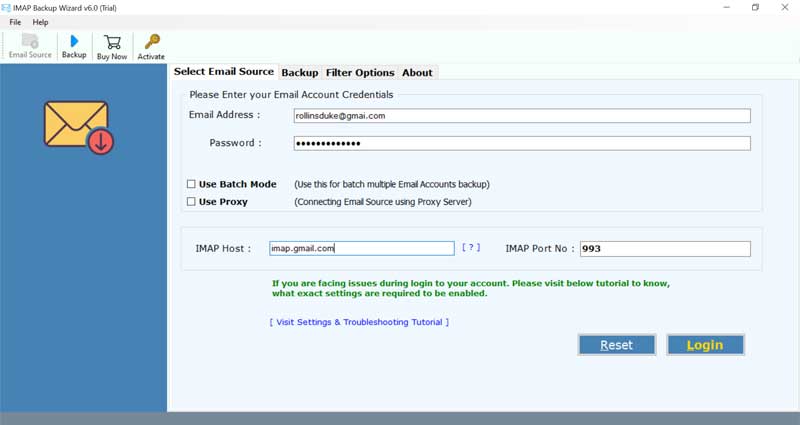 Now, the software will start analyzing all mailboxes from your IMAP server and will load them into the software panel. So, here enable those folders and subfolders from where you want to save emails from IMAP server to local PC.
Next, go to the list of saving options available in the toolkit. Choose any file saving type as per your requirement. Remember if you intend to save IMAP emails locally in Outlook then choose PST as the saving option.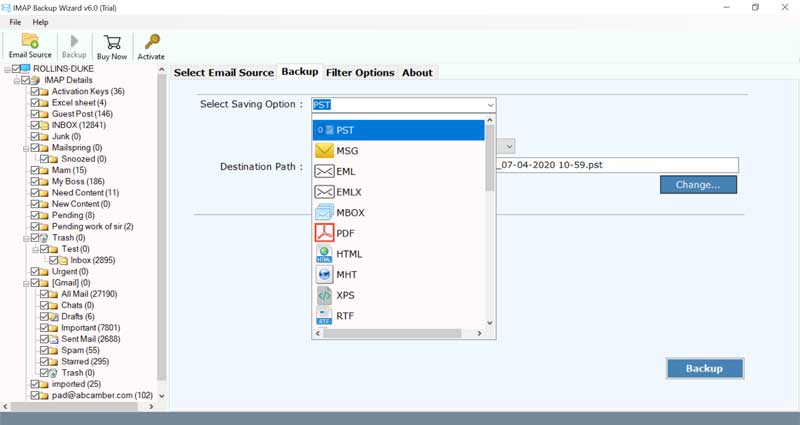 Thereafter, choose the destination folder for saving the output.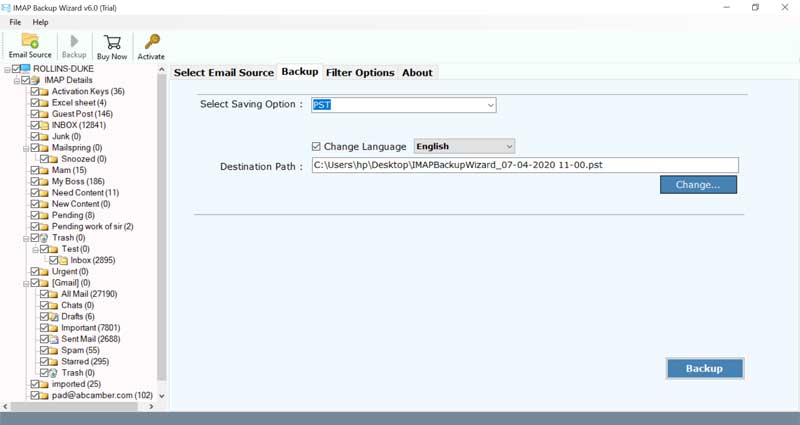 Last but not the least, tap on the backup button and that's it! The software will start the processing. Soon, all your mailboxes from IMAP server will be saved to the local PC at the specified location.
Final Step
Open the resultant folder that consists of the email messages of IMAP server. This completes the method to save mailbox data from IMAP server to local computer.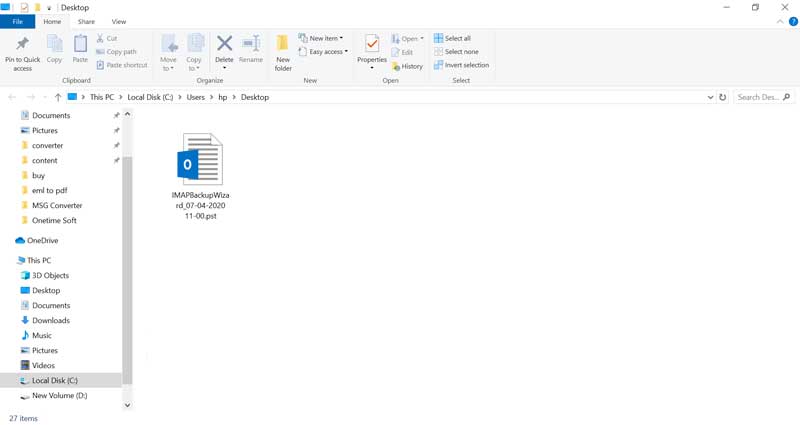 What Advantages Will You Get by Using the IMAP Email Saving Tool ?
Access Data in Offline Mode: If you have a poor internet connection, then to access emails, the user requires to save IMAP emails locally.
To Block Vulnerabilities: In order to prevent and safeguard IMAP server data from unwanted threats, users can save IMAP emails locally to Outlook.
Save IMAP Emails to other Email Clients: By using this application, one can also save IMAP emails locally to thunderbird, Windows Live Mail, Lotus Notes, Zimbra, etc.
Transfer IMAP to Document Formats: With this utility, the users can save emails from IMAP server to document file formats such as PDF, XPS, RTF, DOC. Also, the tool offers to migrate IMAP to CSV and Zip files.
Vast Windows and Mac Compatibility: The software smoothly runs on all latest and earlier versions of Microsoft Windows and Mac OS. Users can easily save IMAP emails locally in Mac 10.15 Catalina, 10.14 Mojave, 10.13 High Sierra, 10.12 Sierra, OS X 10.11 El Capitan, 10.10 Yosemite, 10.9 Mavericks, 10.8 Mountain Lion, etc. Also, you can archive IMAP emails on Windows 10, 8.1, 8, 7, Vista, XP, etc.
Bulk Email Downloading: This utility is proficient enough to Bulk save emails from IMAP server to local PC. Along with emails, it also allows to save IMAP attachments locally.
Preserves All Mail Information: While implementing the process of saving data from IMAP server, the utility keeps intact all email attributes. It maintains email signature, attachments, inline images, hyperlinks, signature, text formatting, etc.
That's All for Today!
Utilizing local archives to store old IMAP email messages is helpful particularly when the server folder of your IMAP mailbox is approaching the storage limit. This opens up space on the IMAP server, diminishes the time it takes to stack messages on an email application. Additionally, it battles against the online virus and malware attacks that hamper online email data.
In this blog, we studied how to save IMAP messages locally in Outlook. You can also use this application to save IMAP email locally in Thunderbird. Other than this, there are many other document-saving formats that can be used to save a copy of IMAP emails.
If this article was helpful to you, don't stop for a second to read our other tutorials like:
FAQs
How do I save IMAP emails to locally in Outlook 2016?
Use the solution mention in this post in order to save IMAP messages to Outlook 2016.
Will this software allow me to save IMAP sent items?
Yes! This tool permits to save data from all kinds of mailboxes like sent folder, inbox, drafts, outbox, etc.
Can I use this application to batch save IMAP emails locally in Outlook 2010?
Yes, why not! You can utilize this application to bulk save email messages from IMAP server to PST which can later be imported into Outlook 2010.