How to Export IMAP to PST File without Outlook Email Client ?
Summary: Backing up data is a wise decision even if your account is configured with an IMAP mail server which always preserves a copy. In this blog, we are going to describe how can one export IMAP to PST in Outlook 2016, 2013, 2010, 2019, etc.
Read the User's Problem: Hello, experts! I am working as an IT admin and want to export IMAP to PST in Outlook 2016. Though I have tried with the free solutions available online, I got disappointed every time. Now, I can't take any risk with my data, and I need an automated IMAP to PST migration tool for Windows & Mac OS. Please share the solution!
IMAP which is called Internet Message Access Protocol gives you to access mails on a webmail server from the computer. But, if you want to download emails from IMAP Server to email clients like Outlook, then the problem arises. The reason is, technically this migration process requires technical knowledge if you are trying with a manual method.
However, one can export IMAP to PST with an automated solution easily. One such software is IMAP Mail Backup Tool. This beneficiary solution will let you convert IMAP to PST for Mac & Windows OS   with all emails properties and attachments. Let' see the corresponding solution for dealing with the issue "how to backup IMAP to PST".

How to Export IMAP to PST for Outlook ?
Follow these steps to convert IMAP file to PST:
Launch IMAP to PST Migration tool.
Choose IMAP email source from the software.
Enter email account credentials and fill IMAP details.
Select PST saving option and destination path.
Click on Backup to export IMAP account to PST.
IMAP to PST Export Tool – Learn the Software's Working with these Screenshots
Firstly, download and launch free IMAP to PST migration tool on any Windows & Mac OS Computer.
Now, enter IMAP account credentials such as Email ID and password. Then, enter IMAP login details such as IMAP Host and IMAP Port No.
Preview all the IMAP mailboxes in the GUI.
Thereafter, go to the saving options list. Pick PST option to convert IMAP to PST file for Windows & Mac OS.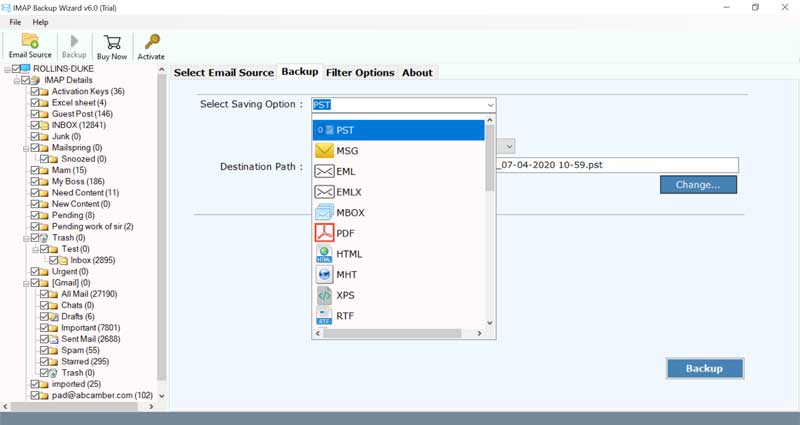 Then, enter a destination path for saving the resultant data. One can also browse a required path by clicking on the Change button.
Note- Use the Advanced Mode option for selective Backup of emails from IMAP to PST for Windows & Mac OS.
Press on the Backup tab to start to export IMAP folders to .PST.
The conversion is running successfully with a completion message at the end.
Now, you can see the resultant folder containing the IMAP to PST exported file. Open your Outlook account for importing the resultant email messages.
Download IMAP to PST Tool for Windows & Mac OS – Best Utility for Migrating IMAP Mailboxes
This IMAP to PST converter is an impeccable tool that gives the facility to export IMAP to PST in Outlook. It has made the email migration from IMAP Server to Outlook, an easy-to-do process. Let us see some of the reliable features of the software:
Batch conversion: This outstanding utility facilitates to backup IMAP email to PST format in batch mode. In this way, the users can export multiple IMAP mailboxes to PST in single processing.
No data restrictions: With this wizard, the users can backup IMAP to PST file format without any file limitations. You can convert unlimited IMAP emails to PST format without any hassle.
Advance Mode option: Using this software, you can do a selective IMAP export to PST format. This is possible using the Advance mode option. One can enable this option to
Supports all Outlook versions: This software enables the users to export IMAP to PST for Windows & Mac OS for any version of Outlook. It is compatible with Outlook 2019, 2016, 2012, 2010, etc.
Windows-compatible software: The application runs smoothly on all Windows versions such as Windows 10, Windows 8.1, Windows 8, Windows 7, Windows XP, Windows Vista, Windows Server 2019, Windows Server 2016, Windows Server 2012, etc.
Frequently Asked Questions
Ques1: How can I export IMAP to PST in Outlook 2016?
Ans: Firstly, launch the software on your Windows machine.
Then, choose the IMAP email source and enter account credentials.
Fill IMAP details such as IMAP Host No., IMAP Port no.
Select PST as a saving option and a target file saving location.
Press backup to start to migrate IMAP to PST.
Ques2: Does this software works on Windows 10 OS for archiving IMAP to PST format?
Ans: Yes, this application is a Windows-based utility. It supports all Windows versions including Windows 10.
Ques3: Can I perform batch migration of emails from IMAP Server to PST?
Ans: Yes, with this tool it is possible to export IMAP account to PST in batch mode.
Evaluate Software's Proficiency – Try IMAP to PST Migration Tool Free Demo Version Now!
If you want to test the tool's functionality before investing your money in buying it. Don't worry! Just download the software's demo version. It allows converting the first 25 mailboxes from the IMAP server to PST format very easily. Later, once you have analyzed its working, now, you can activate the tool's licensed version. This will enable you to export IMAP to PST files without any limitations.
Conclusion
IMAP to PST migration is tough with manual solutions. In this blog, we have explained a complete technique for exporting IMAP account emails to PST format.
Use this software to change IMAP to PST for accessing IMAP Server mailboxes in Outlook account. In order to avoid issues, try the IMAP to PST migration tool free edition.