How to Export Outlook Calendar to PDF Format to Print Information of Your Meetings, Tasks, Events ?
Planning out your entire work schedule is one of the effective method to stay organized. If you have arranged meetings, goals, tasks, written in Outlook calendar and want to print them in PDF format. Then, a reliable Outlook to PDF converter can really help you to improve work productivity.
The world is changing and people are now using calendars to plan their future events. It's now an easy task to keep a track of all important events of your upcoming days with the help of a printable calendar. For this, the safest choice is a Portable Document Format – the almighty PDF.
Microsoft Outlook's potentials are no where hidden. It offers a shareable electronic calendar so that the people can view all meetings, tasks, appointments anytime and even to share this digital calendar with others.
Read this query from one of our client from US:
Hi, I am working in admin department of my organization. In order to share the manage the availability schedule, I have already marked all business appointments of entire 2020 year on MS Outlook. To conduct meetings I have to travel a lot also, so I need to export Outlook calendar to PDF format so that I can access all the schedule at any time. Can you please help to find a reliable Outlook calendar to PDF converter?
BitRecover ICS Converter is the most ideal solution to download Outlook calendar to PDF format. With this magical wizard, you can turn Outlook calendar into PDF file and can keep a copy of all Outlook appointments, events, setup meetings, notes, etc into Adobe PDF.
Sounds interesting? Well to use Outlook calendar to PDF converter, the initial step is to export Outlook calendar as ICS format and thereafter, convert Outlook calendar to PDF file with the help of suggested solution.
Why Need Arises for an Outlook Calendar to PDF Converter?
You can anytime bulk print Outlook emails and calendar to PDF format and avail the following benefits:
The printable Outlook calendars can be accessed from multiple devices. After saving Outlook calendar as PDF, these Outlook calendars can be opened in new PC, Mac, or even on an android phone.
You can save these Outlook calendar to PDF converted files on cloud storage devices such as Google Drive or Dropbox. Even it would be easy for you to share these Outlook calendars via email to your colleagues, friends, family.
After the conversion, you can customize your Outlook calendar using multiple colors, images, fonts, formatting, icons, and many more.
These Outlook printable calendars can be easily edited. You can erase or add events/ tasks digitally without using paper.
Best thing about Outlook calendar to PDF export process is that you can always print out your calendar if need be! You can change the format and page size and get it printed and hang it on your desk for a better work efficiency.
How to Export Outlook Calendar as ICS Format ?
Step 1: Firstly, run MS Outlook and open calendar you want to export.
Step 2: Then go to File>> Save Calendar.
Step3: Hit on More Options or click on the Date Range arrow. Select and specify the amount of calendar data to be included in the .ics file.
Step4: Tap on the Detail arrow and select the amount of detail which you wish to show.
Step 5: Next click on OK and then, Save button.
How to Export / Print Outlook Calendar to PDF Format ?
Take a Test Drive of Demo Version: Download the free trial edition of Outlook calendar to PDF converter to make Outlook calendar into PDF files. It allows to convert first 25 data items from Outlook to PDF format. Buy the license keys for unlimited migration of Outlook calendar as PDF files.

Firstly, download the software and launch it on your Windows machine.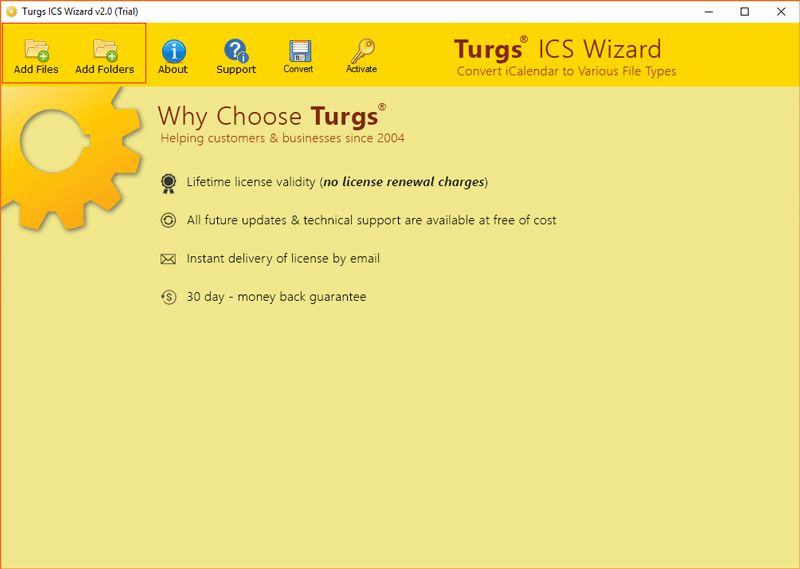 Now, in the menu bar, you will see Add Files and Add Folder option. So, choose single or multiple Outlook exported iCalendar files and upload it into the software panel. Click on OK button to continue the process.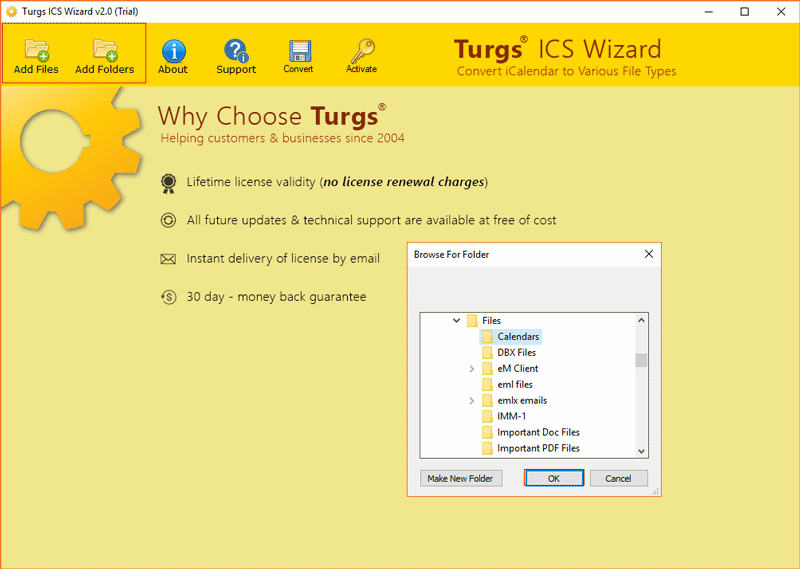 Once you add iCalendar data, the tool will give you a complete preview of entire data items present in the chosen folder. Enable the desired .ics data which you wish to do for conversion.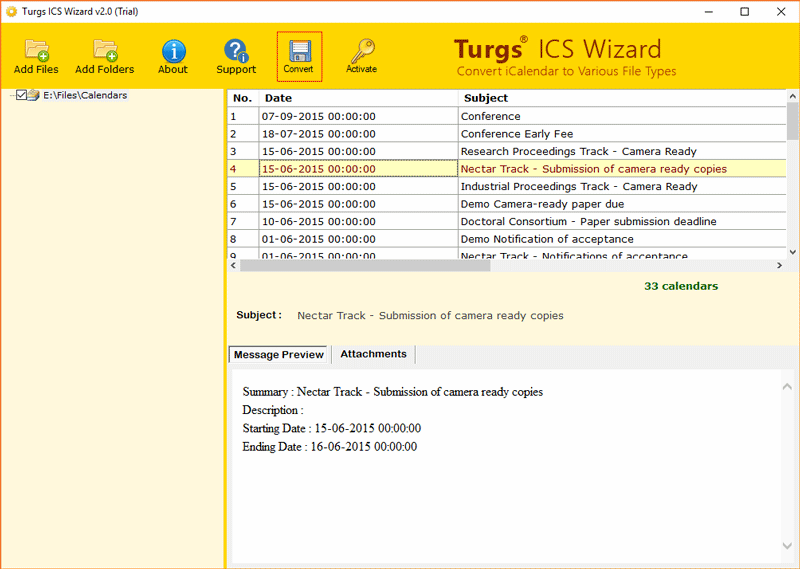 Thereafter, go to the saving options list and choose PDF option.
After this, specify a destination location for saving output PDF files.
Lastly, click on the Convert button to start the conversion of Outlook calendar to PDF format.
You will get a folder containing the resultant data – PDF files.
In this way, one can easily print Outlook calendar as PDF format.
Outlook Calendar to PDF Print Tool – Benefits & Features
You can open Outlook calendar in another phone or different platforms by saving Microsoft Outlook calendar as PDF.
There are no limitations that this Outlook calendar to PDF converter imposes. The users can make Outlook calendar into PDF format without any restrictions.
It's a direct transfer process of Outlook iCalendar files into Adobe format.
The users can get a complete preview of entire ICS data before starting the process to print Outlook calendar to Adobe PDF.
You can batch export Outlook calendar to PDF format with this utility.
It has a simple and well-interactive interface that helps any non-technical or professional user for tool's usage.
The application can be launched on any Windows machine – Windows 10, Windows 8.1, Windows 8, Windows 7, Windows XP, etc.
The users can import a single file or an entire folder of Outlook calendar for the conversion process.
The Concluding Words
The above article described about a simple and effective technique to print Outlook calendar as PDF files. Download Outlook calendar to PDF converter to make the most out of your virtual planner! PDFs are here to stay for a long-haul so, an investment in making Outlook calendar into PDF files is sure to stand up in the long run.
If you any questions regarding our software, please keep in touch with us! Do contact our technical support team to resolve your worries.