5-Step Beginner's Guide for Gmail to IMAP Migration
Probably you have tried to migrate Gmail to IMAP account. Though the process seems simple on the outset, it can be quite tedious which needs your complete attention to detail. BitRecover Gmail backup wizard can perform migration of emails from Gmail account to IMAP. It permits to import Gmail to IMAP with any number of mailboxes with an appreciable customer service, thereby saving all the hassles of such gruesome migration.
Now, you can also perform the conversion of Gmail mailbxoxes to IMAP account by yourself, it will migrate all contacts, calendars, notes, tasks, other information from the source Gmail account to your IMAP account.
Read Also ~ How to Migrate Gmail to Mailbox.org?
Below steps will let you get started-
How to Migrate Gmail to IMAP Account ?
Launch Gmail to IMAP migration tool.
Specify the Gmail login details.
Select email folder to move into IMAP.
Pick IMAP saving option and enter IMAP details, host and port no.
The software starts to migrate Gmail emails to IMAP.
Basic Steps Involved in Moving Gmail to IMAP Account (With Pictures)
To do so, download and run the software. You can download it from this link below:
Enter the credentials of your Gmail account – email address and password.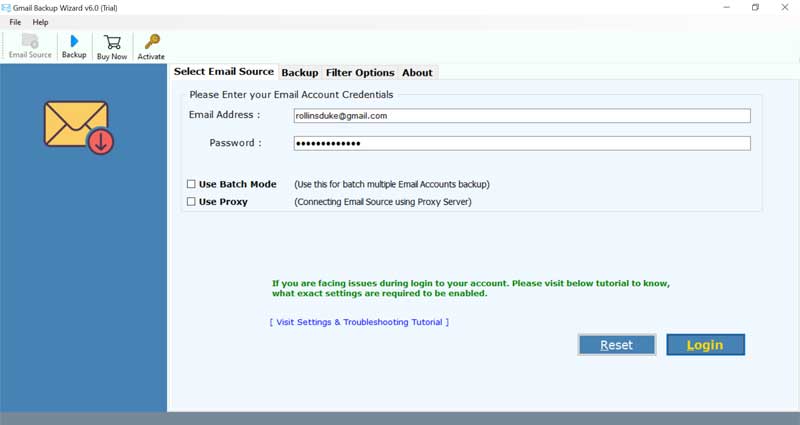 Important Note:- If you have multiple Gmail accounts and want to move all Gmail accounts to IMAP at once, then enable the "Use Batch Mode" option from the tool.
Next, check all those folders of your Gmail account whose data you wish to import into IMAP account.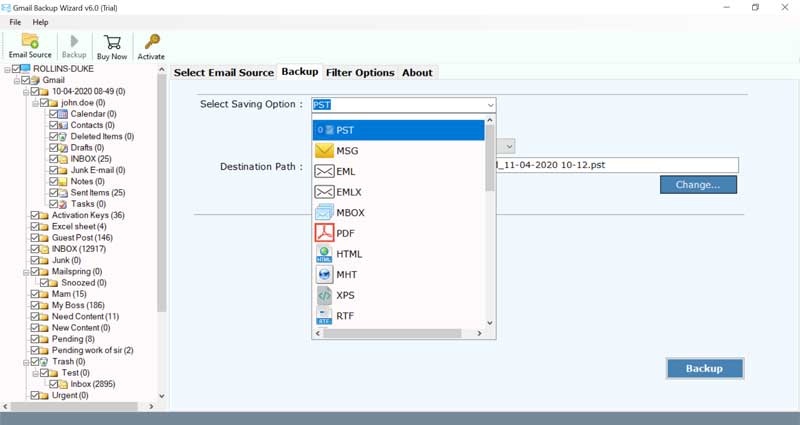 Then, from the saving options list, scroll down and hit on the IMAP option.
Note: Enable "Save messages in default folder" option is you want to save all the Gmail messages into the same folder.
Thereafter, enter the email address and password of your IMAP account. Along with this fill the IMAP Host and IMAP port No.
Lastly, tap on the backup tab and done! The process to migrate Gmail mailboxes to IMAP account begins here.
You will get a conversion complete message at the end of entire processing.
A Secure and Fast Gmail to IMAP Migration Tool                     
The Gmail to IMAP email downloader is a swift as well as trustworthy application. Start your migration of Gmail mailboxes to IMAP account without any complicated configuration of external software. You can set batch mode option, set specific date and time, and particular advance mode options to suit your migration needs. All email messages are moved directly from Gmail account to IMAP in real-time. A reliable, speedy and safe Gmail to IMAP mail backup tool is the need of the hour so download it now!
Suggested reading:-
Do you have Outlook express account? Know how to
import DBX to IMAP
account from here.
Rich-featured application with maximum benefits-
It's a cost-effective solution for all sort of migration situations whenever you are in need to migrate Gmail to IMAP.
The software having interactive interface with nothing to install further of conversion.
Best tool for migrating mailboxes in batch. Now, with the help of this application you can start your Gmail to IMAP migration in batches.
Complications you Might Face while Importing Gmail Mailboxes to IMAP Account (Get to Know from our Experts Also)
Ques1: What pre-requisites should I follow to import Gmail to IMAP?
Ans: There are no requirements or installation for the conversion. You can convert Gmail mailboxes into IMAP without installing any external installation.
Ques2: I am running two Gmail accounts –one personal and one specifically for my business emails. But, now there is urgency and I need to transfer data from both Gmail accounts to IMAP. Will the tool work for this situation? If yes, how?
Ans: Yes, indeed you can move both Gmail account data to your IMAP. But, for that you need to enable the "Use Advance Mode" option. It will ask you a CSV file containing the credentials of all Gmail accounts and in end you have to upload that CSV file from this option. Hopefully, this would be helpful to you!
Finally A Solution For Both Technical and Novices – Test this Tool
Just download and launch the software on any Windows machine. This will be demo version. It permits to convert the first 25 data items from your Gmail accounts to IMAP. Hope you will get satisfied with the tool's functionality and working. Then, you can update the license keys for unlimited Gmail to IMAP migration.
Read our Valuable User Reviews

The Gmail to IMAP migration tool truly fulfilled what it promised. The software has been exceptionally helpful throughout the implementation of this entire processing. This experience to migrate Gmail to IMAP is seamless and it got finished without any disruption.

-Griffin, USA

This software is complete package of useful features and the GUI was really interactive. I completed the transfer of Gmail mailboxes to IMAP account in time without errors. This BitRecover product for migrating Gmail emails to IMAP is an effective tool. The end results are according to my needs. I couldn't have a better solution than this!

-Russell, UK
Let's Wrap Up
We would like to conclude from this entire write-up that now any technical or non-professional user can easily handle this query "how to import Gmail data to IMAP account".
The benefits are endless and the results are precise with this product. Hope now you can move all emails from Gmail to IMAP in few seconds without any trouble.