How to Migrate Data from Office 365 to G Suite with Accuracy ?
Switching from one email platform to another, especially one that frames the bedrock of an organization, can be unpleasant and imperfect if not systematically outlined. In this blog, we have laid the foundation for one such platform change: Office 365 to G Suite migration.
Why Migrate from Office 365 to G Suite ? – Know the Reasons
G Suite, with its rapid speed, is being utilized by 5 million organizations around the world. To capitalize on your G Suite reception, nonetheless, it is necessary to comprehend the reasons why G Suite is the best fit for you. Some business cases for G Suite include:
Platform Versatility and Portability: G Suite is much leaner than Office 365, and is worked for improved portability — it works on a browser, needs no installation. There is no trade-off in the client experience while getting to it from either a desktop or cell phone. Furthermore, it becomes easier to switch between individual and work accounts.
Quicker speed for remote access: The other benefit of G Suite's is its rapidness even with moderate connectivity. By and by, a help for remote users.
Best collaborations for distributed teams: G Suite sparkles with its simplicity and features built particularly with distributed teams in mind.
The future way of getting things done requires enhanced speed and hassle-free usage. That's why millions of users have chosen G Suite as their productivity tool. So, if you have also taken the decision to do Office 365 to G Suite migration, then it's actually a smart step.
Also Read: Office 365 to Office 365 Migration
Simplest Solution to do Office 365 to G Suite Migration
BitRecover Email Backup Wizard is an expert solution that allows switching from Office 365 to G Suite account with all email components. If you want to streamline the transfer process and secure your data from loss, then this tool will do the job better than any app. You can utilize it when you need to:
Automatically migrate emails from Office 365 to G Suite account.
Restore Office 365 mailboxes into G Suite with the same folder hierarchy.
Protects from breaches and internal leaks while you save your Office 365 account data in G Suite.
Proficiency to migrate your O365 data seamlessly whenever you want without any limitations.
Step-by-Step Tutorial to Switch from Office 365 to G Suite
Firstly, download and run the Office 365 to G Suite migration tool on your machine.
Download for Win OS
Download for Mac OS
Now, choose Office 365 as your source email account.
Here, specify the Office 365 account login details like Email Address and Password. Enable the "I am Admin" option if you want to backup all user. Click on the Login tab.
Then, the tool will start fetching all Office 365 mailboxes into the software panel. Check the required O365 folders for migration.
Thereafter, navigate to the saving options list and choose G Suite from it.
Mention the account login details of your G Suite account. This will be your destination account where all Office 365 emails will get migrated.
Keep in Mind: The "I am Admin" option helps to implement multiple account mapping. For using the user accounts please make sure that the Application Impersonation, as well as mailbox delegation, is allowed.
Also, enable the "Use Advance Settings for Selective Backup" if you want to selectively migrate Office 365 mailboxes to G Suite.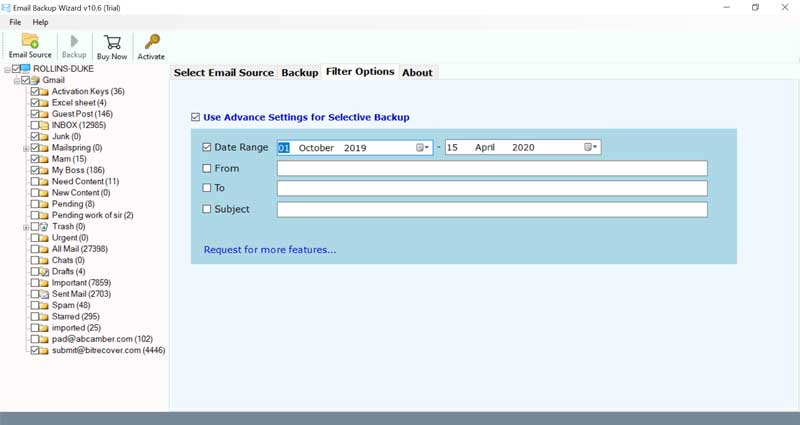 Last but not the least, click on the backup tab to start the migration process.
Soon all of the chosen O365 emails and all data items will get migrated to G Suite account.
Reliable Tool to Migrate Microsoft 365 to G Suite: Read the Software's Features
You can check out the amazing benefits of this software in this section.
Distinctively Migrate Data- You can migrate Office 365 to G Suite in a selective manner with the help of this application. It helps to filter emails as per category-based data filter options like Subject, Email Address, From, To, Cc, etc.
Migrate Admin O365 Account: If you are an administrator, then you can use the batch mode functionality to perform Office 365 to G Suite migration.
No Information Loss during Transfer: Your emails will be preserved throughout the process to migrate from Office 365 to G Suite account. It maintains the email attributes like Subject, attachments, sender details, recipient details, images, hyperlinks, etc.
Easy to Perform Migration Process: The software is designed in such a manner that it can be used by any professional or even a novice user.
Batch Migration in one go: Users can easily migrate Office 365 mailboxes into G Suite in batch mode. This saves a lot of user's time and efforts.
Standalone Tool: There is no need to install any plug-in or external app to use the Office 365 to G Suite migration tool.
Greate Compatibility with Windows: The software supports all Windows OS like Windows 10, 8.1, 8, 7, XP, Vista, Windows Server versions, etc.
Frequently Asked Queries

Can I batch migrate mailbox from Office 365 to G Suite account?

Yes, the software can batch migrate Office 365 emails to G Suite services.

What are the trial version's limitations of Office 365 to G Suite migration tool?

The software's trial version allows to backup Office 365 to G Suite with limitations of the top 25 data items.
Let's Conclude
There are no manual methods available to migrate data from Office 365 to G Suite. So, what's the point to waste time searching for those long methods. You can use this automated Office 365 to G Suite migration tool if you are willing to switch the email platform. Launch the BitRecover software and have a new happy life with G Suite!
Related Blog Posts:
Migrate Office 365 to IMAP Server
Backup Office 365 to Local Storage
Office 365 to Windows Live Mail