How to Protect Office 365 Emails from Ransomware Attacks ? – A Guide to Secure Your Data
Microsoft CEO Satya Nadella quoted that-
"As COVID-19 has impacted every sphere of work and life globally, but Microsoft has seen two years' worth of rapid digital transformation. Microsoft is the productivity and platform company for the mobile-first and cloud-first world".
However, it is very unfortunate that for so many organizations, the cloud is still considered as an unsafe platform.
Have you experienced an Office 365 ransomware attack? Let's see what are these ransomware attacks all about and how one can protect Office 365 emails from ransomware attacks.
Quick Navigation
What are Ransomware Attacks ? 
As you most likely know, ransomware is a sort of malware that limit users from getting to their gadgets, applications, or documents, and requests that they pay a ransom to recapture access to their systems. Before getting deep into the ransomware protection and recovery of emails, we suggest you get familiar with latest trends in ransomware.
Sadly for users of cloud administrations, ransomware are infecting the corporate systems quickly. So, there is an instant demand to protect Office 365 emails from ransomware attacks.
Here's a brisk rundown for present day Office 365 ransomware attacks:
The objective of the attacker is to get a ransom for decrypting your data.
Ransomware isn't an on-premise issue any longer. Indeed, even the Office 365 cloud is prone to it.
A standard method to get a ransomware attack is to click a phishing connection and offer authorization to an unsafe application. Hackers can then access your emails after you click an infected link.
Ransomware is very much camouflaged. It might appear as though an email from a believed source like technical support, associates, notable associations.
Attackers compel you to pay the payoff by setting up a period limit for making an payment, or your documents will be erased.
Any hacker can infect your email account but the most commonly is through the malicious spam or mail spam. Moreover, the cyber criminals often use the medium of online advertisement to spread ransomware even without any user interaction.
Dangerous it is! Isn't it?
So, it is clear that it is high time to save and protect Office 365 emails from ransomware attacks.
How Destructive is Ransomware for Office 365 Account?
Ransomware attacks Office 365 cloud of individual clients, small start-ups/ businesses, and venture companies. Corporate systems are particularly difficult to secure. A single snap from one person might be sufficient for a full-scale contamination. That's why there is a much need to protect Office 365 emails from ransomware attacks.
In 2018, there were in excess of 200 million ransomware attacks. Few of them bring no harm, yet some are genuinely tragic.
The expense of decrypting the influenced information is increasing. The end clients and organizations can be compelled to pay the ransom. Does paying the ransom spare you from future ransomware contamination? No. Trusting ransomware creators is anything but a game worth playing, particularly when your information is so crucial.
There are measures to secure Office 365 from ransomware attacks and recover the corrupted files.
Ransomware Protection with Advanced Office 365 Backup Solution
If you want to save Office 365 emails from ransomware attacks, we highly recommend you a solution which allows to backup and recover data in Office 365 once lost.
Expert Solution- Try BitRecover Office 365 backup  tool –  a reliable and trustworthy solution to protect Office 365 mailboxes from ransomware attacks. It permits the users to keep a backup copy of all Office 365 emails to a desired location so that the user can restore them during or after ransomware attacks.
To know more about this tool, have a glance how this software works and how you can secure bulk of Office 365 emails from ransomware attacks.
Download the software to protect Office 365 email account from ransomware attacks.
After downloading, launch it properly on any Windows.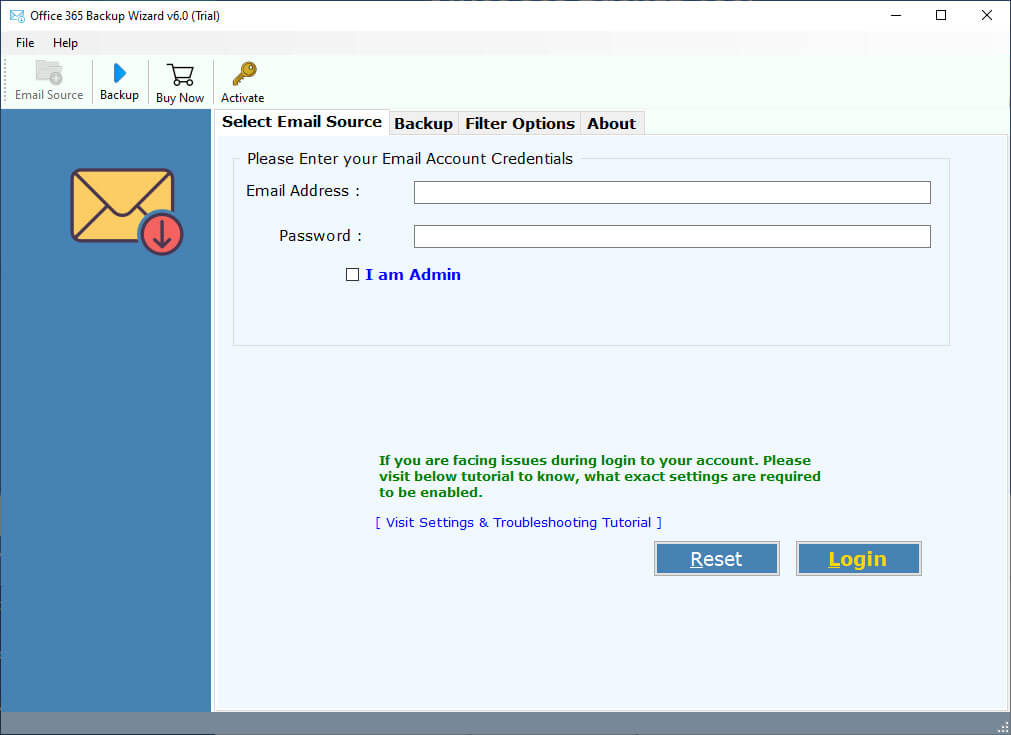 Important Note: Enable the "I am Admin option" and enter the credentials of administrator account which has Mail Delegation and Impersonation rights to be enabled for Office 365/ Exchange Server backup.
Now, enter your Office 365 account credentials – email address and password. Press login tab to continue.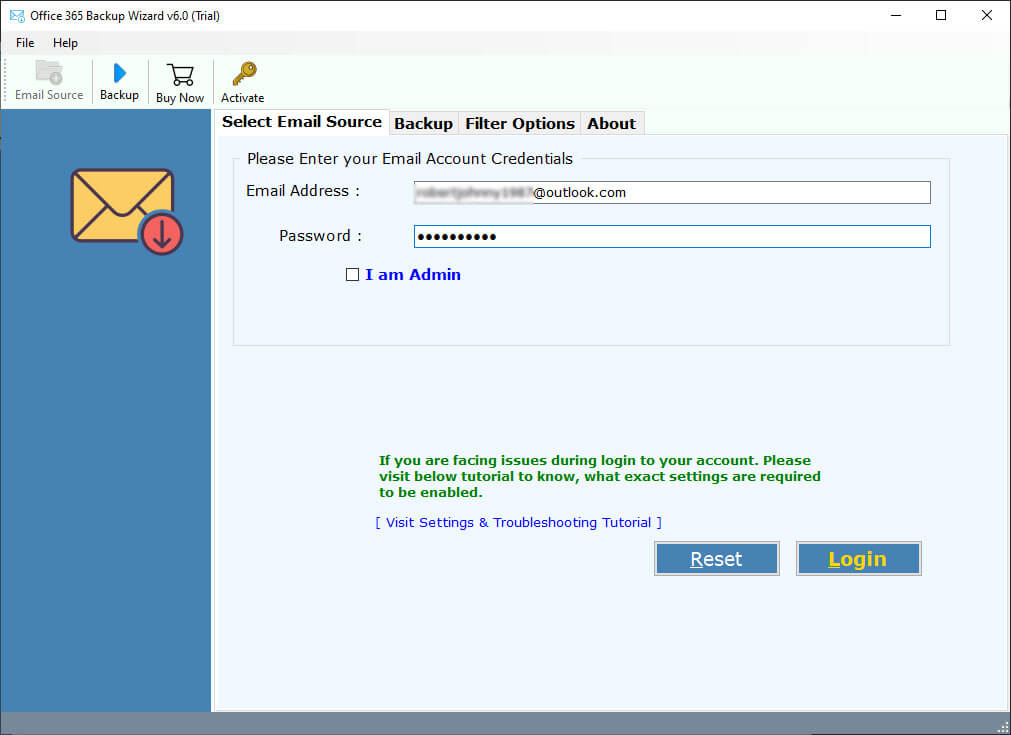 The tool will fetch all mailboxes from your O365 account into the software's GUI. Enable the desired Microsoft 365 email folders which you wish to save from ransomware attacks.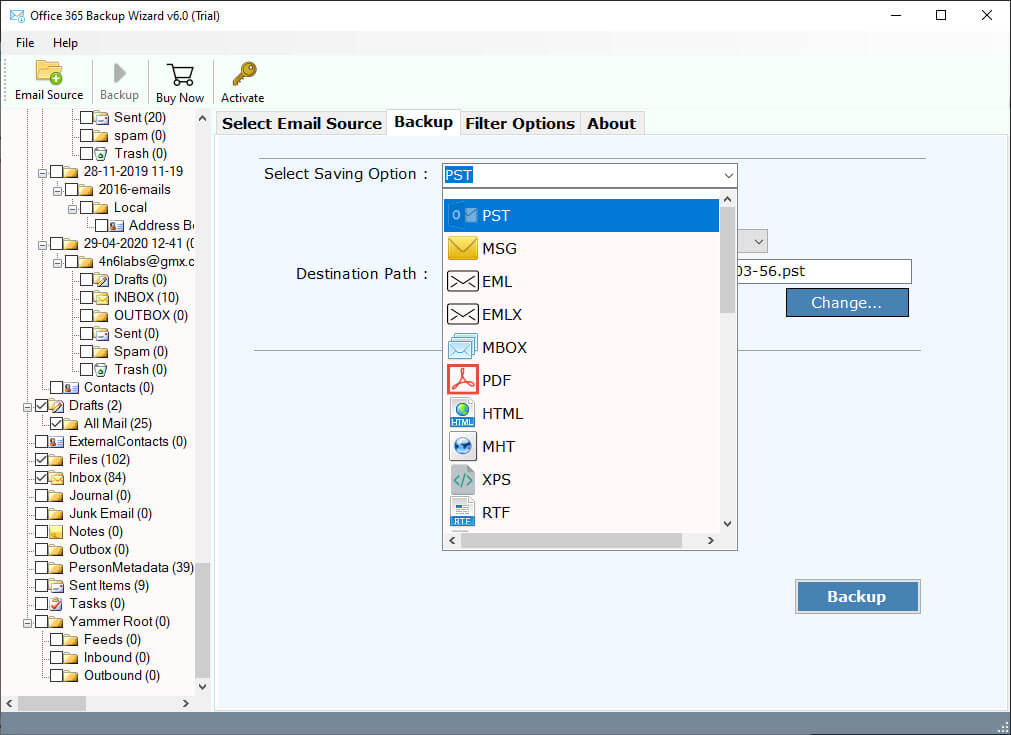 Choose a desired saving format from the list of options available in the software panel.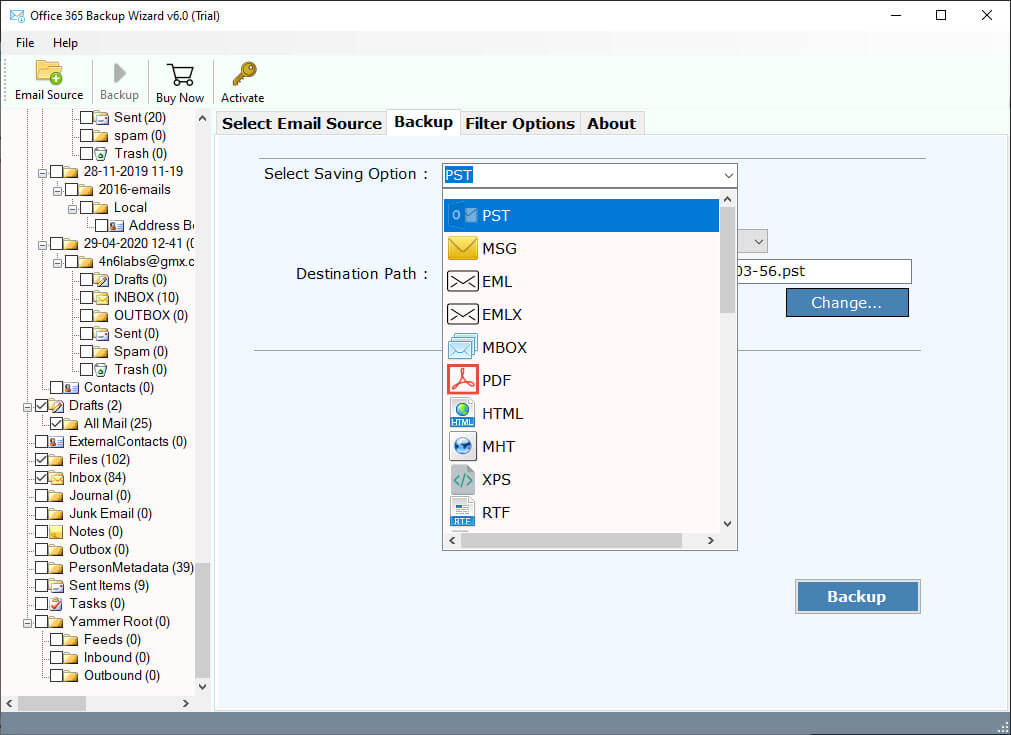 Enable the advanced settings option to backup Office 365 emails by date range, subject, to, etc.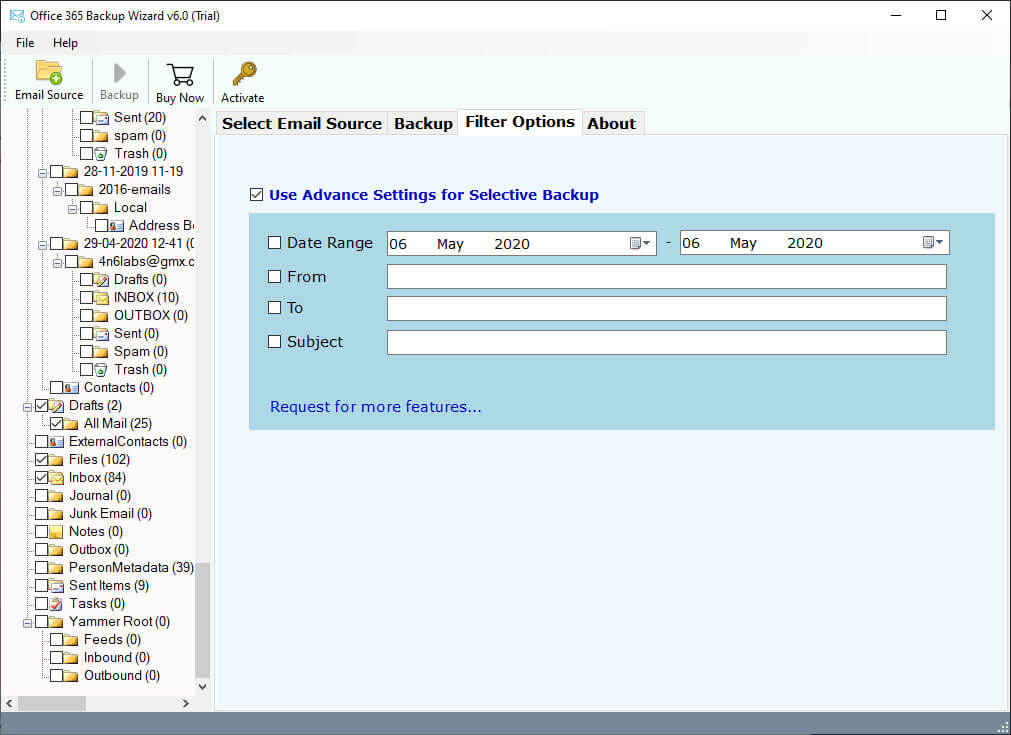 Hit on the backup button to start to download emails from Office 365 account into the chosen format.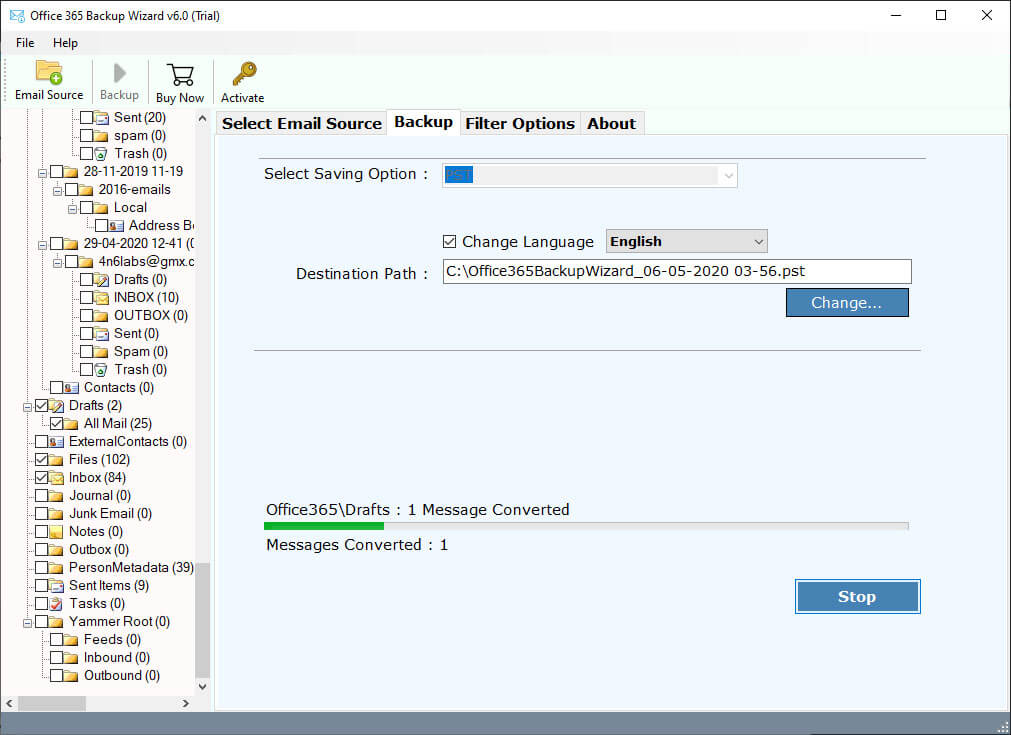 After the MS Office 365 backup process finishes, the tool will give a completion message at the end.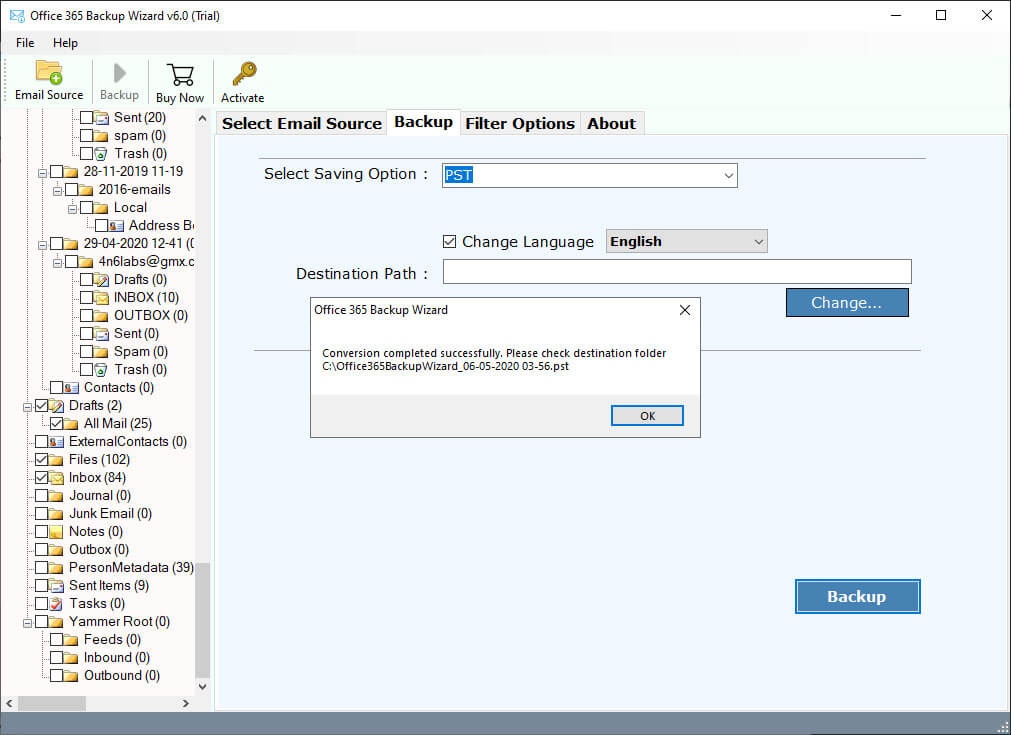 With these steps you have already created an Office 365 online archive backup to your local computer or a location of your choice.
Now, we assure you that this advanced solution will surely help to protect Office 365 emails from ransomware attacks.
Major Specifications and Key Feature of Tool for Office 365 Protection from Ransomware Attacks
Basic Requirements and Specifications-
Free disk space – 48.6 MB is required for installation of software.
File size – 17.6 MB
System requirement- Pentium II 400 MHz, 64 MB RAM, Minimum 48.6 MB Space
Windows compatibility- Win 10, 8.1, 8, 7, Vista, XP, 98, 97, 2000, Windows Server 2019, 2016, 2012, 2000, etc.
Top Features and Benefits of Utility
It has been tested with 3TB Hard Disk so you can completely backup bulk of Office 365 mailboxes to protect Office 365 emails from ransomware attacks.
During the installation setup, you have the option to choose many languages like – English, Dutch, Francais, Italiano, Nederlands, Polaski, etc.
It offers a bunch of useful file formats which you can utilise for the conversion. You can save O365 mailbox to PST, MSG, EML, EMLX, MBOX, PDF, HTML, MHT, XPS, RTF, DOC, etc.
You can selectively download all data from Office 365 account which suits for your needs.
It gives you option to extract data from multiple Office 365 accounts in a single processing.
There are no limitations to do this backup process. You can save as many as O365 emails to protect Office 365 emails from ransomware attacks.
During and after the processing, the tool keeps intact the internal folder hierarchy of all Office 365 data.
It is a 100% safe and precise tool to secure emails of Office 365 account from ransomware attacks.
Final Words
We are sure and hopeful that the entire write-up has give you an enough information about Office 365 ransomware attacks and how to protect emails of Office 365 from ransomware attacks.
So, don' put you organization at risk and try this software to save and secure all Office 365 emails from ransomware attacks.