Office 365 Online Archive Backup Solution – A Complete User Guide
Have you been thinking about whether taking Office 365 online archive backup is essential or not? We genuinely trust that this article will assist you to take backup Office 365 online archives so that you may dispose all of your questions.
If you are specifically backing up your archive mailboxes from Office 365 then you must be having a good third-party application that can recover your crucial information during any data loss circumstances.
In Office 365, you can enjoy extra mailbox storage space with the "Archive mailboxes" facility. After you have enabled this option of archive Office 365 mailboxes, then up to 100 GB of additional storage is accessible.
Office 365 Online Archive Backup Tool – Expertise Solution
Archiving your Office 365 mailboxes can protect you from various catastrophic situations. For example, if you have deleted a mailbox unintentionally, the only way to settle out this circumstance is to look for those Office 365 online emails into the email archives. But, what if you don't have that email archive. You can just envision the result of the story: you would lose your important as well as urgent archive mailboxes. Therefore, it becomes a mandate to do Office 365 online archive backup.
To help you out from these future disasters, we are here to help you out! BitRecover Office 365 Online Archive backup tool is certainly meant to deal with taking the backup of O365 archive mailboxes into a variety of file formats.
If offers you following features:
Take Office 365 archive backup of emails, contacts, calendars, contacts, etc.
Availability of more than 10 popular file formats for O365 online archive backup.
Option to extract data from multiple user accounts of Office 365 at once.
Operable on all Windows OS including Windows Server versions too.
You can efficiently move Office 365 online archive back into mailbox after conversion.
The users can export Office 365 online archive to PST and other formats without any limitations.
Now, let's look into the solution for how one can backup Office 365 online archive backup.
How to Backup Office 365 Online Archive Mailboxes ?
Step-wise instructions for Office 365 online archive backup:
Run software and enter Office 365 account credentials.
Select desired O265 mailbox folders whose data you want to backup.
Choose a required saving format to backup Office 365 online archives.
Specify a destination location and click on Backup to begin process.
MS Office 365 online archive backup completes.
How can I Export Office 365 Online Archive to PST format ?
To check the tool's functions, download the free demo version of Office 365 archive backup software. Then, you can switch to the license version for unlimited backup of O365 archive mailboxes.
Once downloaded, the home screen will be shown as in this screenshot.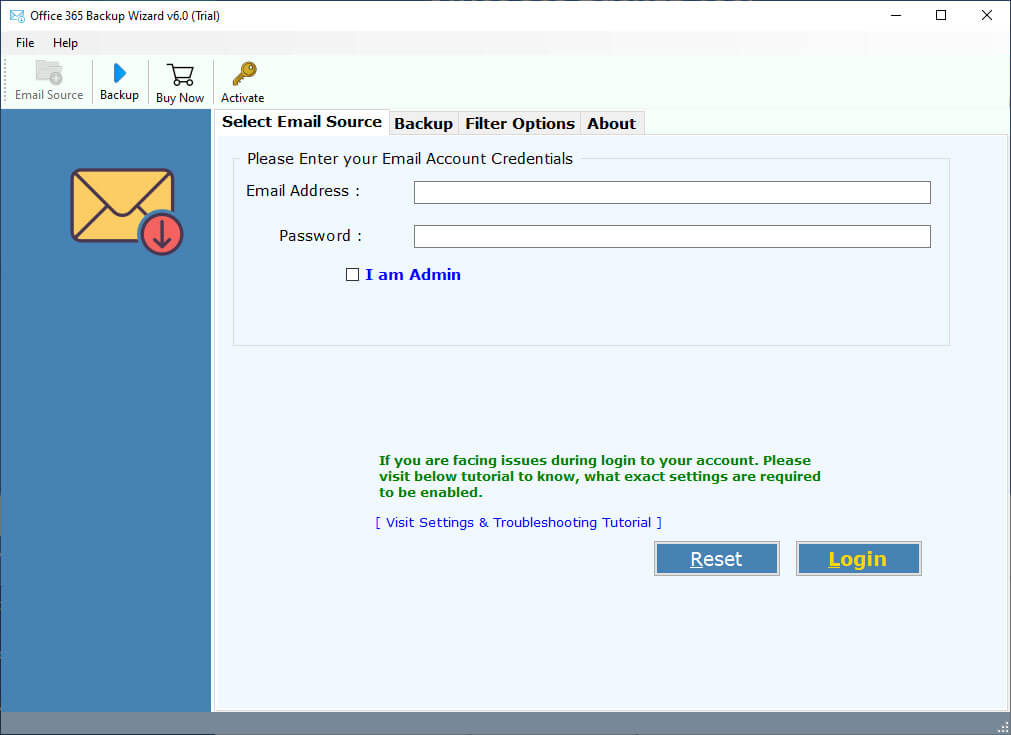 Now, enter MS Office 365 account credentials and hit on the Next tab to begin the process.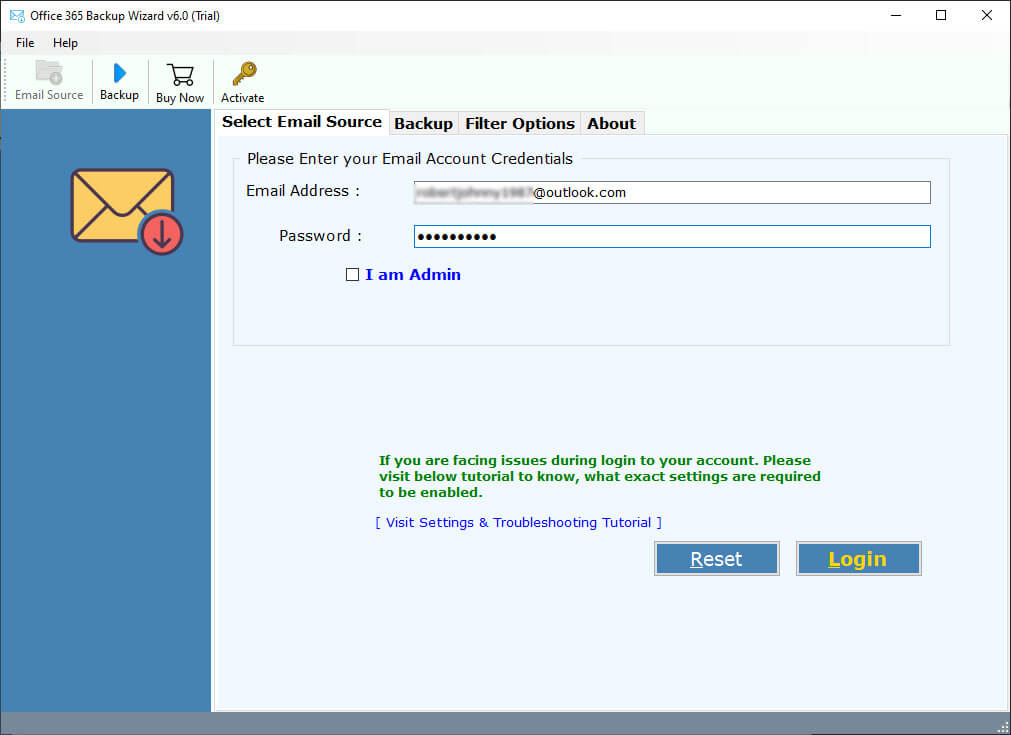 Important Note: Enable the "I am Admin option" and enter the credentials of administrator account which has Mail Delegation and Impersonation rights to be enabled for Office 365/ Exchange Server backup.
Here, at this step the tool will fetch mailboxes from 0365 account automatically into the GUI. Check on the desired archive email folders to move to next step.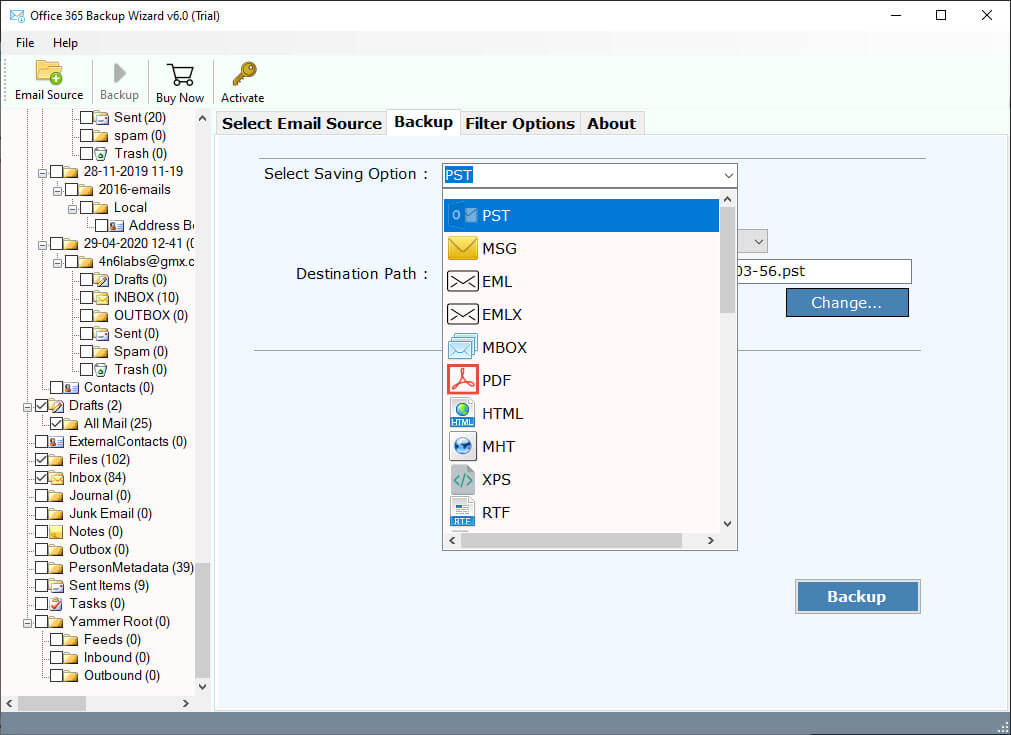 Thereafter, go to the saving options list and pick PST option.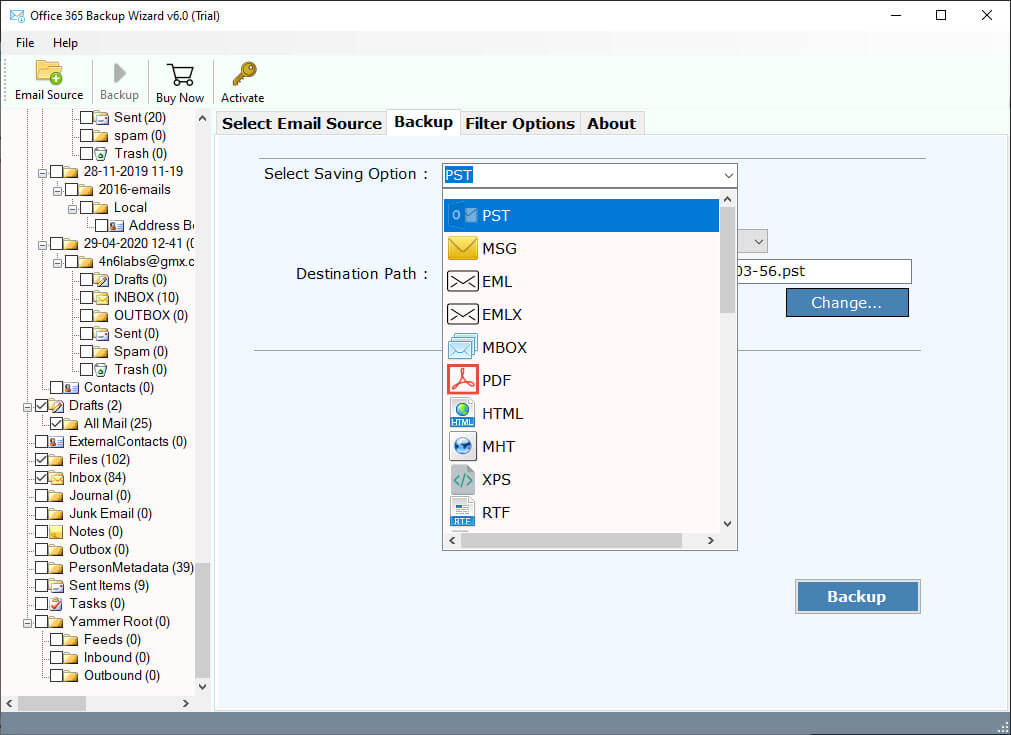 You can also use the advance settings option for selective backup to take backup of archive mailboxes from Office 365 by Date Range, From, To, Subject, etc.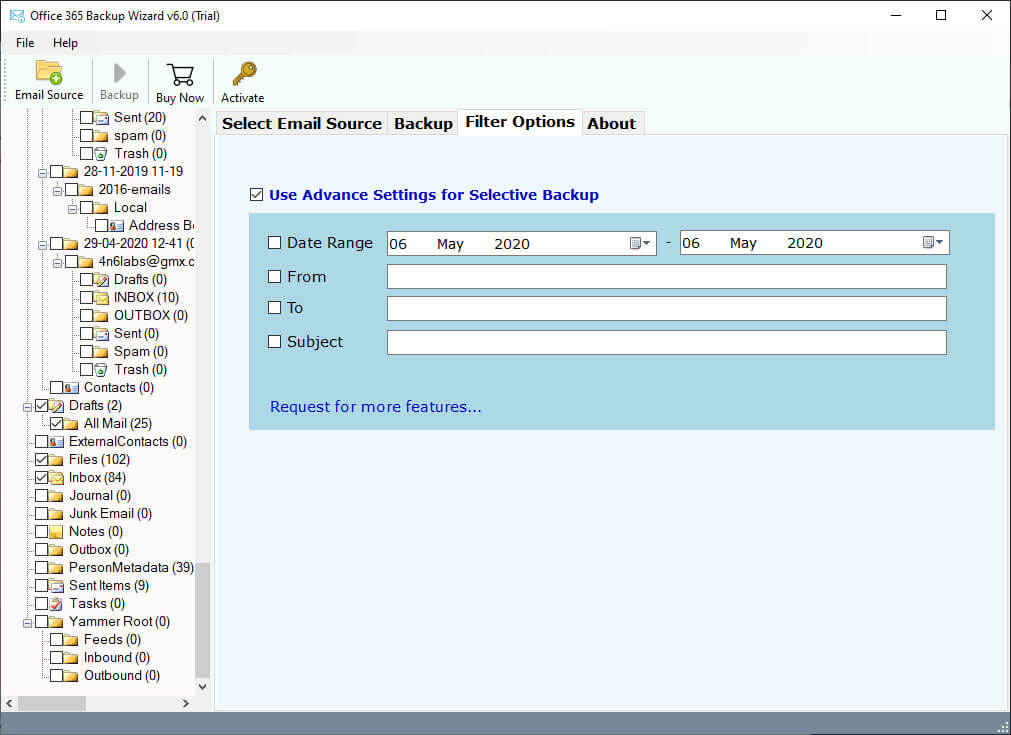 Enter a required destination location (or Change it as per requirement) and click on the Backup button to start downloading Office 365 archive mailboxes into PST format.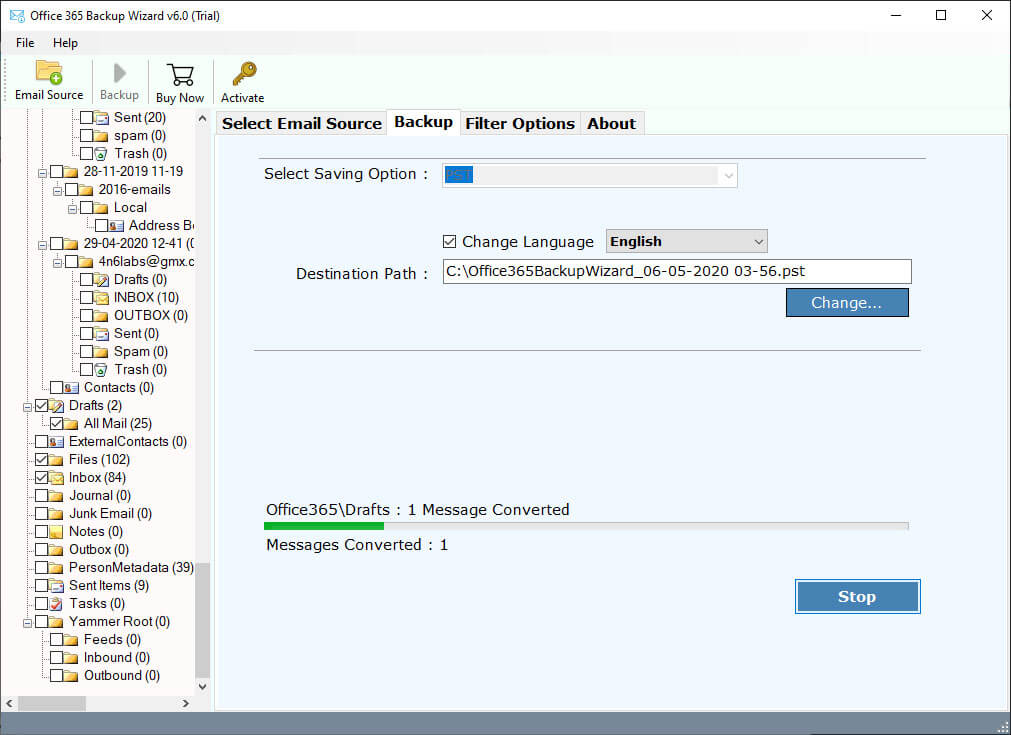 The backup process finished with a completion message at the end. It will open the chosen destination path where your 0365 online archive mailboxes are saved in .pst file format.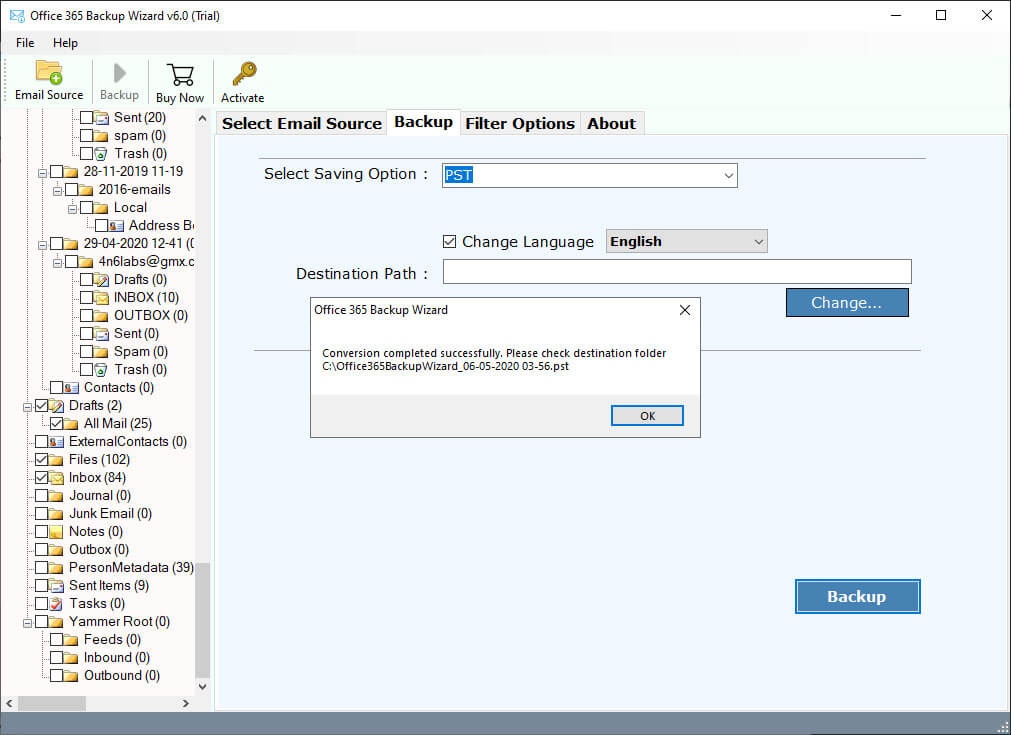 What are the Explanations behind O365 Archive Backup ?
Emails are the foundation of business, and most of the organizations. On account of messages, individual information, agreements, and a wide range of significant data can be safely and handily moved or saved. Shockingly, sooner or later, all information can be lost due to sudden data loss, email deletion or email corruption.
Unexpected deletion – It is frequently seen that whenever you clean up your mailboxes, then, some significant messages can be erased accidentally. In the event, that an email is erased for all time, thereafter it is highly unlikely to recover it, other than taking a backup of those archive mailboxes.
Equipment glitches or system crash – Mishaps occur, and once in a while, for no obvious explanation. The information saved in archive mailboxes can get deleted which is unrecoverable. It applies both to information put away on PCs and email service providers.
Vindictive software – Cybersecurity market is giving a valiant effort to shield PCs from infections and different malignant software, however there is consistently an opportunity that a virus can cause a significant damage.
Any of these situations can land you in big trouble. So, the better option is to know how to backup Office 365 online archive mailboxes.
Time to Wind Up
Always remember to keep a backup copy of all archive mailboxes for unexpected email data losses. What is more important, is that you can move Office 365 online archive back into mailbox once you have the backup copy. Hopefully, we have provided all necessary reasons, explanations and the simplistic approaches to cope up with this problem "how to backup Office 365 online archive mailboxes".