5 Simple Approaches to Free Up Storage Space in Gmail Account
What number of UNREAD messages do you have at this moment? Ten? 10,000? All things considered, those emails and attachments occupy space, regardless of whether they're new, old, or archived. Also, in case you're on Gmail and aren't one of those abnormal inbox zero individuals who's continually erasing messages, you might be suffering from this issue "Gmail running out of space".
Google gives its users 15 GB of free storage space. It comprises everything present in your Gmail, Google Drive, and any uncompressed pictures saved in Google Photos. Although there's a great deal of free space, however when you completely put resources into the Google ecosystem, it run out of space at a rapid pace.
When you exceed the storage limit, you won't have the option to add anything to Google Drive or even send and receive messages. The limitations can accompany with zero warning and leave users to hassle to get some space.
Here are some quick and easy steps by which any individual can clear or free up storage space in Gmail account by themselves.
Table of Contents
How to Free Up Storage Space in Gmail Account ?
Since all storage space is shared, the primary step is to analyse the Google storage distribution. For an instance, if you use Google Drive frequently, you may have hosted large documents on that site that can occupy space. Then, you may land up troubles like Google storage full not receiving emails"!
Check Google storage summary
For this, go to the Drive Storage Space and view the Storage details. Here, you can see the total storage and the occupied storage space in your Gmail account.
What users generally ask?
Ques 1: My Gmail storage full how to delete emails to receive incoming messages?
Ques2: What to do to free up space in Gmail account when Gmail showing storage full ?
Ques 3: How to increase Gmail storage space free?
Before we jump over to give you tips and tricks to free up Gmail storage space, check out this instant solution-
Expert Solution to Free Up Space in Google Account
Download BitRecover Gmail backup wizard to save Gmail emails offline on computer to clear up storage space in Gmail account. You can also transfer emails from Gmail account to another with labels so as to get rid of this issue "Gmail running out of space".

Method 1: Erase Unwanted Email Messages to Resolve Gmail Out of Space Issue
These are simple tricks you can follow to delete unnecessary emails from your Gmail account so as to free up Gmail storage space.
These tips can be utilized to discover messages that coordinate certain parameters on Gmail. Simply type or paste the filter in the search form on the Gmail page.
Snap on spam or find for in:spam– erase all messages here. This might not have a major effect as spam is erased consequently following 30 days. All things considered, you may see many messages in there and can let loose some space doing as such. Additionally check in:trash just to ensure it is vacant.
Find for has:attachment– It will show all messages that have more than one attachments.
Type larger:1M in serach box- It will discover all messages with attachments that have a size of at any least 1 MB. You can change the 1M to another value also, eg- 100K.
Use older_than:1y to search all messages which are older than one year and erase those that you may not require any longer.
Note:- This method can bulk delete email messages from Gmail account. But if you have thousands of emails which you want to filter out for deletion, it will take your time and efforts.
Method 2: Delete Emails having Larger Attachments to Increase Gmail Storage Space
Even after erasing bulk of Gmail emails, you may notice that still the storage is not cleared up.
Hence, you can also save space when your Gmail says storage full with this simple method as shown below.
In your Gmail search box, you can search files in different ways. Try looking for finename:mp3 or filename:images to locate all those email attachments that you really want don't want. The Gmail attachment file size limit is 25 Megabytes. Hence this method can resolve the issue of Gmail running out of space and can easily free up storage space in Gmail account.
Method 3: Select POP3 Supported Email Client and Extract All Emails from Gmail
Still don't have enough Gmail storage space? Read this way out to know what to do when Gmail storage full.
IMAP and POP are both an easy options to open your Gmail files in other email clients. Set up POP in your Gmail account, for this, follow these steps:-
Open Gmail>> Settings option.
Choose Forwarding and POP/ IMAP
Under the "POP Download" section, pick this option – Enable POP for all mail or Enable for mail that arrives for now
From the bottom of google page, hit on Save Changes.
Next step is to make changes in your email client like MS Outlook.
Note: In this method to free up storage space in Gmail account, you may end up losing email folders or labels.
Method 4: Gmail Storage Full not Receiving emails ? – Download Emails using Google Takeout
Go to this URL https://tGoogle Takeout.Google.com/ and login to your Google account so as to free up storage space in Gmail account.
Click on Download your data and Deselect All. Choose the Gmail emails and press on the Next button.
Choose the "Send download link via email" from the delivery method option.
Pick the .zip option from the various file types option.
Choose 1GB, 2GB, 4GB, 10GB, 50GB archive size as per your need. Then, click on the Create Archive tab.
At this stage, all your emails will start getting downloaded in .zip format locally.
Once this download process ends, you will get this message "Download Archive" to download Google email account.
Extract Gmail downloaded files at any location on your computer.
A Note to Remember!
This method can take couple of hours (even days) to free up storage space in Gmail account.
Method 5:- Advanced Gmail Email Extract Solution to Free Up Gmail Storage Space
If you want to avoid from the hassles of Gmail account storage full issue, you can simply use BitRecover G Suite Backup Software. With this automated solution, you can effectively archive Gmail to hard drive, or move folders from one Gmail account to another. This instant solution will help you to increase Gmail storage space free without any troubles.
There are some significant benefits which you can enjoy with this software:-
Download Gmail folders in popular file formats – PST, MSG, EML, EMLX, MBOX, PDF, HTML, DOC.
You can save Gmail files, emails, attachments of all mailbox folders: inbox, sent items, etc.
It allows users to get rid of multiple Gmail accounts storage space full issue. You can free up storage space from multiple Gmail accounts in a single processing.
The tool offers many advanced filter options so that you can sort our specific emails from your Gmail account by date, time, subject, etc.
It permits the use of proxy settings to save Gmail data securely.
Working of Software-
Download software and launch it properly on any Windows-compatible machine.
Enter the credentials of your Gmail account – your email address and password.
Specify those particular email folders which you wish to download so as to free up space in Gmail account.
Select a desired saving option as per your requirement.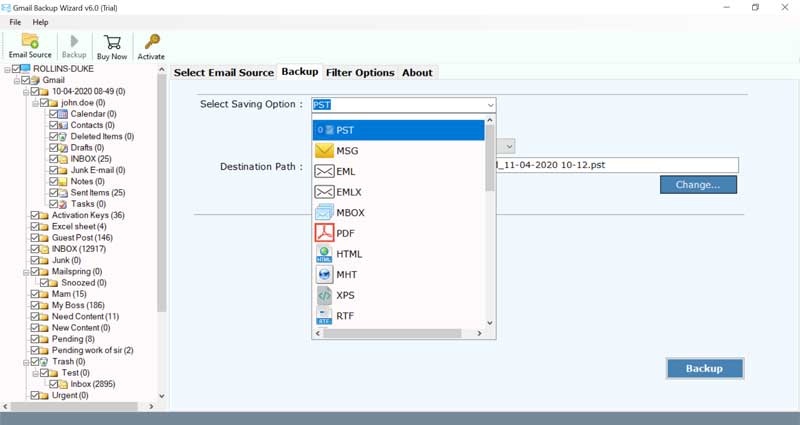 Now, enter a location for saving the resultant data.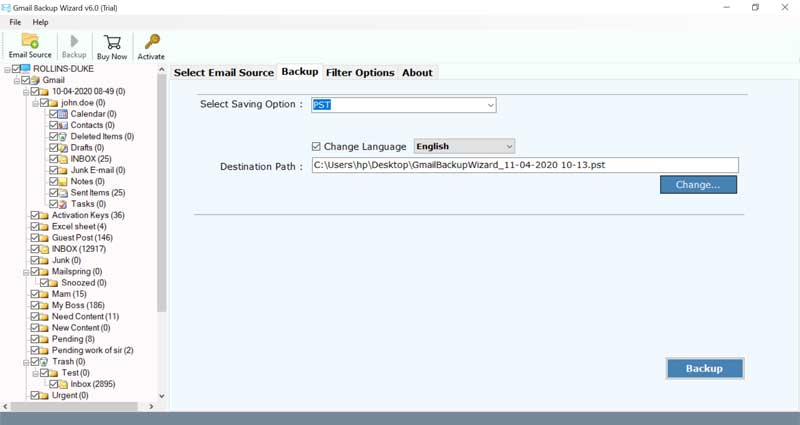 Press on backup tab to start the process.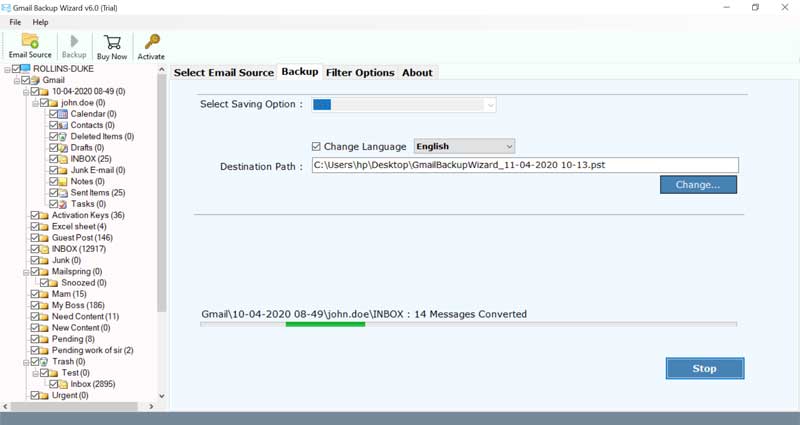 In this way, in few seconds all Gmail files, folders, attachments will be archived to the chosen saving format.
At the end of these steps, you will be able to tackle this issue "how to free up storage space in Gmail account".
If you want a quick tour to understand how this tool works, check out our YouTube tutorial.
Over To You
We understand the dilemma of users when they suffer from issues like "Gmail storage space what to do", "Gmail storage full not receiving emails", "Gmail storage full how to delete emails", "clear up Gmail storage space". That's why in this blog we have covered up all possible method to free up storage space in Gmail account.
All the manual ways can although help you to resolve Gmail running out of space problem but the shortcomings with these methods are that there are probably some messages that you want to keep and you may end up losing them.
Hence, the best and the most appropriate solution to tackle this issue is to use the automated solution we have just discussed.
Hope you can now smartly handle this problem. If you still have any doubts, feel free to contact to our technical support team.