Download EML file from Gmail using Manual & Professional techniques
Do you want to know how to download EML file from Gmail account ?
If your answer is Yes then continue reading this blog post to save EML from Gmail.
In this blog post, I am just going to explain the dual methods for solving your queries. But before that first know – what actually users want?
Users Queries

I am a Gmail user since 2015 and I am looking for a trustworthy method to download EML file from Gmail. I am preferring to use *.eml file extension to store resultant emails because I can use them with several email clients.

– Santiago, California

I want to save EML from Gmail account in batch but I don't know how it is possible. Can you suggest me a professional solution to download EML files from Gmail account? I want to archive emails in EML for future use.

– Matthew, Trier
How to Download EML File from Gmail – Manually
1 – Login to your Gmail account.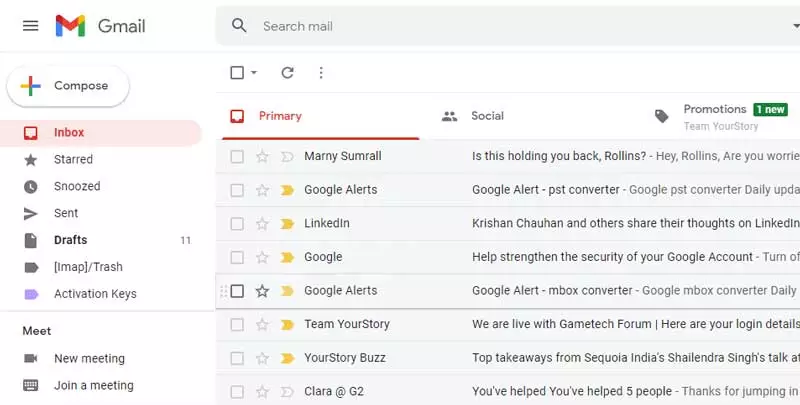 2 – Open a Gmail email.

3 – After that, click on More (Three dot icon).

4 – At last, hit on the Download message.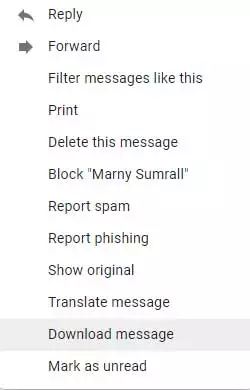 Limitation – The manual method is capable to download only one EML file from Gmail at once. Using this technique, users can save unlimited EML files from Gmail one-by-one. It is a time-consuming method that is not able to download EML from Gmail in bulk at once.
Save EML from Gmail in Batch at Once – Professionally
Firstly, download Gmail Backup Software for Windows & Mac OS and install the setup on your pc. The tool comes with a free demo edition that allows downloading 25 emails in EML file from Gmail. Users can grab its license keys at an affordable price to download EML from Gmail without any limitation.
1 – Start the mentioned application. Enter Gmail account credentials in specific fields and hit on the Login button to continue.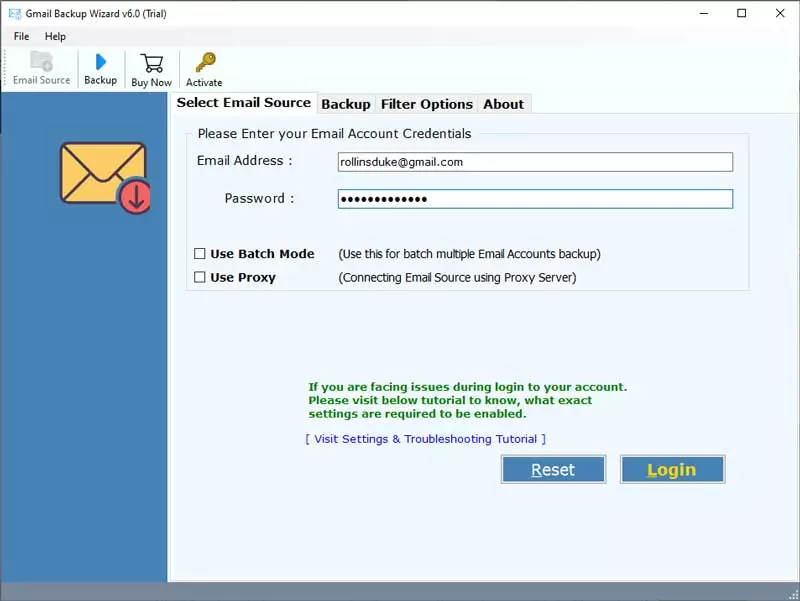 2 – Thereafter, check desired email folders from the software window and select EML as a saving format.
3 – After that, choose the relevant file naming option to manage resultant EML files. Browse a destination path to store downloaded EML files.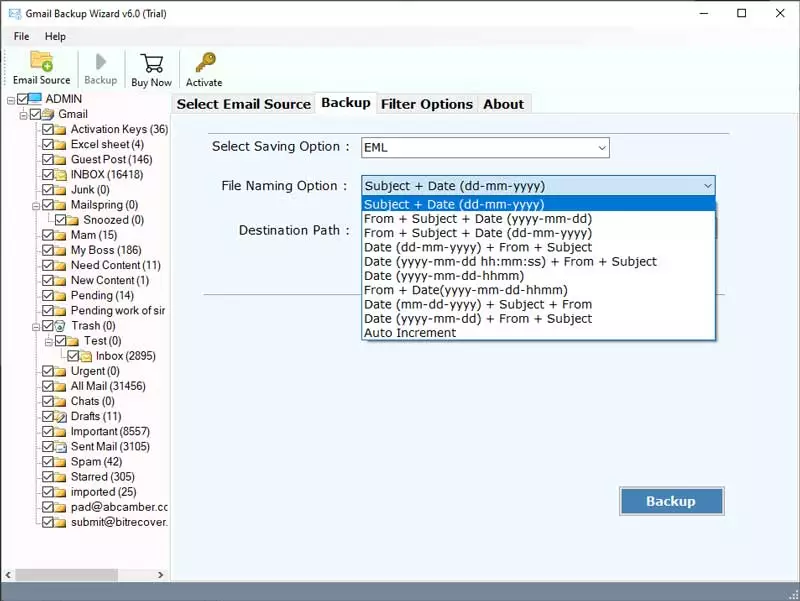 4 – Hit on the Backup button to start the process to download the EML file from Gmail.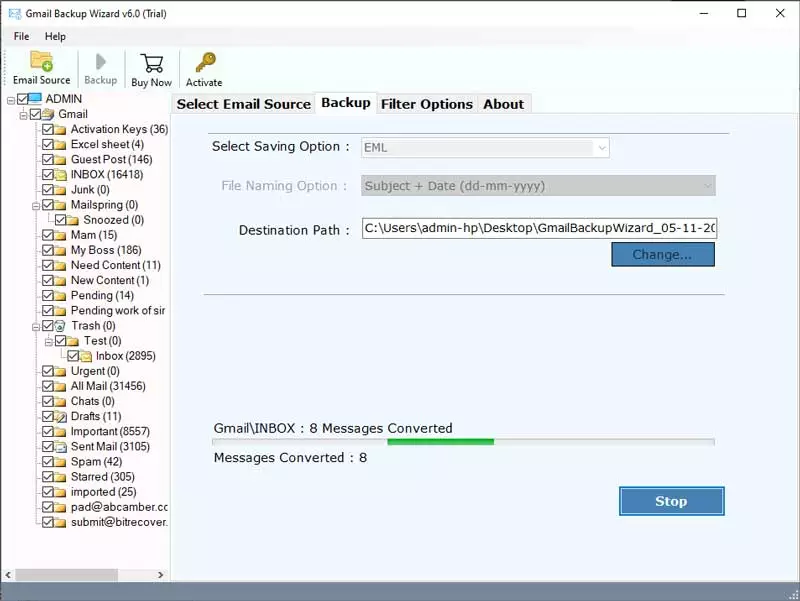 5 – At last, it will automatically open the destination folder. Get downloaded files in the EML file extension.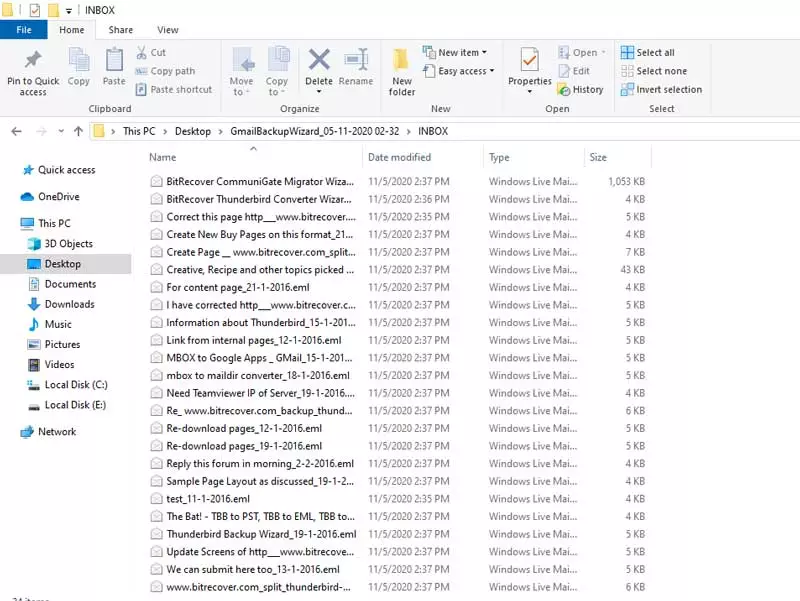 Benefits of Software for Downloading EML from Gmail
Users can download limitless EML files from Gmail at once so it is most beneficial to save your valuable time and efforts.
The tool asks for only Google Mail account login details i.e. Email Address or Password for finishing the task instantly.
It permits to download of specific EML files from Google Mail using multiple advance filter options.
This application preserves all email items and components i.e. To, Cc, Bcc, From, Subject, Signature, Attachment, Header, and all.
It creates generic EML files that can be used with various email programs such as Windows Live Mail, Thunderbird, eM Client, etc.
Use the batch mode option is helpful to download EML files from multiple Gmail accounts at once by uploading a CSV file with credentials.
Why EML File Extension?
An EML file can store one individual email message inclusive of complete information. So, anyone can understand the output data. Suppose, if someone wants to download 10 emails from Gmail, then it will create 10 individual EML files.
Many users want to archive EML files from Gmail for future use. Even resultant EML files can be open with several desktop-based email clients i.e. Thunderbird, Windows Mail, eM Client, Zarafa, Dream Mail, etc.
Users prefer to save EML files from Gmail because EML file can be accessed offline. You can double-click on EML file to open it in default EML supportable email clients.
EML files can be easily shared between multiple computer users. Because these are individual files that are very less in size. We all know that file size matters during sharing email messages between computers.
Know About ~ How to Download Gmail Folders with Original Hierarchy?
Cessation
Your issue "how to download EML file from Gmail" has been solved now. I have discussed here dual techniques. You can go with any suitable method according to your need. Both the above-mentioned techniques are 100% verified to save EML from Gmail.