How to Copy Thunderbird Emails to Flash Drive ?
I am looking for a solution that can move all emails from Thunderbird to a thumb drive to free up space in my Mozilla Thunderbird account. Please can your guide?
-Mark, New York
Users of the free desktop email clients like Mozilla Thunderbird have the same amount of motivation to make consistent backup copies of their messages as any other individual. If you've ever attempted to back up these things with Microsoft Outlook or Outlook Express, you'll be astounded at how simple is to export Thunderbird emails to hard drive or a USB flash drive.
It's a smart thought to copy Thunderbird emails to flash drive, to shield yourself from a hard drive disaster, or in the event that you need to transfer your email arrangement to another PC.
Automated Tool to Copy Thunderbird Emails to Flash Drive for Best Results!
It actually gives up an overwhelming job for less-experienced clients to really discover such an application that can convey what is guaranteed by the engineers. Furthermore, given the circumstance around these email migration software, it makes this choice to some degree less appealing to many. Internet is immense, and searching for certified software can be scary, particularly when it something a user is not experienced with.
Although, you can attempt the ImportExportTools add-on which will help you to convert Thunderbird to EML, MBOX. However, that is not a productive approach if you want to save your time and efforts.
Only a few applications have gained good recognition for providing what users expect! BitRecover Software team has always put effort into simplifying technology. Today we have come up with a one-stop solution – BitRecover Thunderbird Backup to save Thunderbird emails to a flash drive. It is a professionally recommended tool that offers the best set of data migration features and a powerful User Interface.
The tool enables any individual to perform email conversion in a much effortless manner. It facilitates the users to copy emails from Mozilla Thunderbird to a safe location like a flash drive, hard drive.
It is a fully-featured application that is known for its reliability. So, you can also utilize it to bulk save Thunderbird emails to flash drive.
How do I Save Thunderbird Emails to a Flash Drive ?
Follow these simple steps to copy Thunderbird emails to a flash drive.
Firstly, download the setup file of the recommended software and install it on any Windows machine.
Now, you can load Thunderbird emails, contacts, calendars in dual ways for the saving process:
Convert configured Thunderbird mailboxes data

Let me select my Thunderbird mailboxes data- Select Folder… or Select Files…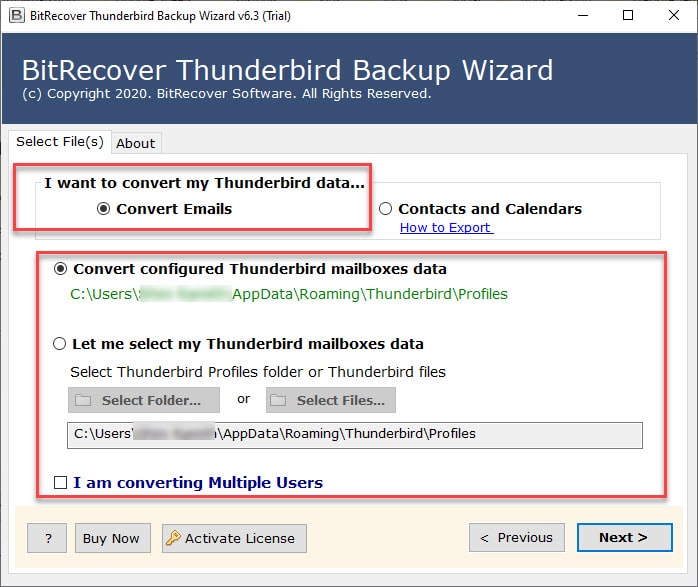 Then, select the required Thunderbird folders that you wish to save on a flash drive.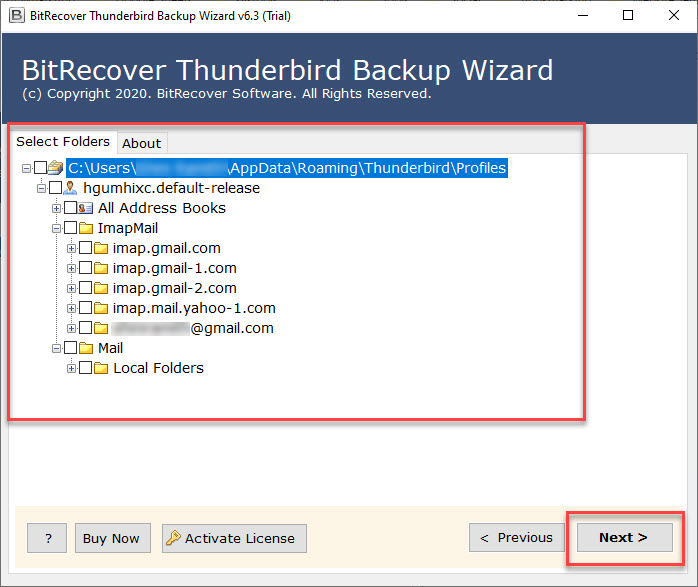 Thereafter, select any saving format from the list of options.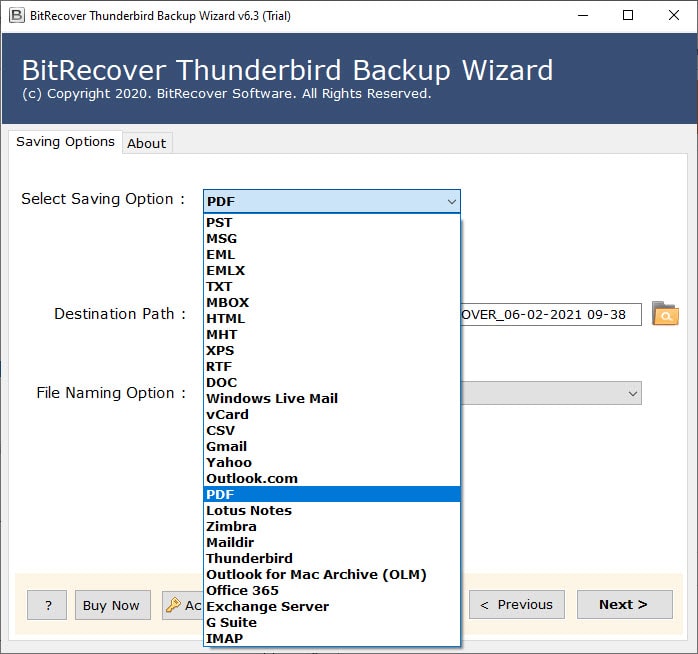 Now, enter a file naming option as required and a destination path.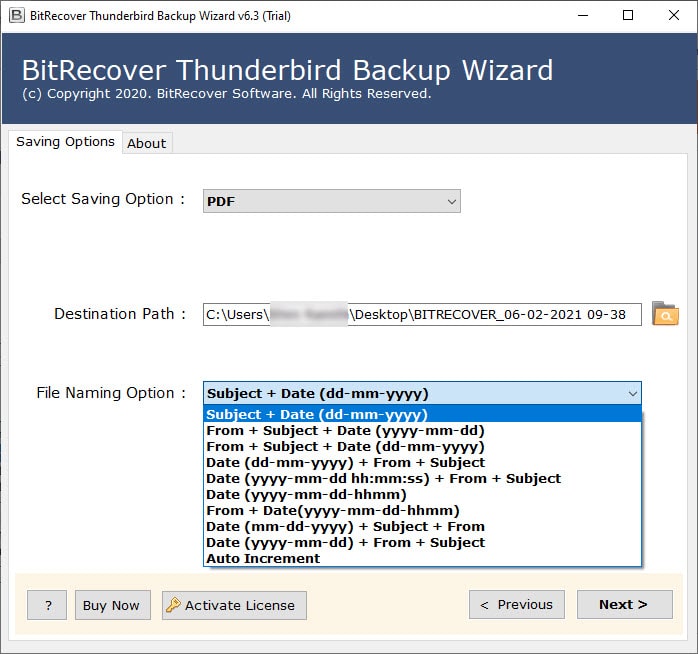 Finally, start the process by tapping on the backup button.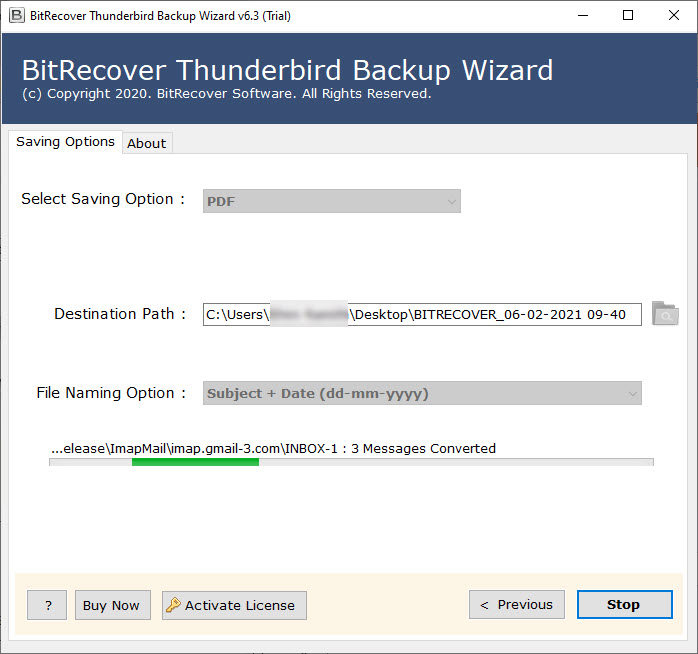 The task to save Thunderbird emails to a flash drive by giving a pop-up message of 'conversion completed'.
Now, you'll have a resultant folder containing the Thunderbird email files. Just insert your flash drive to the PC and copy Thunderbird emails to flash drive.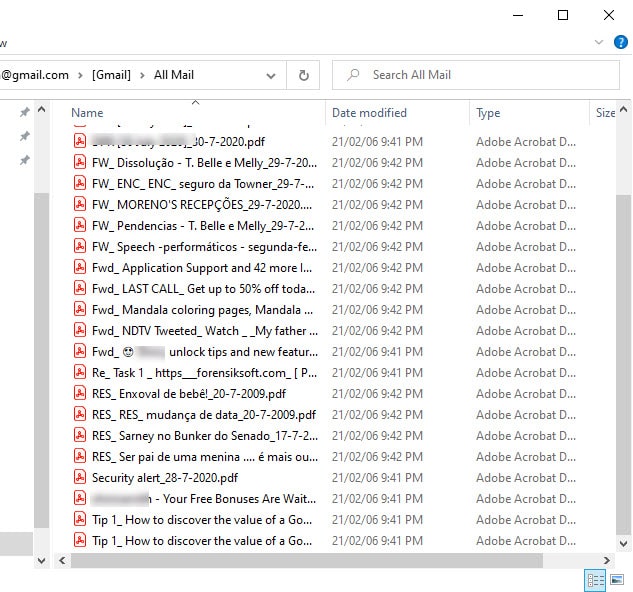 Numerous Ways to Save Thunderbird Email Messages –
Save Emails with File Format Options: – The tool offers numerous options such as PST, MSG, EML, MBOX, EMLX, CSV.
Copy Emails as Document Format: – The software provides various document formats such as PDF, HTML, MHT, RTF, XPS, DOC.
Move to Email Clients: – View Thunderbird emails without configuration with Outlook, Thunderbird, Windows Live Mail, Zimbra, Lotus Notes, etc.
Transfer Emails on Webmail Accounts: – The toolkit permits other options like Gmail, Yahoo, Office 365, G Suite, Outlook.com, IMAP accounts.
Salient Features of Software
Auto Load Thunderbird Data- Along with the manual file selection options, the tool also provides the option to convert configured Thunderbird mailbox data.
Manually Select any Email- User can choose any Thunderbird email message file or folder whether it's a single pr multiple one.
Save any Size of Mailbox- The software does not impose any limit on the amount of Thunderbird messages. You can copy Thunderbird emails to flash drive irrespective of the size of the mailbox.
Rapid, Secure Email Backup– The toolkit provides a fast and safe saving of Thunderbird emails to flash drive. There is no loss of email headers or email components during the process.
100% Precise Solution- The utility facilitates a completely accurate solution for the end-users. You will get all messages in the same folder hierarchy as that of the original without any information leakage.
Supports Windows OS- Users can install the tool on any Windows OS like Windows 10, 8.1, 8, 7, XP, Vista, etc.
24*7 Technical Support- The software team offers free technical support for 24*7. Any user can take assistance from our technical support team if faced with any query.
Save Contacts, Calendars- This utility also gives the option to copy Thunderbird contacts and calendars to a desired format.
Frequently Asked Queries

Q: How to copy Thunderbird emails to flash drive?

Follow the guidelines to save Thunderbird emails to flash drive:

Download and launch the software on Windows PC.
Choose Thunderbird emails to copy to flash drive.
Select the desired mailboxes and a file saving option.
Enter a required destination path for saving the output.
Hit on the backup tab to copy Thunderbird emails to flash drive.

Q: I need to save Thunderbird emails to a flash drive as my laptop will be dealt with by the manufacturer and the hard drive will be cleaned off. How would I do this?

A: You can try the above-explained approach to copy Thunderbird emails to flash drive.

Q: Can I batch save emails from Mozilla Thunderbird to a USB flash drive?

A: Yes, with this application you can batch save Thunderbird emails to flash drive.

Q: I've finished my term as a Managing Director of a charity organization and need to move my significant Thunderbird email files to another Managing Director utilizing a "flash drive". I can't figure out how to copy Thunderbird emails to flash drive. Please help!! 

A: Try using the suggested software in order to save Thunderbird emails to flash drive.
Let's Conclude
The Thunderbird users can efficiently copy Thunderbird emails to flash drive with the suggested software. The utility is free from any bugs or errors. There are no limitations with the licensed version. You can save unlimited Thunderbird email messages to a flash drive. If before purchasing the software, you want to test it, please try the free trial version. It allows to backup top 25 Thunderbird data items to the desired file format.