How to Export Thunderbird Emails to Hard Drive: For Windows/ Mac Computer
"My sister's Windows 8 computer "C" drive has errors on it and I need to supplant the hard drive. I have just made a Windows image back up. My sister uses her computer for home office and needs to save Mozilla Thunderbird emails to hard drive. Please suggest a simplified solution to export Thunderbird emails to external hard drive, utilizing an up-to-date version of Windows 10 on an HCL computer?"
Because of expanding data robbery and information loss, data safety has become a significant worry among users. Data Recovery and Backup Software are considered a safe strategies to shield information from any loss or burglary. In any event, for desktop-based customers like Mozilla Thunderbird, email backup has gotten essential. Thunderbird saves client information in the system or local mail server. In any case, system slamming and unapproved hacking can make the information become ruin or can prompt data loss. Clients should know how to export Thunderbird emails to hard drive to face such circumstances.
This blog post will depict various procedures to save Thunderbird emails to disk.
How to Export Thunderbird Emails to Hard Drive ?
This is a standard method to save Thunderbird emails to external hard drive:
Start Thunderbird.
Choose your Inbox or desired folder.
Choose the message you want to backup or tap on CTRL + A to choose all emails.
Tap on the menu tab to view the Thunderbird menu.
Choose Save as > File.
Choose the folder where the emails should be exported and hit on Save.
In this way, you can save Thunderbird emails to hard drive.
Note:- The chosen emails are not taken as backup to the target folder. The output EML files made with this process can be opened with several email apps.
How to Backup Thunderbird Emails to Hard Drive using ImportExport Add-on ?
Users can add the ImportExport add-on to save Thunderbird emails to external hard drive formats like EML, HTML, Plain text, Spreadsheet, PDF, etc.
Follow these steps to backup Thunderbird emails to external hard drive:
Launch Mozilla Thunderbird and install ImportExportTools NG add on it.
Now, after installing Add-on, just restart Thunderbird.
Then, choose a folder you wish to backup and right-click on it.
Thereafter, choose ImportExportTools NG>> Export folder>> EML format to save Thunderbird emails to hard drive.
Pick a location to export the files and tap on Select folder.
So, all the emails from Thunderbird will taken as backup to hard drive.
Constraints of Manual Method:
Thunderbird users should remember the constraints of playing out the manual process to export Thunderbird emails to hard drive. Some of its disadvantages are:
Long Process: Manual strategy to save emails from Thunderbird is tedious. The total processing takes a lot of time and exertion.
Numerous Steps: This strategy contains multiple amounts of steps. Clients must be aware to implement all steps successively while saving Thunderbird emails to hard drive.
Oversight Needed: The method can't be handled unaided. Clients need to effectively control the whole process.
Document Formats: The manual strategies frequently tie you with basic file formats. You can't save Mozilla Thunderbird emails in significant file formats, for example, PST, MSG, PDF (with attachments), and so forth.
The previously mentioned disadvantages lead numerous users to perform export Thunderbird email to hard drive utilizing mechanized strategy.
Export Emails from Thunderbird to Hard Drive with Automated Method
Our motivation in writing this blog post is to help customers who are hassling with the manual strategies while copying Thunderbird emails to external hard drive.
BitRecover team always recommends users to safeguard the information before losing it. Thus, we offer a range of products that enables users to easily export Thunderbird emails to hard drive.
BitRecover Thunderbird Backup Tool facilitates various options to save Thunderbird emails to external hard drive. It offers a wide range of useful options to efficiently backup Thunderbird messages on a local PC or webmail.
Users can export email messages in various file formats:
PST, MSG – For restoring in MS Outlook
EML – For restoring in Thunderbird.
PDF – For safe backup and legal cases
HTML – To view Thunderbird emails in a browser
And there are many more….
Also, the software has the ability to convert configured Thunderbird mailbox data in desired formats. The users of Windows 10 and below versions can utilize this software easily. It's an automatic process so users do not require to implement the process under any supervision.
Steps to Export Thunderbird Emails to External Hard Drive
First of all, download and install the software on your Windows/ Mac machine.

Now, click on "Convert Emails" or "Contacts and Calendars" whichever is needed. If you selected 'Convert emails' then you can pick either of these options to load data:
– Convert configured Thunderbird mailboxes data

– Let me select my Thunderbird mailboxes data– Select Folders… or Select Files…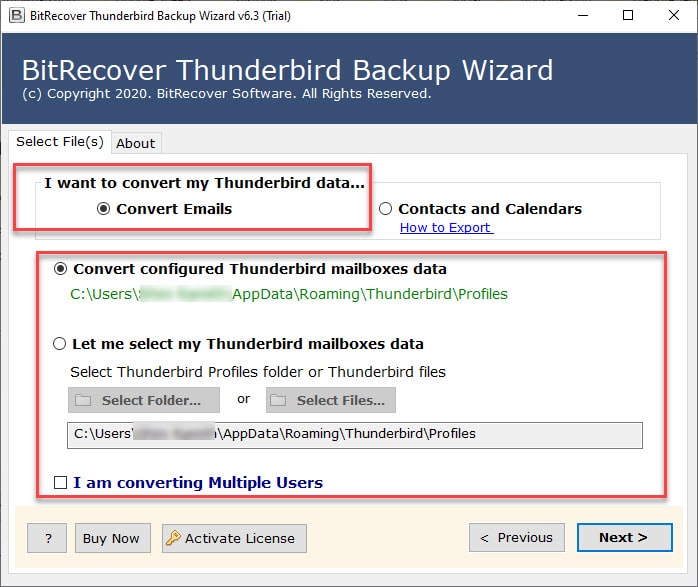 Then, choose the desired folders that you wish to export to hard drive.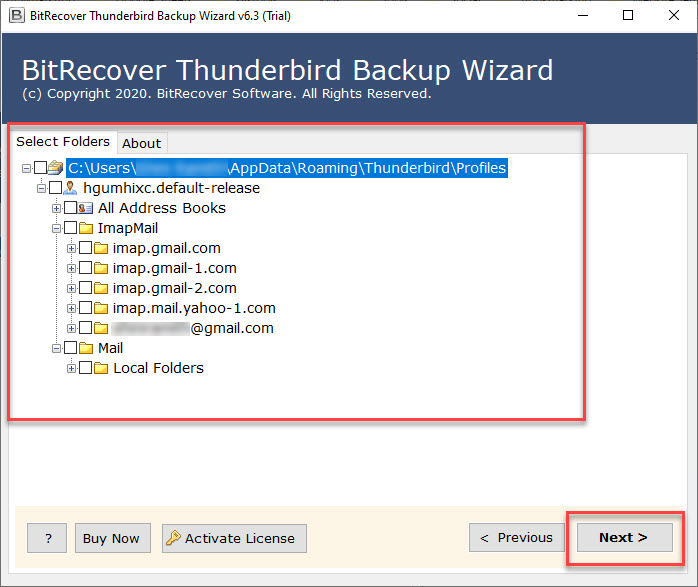 Thereafter, select a saving option from a list of 25+ formats.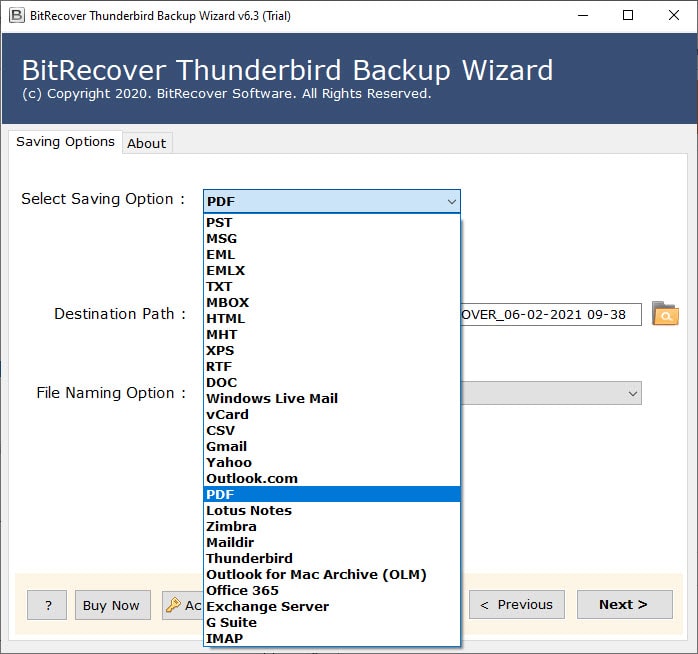 After this, pick any file naming option.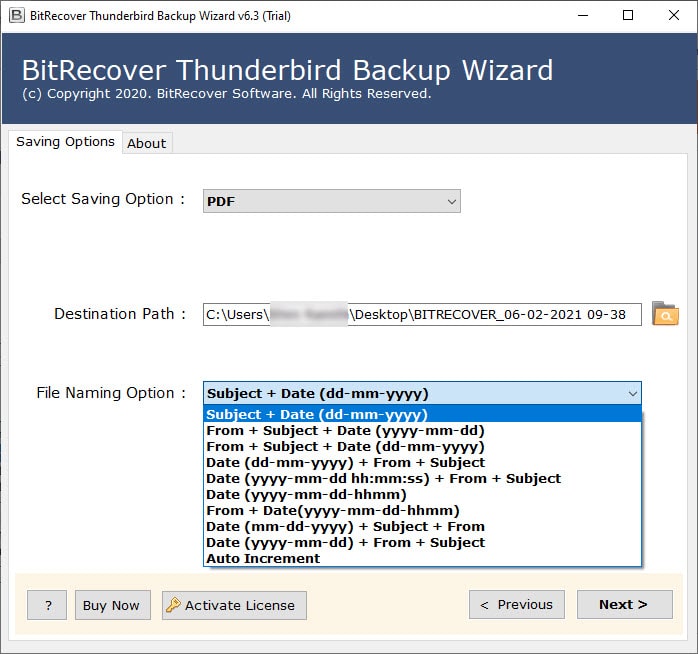 Also, choose any destination path for saving the output.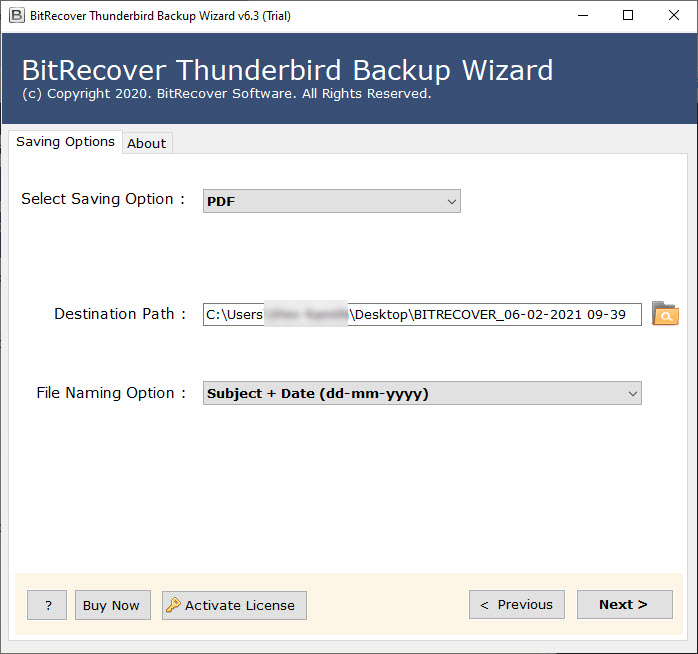 Hit on the backup button to start exporting Thunderbird emails to external hard drive.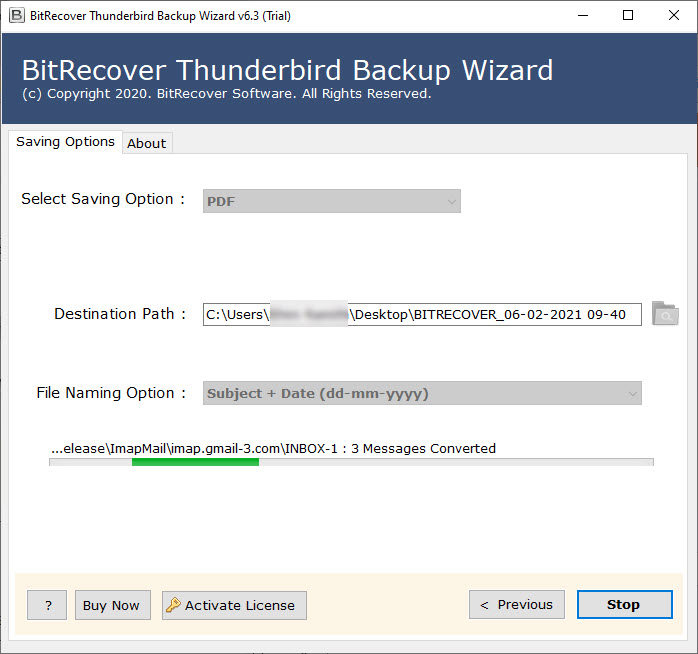 Now, you can open the resultant folder containing the exported folders.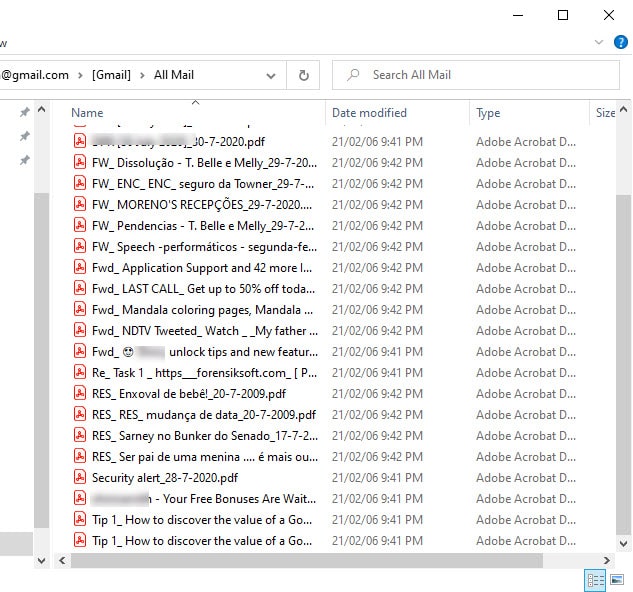 Thunderbird Email Saving Tool Presents Numerous Saving Options
Export Emails from Thunderbird with File Format Options: – The software provides various options such as PST, MSG, EML, MBOX, EMLX, CSV.
Save Emails as Document Format: – The utility also offers many document formats such as PDF, HTML, MHT, RTF, XPS, DOC.
Use on Email Clients: – Migrate Thunderbird emails without configuration with Outlook, Thunderbird, Windows Live Mail, Zimbra, Lotus Notes, etc.
Backup Emails on Webmail Accounts: – The software allows various other options like Gmail, Yahoo, Office 365, G Suite, Outlook.com, IMAP accounts.
Benefits of Using Automated Software
It automatically locates the installed Thunderbird profiles for an efficient exporting process.
A safe and proper backup of Thunderbird emails to hard drive along with attachments, contacts, calendars.
Preserves on-disk folder hierarchy throughout the processing.
Export selective email folders from the complete Thunderbird profile.
Various saving options to save Mozilla Thunderbird email messages.
Compatible with all latest and earlier versions of Microsoft Windows OS.
Significance to Backup Thunderbird Emails Locally
Clients may feel that Mozilla Thunderbird doesn't need reinforcement since its information is saved in the system. This thought isn't right in any way. On account of the hacking or system crashes, you may lose Thunderbird messages.
Saving Thunderbird emails locally is significant for various reasons.
Upgraded Performance: After exporting Thunderbird emails to hard drive, one can erase the information from the mail server. At the point, when the local server has less space involved, the presentation of the mail server upgrades essentially.
Safeguard From Hacking: If Hackers get accessibility to your Thunderbird emails then you may land up in big trouble. Thus, with a proper backup strategy, you can get rid of permanent data loss problems.
Continuous Business: Local server disappointment interrupts any business that doesn't have an information backup plane. A stored copy of Thunderbird emails to hard drive enables enterprises to keep up with their regular business processing.
Shielding Data Loss: Export Thunderbird emails to hard drive protects your information from a wide range of mishaps. Even if you inadvertently erase a few messages, then you can restore Thunderbird emails easily.
Easy Data Transfer: If you convert Thunderbird emails to Hard Drive, it is simple to migrate them. At this point, when a user needs to migrate Thunderbird emails to another computer then a backup ends up being valuable.
Bottom Line
This write-up explained the process to export Thunderbird emails to hard drive in a seamless manner. Users can select the manual method or automated method as per their need. However, we recommend the automated ones due to their advantages. With the professionally recommended automated software, you will have the ability to test its working before purchasing. Yes, the free trial version allows evaluating the tool's capabilities. Also, with it, you can export the top 25 data items to desired formats. In order to save Mozilla Thunderbird emails to hard drive without any limitations, please buy the licensed version of the tool.