How to Convert NSF to EML with All Attachments?
Introduction: Wondering how you can convert NSF to EML file format for multiple purposes? Didn't find any workable solution to save Lotus Notes email as .eml? If so, spend a few minutes on this page. Here, we will let you know the most acceptable method for Lotus Notes NSF conversion to EML format. It is speedy and safe.
Disclaimer: – The intuitive approach used in this guide is workable for Lotus Notes individual account holders as well as for Lotus Notes Administrator who wanted to convert NSF files to EML format.
 A Case Study: Hello BitRecover Team, I am facing many issues while saving NSF file data to an EML file format. First of all, I am getting errors when converting multiple Lotus Notes emails to EML format. Secondly, I am not getting the results in the location I specified during the NSF to EML Conversion. Can you please tell me how to save Lotus Notes emails as .eml safely? – Robert Duke.
Some More Reasons To Export Lotus Notes NSF to EML Format
EML is a commonly used file format by individuals and IT Admin.
EML files are highly compatible with desktop-based email clients such as Thunderbird, Outlook Express, Windows Live Mail, and more. If someone is using two desktop email clients, they can easily switch data through EML files.
One of the most preferred file formats to backup emails from an account is EML.
Also, EML files are compatible with all Operating systems such as Windows, Mac, and Linux.
We have enough discussion on why to convert NSF files to EML format. It's time for us to introduce the solution and methods to export Lotus Notes email to EML messages.
Here Are Two Reliable Approach to Convert NSF to EML Format – Choose the Right Method  
Soultion1: How to Save Lotus Notes Emails As .eml For Limited?
If you want to convert NSF to EML for limited email, the below-mentioned method can be useful. Again, we are mentioning it will work for restricted NSF files. It can ten, fifteen, or even less than that.
Important Note:- We want to break your bubble first that there is no manual method to convert multiple NSF emails to EML format altogether.
Technically Export Lotus Notes Email To EML file One-by-One
Follow the given steps to convert a single NSF file to EML one at a time.
Start IBM Notes on the system and open the email to save as EML format.
Go to File and select the save as option from the listed menu.
Navigate to the location where you want to save the file, give it the desired name, and click "Save".
Finally, you have exported the Lotus Notes one email to the EML extension.
Automatically Bulk Export Lotus Notes Email to EML Messages
Many of you looking to convert NSF to EML format don't find the above method useful. It has many limitations and also tiring and highly time-consuming. You can better use direct Lotus Notes NSF Converter that saves multiple Lotus Notes messages as .eml with attachments. It is a task of a few clicks, and you will also get the freedom to use many advanced options. The software also allows Lotus Notes admin users to export multiple Lotus Notes accounts to email to EML files.
The Working Procedure of 100% Reliable NSF to EML Converter
Before you get into the steps to convert NSF files to EML format, we have good news for you.
Download free Lotus Notes to EML Converter tool on any of the Windows OS machine. Complete the setup, and you have the freedom to convert the first 25 NSF emails as .eml file. It is a fast and straightforward process. When satisfied with the software, you to buy button pick your licensed edition and given payment details.
Step-1 Start the NSF to EML Converter software.
Step-2 Go to the Add File button on the top left. Choose the NSF file from the saved location.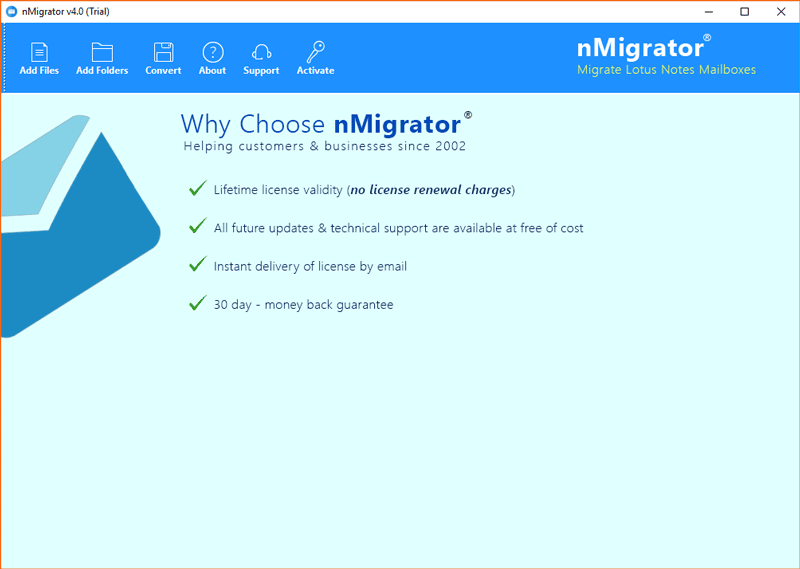 Step-3 Choose the Add Folder tab in the upper options to load the complete folder of the .nsf file in the software window.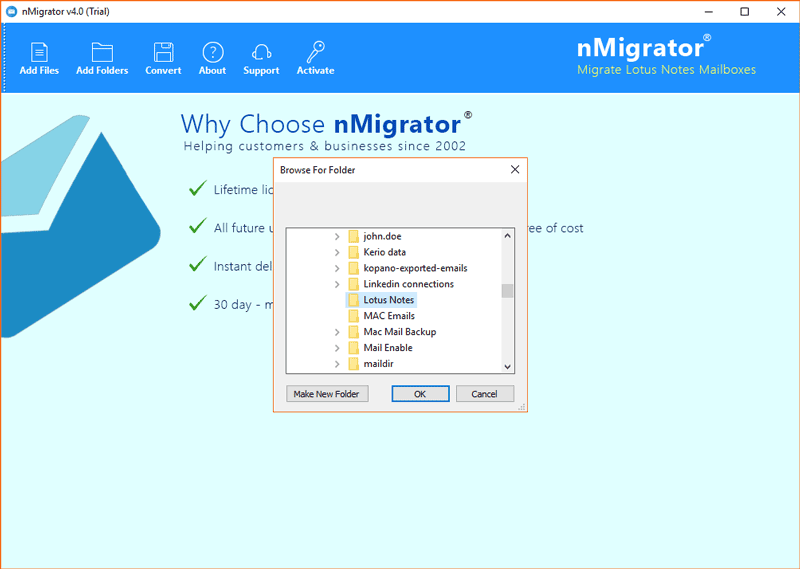 Step-4 Now, you can see a list of files and folders on the left-hand side. Please mark the required Lotus Notes file or folder.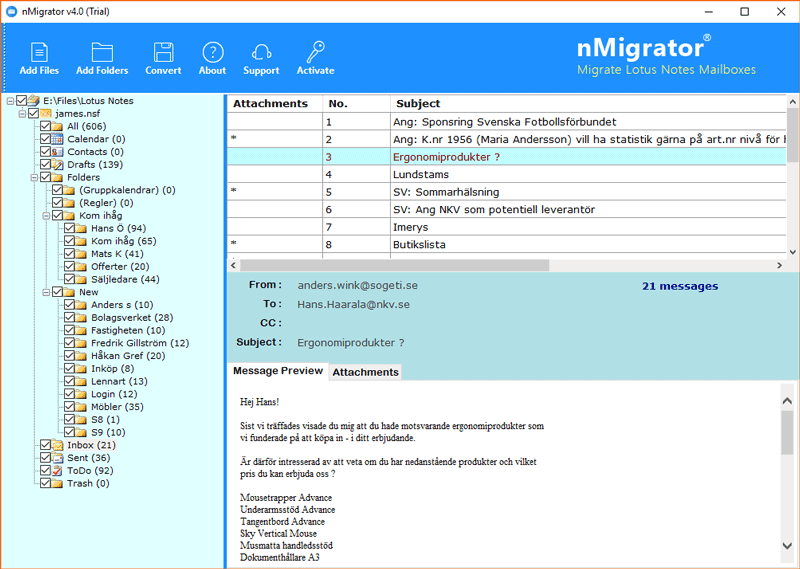 Step-5 Click on the NSF file email and see it in full view in the unique preview window.
Step-6 After checking the Lotus Notes email preview, click on the Convert button.
Step-7 Choose EML as the saving option and enter a location where you want to see the results.
Step-8 Select any file naming option if it is required for your task. Otherwise, you can skip it and hit the Convert button.
Step-9 The fast and straightforward NSF to EML Conversion is done. The software gives you the final result at your given location.
It entirely upon you whether you want to export Lotus Notes messages to EML files one at a time or save Lotus Notes emails as .eml messages in bulk with attachments.
The Precise Features of NSF to EML Converting Utility
Easily convert IBM Lotus Notes to EML with attachments, which means you can save NSF as EML without losing some information.
You can learn how to export Lotus Notes NSF emails to EML by downloading the software for free. The version is promoted by the company that allows you to test the software with limited email transmission.
The Lotus Notes export NSF to EML tool allows you to freely store the results on any target path in the system.
You can export the NSF emails to EML with email attributes and fully guarantee the tool's technical reliability.
Convert NSF to EML tool is the administrator's first choice for batch conversion from Lotus Notes to EML format.
It can also help you convert selected NSF files to EML format using various filters (such as date, subject, source, etc.)
The software can use on all versions of Windows OS without any problems.
The Conclusion
After reading the above guide, one thing is for sure that you know how to convert NSF to EML quickly and directly. We have answered queries like how to export Lotus Notes emails to EML or save Lotus Notes emails as .eml with attachments? We hope you find the automatic NSF to EML Converter useful for your work.
You may also be interested in:

Open Lotus Notes NSF File in Outlook

Migrate Lotus Notes to G Suite