How to Export Lotus Notes to CSV format ?
IBM Lotus Notes is one of the favorable email application, which is widely utilized for big business level use. Customarily, users of Lotus Notes email client need to export Lotus Notes address book i.e. Names.nsf file to some compact file format, especially to backup the significant contact information to the local hard drive. Other than this, users also need to import Lotus Notes NSF database to some other email programs for easy access of all contacts in a single email program. If you are a Lotus Notes client user who is on the verge to export Lotus Notes to CSV format for certain reasons, at that point simply read this blog. Here, we will let the users comprehend the best procedures in a justifiable manner.
What are the Situations to Export Lotus Notes to CSV Format ?
Before proceeding further towards the solution, first, have a look at a user's situation to help comprehend the situation more broadly:
"I am functioning as a Service Head in a global private bank. All through the information, I get a massive amount of Lotus Notes messages. In the wake of finishing my business hours, I additionally need to telecommute where I've introduced the Gmail application on my desktop. Thinking about this circumstance, I've chosen to export Lotus Notes documents to CSV files so as to import the changed over CSV format to Gmail. Hence, this will eventually improve my work effectiveness. As there are bulk of Lotus Notes contacts information, which is put away in Names.nsf document. So, please recommend to me some effective solution, which can rapidly export Lotus Notes to CSV. Your help will be really appreciated!"
Acknowledging the above user's query, we can say that this export NSF database to CSV process is quite demanding by the corporate users. This is because if a user has done this conversion then it becomes easy to import NSF contacts to various email services like Gmail, Apple Numbers, Outlook, LibreOffice Calc, etc.
NSF to CSV Converter – Ideal Solution to Export Names.nsf to CSV Files
The manual solution for Lotus Notes export to CSV comes with certain limitations. It does not preserve the integrity of the data. Hence, it is an unfruitful approach. So, users can deal with the above situation by using a fully-fledged professional application like BitRecover Lotus Notes NSF Converter. With this software, you can easily do the Lotus Notes export to CSV process in one fell swoop.
It enables the users to export Lotus Notes data to CSV format so that the users can import the resultant files into Outlook contacts, Gmail contacts, Thunderbird, etc.
Complete Solution to Export Lotus Notes Address Book to CSV
Download and install the setup of NSF to CSV Converter software on your Windows machine.
Please Note- Ensure to install and configure the Lotus Notes / IBM Notes / HCL Notes email client on your computer for the migration process.
Now, browse Lotus Notes NSF files from your database using the dual options:
Add Files- To choose single Lotus Notes NSF files

Add Folders- To pick a complete entire folder containing multiple NSF files.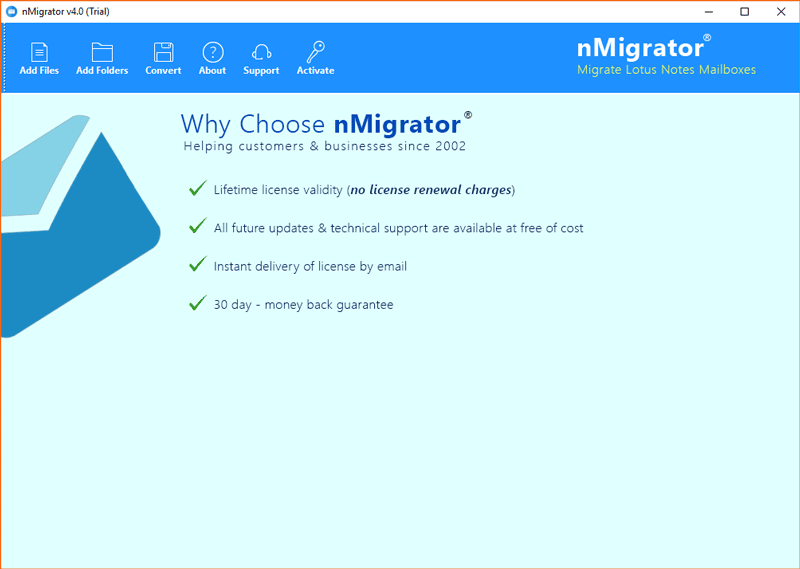 Then, you need to select the path of NSF file(s). Tap on the Ok tab.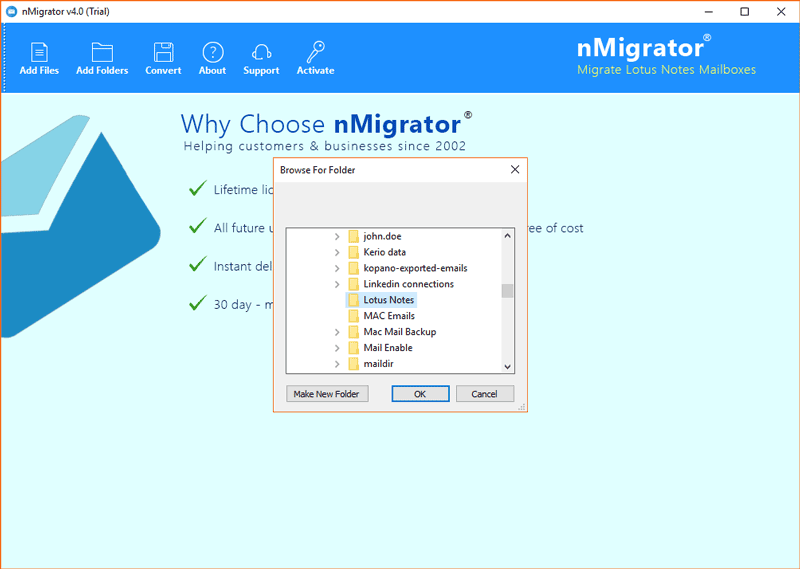 Thereafter, preview IBM notes email message with or without attachments with all properties like From, To, Cc, etc.
Now, choose desired IBM Notes mailbox folders which you want to export from Lotus Notes to CSV. Also, click on Convert tab to proceed further.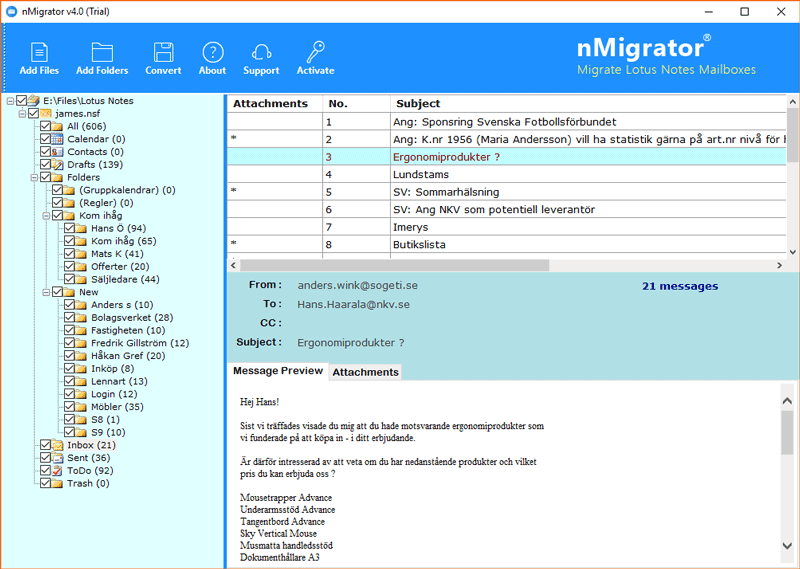 After this, select CSV from the saving options list.
Lastly, enter a destination path and click on the Next button to start to export Lotus Notes to CSV.
Once the process finishes, the software will give a completion message. Click on OK to exit from task.
Thus, in this way you can convert NSF data to CSV format. Now, access the resultant .csv files from destination path.
This software is best suited for all professional and novice users. With it, an individual can perform batch NSF to CSV conversion.
Lotus Notes Export to CSV Tool – Benefits and Features
The software facilitates to move NSF files to CSV documents in batch mode.
Users can effectively open the resultant (CSV files) in all Spreadsheet and Database Management systems like Excel, LibreOffice Calc, Apple Number, and Apache OpenOffice.
The product offers double ways to import NSF database for conversion, for example, Add Files or Add Folders.
Significant benefits of the tool include that it gives a proper preview of messages in the software panel.
It is an essential condition that Lotus Notes or IBM Notes must be appropriately configured on your system before conversion.
The utility is compatible with all the NSF data exported with all editions like IBM Notes 10.0, Notes 9.0, Notes 8.5, Notes 8.0, Notes 7.0, Notes 6.5, or prior versions.
The tool will make a single CSV file comprising of all the data of the mailbox.
The utility supports all recent and old versions of Windows OS for example Windows 10, Win 8.1, Win 8, Win 7, Win XP, Win Vista.
Bringing All Together
Because of different reasons, Lotus Notes users often intend to export Lotus Notes to CSV format. Thinking about this perspective, we have expounded the complete solution in straightforward language in a justifiable way. Hence, users can now be able to profit from this aforementioned method to actualize the need. The most ideal choice that comes in is by utilizing NSF to CSV Converter tool, which guarantees to export Lotus Notes database to CSV format without any information loss issue.
You may also be interested in: Migrate Lotus Notes to G Suite