What is Windows Metafile (WMF) and What Opens WMF File Format?
If you are thinking "What is WMF file and how to open it" then read this complete article here. WMF (Windows Metafile) is an image file extension that was originally developed by Microsoft Corporation for their Windows OS (Operating System) in 1990. A WMF file can contain both raster components as well as vector graphics without any hassle.
First Microsoft developed 16-bit Windows Metafile (WMF) extension and after that it also launched the upgraded edition of WMF files i.e. 32-bit Enhanced Metafile (EMF). A Windows Metafile WMF can store drawing lines, circles, rectangles, bitmap drawing, text with fonts, tile, cascade, etc. After reading a little information about WMF format extension, you can understand that Windows Metafiles are similar to SVG (Scalable Vector Graphics) files.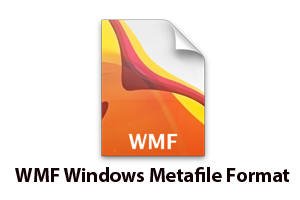 Windows Metafile (WMF) is a native vector graphic format for Microsoft Office Suite programs like Word, PowerPoint, Publisher, etc. The original 16-bit WMF file format was fully specified in volume 4 of the Windows 3.1 SDK documentation from 1992. WMF files can contain multiple components and each of these objects is stored in the metafile and stored in an object table that tracks the use of graphic objects during the processing of the metafile. We hope that now these types of queries will be solved...
What is WMF file format?
What is WMF file extension?
What are WMF file types?
What is Windows Metafile?
In the first, WMF file was not originally developed to device-independent means that users could not open Windows Metafile on different output devices. A partial solution to this problem was invented by Aldus Corporation. Aldus Corporation added APM Header (Additional Placeable Header) along with a metafile version, metafile size, number of objects in the metafile, bounding rectable, etc. Later in Windows 2000, Microsoft has incorporated these features in WMF file extension.
Basic Information about WMF Windows Metafile Format
File Type – Windows Metafile
File Category – Vector Graphic Image File
File Format – Binary
File Extension – *.wmf
What Opens WMF File Format Extension?
It is not a difficult task to open Windows Metafile WMF extension, you can easily open Windows Metafile WMF extension without any problem. There are various techniques available to open WMF file format.
If you are using Windows 10, 8.1, 8, Windows Server 2019, 2016, editions then double click on the WMF file extension. It will be automatically open in Microsoft Paint.
If you are using Microsoft Windows previous editions then choose WMF file from your PC. After that choose Open With and paint option, your file will be open in paint program.
You can also use CorelDRAW Graphics Suite program to open Windows Metafile *.wmf extension.
There are also many third party programs obtainable for opening the WMF files, for example, File Viewer, Adobe Illustrator 2020, Corel PaintShop Pro 2020, ACD Systems Canvas X 2019, Inkscape, etc.
Read WMF File (Windows Metafile) Encoding
1 – Select WMF Windows Metafile extension and right click on the file. After that select Open with << Choose another app option as you can see in the desired screenshot.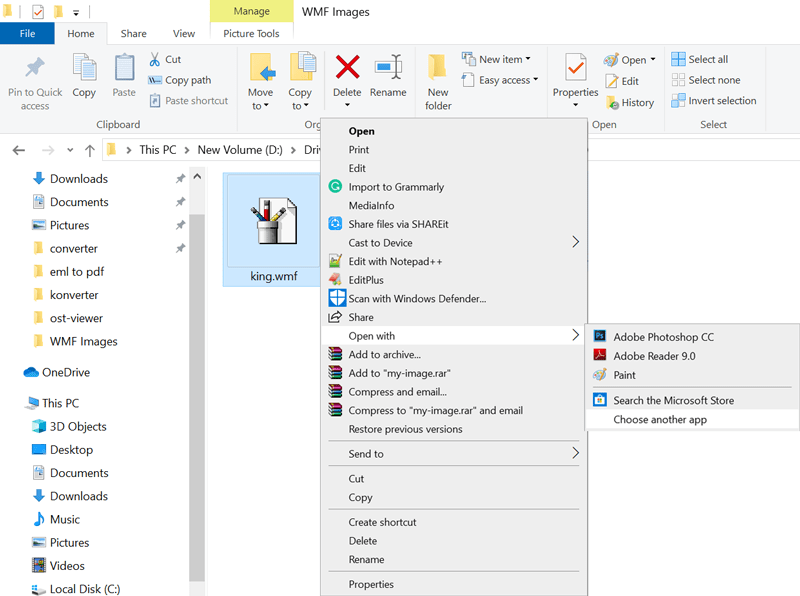 2 – Now it is asking "how do you want to open this file?" click on More apps to continue.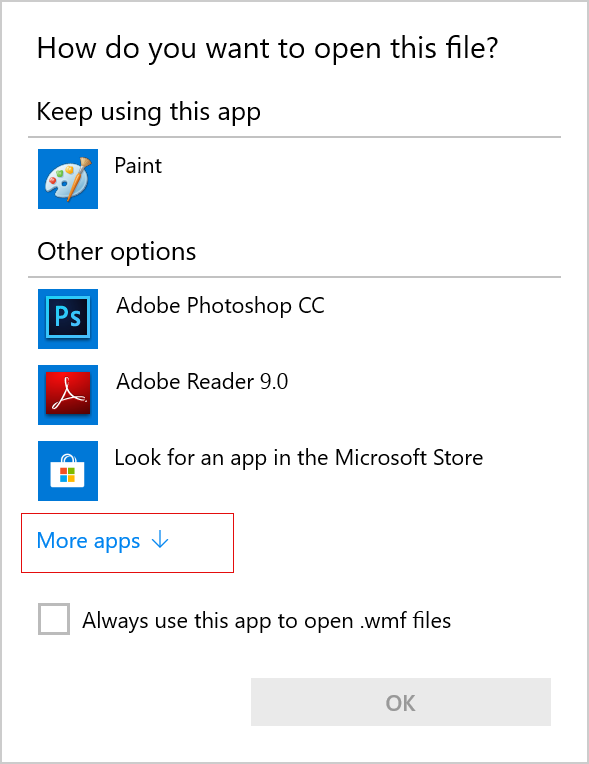 3 – Select Word (desktop) from the applications and hit on the Ok button.
4 – Now select the encoding that makes your document readable from Windows (Default), MS-DOC, Other encoding and press the Ok button.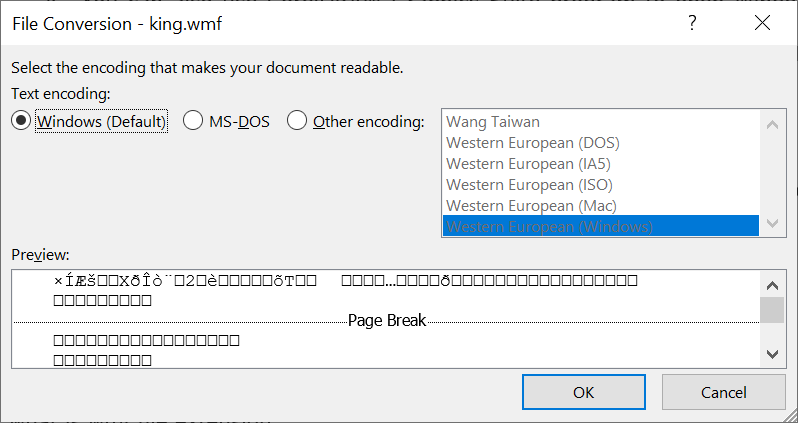 5 – At last you can read WMF Windows Metafile format encoding in MS Word program.
Some Helpful Catalog about Windows Metafile WMF
Read some users circumstances to open a PST file content without Outlook.
WMF to PNG Converter
WMF to TIFF Converter
WMF to PDF Converter
WMF to Word Converter
WMF to Excel Converter
WMF to HTML Converter
Open WMF File in Photoshop
The Closure
In this post, we have described brief information about "what is WMF file and how to open", we have also provided the basic information about Windows Metafile *.wmf. If you are still facing the problem then you can contact our technical support team. You can also check the WMF file catalog for solving various types of queries about Windows Metafile format.