How to do IMAP to Exchange Migration ? Convert IMAP Folders to Exchange Online, Exchange Server, Hosted Exchange
Peter: Good morning I am having the hardest time trying to perform IMAP to Exchange migration. I was able to successfully move the 6 other accounts by exporting the IMAP account to a .pst file and then importing it once I had set up the Exchange account and connected to it via Outlook.
With this particular account when I import from the export IMAP .pst emails are coming in with nobody and just headers. Then once the user clicks on it the email disappears. So I checked how the IMAP account was set up and it was set up to only download headers. I changed this to download full items and attachments, waited for it to Send/Receive, and then re-exported it to a .pst.
I am now having the issue of the emails showing up in the Exchange account with only headers still and nobody. 
Does anyone have any additional ideas or a better way I can accomplish migrate IMAP to Exchange Server?
Switching from IMAP server to Exchange Online and Hosted Exchange Server with on-premises is quite common these days. Each corporate user is trying to convert IMAP mailbox to Microsoft server due to their perfectness and security. In this regard, Microsoft Exchange Server gives far better reliability for the crucial information of a company contrasted with other webmail servers. However, a typical question that emerges in each IMAP server user is 'how can I implement IMAP to Exchange Migration?'
There is an endless number of IMAP mail servers and each processing of changing IMAP account to Exchange is different. In this article, we are going to describe how one can convert IMAP to Exchange online with precision. Also, we support Exchange Server mailbox recovery and secure complete data.
IMAP to Exchange Migration Tool – An Ideal Solution for Professionals
Try using the IMAP email to Exchange migration tool in order to convert an IMAP mailbox to an Exchange server. It offers a simple and rapid import of IMAP emails to Exchange Online.
Free download the IMAP mail backup to Exchange tool on your Windows or Mac machine:

The configuration and setup of this software are very direct and ensure a seamless IMAP to Exchange migration.
Built by a team of professionals, this software is safe and authentic. It supports to change email from IMAP to Exchange 2016, 2010, 2007, etc.
It offers an automated process to migrate IMAP mailboxes to Exchange Online, Hosted Exchange Server. The utility effectively does the export IMAP to Exchange Server in real-time, enhancing user's data safety even better, and guaranteeing that your data is protected.
Reminder: The IMAP to Microsoft Exchange Migration tool can effectively convert IMAP folders to Exchange Server, Server to On-premises Exchange Server, IMAP Server to Hosted Exchange, IMAP Server to Online Exchange.
Steps to Migrate IMAP to Exchange Online
Download and Open IMAP to Exchange migration tool.
Enter an IMAP email address, password, host, and port no.
Setup proxy settings if required.
Enable required IMAP mailboxes for migration.
Choose Exchange Server & fill in user name, password, server name.
Begin to convert emails from IMAP to Exchange.
Import IMAP Emails to Exchange Online – Advantages of Software
Move Multiple IMAP Mailboxes to Microsoft Exchange:
For comfort, the users can migrate IMAP emails to Exchange Server for Mac and Win OS by utilizing a CSV file. This CSV file consists of the multiple source IMAP email account login details. After setting up this file, upload it into IMAP to Exchange migration tool and thereafter proceed with the conversion.
Customizable Filters for Selective Migration:
This IMAP to Exchange Online tool is the most adaptable and adjustable utility. Utilizing a variety of custom alternatives, you can undoubtedly change the default behavior of the convert IMAP folders to Exchange process in order to meet the particular necessities. By picking these choices, the users can apply various filters to selectively export IMAP mailboxes to Exchange server.
Convert all IMAP emails or individual mailboxes.
Export IMAP to Exchange online with a particular category of emails that comes in a specific date range.
Effectively move IMAP mailboxes to Exchange Server by data filter like From, Subject, To.
Consistently Maintains the Data Integrity
The source IMAP emails with attachments and metadata remain protected during the IMAP to Exchange migration task. In addition, the data present in the IMAP mailboxes don't get disturbed in any way – it stays as of original even after converting IMAP folders to Exchange server.
The software keeps intact all attached files while users import IMAP to Exchange server.
The inserted pictures in the IMAP email messages are preserved while you change IMAP to Microsoft Exchange.
Transfer one IMAP file or multiple IMAP files, or bulk migration IMAP mailbox to Exchange in a single attempt.
Self-descriptive and Intuitive Interface
This IMAP server to Exchange online tool is incredible and reliable. It is intended to provide a positive IMAP to Exchange migration experience for the users. It has the ability to move all IMAP mailboxes to Exchange Online, Hosted Exchange with on-premises. All this migration includes the transfer of attachments, tasks, notes, archives, calendars, as well.
How to Convert IMAP Mailboxes to Exchange 2019, 2016, 2013, 2010 with All Email Elements ?
In order to use this software for migrating IMAP emails to Exchange, first ensure to fulfill these requirements.
Minimum Hard Disk space- 48.7 MB
Windows Compatibility- Windows 10, 8.1, 8, 7, XP, Vista, and old versions
Now, proceed to these guidelines to import IMAP emails to Exchange Online:
First of all, download and install the setup of IMAP to Exchange migration tool on any of your Windows or Mac machine.
Then, enter the email address and password of the source IMAP email account. Also, specify your IMAP Host and IMAP Port No. Click on Login to continue.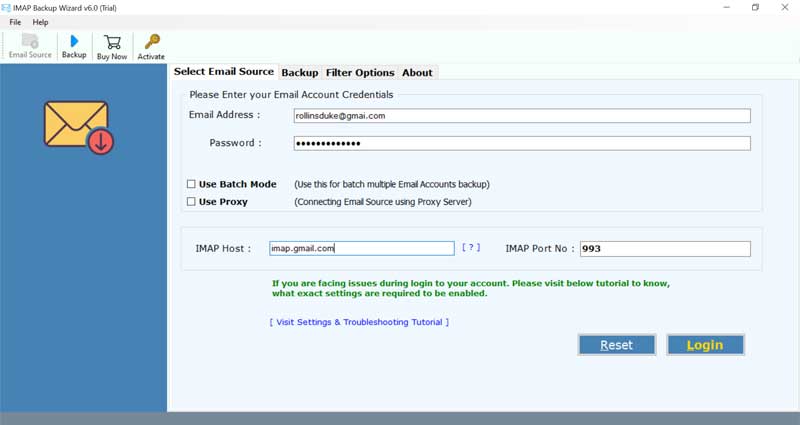 Next, if you want to migrate multiple IMAP mailboxes to Exchange, then make sure to enable the 'Use Batch Mode' option. After tapping on this option, the following screen will appear.
Now, make a CSV file and enter all the email addresses and passwords of your IMAP server account. Upload this CSV file into the interface of the tool and click on the Next tab.
Please note that if you wish to use a Proxy Server then you can connect your IMAP account with multiple locations. Hence, fill up the Proxy address and Proxy Port No.
After this, the software starts analyzing all emails from the IMAP server and will instantly load them into the user's panel. Next, enable required or all IMAP mailboxes which you want to move to Exchange Online.
Then, go to the Saving options list and choose Exchange Server from it.
Enter the Domain/ user name and password of the Exchange server. Also, enter the Server name.
Important Note- If you are an administrator, then enable the 'I am Admin' option. It permits to execution of different account mapping. For utilizing the user accounts, make sure that you have enabled the Application Impersonation and mailbox delegation.
This toolkit also offers features to selectively convert IMAP folders to Exchange Server. In order to do so, check on the box of 'Use Advance Settings for Selective Backup'.
Lastly, tap on the Backup button to start the IMAP to Exchange migration process.
Some More Reasons to Change IMAP to Exchange Server
Being an IT professional, I regularly lookout for a better user experience. Also, it's my general requirement for transition between different collaboration systems. Since from past few years Microsoft has evolved drastically, So I want to switch to Microsoft Exchange 2016. How Can I execute IMAP to Exchange 2016 migration without losing any information? – Anthony, Venice 
I need a comprehensive solution that could me to help 1200+ IMAP mailboxes to Exchange Online. Please recommend me a trustworthy solution to convert IMAP folders to Exchange online? – Stephen, California (Project Manager).
We are switching from our parent organization to our own completely new server. Is there any method to move mail from IMAP to Exchange? – Lisa, UK (IT Manager)
Let us help you!
In this blog, we have explained the popular user query 'how to execute IMAP to Exchange migration?'. We hope that now you can easily convert IMAP folders to Exchange online without any hassle. If still you are confused with any queries, feel free to contact our technical support team. We are always available for you 24*7.