Can Gmail Import IMAP Email Account ? – Resolve the Issue in Few Seconds
When you move to a new email service, your current mails are not actually migrated over to the new mailbox. Imagine a situation where you need to migrate IMAP to Gmail but don't know how to do that. Below, we have outlined the steps to solve query – "Can Gmail import IMAP email account" ?
Please Note:- The most traditional method to do this sort of email migration is to allow Gmail for IMAP settings. But, such manual approaches might create some message duplication. Also, this process will require to leave a user-based application running all the time to fetch all messages. This is a serious downside which can really waste user's time and efforts.
So, if you simply wish to import all emails from your IMAP email account to Gmail, then the easiest thing which you can do is to use a professional solution.
BitRecover IMAP Mail Backup tool is a one-step solution which can help you to directly transfer IMAP data to Gmail account. It offers a complete migration of all email items: attachments, contacts, calendars, tasks, notes, journals, etc. There are no data loss issues associated with this software and users can easily resolve the query of "Can Gmail import email account" by themselves.
It's a reliable and versatile application that runs both on Windows and Mac OS. So, let's get started!
What you will need?
The Email ID and Password of the Gmail account you want to migrate.
Account credentials of your IMAP email account.
How Can Gmail Import IMAP Email Account ? – Read the Complete Steps
Launch the software on your machine to start the process.
Now, connect to the IMAP mailboxes by entering the account details of your IMAP server. Here, you need to enter email address, password, IMAP host, IMAP Port No. Thereafter, tap on login button to continue.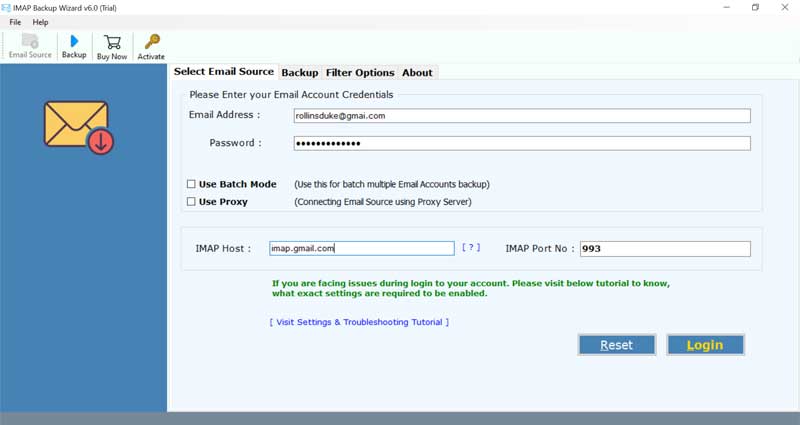 Note:- If you have multiple IMAP email server mailboxes then please enable the "Use Batch Mode" option in the toolkit.
Thus, the software will automatically starts fetching your IMAP mailboxes. Choose the desired ones which you want to transfer.
Then, choose Gmail as saving option from the tool and enter the account details of your destination Gmail account.
That's it! Press on the Next tab to start the processing. The tool is running and will give a completion message at the end of the process. Now, you can login to your Gmail account to get those IMAP messages.
Therefore, in this way one can efficiently solve query of can Gmail import IMAP email account.
Can Gmail Import Emails from Other IMAP Accounts ? – Best Tool to Resolve this Issue
1. CSV file for huge IMAP server mailbox transfer
For ease, the users can transfer multiple IMAP mailboxes to Gmail for Mac & Win OS by using a CSV file. This CSV file consists of the source IMAP server login details of different email accounts. You can import this CSV file to software panel to automate the process.
2. Extra-ordinary and Advanced Filters
This software is the most simplest application for resolving query of can Gmail import IMAP email accofunt. Using an array of custom options, one can alter the default behaviour of full process to fulfil the particular needs. By selecting these options, you can apply a criteria that filter the messages in many ways.
Move all IMAP folders or individual folders
Transfer a specific subset of emails that fall within a specific date range.
Import IMAP server mailboxes to Gmail by applying filters like From, Subject, To.
3. Preserves data fidelity
The original IMAP messages including the metadata is kept intact during the process to resolve problem of "can Gmail import emails from other IMAP accounts". Moreover, the source IMAP server messages do not get compromise in anyway – it remains in the original form even after the email transfer.
The utility preserves attachments during the process of "can Gmail import IMAP email account" process.
The embedded pictures are maintained with the mailboxes throughout the processing.
Transfer single IMAP file / folders or all files / folders in single round of migration.
4. Easy to understand Graphical User Interface
This tool has smart features and comes with interactive GUI. It is designed to offer a positive IMAP to Gmail Backup experience for the end users. The users can effectively move single as well as multiple IMAP messages in batch mode.
The Closure
In the above blog, we have explained the most frequently asked query – "Can Gmail import IMAP email account". The solution described in this write-up is easy and is useful for both home as well as corporate users. It is also a bonus for those individuals who have got more than one IMAP server account and wish to perform a hassle free email migration into Google mail. If you have got any query, please feel free to contact to our technical support team.