How to Mass Delete Cox Email Messages?
I am deleting all the old emails in my Cox email account, and there are thousands of them. Removing one-by-one doesn't seem a better option? Can I mass delete Cox emails in one go with attachment? If yes, how's that possible?
–         Harris Mayor
In the Cox webmail service, deleting bulk emails from the account is a bit of trouble. Many of its users complain that when they try to delete multiple Cox emails from their account, some of the selected messages delete, and the rest are not. This way, they can't delete Cox emails in mass numbers.
Are you also wondering how to delete all Coax emails at once? If yes, you landed on the right guide.
Here, we will take you to an excellent solution to delete all Cox webmail emails at once. It is a super easy and quick method that works for both home users and organizations. So, let's get started.
First, let's take a look at the email deleting options provided by the Cox webmail.
Delete Cox Webmail Emails: Understand the Restrictions and Why Not a Good Option ?
Cox Communications, also known as COX broadcasting, is the largest telecommunications provider in the United States. It offers multiple services, one of which is Cox webmail service. In August 2019, Cox announced that it would no longer provide the ability to create new Cox email accounts for new and existing Cox Internet customers. It means that you will have to manage your email through your main account.
However, Cox Webmail also provides some options for deleting Cox emails. Find two options in the following section.
Delete a single or multiple Cox message
Select the email you want to delete.
Click the trash icon between forwarding and the set color icon, or press the Delete key on the keyboard.
Limitations in Using the Above Method to Delete Cox Email
The delete option provided by the Cox webmail is unsafe and tedious. Every time you select an email to delete from your Cox account, it removes from the mailbox but still lies in Trash. Then, you have to go and delete it from the Trash folder. It involves a technical mind and lots of patience.
If you have hundreds and thousands of emails to delete from Cox webmail, then the manual solution is not good at all.
So, let's see a reliable automatic solution to bulk delete Cox emails with attachments in one go.
Use Automated Software to Mass Delete Cox Emails At Once
BitRecover EmailRaser Wizard is the most satisfactory solution to bulk delete messages from Cox webmail without any trouble. It is a straightforward and speedy platform that can instantly delete all Coax emails in one go. The software can delete a folder in Cox webmail or delete large amounts of emails in Coax. Its method and working approach to mass or bulk delete emails from Coax are easy and fast. Before taking a look at the full step-by-step process to delete Cox webmail emails, know about a free trial.
Download Software Free Edition Without Giving Payment Details 
Before starting the work phase, please quickly test the free demo version. It doesn't require any payment details, and then you can evaluate the functionality of the software. Running the trial edition, you can delete the first 25 emails from your Cox email account quickly. After that, to erase more messages from Cox webmail, you need to activate the license edition.
Solved: How To Delete All Emails From Cox Webmail Step-by-Step
Follow the given steps to mass delete messages from Cox's webmail account easily.
Step 1: Start the software on your computer.
Step 2: Now, select Cox from the email source and then enter Cox's Webmail login credentials and click Login.
Step 3: If you want to delete the batch Cox email accounts, please select the "Use batch mode" option.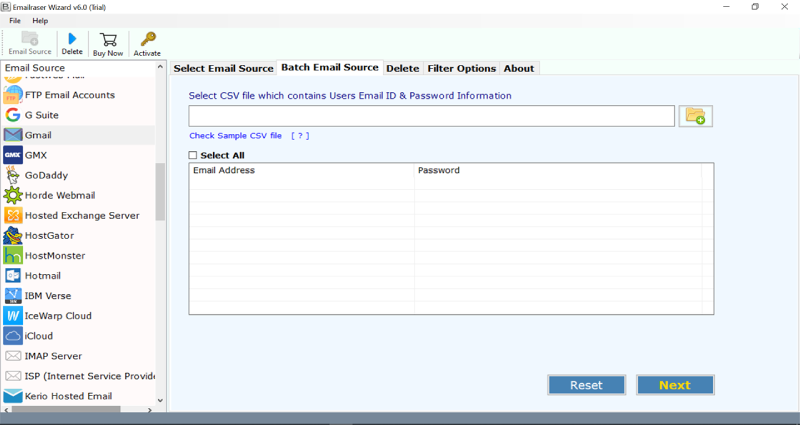 Step 4: The software starts analyzing Cox emails and lists them in the software panel.
Step 5: Now, choose the desired Cox mail to be deleted.
Step 6: You can also check "Advanced users settings" for selective deletion.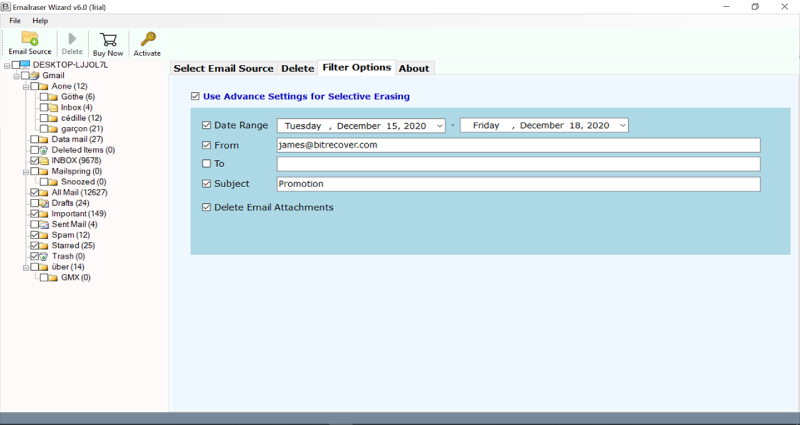 Step 7: Finally, click the Delete tab to begin the process.
Step8: Click the Yes button to confirm the message "Deleted emails cannot be retrieved."
Step 9: The tool starts deleting mass Cox emails.
Click on the Ok button and exit from the task.
How is the Software Ideal for Deleting All Cox Emails? Read Valuable Features
It provides an option to delete Cox emails in one round of processing, saving users time, and improving work efficiency.
The tool has a data filter option to delete emails from Cox webmail selectively.
Users can delete all Telstra emails by date range, subject, sender, attachment, etc.
It is a one-stop solution for deleting inbox mail, outbox, personal folder email items.
The software is an easy-to-understand, neat, and interactive interface to access the tool.
It is highly compatible with all Microsoft Windows OS versions, such as Windows 10, 8.1, 8, 7, XP, Vista, etc.
There are no restrictions on the licensed version for deleting mass Cox emails.
The Conclusion
How can I mass delete Cox emails query has been troubling a lot of users. It is why we have come up with an ultimate guide for deleting Cox webmail emails. We have mentioned both the manual and automated solutions for your work. In case you have any doubt about using an automated solution, our technical team is just an email away.
More Suggested Blog Posts:
Permanently Delete Emails from Outlook 365
Delete Gmail Emails in Bulk
Permanently Delete Emails from Hotmail
Delete AOL Emails in Bulk