How to Delete Comcast Emails in Bulk Permanently from Account ?
In today's blog get to know about a simple and effective method to delete Comcast emails in bulk.
We don't all get a similar number of messages. It changes from one individual, for instance, the number of companions you have, how frequently you shop on the web, and the number of "memberships" you have to sites.
Furthermore, that does exclude the entirety of the business-related messages you likewise may get each day. That is the reason it's not irregular for certain individuals to have hundreds or even huge number of UNREAD messages in their inboxes.
So, in order to make your email account clutter-free, we advise you to delete emails permanently. In this blog post, we are going to describe a proper solution on how to delete Comcast emails in bulk.
Permanently Delete All Comcast Emails at Once
One explanation your Comcast inbox could be accumulated is those computerized messages that are conveyed by organizations and promoters.
That is a major reason for the issue—emails gather so quickly and in mass amounts that overwhelm your Comcast inbox. Also, on the grounds that we're all so occupied, it appears wrong to require some time just to delete old emails in Comcast account.
It's an ideal opportunity to put an end to this problem. Here, we have come up with the best method to get your Comcast email inboxes leveled out once more.
BitRecover Emailraser Wizard is the most appropriate solution to permanently delete Comcast emails at once from account. You can mass delete emails on your Comcast account to clean out your inbox.
The software provides a feature to delete all emails on Comcast's account in a selective manner. The available options are that now you can delete messages from Comcast by email address, Subject, email attachments, date interval, etc.
Now, in the next section of the blog, learn in detail how to delete all Comcast emails at once.
How to Delete Comcast Emails in Bulk ? – Learn the Stepwise Procedure
After a brief introduction about the software to delete Comcast emails now, read the steps to perform the same.
Initially, download the setup of software on your computer machine. You can run the tool on any Windows PC. So, install it properly and start the task.
Firstly, choose the Comcast option from the list of email sources in the toolkit.
Then, enter the login details of your Comcast account. Tap on the Login option at the bottom of the screen.
Please note that you can also select the 'Batch Mode' option to mass delete multiple Comcast accounts at once.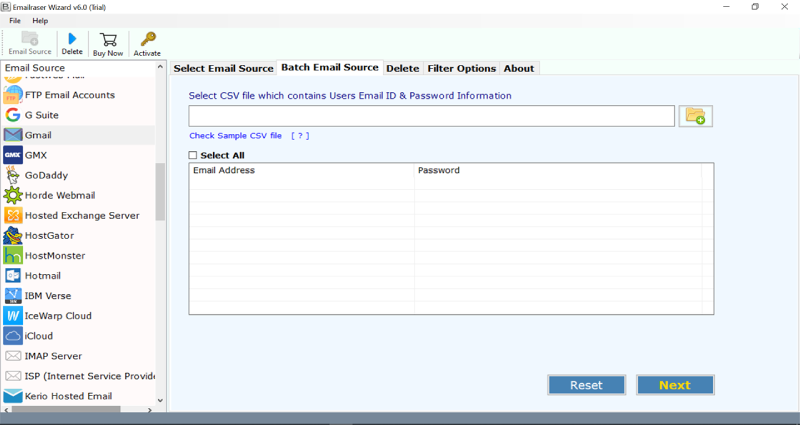 Now, the software starts fetching all emails from the Comcast account. You can see the preview of all mailboxes in a tree-view form. So, just enable some selective folders or all folders to delete Comcast emails.
Reminder: Before going to the final step, please keep in mind that once you have delete Comcast emails and attachments, they can't be retrieved back. Hence, select the folders cautiously.
Navigate to the Filter options list and enable the 'Use Advanced Settings for Selective Erasing' option. Choose the desired options and go back.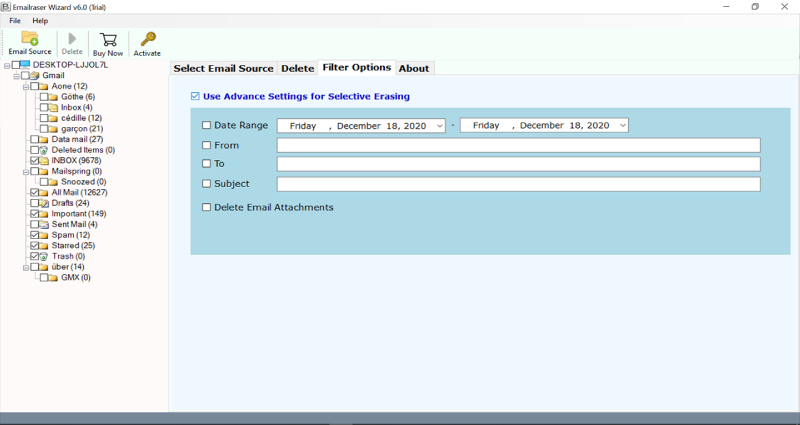 Click on the Delete button to begin the process to delete emails from Comcast account. The Warning message appears on the screen, click on YES to confirm.
Soon, the processing to delete all Comcast emails at once begins.
What Features does the Software Holds ?
It's a rapid method to permanently delete emails from Comcast account at once.
Users can delete Comcast emails in bulk within a single attempt.
It gives the facility to delete all messages on Comcast account or some specific messages from Comcast mailboxes.
The software grants users to delete Comcast emails by Subject, ID, Attachments, etc.
It has a simple User Interface that helps for easy access to a novice person.
The tool supports all Windows OS- Windows 10, 8.1, 8, 7, XP, Vista, etc.
Regularly Asked User Queries
How do I mass delete emails on Comcast account?
In the software panel, choose all folders from the Comcast account and start the process to delete Comcast emails in bulk.
Does software allow to delete multiple Comcast accounts emails at once?
Yes, the Batch Mode option helps to batch delete Comcast accounts emails.
I have over 10,000 emails in my Comcast account. I can't delete Comcast email permanently from account. Is there any suitable method for the same?
Yes, you can permanently delete Comcast emails with the help of the above-suggested solution.
I want to delete all Comcast emails received from a particular person. Does your tool permit to perform the email deletion?
Yes, you can select the 'Advanced Mode for Selective Erasing' option and sort your email list by the 'From' or 'Sender' option.
Summing up Together
There is no manual method available to permanently delete all emails on Comcast account at once. So, when you are dealing with a lot of messages, it's a wise decision to clear up the overflown messages from account. In this blog, we have given a complete method to delete Comcast emails in bulk. The process is simple and straightforward. Hope you liked it!
You may also be interested in:

Permanently delete emails from Office 365