How to Delete Multiple Emails in Zimbra Account Permanently ?
There are so many users across the globe who receive a lot of emails with large attachments. Due to large email accumulation, the storage space gets reduced. If you are finding your Zimbra email account getting too overloaded with emails and attachments then we recommend to delete Zimbra emails from all mailboxes at once. This will facilitate to keep your server performance better while also maintaining your costs down.
Automatic Solution to Delete Multiple Emails in Zimbra  
Have you decided not to store all old Zimbra messages and searching for a solution to delete multiple emails in Zimbra account so as to minimize the usage of storage space on the server? If yes, then we have got you covered.
Deleting all old Zimbra messages is beneficial if you are not willing to refer to a particular email for example, over a month/ year old. Though one can manually delete all mails in Zimbra account that will be not a time-saving solution for everybody.
Having said that, it is absolutely the right decision to delete Zimbra mailbox messages, especially which are irrelevant.
BitRecover EmailRaser Wizard
is the easiest solution to delete Zimbra mail account emails at once. With this software, you can choose any of your inboxes, sent, or any other custom folder emails which you may have created and precisely delete Zimbra emails you no longer need. Moreover, you can utilize the data filter options to make a filter to search emails that match your preference and automatically delete them.
How to Delete Zimbra Emails from All Mailboxes ?
So, now follow these guidelines to delete Zimbra mail database:
First of all, download and install the setup of software on your computer.
Then, in the left panel of UI, you'll see the Email Source list. Scroll down and choose 'Zimbra Cloud' from it. Thereafter, enter the Zimbra mail account login details in the respective fields. Along with it, tap on the 'Login' button at the bottom of the screen.
After this, the software starts fetching all mailboxes from your account. So, enable the desired emails to delete from Zimbra mail.
*Please Note* Once emails or attachments are deleted from the Zimbra mail account, they cannot be retrieved back. So, choose folders cautiously.
In the Filter options section, enable the required filters which you want to apply for deleting emails from Zimbra.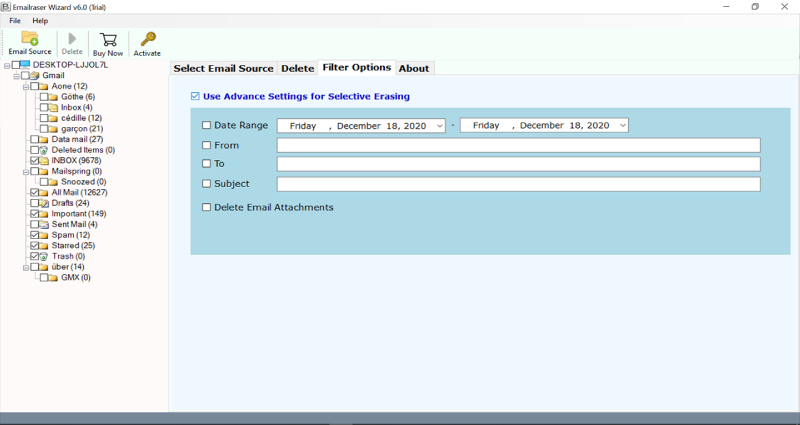 Lastly, click on the Delete button and start the process to delete Zimbra email from all mailboxes. Click on Yes button when you receive a warning message.
Finally, the Zimbra mail deletion process has started. You can see the live process in the software panel.
Once the task ends, a message appears 'Deleting email messages completed successfully'. Tap on OK to exit.
Benefits of Software
It's a swift process to delete all mails in Zimbra account at once.
Users can delete multiple emails in Zimbra cloud to save time and efforts.
It gives option to delete specific Zimbra email from all mailboxes.
The tool permits to delete Zimbra messages by Subject, ID, Attachments, etc.
It comes with a clutter-free interface which makes a quick access to software.
Bulk delete all old messages from Zimbra to clear redundant email messages from folders.
The software is compatible with all Windows OS- Windows 10, 8.1, 8, 7, XP, Vista, etc.
Common Queries of Users
Can I use this software to delete Zimbra email older than one year?
Yes, you can choose a particular Date interval and delete Zimbra mail from any mailbox.
Does your software allows to delete Zimbra messages by ID?
Yes, you choose the 'From' and 'To' option from the 'Data Filters' in order to delete Zimbra emails by email address.
Is this tool sufficient to delete all mail from Zimbra account?
Yes, you can choose any number of email messages and can easily delete multiple emails in Zimbra account.
Conclusion
In the above blog, we have explained a detailed description of how to delete Zimbra emails from all mailboxes. The tool distinguishes a lot of email messages from Zimbra email account and makes it easy for you to perform batch deletion of Zimbra messages. You can also use this software delete Zimbra mailbox attachments only. It gives you a powerful set of features that are quite beneficial.
Feel free to contact our technical support team if you are hassling with any query.
You may also be interested in:

Permanently delete emails from Office 365