How to Backup Zimbra Mailbox to Local Storage with All Email Components ?
Does your Zimbra user account ever piled up to a point that you find yourself agitatedly deleting essential emails in order to halt within your storage limit? Why not backup Zimbra mailbox to local desktop where you don't need to count towards your account restrictions? Our team at BitRecover has found an exceptional way to backup Zimbra mailbox local folders, database to webmail and other email accounts by using the Zimbra Converter Wizard.
How to Backup Zimbra Mailbox to Local Desktop ?
Follow these steps to backup Zimbra email locally:
Download and start Zimbra mailbox backup tool on Windows.
Choose Zimbra exported TGZ files with dual options.
Select desired Zimbra user account folders for backup.
Pick any file saving option from Zimbra mail backup tool.
Begin to backup Zimbra account emails to PC.
What so Special about Zimbra User Account Backup Tool ?
The first time you or your technical friend followed any manual steps for Zimbra mailbox backup may taken an hour to finish the process. But, we care about the user's time and efforts. In this article, we will laying out step by step guidelines for how to backup Zimbra desktop emails to local storage. This way you can still have an access to all of your Zimbra desktop email folders without having them fill up your Zimbra storage.
With the Zimbra mailbox backup solution, you have plethora of options to backup Zimbra mail database – emails, contacts, briefcase items, etc. it is the most helpful solution for taking backup Zimbra user account at once to local computer. Best thing with this software is that it is consistent with all Microsoft Windows Operating Systems.
Detailed Explanation of How to Take Zimbra Account Backup
Here are the steps you will need to take backup from Zimbra account to computer hard drive. But, before moving towards the steps, please download the free demo version of Zimbra desktop backup solution. It permits to backup few Zimbra emails to PC. For unlimited backup, buy the license keys.
Step 1- First of all, launch it on any Windows machine and read the full guidelines given in the tool.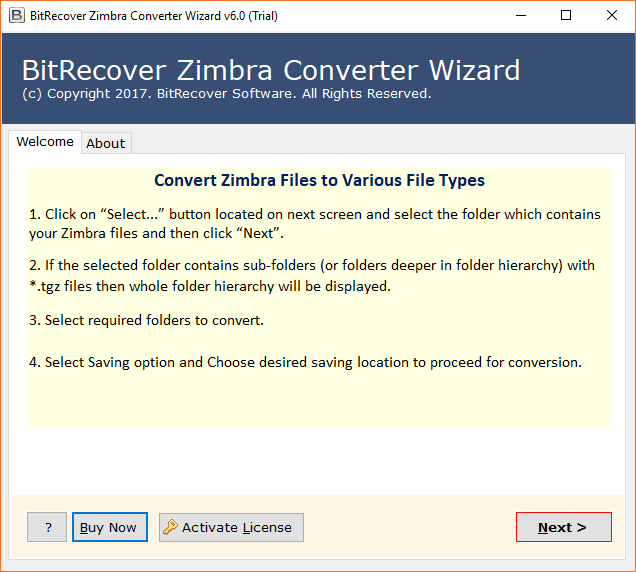 Step 2- Now, choose either of 'Select Folder' or 'Select files' option to upload Zimbra emails into GUI.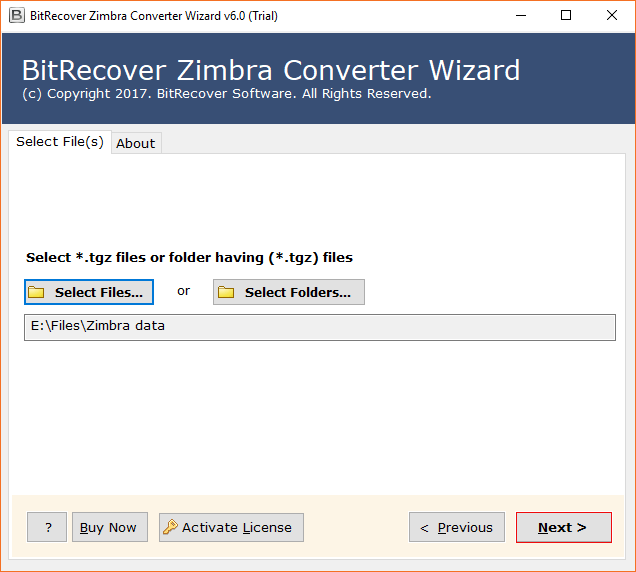 Step3- Then, enable desired Zimbra desktop email folders for which you wish to take email backup.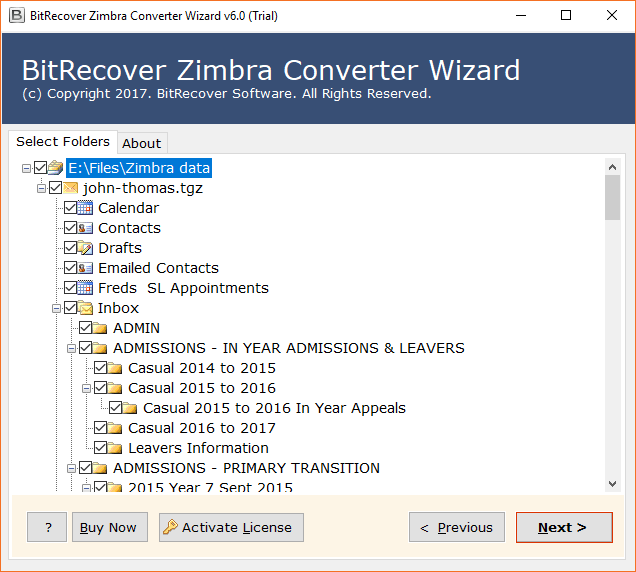 Step4- Thereafter, pick any file saving option from the software.
Step 5- Lastly, specify a required desired destination location to which you want to take Zimbra mailbox backup.
Step 6- Setup file naming options for managing the email data. Hit on the Next tab to start to backup Zimbra mail backup on local PC.
Step 7- Now, the process to backup Zimbra desktop emails is running in the software. It will take sometime to get finished. Once it is done, the application will give a completion message.
Check your results:- Get your resultant Zimbra mail database backup at the chosen location on computer. You will now have all emails stored in your Zimbra desktop. At this point, you can view all your Zimbra mailboxes locally and delete every unwanted data items from Zimbra too.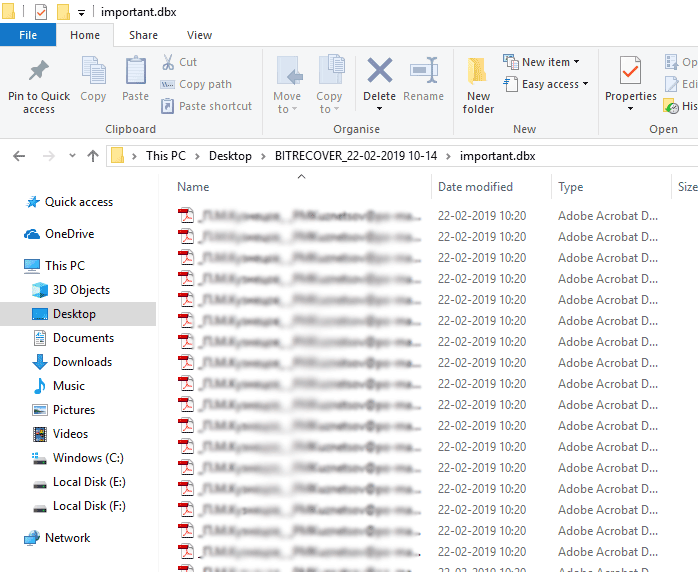 Zimbra Mail Backup Tool – One Software, Multiple Benefits!
Zimbra backup tool is here to help with your Zimbra mailbox needs. One can use this software to backup Zimbra desktop emails to multiple file formats. It is programmed in such a manner that you can backup multiple Zimbra email database to webmail like Office 365 and email clients such as Thunderbird. Take the help of this wizard to backup bulk Zimbra emails to different platforms as per your needs.
Have a glance at some important features of software-

1. Gives facility to backup single or multiple Zimbra desktop local folders to computer.

2. You can selectively backup Zimbra mailbox to local stoage.

3. Access this software on any Windows OS without any difficulty.

4. Free demo version for evaluation purpose.

5. No external installation of any other application for backup process.

6. Take backup of Zimbra email account in batch to save time and efforts.
Directly Backup Zimbra Account to Office 365
Today importance of webmail is not hidden from any person. This utility makes easy for the users to backup Zimbra desktop local folders at once to webmail like Office 365. The software does not require any technical proficiency to execute email backup of Zimbra mailboxes.
Take Zimbra Desktop Email Backup to Thunderbird
Desktop email clients are best medium to have all mailbox data locally on your computer. It permits the usage of emails when you are offline too. If you are looking to backup Zimbra mailbox to Thunderbird, then use this application. It will directly move all Zimbra emails to Mozilla Thunderbird with complete data items.
Backup Zimbra Desktop Local Folders to Adobe, Word Files, Text Documents
Adobe PDF is the most safe file format for saving your data at one place. Reason being you can always put a strong password on PDF files so that only the admin can view or edit the content. This application can efficiently backup Zimbra user account to PDF format. Apart from this, if you are looking to migrate your Zimbra mailbox data to word documents or text files. Even then this utility can be helpful to you. It gives a direct option to backup Zimbra email to DOC, TXT file format.
Closure
This was the best approach to backup Zimbra mailbox to local desktop, webmail accounts. The software is a great program for both technical as well as novice people. Whenever your storage space of Zimbra account exceeds a certain limit, it's not easy to decrease emails in your account. In such cases, one can seamlessly take a full backup of entire Zimbra mailbox items including the attachments. This solution is ideal and will suit for the needs of all kind of users. Let us know if you are having any doubt regarding the software or the backup process. Our technical support team is always available to solve your queries.