How to Save Zimbra Emails to Hard Drive ? – A Quick Procedure to Backup All Zimbra Content Locally
How to save Zimbra emails to hard drive is the most asked query these days. Plethora of users are looking for an easy solution to download emails from Zimbra to local storage. Hence, we have come up with a reliable solution BitRecover Zimbra Converter tool to efficiently save all Zimbra mailboxes to computer's hard drive.
Hi, BitRecover team! These days I am using Zimbra application for the purpose of business communication. But, I am afraid of the data loss issues that has happened with me earlier also. So, this time I don't want to take any sort of risk. Hence, I am searching for a trustworthy solution that can help me to save Zimbra emails to hard drive. So, that even there is any mishappening to my email database then I bring my data back with the backup on my PC. Can you tell me any solution regarding this? Please recommend me a reliable tool to batch download Zimbra mails locally.
This was one of the scenario when a user asks for taking a backup of Zimbra emails on hard drive. Therefore, take the help of Zimbra backup solution for migrating all Zimbra emails to computer.
How to Save Zimbra Emails to Hard Drive ?
Read me first- We would like to suggest you to first take a free trial of the software. It is absolutely free of cost and permits you to save few emails from Zimbra desktop to local storage. With this, you can easily evaluate how the utility works so that you can invest on it without any second thought. For downloading unlimited Zimbra mails to PC, buy the license keys.

Now, follow this step wise procedure to save multiple Zimbra mails to hard drive:
Step 1: Download the setup file of the software and install it on your PC. Then, import the Zimbra TGZ files from your computer database. This can be done in two ways – 'Select files' or 'Select Folders'.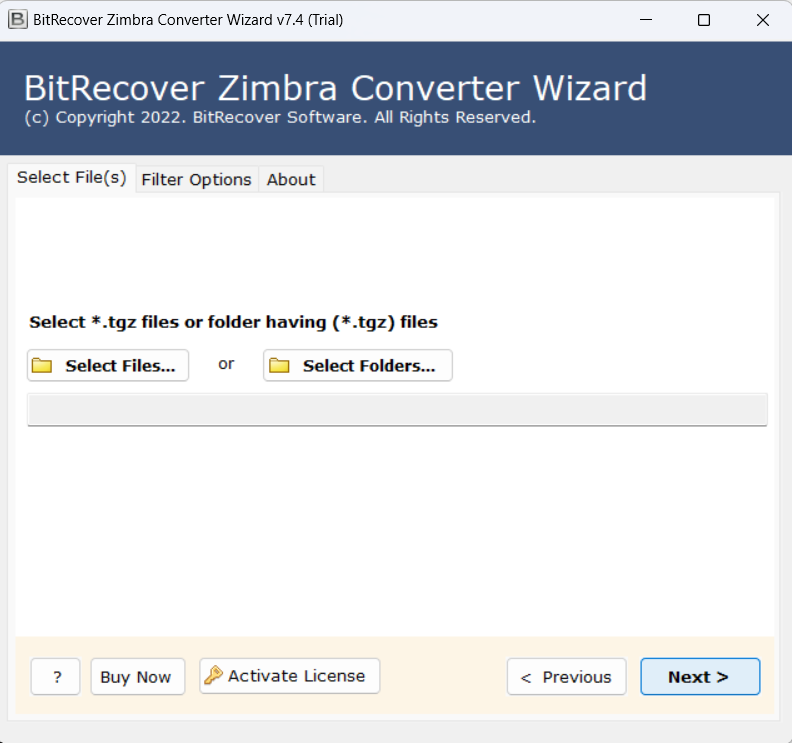 Step 2: Now, comes the next part in which you need to specify those Zimbra mail folders whose data you want to save to your PC in other file formats. Enable them and move further.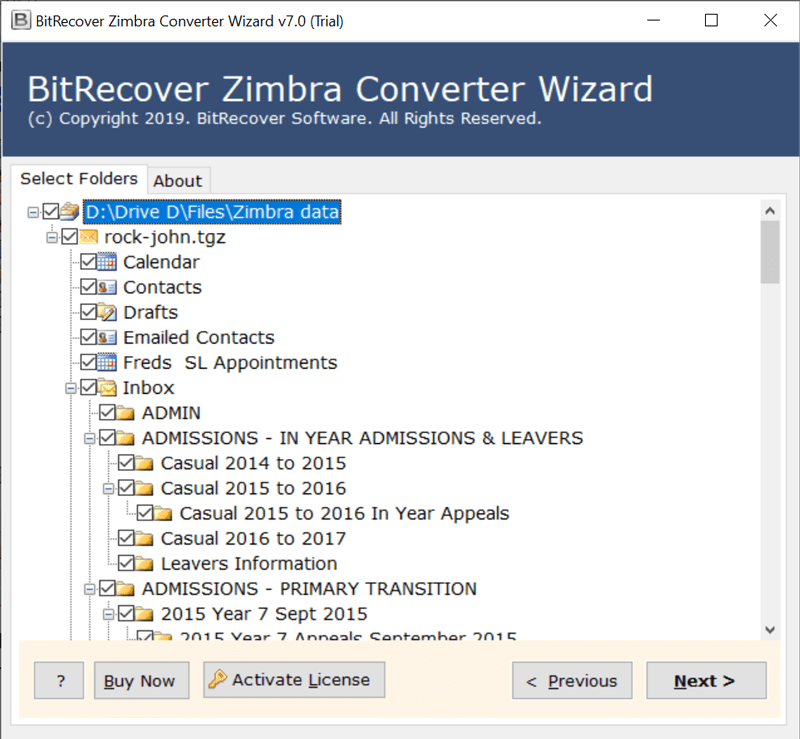 Step 3: Then, navigate to the saving options list. Here, you will get ample number of file saving types. You can choose any file saving option as per your need.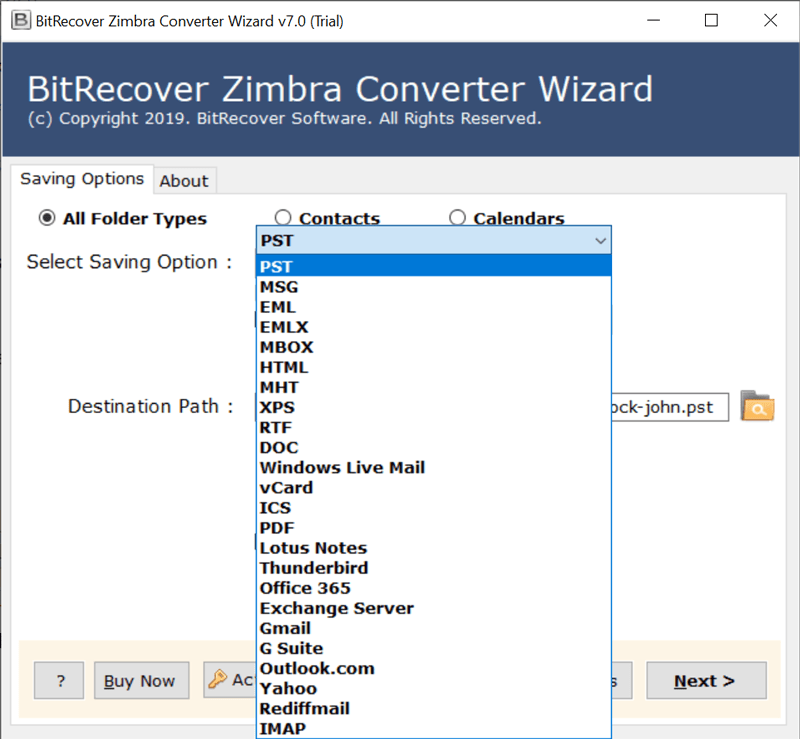 Step 4: Thereafter, enter a file naming option for managing your data. Also, choose a destination location for saving the Zimbra files on your PC.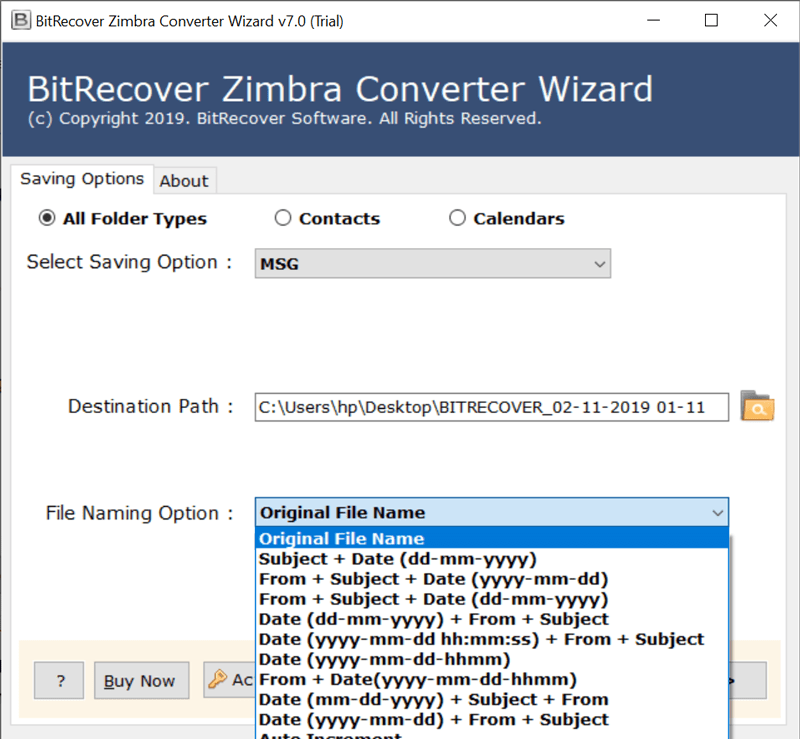 Step 5: After this, click on the convert button. That's it! Now, the process to save Zimbra emails to hard drive is running successfully. Press on OK button once you get a task completion message.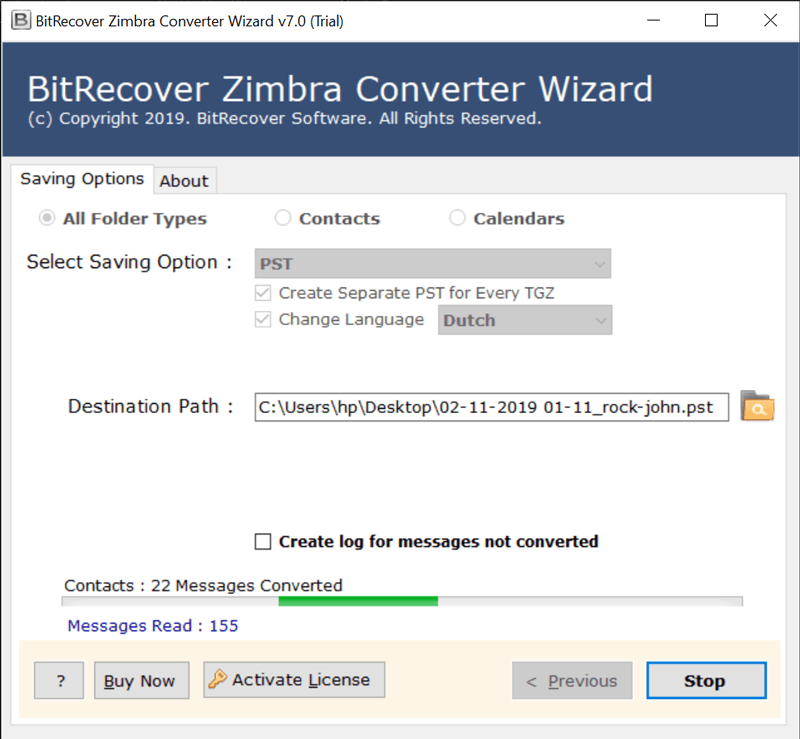 What to do Next? Open the output folder containing the Zimbra emails in the chosen file format.
See how easy it was to download emails from Zimbra mail to computer. You can do this entire processing without taking any external help. This is because, once you download this utility you will find it very easy and simple to use. There are no complexities associated with this tool. Therefore, enjoy your Zimbra emails on your computer and now you can easily recover your data during any accidental data loss.
Please Note- You can launch this application on any Windows machine. It is compatible with Windows 10, 8.1, 8, 7, XP, Vista, Windows Server versions etc.
Zimbra Email Downloading Tool – One Application Various Benefits!
This software to save data from Zimbra to hard drive is designed with several remarkable features. Some of them are listed below:
Migrate Zimbra emails to Multiple Email Services – Today every single person wants to transfer important database to cloud email services for better management. So, undoubtedly this utility is going to help you to handle your data in a more precise manner. It gives option to save Zimbra emails to various cloud-based email services such as Gmail, G Suite, Rediffmail, Outlook.com, Office 365, and many more.
Migrate Zimbra Mailbox to Email Clients – If we talk about desktop-based email clients, then this tool also permits to move all Zimbra mailboxes to them. You can handle your Zimbra mail data on offline mode too with this. The software offers various saving options such as Mozilla Thunderbird (MBOX), Apple Mail (EMLX), Windows Live Mail (EML), Microsoft Outlook (PST), etc. So, with just a click a mouse one can easily save all Zimbra emails to desktop email clients.
Print your Zimbra Emails easily – How easy it will be for you if you get all your Zimbra emails in printable form. Yes! This application offers saving options like PDF using which you can easily save Zimbra emails to PDF format. Thereafter, your data will be secured as you apply a strong password on your PDF file and print them too if needed.
Export Zimbra mailboxes to Text files – Apart from all other saving options, the utility also helps the users to move all Zimbra database to Text files, word documents.
Commonly Asked User Queries

Q: How to save Zimbra emails to Hard Drive locally?

A: Follow the steps to save emails from Zimbra to hard drive:

Download and open the Zimbra migration tool on Windows.
Choose Zimbra TGZ files which you wish to save in other formats to PC.
Enable specific Zimbra folders and select any saving option.
Enter any destination path for saving the output.
Start to save Zimbra mailboxes to hard drive.

Q2: Can I use this software on all versions of Microsoft Windows?

A: Yes, this utility is Windows-compatible. It works on all latest as well as older versions of Windows OS.

Q3: What are the minimum specifications to download the application on my Windows 8 laptop?

A: The software demands a minimum hard disk space of 68 MB and 512 MB RAM.
The Final Words
The Zimbra mail saving tool is an effective application that provides a straightforward approach to save Zimbra emails to hard drive. With the usage of this software, you can effortlessly save multiple Zimbra mailboxes to local storage. It provides accurate results and preserves the integrity of data throughout the processing. So, wisely choose your utility to download emails from Zimbra to hard drive as your data is too precious. Take a trial of demo version for free!