Know-How To Delete Charter Emails in Bulk ?
Welcome to another post of deleting all emails. Today, we will let you know how you can delete Charter email in mass without any trouble. This guide will introduce an automatic solution that enables you to delete multiple Charter emails in one click. So, let's begin.
After reading this blog post, you know:
How to delete all Charter email with attachments in one click?

How can you mass delete Charter Mail messages at once?

Can Charter email delete all in one step?
Here, you go.
The Need and Limitations To Mass Delete Charter Emails 
Charter Mail or Spectrum webmail is the application that allows sending and receiving emails with the availability of Internet connection. For any user, Charter email delete all is not an easy task. 
In Charter email account, firstly you have to select the email you want to delete. When deleted from the mailbox, then the user needs to delete email from Trash. This process has numerous limitations, such as:
Deleting a Charter email one at a time is a tedious process.

Again deleting emails from Trash is time-consuming.

Charter Webmail doesn't provide help to delete mass email at once.

Emails not permanently deleted from the Charter Mail.
Here's a user query that gives the clear picture of the challenge user face when try to delete more than one email from Charter webmail account.
Good Morning BitRecover Team,
I received a mail that my Charter email account storage space will soon touch the maximum limit and asked to free up space. For this, I decided to delete the old and unimportant emails from my Charter email account. But, I find it a very time-consuming task. Every time, I delete an email then clear it from Trash. Can you please help me with any of your software that instantly mass delete Charter email? – Daniel 
Here's all you need to know about the ultimate solution to bulk delete Charter emails at once.
Read About The Most Promising Solution To Mass Delete Charter Emails 
The only automatic and powerful solution for Charter email delete all is BitRecover EmailRaser Wizard. It is a professional and straightforward solution that let you remove multiple Charter emails with attachments at once. The software allows you to delete multiple emails from Charter webmail permanently in a few clicks. It is a complete, user-friendly application that doesn't need any specific skills for the task. 
Try Out Demo Edition Now
One of the significant advantages of using the automatic solution to bulk delete Charter email is to test its demo edition. Go to the Download Now button below and install the software's free trial edition without any payment details. Using it, the user can delete the first 25 emails from each Charter email folder. After that, hit the Buy button and get the software's license edition to clear out bulk emails from Charter account.
How to Delete Bulks Emails from Charter Webmail At Once ?
Now, understand the complete step-by-step working of the software to mass delete Charter Mail with attachments.
Go to email source list and select Charter Mail option.
Enter the credentials of your Charter webmail account – email address and password. Then, click on the Login button.
The software is analyzing folders from your account. You can check and select the mailbox in the software panel to mass delete Charter email.
Now, go to the Filter option tab in the menu option and choose the checkbox of advance setting. User can select the date range, to, from, subject filters to delete old emails from Charter webmail or any other specific email.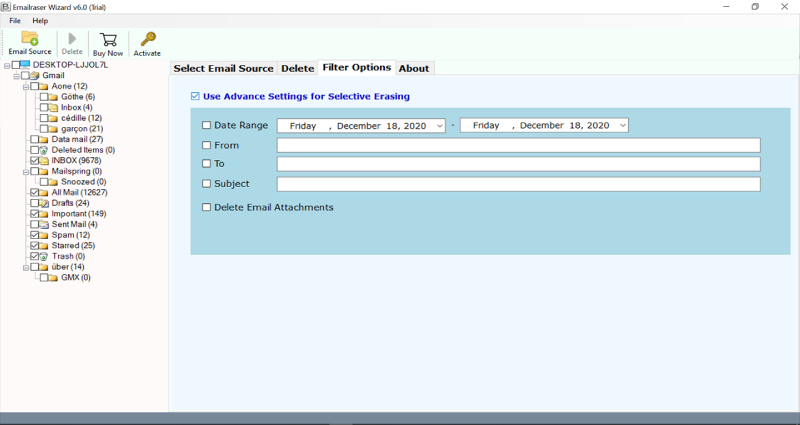 Finally, click on the Delete button.
User can see the live process to clear Charter email permanently.
Once the process of Charter delete all email completed, you get a message pop-up. Tap on Ok button, and you get a complete log.txt report. It shows the email numbers deleted from Charter webmail and which folder. That's all for the task.
Promising Benefits and Features of Software
The software gives multiple advantages and simplifies the complete process of deleting bulk Charter email permanently.
The software is the best solution for clearing out multiple Charter emails at once with attachments.

Its interface is user-friendly that any user can access to delete bulk Charter emails.

The applications give you Filter Option to remove old, unimportant, and more using the date range, from, subject, and more fields.

The software's paid edition allows users to erase multiple numbers of emails from Charter account without any limitation on email count.

The software can delete emails from any Charter Mail mailbox including Inbox, Sent, Draft, Trash, and more.

It is a straightforward, reliable, and powerful application for deleting Charter emails permanently. 

Users can download and use the software on all the editions of Windows OS.
The Conclusion
The article above provides the best way to mass delete Charter email at once permanently. It is an entirely automatic and speedy task with this automated software. The software designed for home users, professionals, organization, projects and more. It is a safe and powerful solution for Charter deletes all email. 
Other Blog Posts You might like: