How to Convert MSG to TXT Format without MS Outlook?
Emily, UK: Right now, I am working as a senior executive at a consultancy organization. There I am using MS Outlook as my primary email client service. Yesterday, my team leader asked me to batch convert MSG to TXT format due to some work requirements. Do you know any professional method that can help me to export Outlook MSG files to TXT with attachments?
Can you connect with the above query? Well, this is a very frequently asked query by users. If you are also dealing with the same problem then you can rejoice now. Because here in this blog post we have explained the premium solution to implement MSG to TXT file conversion.
100% Secure MSG to Text Converter
In order to convert MSG to TXT format for free, you can take a trial of the demo version of BitRecover MSG Converter Wizard. It enables to export MSG emails to TXT format along with attachments. If you get completely satisfied with the tool's performance then you can purchase the license keys of the product.
How to Convert Outlook MSG to TXT File?
Follow these steps to convert Outlook MSG files to TXT:
Download & Open MSG to TXT Converter.
Select required MSG files or folders.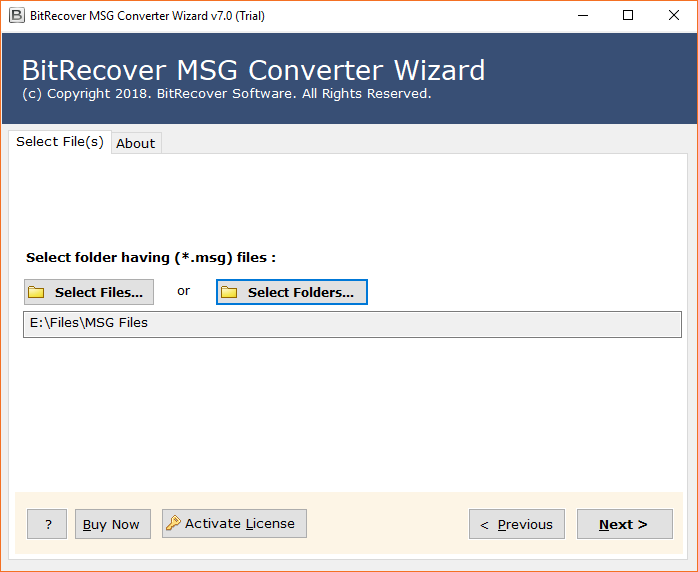 Specify and enable the MSG emails.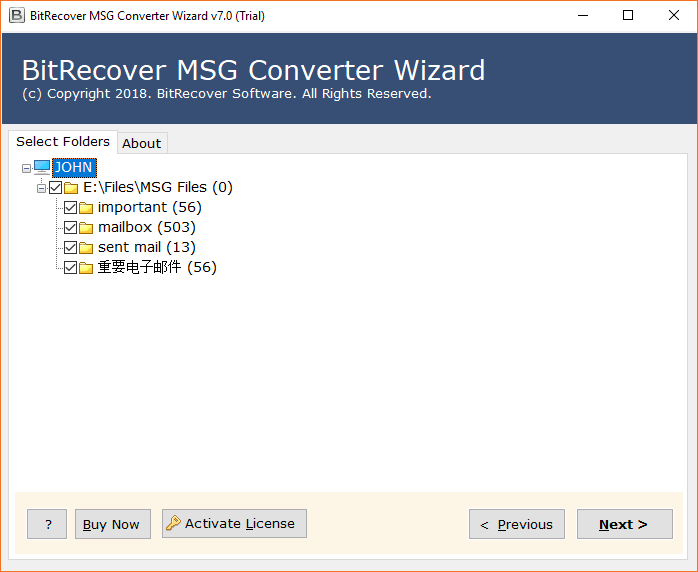 Choose TXT as the saving option.
Browse or pick the desired destination path. As well as choose a file naming option.
Click on the Convert button to start the process to convert MSG to TXT format.
Open the resultant folder that contains the text files.
MSG to Plain Text Converter – Benefits of Software
Batch Convert MSG to TXT: With MSG email to TXT converter, users easily bulk convert MSG files to TXT format. The software allows choosing more than one MSG file in order to implement the batch conversion.
Export MSG Files to TXT with Attachments: The software is programmed to convert MSG data to TXT along with respective attachments.
Migrate MSG Files with Preserved Information: MSG to TXT converter gives a consistent solution for converting MSG to TXT files with preserved email properties. It maintains all email headers like To, Cc, Bcc, Subject, Date, Time, inline pictures, hyperlinks, appended documents, email formatting, etc.
Accurate Conversion: During the conversion of MSG emails to TXT, the application maintains the uprightness of information. It guarantees 100% assurance that no change will happen to the original email message.
No Outlook Dependency: It is a totally independent utility that doesn't need the Outlook installation on a machine.
Distinctive File Naming Options: The MSG to TXT export tool gives different file names which are helpful for keeping the output files in a deliberate way.
Free Trial Version: If you want to test the capacities and features of software prior to buying. Then, you can do this thing with the free demo rendition. This will permit you to export top 25 MSG data files to TXT format.
Regularly Asked Queries
Q1: Can I choose my own destination location for saving the MSG to TXT converted emails?
Ans: Yes, the tool gives you the opportunity to pick a target saving path for storing the output.
Q2: I have in excess of 550 MSG files inside a folder and I wish to batch convert MSG to TXT with attachments?
Ans: Yes, simply pick the necessary MSG documents from your PC and choose TXT as a file saving option. Thereafter, you can convert Outlook MSG files to TXT in bulk.
Q3: Can I utilize the MSG to TXT converter on Windows 8.1 OS?
Ans: Yes, it is compatible with all Microsoft Windows including the Windows 8.1 machine.
Is MSG to TXT Converter Online Better Than Offline Tool?
No, working professionals never want to use any online tool that says to upload user's data on web. MSG to TXT Converter Online Tool is not much secure and reliable compared to offline tools. Online Software is riskier for users because sometimes it messes up in crucial data. Even, you can become a target of cyber fraud because the tool can keep your personal data on its server.
You should use an offline .msg to .txt converter to convert Outlook MSG to Text. Because this software can work without internet connectivity. Even it is capable of batch convert MSG to TXT. Offline Software provides the fastest speed during convert MSG to plain Text format. Thereafter, you can open output files with Notepad program.
Conclusion
In this blog post, we have explained the overall process to convert Outlook MSG emails to TXT format. This software is free from any bugs or errors so you can efficiently install the application on your PC. There will be no hassle regarding its usage. Thanks for reading!