How to Convert DjVu File to JPG Format ?
DjVu is a popular file format that is made fundamentally to store scanned reports, particularly those containing a blend of text, line drawings, indexed color pictures, and photos. Though this format is acquiring prevalence, viewing DjVu files might be hazardous and will need plug-ins or viewers ready to open and decipher them. To make the DjVu files accessible, convert DjVu to JPEG utilizing BitRecover DjVu to JPG file Converter. JPEG will make the DjVu documents fit for the web, email, and much more.
Part 1: Free download DjVu to JPG Converter Tool
If you are exploring a method to convert DjVu file to JPG then BitRecover DjVu Converter is the destination, you should head to. It is one standalone application that is compatible with the large conversion of DjVu documents into a wide range of file formats like JPG, PDF, DOC, DOCX, XLS, HTML, GIF, JPG, PNG, TIFF, PSD.
The whole process incorporates just a few mouse clicks. If you are a basic user and want to test it for free then try the DEMO VERSION. For advanced usage and export DjVu file to JPG without limitations, please upgrade the license keys.
Please go through these guidelines to convert DjVu to JPG format:
Launch DjVu to JPG Converter Tool.
Choose single or multiple DjVu files.
Enable specific DjVu files for conversion.
Set up destination and advance mode options.
Start to convert DjVu to JPG images.
Part 2: How to Convert DjVu File to JPG Format?
Step 1. Launch DjVu to JPG Converter
When downloaded and installed successfully, start the DjVu to JPG Conversion tool on your Windows computer.
Step 2. Upload DjVu Files
Now, you will see a Select Folders… and Select Files… option in the middle of the software interface. Both of these tabs will enable you to select the DjVu files. Pick either of them and then select DjVu documents that you have to convert into JPG.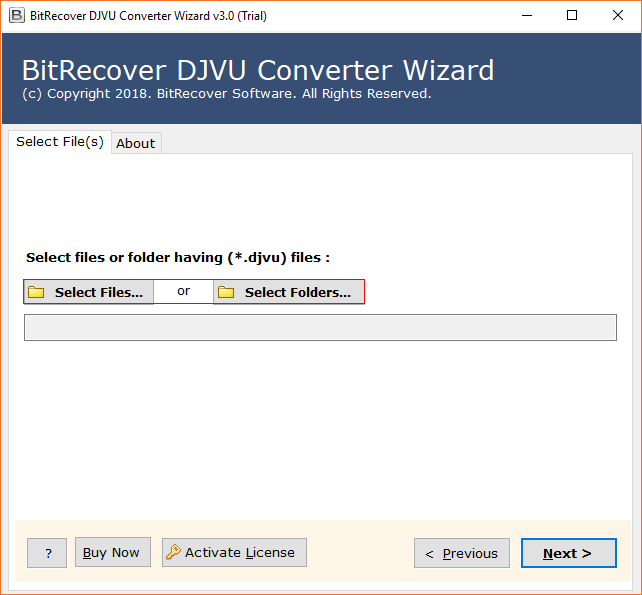 Step3. Choose Required DjVu Documents
Here, you can read the page count information of DjVu folders. So, enable required DjVu folders that are needed for migration.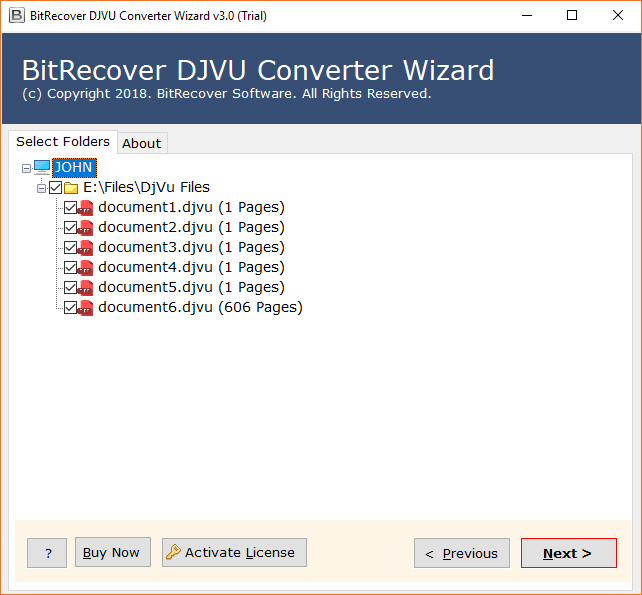 Step4. Choose the JPG Format
Thereafter, navigate to Select Saving Option and choose the 'JPG' option from the drop-down menu.
Step5. Set up an Advanced Mode Option
The DjVu to JPG Converter offers advanced features which you can select as per your need.
Step6. Save the Output to its Destination
The last step is to choose a destination and save the DjVu to JPG converted files. To pick the new location, click on the Folder icon.
Step7. Hit on Convert Button
Finally, tap on the Convert button located at the bottom right corner of the screen. This will automatically start the DjVu file to JPG conversion process.
Step8. Open Output
Go to the resultant destination location for viewing DjVu converted files.
Part 3: Outstanding Features of DjVu to JPEG Conversion Software
The best thing about DjVu to JPG converter is optimum user-friendliness. One can handle the utility in a hassle-free manner. Reviews suggest that this software is compatible to convert large DjVu files to jpeg format. With it, you will never have to stake the confidentiality and privacy of data.
Apart from this, there are multiple reasons that you will surely appreciate for choosing it.
Versatile Utility: When it comes to the DjVu to JPG conversion tools, you will hardly find any alternative which is more versatile than our product. Again, you can get benefitted from the free demo version and can convert few DjVu files to respective formats.
Great Flexibility and Advanced Options: With this utility, the DjVu to JPG conversion takes place at a significant speed. You can pick any of the 'Advanced Mode' options like "All pages", "Select a range of pages (you need to enter a Start page and End page)", "Select multiple non-contiguous pages (such as 12,2,36)". Moreover, you can set an "Image Quality Option" in order to enable an image compression rate, the default value is 25 and also you can enter valid values between 25 and 150.
Batch Conversion: The DjVu file to JPG converter is one such application that provides the facility to batch convert DjVu to JPG format. Within a single attempt, the users can perform bulk conversions without changing the data integrity.
Read Page Count Information: Once you have selected the DjVu files for the migration task, thereafter the tool shows the entire data in a tree-view preview structure. You can read the page count information in this hierarchy structure and cross-check all data for an efficient DjVu to JPG migration process.
Any Saving Location: Users have the complete freedom to choose the destination location for the output. Either you can make a new folder or keep the target saving path as it is.
Windows Compatibility: Our DjVu to jpeg export tool supports all latest and prior versions of Microsoft Windows Operating Systems. You can launch the program on versions like Windows 10, Windows 8.1, Windows 8, Windows 7, Windows XP, Windows Vista, Windows Server 2019, Windows Server 2016, etc.
Keeps Intact Quality of Data: Throughout the process to convert DjVu to JPG, the software preserves the quality of original data. It saves the text formatting, document color effects, image resolution, hyperlinks, backgrounds, etc.
Part 4: Expand Knowledge Points
QUES: What is DjVu File?
A DjVu format is a compressed file format created by AT&T. It comprises a scanned document, which may incorporate content, pictures, or drawings. DJVU documents are intended to permit content designers to examine heavy resolution color pages of books, magazines, etc, and distribute them on the web.
QUES: What is the origin of the DjVu file format?
The DjVu technology was initially produced by  Yann LeCun, Léon Bottou, Patrick Haffner, Paul G. Howard, Patrice Simard, and Yoshua Bengio at AT&T Labs from 1996 to 2001.
QUES: Why are JPG Files special?
JPG files have a highly controlled level of compression. The user autonomously chooses ratio quality/document size. It is compatible and is shown effectively in any web browser, text, and illustration programs, on all PCs, tablets, and cell phones. The format is appropriate for realistic pictures with a ton of color and contrast changes. Also, the JPG picture quality is high.
FAQs
⭐ How do I reduce the image size for implementing DjVu to JPG conversion?
If you are thinking to reduce the image size then choose the target DjVu file (there are no limitations on the number of files) and navigate to 'Advance Mode'>>'Image Quality'. The default size that DjVu to JPG converter provides is 25 but you can change it from 25 to 150 as per your need.
⭐ Will changing the image quality reduce the quality of my output JPG images?
No, our product is ideal for optimizing the DjVu files to convert into jpeg format.
⭐ What's the maximum file size allowed to convert DjVu file to JPG?
There is no limitation on the file size. You can convert large DjVu files to JPG format.
⭐ Where can I open the converted files?
You can select any saving location as per your preference. By default, the software saves it at the desktop location. However, you can open the converted files at any location.
⭐ Is it safe to use DjVu to JPG free converter?
Yes, the document conversion of DjVu files to JPG is absolutely secure. No one has access to your output.
Over to You
The software facilitates an instant and secure conversion of DjVu files to JPG format. Featuring the best set of functionalities, this application has made it simpler to convert DjVu to JPG files. Contact our technical support team if there is any query regarding the software usage.
Related Conversion Tutorials